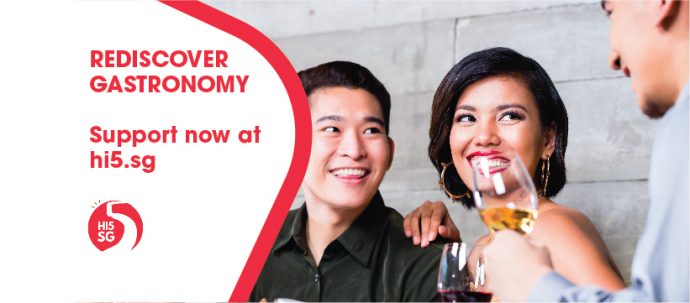 Rediscover homegrown restaurants, eateries and cafes in Singapore from September 2020 to January 2021 via Hi5SG, a non-profit dining campaign that champions the positive loop of giving back amongst restaurants, consumers and underprivileged communities.
This campaign plays on the number five, which is the current five persons dining rule. In the next five months, local F&B business all come together to support one another and those in need. Special dining experiences themed around the number "5" will be launched by the industry including S$5 dishes and drinks, 55% off and S$55 set menus.
Hi5SG is supported by Enterprise Singapore to encourage the continuation of business recovery amidst the ongoing COVID pandemic. This is also among the key activities under the Domestic Recovery Campaign – SingapoRediscovers by EDB and Singapore Tourism Board.
Raise S$300,000 for -DREAMS
Hi5SG aims to raise S$300,000 for its official beneficiary =DREAM, the sister organisation of South Central Community Family Service Centre. The residential-based intensive education programme mentors underprivileged children from families living in HDB rental flats living on low incomes with little to no financial support, in order to rechart their lives for a bright future.
Parts of proceeds ranging from S$1 to S$5 from the Hi5SG experiences will go to the charity. Some restaurants will provide a matching donation.
Participating Restaurants
Listing as at 3 September 2020. Check Hi5SG for updated listing.
F&B Establishment
Cuisine
About
Location
Contact Details
Operating Days of Hours
Website
Featured Experience
Amò
Italian
Located at 33 Hong Kong Street, chic italian restaurant Amò serves up a delicious slice of Italian food and drinks inspired by authentic traditions and modern techniques. Drawing the best culinary influences from all parts of Italy, the menu is an extraordinary communal feast of antipasti, true artisan pastas, homemade pizzas and large mains for friends and large groups to enjoy over.
33 Hong Kong Street, Singapore 059672
T:67237733

[email protected]
Tuedays to Sundays

12pm – 2.30pm
6pm – 10.30pm
amorestaurant.sg
$55 Set Lunch (Dine-In)

Includes choice of:

Starter: San Marzano Tomato Soup or Smoked Salmon and Potato Salad

Main: Penne with Tiger Prawns, White Wine and Chilli or Grilled Spring Chicken Leg with Truffle Mash

Dessert: Dark Chocolate Tarte
Anti:Dote
Bar, Fusion
Known for serving afternoon treats in its iconic pristine white chest of drawers during the day, Anti:dote transforms into a stylish cocktail bar when night falls. Combining traditional bartending and the artistry of experimental mixology techniques, classic recipes are reinterpreted with contemporary flair.
Level 1, Fairmont Singapore
80 Bras Basah Road Singapore
189560
+65 6431 6156
12:00pm to 1:30pm; 3:00pm to 9:00pm

Afternoon tea is served daily from 3:00pm to 4:30pm
https://www.fairmont.com/singapore/dining/antidote/
Beverage Promotion (Dine-In and Takeaway)

25% off beverage
Art
Italian
Art is an elegant Italian restaurant and bar with contemporary Italian cuisine helmed by
Michelin-star Chef-Restaurateur Beppe De Vito. The menu is a creative expression of Beppe's personal philosophy that reflects his respect for Italy's rich food heritage while looking forward through innovation. The 80-seater dining destination takes one on a spirited journey of surprises and new experiences through refined culinary artistry, luxurious environment, and world-class service standards.
1 St Andrew's Road, 06-02 National Gallery Singapore, Singapore 178957
T:68661977

[email protected]
Daily

12pm – 2pm
6.30pm – 10pm

artrestaurant.sg
5-Course Lunch Menu (Dine-In)

5-Course Lunch Menu @ $85++, includes 3-course RW menu ($48) + 2 courses

Available from Tues – Fri, 12-2.30pm
Bar-A-Thym Restaurant
French
Bar-A-Thym is a highly rated and convival 40 seat restaurant by Chef/Owner Francois Mermilliod with a focus on the regional specialities of Southern France seafood and meat dishes done a la Plancha. Highlights include a unique French Omakase menu inspired by rustic French bistro fare and his travels throughout Asia.

Signature dishes include Wagyu Cote De Boeuf, Cassoulet Duck Leg Confit, Fish & Seafood Bouillabaisse, Morisseau® Bouchot Mussels, Angel Hair Pasta with Sea Urchin, Sakura Ebi & Ikura.
18 Gemmill Lane, 069255
[email protected]
Mondays – Fridays: 11.45am – 2pm & 6pm – 10.30pm , Saturdays: 11.45am – 10.30pm
www.bar-a-thym.sg
$55 Menu (Dine-In, Min. 2 Pax)

5 sharing dishes at $55 per pax, min. 2 person.

10% Delivery Discount With Code Hi5SG (Takeaway)

10% off delivery with code HI5SG
Blue Jasmine
Thai
Bringing you the best of Southern Thai and Esarn cuisine, in a communal and interactive way expect to delight in strong herbs and signature Thai flavours at the newest of Thai restaurants in Singapore serving No Pork No Lard Food Options. A homelike concept that's fun and enriching, where you can be sure to even use your fingers to enjoy the food!
Blue Jasmine
[email protected]
Mon-Sun : 11.30 AM to 10.00 PM
https://blue-jasmine-singapore.myshopify.com/
$56 Bento Fix for 5 (Takeaway)

A bento fix for 5 @ $56 takeaway set
Braci
Italian
Braci is a one Michelin star restaurant, awarded by The Michelin Guide Singapore since 2017. It is a progressive Italian restaurant and rooftop bar by renowned restaurateur-chef Beppe De Vito and Head Chef Mirko Febbrile. Braci is their culinary playground, where they create according to (ingredient) seasonality, personal memories and travel experiences around the world. With a name that literally means "embers" in Italian, Braci's menu is ultimately inspired by wood – its main cooking method – through the use of the Josper oven and Japanese shichirin grill to re-define and uplift classic Italian cuisine.
52 Boat Quay, Level 5/6, Singapore 048941
T:68661933

[email protected]
Monday to Saturday

DINNER
1st seating 6pm
2nd seating 830pm

Tuesday to Saturday

LUNCH
12pm – 2pm
braci.sg
5-Course Lunch Menu (Dine-In)

5-Course Lunch Menu @ $95++ , includes a 3-course set lunch menu ($58) + 2 courses

Brotzeit Katong
German
ABOUT BROTZEIT
Brotzeit is a popular international casual dining group that's been serving authentic German food and beverages since 2006. It has rapidly won fans with its heartfelt promise of a 'gemütliche' experience with every visit – one that leaves the guest satisfied, smiling and committed to return soon. Today, the Brotzeit brand passionately promotes the world-renowned eating and drinking culture of Germany throughout Asia Pacific, with outlets in Hong Kong, China, the Philippines and Australia. In 2012, Brotzeit was awarded the Singapore 'Franchisor of the Year' by the Franchising and Licensing Association (FLA) of Singapore. In 2015, Brotzeit was awarded the Singapore SME 1000 for Turnover Growth Excellence in the Hospitality/ Food & Beverage sector.
126 East Coast Rd, Singapore 428811
6348 2040
Monday – Sunday : 11AM – 10.30PM
www.brotzeit.co
$55 Bundle (Dine-In)

Pork Knuckle & 2 x 1 pint of Draught Beer at $55 (U.P $69)

$55 Bundle (Takeaway)

Pork Knuckle & 2 x Bottled Beer at $55 (U.P $59)
Brotzeit Raffles City
German
ABOUT BROTZEIT
Brotzeit is a popular international casual dining group that's been serving authentic German food and beverages since 2006. It has rapidly won fans with its heartfelt promise of a 'gemütliche' experience with every visit – one that leaves the guest satisfied, smiling and committed to return soon. Today, the Brotzeit brand passionately promotes the world-renowned eating and drinking culture of Germany throughout Asia Pacific, with outlets in Hong Kong, China, the Philippines and Australia. In 2012, Brotzeit was awarded the Singapore 'Franchisor of the Year' by the Franchising and Licensing Association (FLA) of Singapore. In 2015, Brotzeit was awarded the Singapore SME 1000 for Turnover Growth Excellence in the Hospitality/ Food & Beverage sector.
252 North Bridge Road, #01-17 Raffles City Shopping Centre, Singapore 179103
6883 1534
Monday – Sunday : 11AM – 10.30PM
www.brotzeit.co
$55 Bundle (Dine-In)

Pork Knuckle & 2 x 1 pint of Draught Beer at $55 (U.P $69)

$55 Bundle (Takeaway)

Pork Knuckle & 2 x Bottled Beer at $55 (U.P $59)
Brotzeit Vivocity
German
ABOUT BROTZEIT
Brotzeit is a popular international casual dining group that's been serving authentic German food and beverages since 2006. It has rapidly won fans with its heartfelt promise of a 'gemütliche' experience with every visit – one that leaves the guest satisfied, smiling and committed to return soon. Today, the Brotzeit brand passionately promotes the world-renowned eating and drinking culture of Germany throughout Asia Pacific, with outlets in Hong Kong, China, the Philippines and Australia. In 2012, Brotzeit was awarded the Singapore 'Franchisor of the Year' by the Franchising and Licensing Association (FLA) of Singapore. In 2015, Brotzeit was awarded the Singapore SME 1000 for Turnover Growth Excellence in the Hospitality/ Food & Beverage sector.
1 HarbourFront Walk #01-149/151, VivoCity Singapore 098585
6272 8815
Monday – Sunday : 11AM – 10.30PM
www.brotzeit.co
$55 Bundle (Dine-In)

Pork Knuckle & 2 x 1 pint of Draught Beer at $55 (U.P $69)

$55 Bundle (Takeaway)

Pork Knuckle & 2 x Bottled Beer at $55 (U.P $59)
Brotzeit Westgate
German
ABOUT BROTZEIT
Brotzeit is a popular international casual dining group that's been serving authentic German food and beverages since 2006. It has rapidly won fans with its heartfelt promise of a 'gemütliche' experience with every visit – one that leaves the guest satisfied, smiling and committed to return soon. Today, the Brotzeit brand passionately promotes the world-renowned eating and drinking culture of Germany throughout Asia Pacific, with outlets in Hong Kong, China, the Philippines and Australia. In 2012, Brotzeit was awarded the Singapore 'Franchisor of the Year' by the Franchising and Licensing Association (FLA) of Singapore. In 2015, Brotzeit was awarded the Singapore SME 1000 for Turnover Growth Excellence in the Hospitality/ Food & Beverage sector.
3 Gateway Drive #01-04, Westgate Singapore 608532
6465 9874
Monday – Sunday : 11AM – 10.30PM
www.brotzeit.co
$55 Bundle (Dine-In)

Pork Knuckle & 2 x 1 pint of Draught Beer at $55 (U.P $69)

$55 Bundle (Takeaway)

Pork Knuckle & 2 x Bottled Beer at $55 (U.P $59)
BTM Mussels & Bar
European
BTM = "BACK TO MUSSELS"
Inspired by chef and restaurateur Olivier's experience in being the first to expand and popularise Belgium's 'mussels and fries' restaurant concept throughout France, BTM Mussels & Bar relives that delicious chapter of his culinary story in Singapore, and celebrates the flavourful gem of the sea, showcasing its natural sweetness by preparing them in a variety of styles and flavours popular throughout Europe.

In addition to Mussels & Fries with live mussels sourced directly from Europe throughout the year, BTM Mussels & Bar serves a wide selection of comfort food from France and the Benelux region of Europe (i.e. Belgium, the Netherlands and Luxembourg), including a variety of small plates, tartes flambées and charcuterie and cheese boards, which are best enjoyed with ice cold drinks and ideal for sharing!
5 Duxton Hill
Singapore 089591
[email protected] or +65 6690 7562
Monday: Closed
Tuesday & Wednesday: 5pm-11pm (last food/drinks last order 10pm)
Thursday: 12pm-11pm (last food/drinks last order 10pm)
Friday & Saturday: 12pm-11.30pm (last food/drinks last order 10.30pm)
Sunday: 12pm to 11pm (last food/drinks order 10pm)
www.dhm.com.sg/btm
Bundle of 5 (Dine-In)

Bucket of 5 Estrella OR Hoegaarden beers for $50++
Grain
International
Grain is an online restaurant. We are on a mission to create meaningful food experiences for you and the people you love.
5 Burn Road, #05-01, Singapore 369972
[email protected], +65 3163 5335
Daily, 11am–8:15pm
www.grain.com.sg/eat
5% off Min.Spend $30 (Takeaway)

5% off with minimum spend of $30 from September onwards.
Grammi
Italian
Created by award-winning Michelin chef Beppe De Vito, Grammi joins The ilLido Group's award-winning collection of restaurants as their first online restaurant. The digital dining platform delivers accessible and wholesome Italian comfort food to doorsteps, with flavours based on Beppe's personal favourite recipes. The healthy-ish Italian-Mediterranean menu takes inspiration from honest Italian cooking and the best seasonal ingredients from the most trusted artisans and farmers.
1 St Andrew's Road, 05-03 National Gallery Singapore, Singapore 178957
T:98661796

[email protected]
Tuesdays to Sundays

11am – 8pm

Not applicable with any other promotions or discount codes
grammi.sg
Free Dessert with Min.Spend $65 (Takeaway)

As part of the Hi5SG campaign, enjoy a free Grammi Tiramisù or Limoncello Cheese Cake with a min
imum spend of $65 in a single receipt
Hard Rock Cafe Sentosa
Burgers
Hard Rock Cafe (both Singapore and Sentosa) offers a range of mouth-watering international selections which includes American classics such as Legendary Burger and BBQ Ribs. On top of offering the best burgers and ribs in Singapore, Hard Rock Cafe offers a wide selection of fine wine and spirits and a range of refreshing cocktails and mocktails.
Hard Rock Cafe Sentosa: 26 Sentosa Gateway, Resorts World Sentosa #01-209, The Forum, 098138
Hard Rock Cafe Sentosa: 6795 7454
Hard Rock Cafe Sentosa:
Mondays: 11am – 4pm (for lunch only)
Thursdays to Sundays: 11am – 9.30pm
(Closed on Tuesdays and Wednesdays)
https://www.hardrockcafe.com/location/sentosa/
$5 Off Every $25 Spent (Dine-In)

Enjoy $5 off for every $25 spent in a single receipt (for food and beverage) – customers to book with promo code Hi5SG

Hard Rock Cafe Sentosa: https://book.chope.co/booking?rid=hardrockcafesentosa2008sg&source=rest_hardrocksentosa
Hard Rock Cafe Singapore
Burgers
Hard Rock Cafe (both Singapore and Sentosa) offers a range of mouth-watering international selections which includes American classics such as Legendary Burger and BBQ Ribs. On top of offering the best burgers and ribs in Singapore, Hard Rock Cafe offers a wide selection of fine wine and spirits and a range of refreshing cocktails and mocktails.
Hard Rock Cafe Singapore:
50 Cuscaden Road, HPL House #02-01, Singapore 249724
Hard Rock Cafe Singapore: 6235 5232
Hard Rock Cafe Singapore: 11.30pm – 9.30pm Daily
https://www.hardrockcafe.com/location/singapore/
$5 Off Every $25 Spent (Dine-In)

Enjoy $5 off for every $25 spent in a single receipt (for food and beverage) – customers to book with promo code Hi5SG

Hard Rock Cafe Singapore on Chope: https://book.chope.co/booking?rid=hardrockcafecuscaden1612hrcc&source=rest_www.hardrock.com
Imperial Treasure Fine Shanghai Cuisine (Takashimaya S.C)
Chinese
Imperial Treasure has become synonymous with authentic fine Chinese cuisine. Since the establishment of our first restaurant in 2004, Imperial Treasure Restaurant Group has won the hearts of gourmands and casual diners alike.
Tel: (65) 6836 6909
Monday to Friday

Lunch: 11.30am to 3.00pm (Last Order: 2.00pm)
Dinner: 6.00pm to 11.00pm (Last Order: 10.00pm)

Saturday

Lunch: 11.00am to 3.00pm (Last Order: 2.00pm)
Dinner: 6.00pm to 11.00pm (Last Order: 10.00pm)

Sunday & PH

Lunch: 10.30am to 3.00pm (Last Order: 2.00pm)
Dinner: 6.00pm to 11.00pm (Last Order: 10.00pm)
www.imperialtreasure.com
$55++ Menu (Dine-In)

Curated menu at S$55++/pax at Imperial Treasure Fine Shanghai Cuisine (Takashimaya S.C.) with quote "Singapore55"
Imperial Treasure Fine Teochew Cuisine (Gucco Tower)
Chinese
Imperial Treasure has become synonymous with authentic fine Chinese cuisine. Since the establishment of our first restaurant in 2004, Imperial Treasure Restaurant Group has won the hearts of gourmands and casual diners alike.
Guoco Tower, #02-01 & #03-01
Tel: (65) 6384 2722
Monday to Friday & Eve of PH

Lunch: 11.30am to 3.00pm (Last Order: 2.00pm)
Dinner: 6.00pm to 11.00pm (Last Order: 10.00pm)

Saturday

Lunch: 11.00am to 3.00pm (Last Order: 2.00pm)
Dinner: 6.00pm to 11.00pm (Last Order: 10.00pm)

Sunday & PH

Lunch: 10.30am to 3.00pm (Last Order: 2.00pm)
Dinner: 6.00pm to 11.00pm (Last Order: 10.00pm)
www.imperialtreasure.com
$55++ Menu (Dine-In)

Curated menu at S$55++/pax with quote "Singapore55"
Imperial Treasure Steamboat Restaurant (Great World & 111 Somerset)
Chinese
Imperial Treasure has become synonymous with authentic fine Chinese cuisine. Since the establishment of our first restaurant in 2004, Imperial Treasure Restaurant Group has won the hearts of gourmands and casual diners alike.
Great World #01-140




Great World
Tel: (65) 6235 6008

111 Somerset,
Tel: (65) 6235 3882
Daily

Lunch: 11.00am to 3.00pm (Last Order: 2.00pm)
Dinner: 6.00pm to 11.00pm (Last Order: 10.00pm)
www.imperialtreasure.com
$55 Steamboat Lunch (Dine-In)

Steamboat Lunch menu at S$55/pax, Imperial Treasure Steamboat Restaurant (Great World & 111 Somerset) with quote "Singapore55"
Imperial Treasure Super Peking Duck (Asia Square)
Chinese
Imperial Treasure has become synonymous with authentic fine Chinese cuisine. Since the establishment of our first restaurant in 2004, Imperial Treasure Restaurant Group has won the hearts of gourmands and casual diners alike.
Asia Square Tower 1, #02-08/10
(65) 6636 1868
Daily

Lunch: 11.30am to 3.00pm (Last Order: 2.00pm)
Dinner: 6.00pm to 10.00pm (Last Order: 9.00pm)
www.imperialtreasure.com
Signature Peking Duck at $55 (Dine-In)

Signature Peking Duck at S$55 (UP: $90), limited to first 55 redemptions daily with quote "Singapore55"
Jamie's Italian
Italian
Jamie's Italian Forum offers diners an authentic taste of Italy with dishes that reflect traditional Italian home-style cooking, inspired by celebrity chef and restaurateur Jamie Oliver's modern flair for presentation and unique recipe twists. Following Jamie Oliver's food ethos, Jamie's Italian is strongly committed in using ingredients that are fresh, of top-notch quality and are sustainably sourced. On top of offering a mouth-watering selection of pasta freshly made on site and hand stretched sourdough pizzas, Jamie's Italian also has a fantastic selection of Italian wines as well as hand-crafted cocktails and mocktails.
Forum Shopping Mall, 583 Orchard Road, #01-01/04, Singapore 238884
[email protected], 6655 7676
11.30am – 2.30pm, 5.30pm-9.30pm Daily at Jamie's Italian Forum
Operating Days (for this promotion): Mondays to Thursdays
Operating Hours: 11.30am – 2.30pm, 5.30pm-9.30pm
https://www.jamiesitalian.sg/en/ji-forum-orchard-road/
Add-On for $5 (Dine-In)

Complement any order of a Main Course, Pasta or Pizza with any side for only $5++ (U.P. $8.95++) – customers to book with promo code "Hi5SG" and they will be able to redeem the promo

Reservation bookings to be made strictly through Chope (no walk-ins allowed):


Ka-Soh (Greenwood)
Chinese / Cantonese Cuisine
Pioneers of the Cantonese style fish soup and Singapore's supper scene, Ka-Soh is one if Singapore's oldest restaurants that is still independently owned and operated into the 3rd generation ownership, with their history dating back to 1939.
22 Greenwood Avenue S289218
87547481
1130am – 2.30pm for lunch ; 530pm-9.30pm for dinner
www.ka-soh.com.sg
$55 Set Menu for 4 Pax (Dine-In)

Sliced Fish Noodles Soup 鱼片米粉
Ka-Soh's Signature Prawn Paste Chicken 家嫂虾酱鸡
Stir Fried Kailan with Mushrooms 芥兰东菇
Red Bean Pancake 窝饼

$55 Set Menu for 4 pax (Takeaway)

(Takeaway box charges not included)

Sliced Fish Noodles Soup 鱼片米粉
Ka-Soh's Signature Prawn Paste Chicken 家嫂虾酱鸡
Stir Fried Kailan with Mushrooms 芥兰东菇
Red Bean Pancake 窝饼
Ka-Soh (Outram)
Chinese / Cantonese Cuisine
Pioneers of the Cantonese style fish soup and Singapore's supper scene, Ka-Soh is one if Singapore's oldest restaurants that is still independently owned and operated into the 3rd generation ownership, with their history dating back to 1939.
2 College Road S169850
64376686
1130am – 2.30pm for lunch ; 530pm-9.30pm for dinner
www.ka-soh.com.sg
$55 Set Menu for 4 Pax (Dine-In)

Sliced Fish Noodles Soup 鱼片米粉
Ka-Soh's Signature Prawn Paste Chicken 家嫂虾酱鸡
Stir Fried Kailan with Mushrooms 芥兰东菇
Red Bean Pancake 窝饼

$55 Set Menu for 4 pax (Takeaway)

(Takeaway box charges not included)

Sliced Fish Noodles Soup 鱼片米粉
Ka-Soh's Signature Prawn Paste Chicken 家嫂虾酱鸡
Stir Fried Kailan with Mushrooms 芥兰东菇
Red Bean Pancake 窝饼
L'Entrecôte The Steak & Fries Bistro (Customs House)
French
At L'Entrecôte The Steak and Fries Bistro, we focus on the season's best steak doused in our legendary sauce, with unlimited crispy, golden fries, and accompanied by our fresh green salad with mustard dressing and walnuts. Pair your steak with a glass or bottle from our Signature Collection of wines, exclusive to L'Entrecôte The Steak and Fries Bistro.

The menu is complemented by a wide array of starters and 15 kinds of desserts. Choose from starters like the traditional French Onion Soup or authentic Escargots de Bourgogne, enjoy a sharing platter of premium French cheese and charcuterie, and top it all off with delectable desserts, such as authentic French profiteroles and our signature Salted Caramel Lava Cake. This is one of the most romantic restaurants in Singapore!

In addition to our flagship location at the quaint neighborhood of Duxton Hill, guests can also experience L'Entrecôte at Customs House. L'Entrecôte Customs House boasts a gorgeous al fresco bar terrace and our signature Bar Bites menu of French-inspired dishes, including Deep-Fried Frogs Legs with a Garlic Aioli, Tartes Flambées, Beef Tartare Toasts and our sharing boards of Charcuteries et Fromages just to name a few!
70 Collyer Quay, #01-01,
Customs House,
Singapore 049323
T: +65 6690 7565 | E: [email protected]
Customs House Opening Hours:
Monday to Thursday: 12pm – 3pm | 6pm – 10pm
Friday: 12pm – 3pm | 6pm – 11pm
Special Opening Hours for Hari Raya Haji (Friday, 31 July 2020): 5pm – 11pm
Saturday: 6pm – 11pm
Sunday: 5pm – 10pm
www.dhm.com.sg/lentrecote
Bundle of 5 (Dine-In)

Bucket of 5 bottles of Estrella beer for $50++
L'Entrecôte The Steak & Fries Bistro (Duxton Hill)
French
At L'Entrecôte The Steak and Fries Bistro, we focus on the season's best steak doused in our legendary sauce, with unlimited crispy, golden fries, and accompanied by our fresh green salad with mustard dressing and walnuts. Pair your steak with a glass or bottle from our Signature Collection of wines, exclusive to L'Entrecôte The Steak and Fries Bistro.

The menu is complemented by a wide array of starters and 15 kinds of desserts. Choose from starters like the traditional French Onion Soup or authentic Escargots de Bourgogne, enjoy a sharing platter of premium French cheese and charcuterie, and top it all off with delectable desserts, such as authentic French profiteroles and our signature Salted Caramel Lava Cake. This is one of the most romantic restaurants in Singapore!
36 Duxton Hill
Singapore 089614
T: +65 6690 7561 | E: [email protected]
Duxton Hill Opening Hours:
Monday to Thursday: 12pm – 3pm | 6pm – 10pm
Friday: 12pm – 3pm | 6pm – 11pm
Special Opening Hours for Hari Raya Haji (Friday, 31 July 2020): 5pm – 11pm
Saturday: 6pm – 11pm
Sunday: 12pm – 3pm | 5pm – 10pm
www.dhm.com.sg/lentrecote
Bundle of 5 (Dine-In)

Bucket of 5 bottles of Estrella beer for $50++
laut
Southeast Asian
laut is inspired by the sea. laut is inspired by the region. laut is a culinary experience of Southeast Asian culture and heritage. Bahasa Melayu for Sea, laut conjures with all things Southeast Asian in an ode to the region's sea-faring heritage and the natural richness of her seas. This is a realization of a dream for Frank and Leon, two good friends and school mates who lived in the East coast of Singapore where a strong nautical cultural backbone was fused into the area by Orang Laut, the region's indigenous sea-faring people.

laut Cocktail and Food
Both the cocktail and food menus are influenced by their collective childhood in an area culturally steep in culinary tradition, particularly with seafood and Straits Chinese cooking; and from their adventures in Southeast Asia. Using produce and ingredients indigenous to Southeast Asia, laut aspires to highlight the beauty of the region's aromas and taste to the world.

Sustainability
Most, if not all of laut's produce and ingredients are sourced locally. Seafood is hand-picked from Ah Hua Kelong; other produce, ingredients and spices are brought in fresh from the nearby wet markets and a local spice maker; and cocktail spirits are made by Compendium, a local multi-disciplinary distillery and meadery, with an emphasis on local flavours such as Rojak. Furthermore, ingredients such as bananas which are used in the desserts, their "waste" (skin and fibre, offcuts) are used in making of cocktails so that nothing goes to waste.
17 stanley Street
[email protected] / 88788018
5pm-10:30pm Mon-Sat
www.lautcollective.com.sg
Promotional Items: Seafood (Dine-In)

Tuna at $15 and Squid Gado at $25
Mikuni
Japanese
Mikuni offers a culinary tour through exquisite creations from its stunning Teppanyaki and Sushi live stations, each helmed by a master chef, that highlight the most premium of seasonal Japanese produce. Be delighted with Mikuni's multi-sensory dining experience complemented with signature creations and novel modern kaiseki dishes that seamlessly blend modern and century-old Japanese culinary techniques with a dash of theatrical humour.
Level 3, Fairmont Singapore
80 Bras Basah Road Singapore
189560
+65 6431 6156
Lunch:
12:00pm to 2:30pm (Mon, Tue, Thu, Fri, Sat)

Dinner:
6:00pm to 10:30pm (Mon, Tue, Thu, Fri, Sat)

Last order at 9:30pm
https://www.fairmont.com/singapore/dining/mikuni/
25% off Selected Item (Dine-In and Takeaway)

25% off beverages
My Little Spanish Place
Spanish
Founded in March 2010 and located in the Bukit Timah neighbourhood in Singapore, My Little Spanish Place is inspired by the 'meson' , a typical home-style restaurant often found in Spanish regions. In April 2015, the restaurant opened a second outlet located at Boat Quay, along the riverfront.

Our philosophy is based on the Spanish saying, "Mi Casa es Su Casa", which means "My House is Your House". The first Spanish restaurant to be helmed by two chefs with strong Spanish heritage – Maria Sevillano from Salamanca, Spain and Edward Esmero from Philippines, the restaurant boasts a full-fledged menu of Spanish home-style dishes and desserts.
54 Boat Quay S(049843)
[email protected] / 65320665
Monday to Sunday 5pm to 10:30pm
www.mylittlespanishplace.com.sg
$55 Set (Dine-In and Takeaway)

Paella de Cigala at $55++ (arroz bomba cooked in seafood saffron broth, sofrito and topped with grilled scampi)

Finca de Zalamena Tempranillo 2018 at $55++/bottle
My Little Tapas Bar
Spanish
Founded in March 2010 and located in the Bukit Timah neighbourhood in Singapore, My Little Spanish Place is inspired by the 'meson' , a typical home-style restaurant often found in Spanish regions. In April 2015, the restaurant opened a second outlet located at Boat Quay, along the riverfront.

Our philosophy is based on the Spanish saying, "Mi Casa es Su Casa", which means "My House is Your House". The first Spanish restaurant to be helmed by two chefs with strong Spanish heritage – Maria Sevillano from Salamanca, Spain and Edward Esmero from Philippines, the restaurant boasts a full-fledged menu of Spanish home-style dishes and desserts.
14 Ann Siang Road S(069694)
[email protected] / 62238048
Monday to Sunday 5pm to 10:30pm
www.mylittletapasbar.com.sg
$55++ Promo Items (Dine-In and Takeaway)

Selection of Wines @ $55++/ bottle

Choose from:

Honoro Vera 2018
Como Loco 2018
Les Enfosques Cava Brut N.V
Ochoa Calendas Blanco 2017
Ochoa Rosado de Lagrima 2018
Ochoa Moscatel 2014
Jorge Ordonez No. 1 Selecccion Especial 2016

Tapas Platter – MLTB Best Sellers @ $55++

Tortilla Española
Croquetas de Jamón
Albóndigas
Gambas Picantes
Nonya Nonya Restaurant
Peranakan
Reminisce a culinary journey at Nonya Nonya Restaurant where we are proud bearers of our family's rich Peranakan culinary heritage for over three generations. Savour our signature dishes such as Garam Assam Seabass, Scallop Lemak, Beef Rendang and Ayam Buah Keluak.
12 Maju Avenue (Serangoon Gardens), Singapore 556690
[email protected]/ 6282 4021
Mon – Sun. 11.30 am – 3pm; 5.30 pm – 10pm
www.nonyanonya.oddle.me
$55 Set Menu (Dine-In and Takeaway)

$55 Set Menu
Nozomi by Yoshi
Casual Japanese
Born out of circumstance in 2020, nozomi is a reflection of the hope that nourished and sustained us during the covid 19 pandemic. Having not offered takeaway or delivery services in the past, our parent restaurant, YOSHI, was compelled to do so when restrictions on dining at restaurants were implemented. The decision was made to convert our kaiseki menu into a takeaway and delivery friendly menu centred around a single defining principal: to deliver a product befitting of the YOSHI name at affordable prices. With the support of our customers, both new and old, we survived our darkest days. Nozomi is our tribute to you. We hope that nozomi is able to bring you the hope and strength it brought to us through our times of despair and help us all remember that with hope, anything is possible.
9 Raffles Boulevard, Millenia Walk #02-06, Singapore 039596
[email protected] / 83866788
1130am to 3pm & 6pm to 9:30pm, 7 days a week
www.nozomi.sg
$55 Set Menu (Dine-In)

$55 Donburi Bento set – includes a seasonal appetizer, any Donburi-except barachirashi with uni & ikura, sashimi & dessert

Available for lunch & dinner, Monday to Sunday
Peach Garden @ Chinatown Point
Chinese / Cantonese Cuisine
Peach Garden is a notable household name that is synonymous with authentic Chinese cuisine served in a warm and welcoming environment. From its beginnings to today, Peach Garden continues to earn a string of accolades from reputable publications such as Singapore Tatler and Wine & Dine, with glowing testaments of its commitment to quality dining experience and excellent service. Today, Peach Garden Group consists of one fine dining Chinese restaurant, two Chinese restaurants, two Chinese Dining concepts and an outdoor catering arm which caters for weddings and events.
133, #02-36 New Bridge Rd, Chinatown Point, 059413
Chinatown Point +65 6702 0603
11am – 2.30pm for lunch ; 6pm-9.30pm for dinner
https://www.peachgarden.com.sg/
$55++ Set Menu (Dine-In)

$55++ set menu with Complimentary Free-flow Beer and Wine for 1 hour.

Roasted Crispy Peking Duck 脆皮北京烤鸭
Braised Baby Superior Shark's Fin with Fresh Crab Meat in Claypot 沙煲蟹肉中鲍翅
Signature Fresh Baby Lobster with Chili Crab Sauce served with Fried Bun 招牌辣子龙虾仔配炸馒头
Stir-fried Broccoli with Chinese Sausages and Wild Mushroom 野菌腊味炒西兰花
Fried Fragrant Jasmine Rice with Seafood and Laksa Sauce 叻沙海鲜炒饭
Warm Yam Paste 香滑芋泥

$55++ Set Menu (Takeaway)

$55++ set menu with Complimentary Free can of Coke / Sprite

Roasted Crispy Peking Duck 脆皮北京烤鸭
Braised Baby Superior Shark's Fin with Fresh Crab Meat in Claypot 沙煲蟹肉中鲍翅
Signature Fresh Baby Lobster with Chili Crab Sauce served with Fried Bun 招牌辣子龙虾仔配炸馒头
Stir-fried Broccoli with Chinese Sausages and Wild Mushroom 野菌腊味炒西兰花
Fried Fragrant Jasmine Rice with Seafood and Laksa Sauce 叻沙海鲜炒饭
Warm Yam Paste 香滑芋泥"
Peach Garden @ Hotel Miramar
Chinese / Cantonese Cuisine
Peach Garden is a notable household name that is synonymous with authentic Chinese cuisine served in a warm and welcoming environment. From its beginnings to today, Peach Garden continues to earn a string of accolades from reputable publications such as Singapore Tatler and Wine & Dine, with glowing testaments of its commitment to quality dining experience and excellent service. Today, Peach Garden Group consists of one fine dining Chinese restaurant, two Chinese restaurants, two Chinese Dining concepts and an outdoor catering arm which caters for weddings and events.
401 Havelock Rd, Level 3 Hotel Miramar, Singapore 169631
Hotel Miramar +65 67363833
11am – 2.30pm for lunch ; 6pm-9.30pm for dinner
https://www.peachgarden.com.sg/
$55++ Set Menu (Dine-In)

$55++ set menu with Complimentary Free-flow Beer and Wine for 1 hour.

Roasted Crispy Peking Duck 脆皮北京烤鸭
Braised Baby Superior Shark's Fin with Fresh Crab Meat in Claypot 沙煲蟹肉中鲍翅
Signature Fresh Baby Lobster with Chili Crab Sauce served with Fried Bun 招牌辣子龙虾仔配炸馒头
Stir-fried Broccoli with Chinese Sausages and Wild Mushroom 野菌腊味炒西兰花
Fried Fragrant Jasmine Rice with Seafood and Laksa Sauce 叻沙海鲜炒饭
Warm Yam Paste 香滑芋泥

$55++ Set Menu (Takeaway)

$55++ set menu with Complimentary Free can of Coke / Sprite

Roasted Crispy Peking Duck 脆皮北京烤鸭
Braised Baby Superior Shark's Fin with Fresh Crab Meat in Claypot 沙煲蟹肉中鲍翅
Signature Fresh Baby Lobster with Chili Crab Sauce served with Fried Bun 招牌辣子龙虾仔配炸馒头
Stir-fried Broccoli with Chinese Sausages and Wild Mushroom 野菌腊味炒西兰花
Fried Fragrant Jasmine Rice with Seafood and Laksa Sauce 叻沙海鲜炒饭
Warm Yam Paste 香滑芋泥"
Peach Garden @ OCBC Centre
Chinese / Cantonese Cuisine
Peach Garden is a notable household name that is synonymous with authentic Chinese cuisine served in a warm and welcoming environment. From its beginnings to today, Peach Garden continues to earn a string of accolades from reputable publications such as Singapore Tatler and Wine & Dine, with glowing testaments of its commitment to quality dining experience and excellent service. Today, Peach Garden Group consists of one fine dining Chinese restaurant, two Chinese restaurants, two Chinese Dining concepts and an outdoor catering arm which caters for weddings and events.
#33, 65 Chulia St, 01 OCBC Centre, 049513
OCBC Centre +65 535 7833
11am – 2.30pm for lunch ; 6pm-9.30pm for dinner
https://www.peachgarden.com.sg/
$55++ Set Menu (Dine-In)

$55++ set menu with Complimentary Free-flow Beer and Wine for 1 hour.

Roasted Crispy Peking Duck 脆皮北京烤鸭
Braised Baby Superior Shark's Fin with Fresh Crab Meat in Claypot 沙煲蟹肉中鲍翅
Signature Fresh Baby Lobster with Chili Crab Sauce served with Fried Bun 招牌辣子龙虾仔配炸馒头
Stir-fried Broccoli with Chinese Sausages and Wild Mushroom 野菌腊味炒西兰花
Fried Fragrant Jasmine Rice with Seafood and Laksa Sauce 叻沙海鲜炒饭
Warm Yam Paste 香滑芋泥

$55++ Set Menu (Takeaway)

$55++ set menu with Complimentary Free can of Coke / Sprite

Roasted Crispy Peking Duck 脆皮北京烤鸭
Braised Baby Superior Shark's Fin with Fresh Crab Meat in Claypot 沙煲蟹肉中鲍翅
Signature Fresh Baby Lobster with Chili Crab Sauce served with Fried Bun 招牌辣子龙虾仔配炸馒头
Stir-fried Broccoli with Chinese Sausages and Wild Mushroom 野菌腊味炒西兰花
Fried Fragrant Jasmine Rice with Seafood and Laksa Sauce 叻沙海鲜炒饭
Warm Yam Paste 香滑芋泥"
Peach Garden @ The Metropolis
Chinese / Cantonese Cuisine
Peach Garden is a notable household name that is synonymous with authentic Chinese cuisine served in a warm and welcoming environment. From its beginnings to today, Peach Garden continues to earn a string of accolades from reputable publications such as Singapore Tatler and Wine & Dine, with glowing testaments of its commitment to quality dining experience and excellent service. Today, Peach Garden Group consists of one fine dining Chinese restaurant, two Chinese restaurants, two Chinese Dining concepts and an outdoor catering arm which caters for weddings and events.
9 North Buona Vista Drive #02-02, 1 The Metropolis Tower, 138588
+65 6334 7833
11am – 2.30pm for lunch ; 6pm-9.30pm for dinner
https://www.peachgarden.com.sg/
$55++ Set Menu (Dine-In)

$55++ set menu with Complimentary Free-flow Beer and Wine for 1 hour.

Roasted Crispy Peking Duck 脆皮北京烤鸭
Braised Baby Superior Shark's Fin with Fresh Crab Meat in Claypot 沙煲蟹肉中鲍翅
Signature Fresh Baby Lobster with Chili Crab Sauce served with Fried Bun 招牌辣子龙虾仔配炸馒头
Stir-fried Broccoli with Chinese Sausages and Wild Mushroom 野菌腊味炒西兰花
Fried Fragrant Jasmine Rice with Seafood and Laksa Sauce 叻沙海鲜炒饭
Warm Yam Paste 香滑芋泥

$55++ Set Menu (Takeaway)

$55++ set menu with Complimentary Free can of Coke / Sprite

Roasted Crispy Peking Duck 脆皮北京烤鸭
Braised Baby Superior Shark's Fin with Fresh Crab Meat in Claypot 沙煲蟹肉中鲍翅
Signature Fresh Baby Lobster with Chili Crab Sauce served with Fried Bun 招牌辣子龙虾仔配炸馒头
Stir-fried Broccoli with Chinese Sausages and Wild Mushroom 野菌腊味炒西兰花
Fried Fragrant Jasmine Rice with Seafood and Laksa Sauce 叻沙海鲜炒饭
Warm Yam Paste 香滑芋泥"
Peach Garden @ Thomson Plaza
Chinese / Cantonese Cuisine
Peach Garden is a notable household name that is synonymous with authentic Chinese cuisine served in a warm and welcoming environment. From its beginnings to today, Peach Garden continues to earn a string of accolades from reputable publications such as Singapore Tatler and Wine & Dine, with glowing testaments of its commitment to quality dining experience and excellent service. Today, Peach Garden Group consists of one fine dining Chinese restaurant, two Chinese restaurants, two Chinese Dining concepts and an outdoor catering arm which caters for weddings and events.
Thomson Plaza, 301 Upper Thomson Road, Thomson Rd, #01-88, 574408
Thomson Plaza +65 4513233
11am – 2.30pm for lunch ; 6pm-9.30pm for dinner
https://www.peachgarden.com.sg/
$55++ Set Menu (Dine-In)

$55++ set menu with Complimentary Free-flow Beer and Wine for 1 hour.

Roasted Crispy Peking Duck 脆皮北京烤鸭
Braised Baby Superior Shark's Fin with Fresh Crab Meat in Claypot 沙煲蟹肉中鲍翅
Signature Fresh Baby Lobster with Chili Crab Sauce served with Fried Bun 招牌辣子龙虾仔配炸馒头
Stir-fried Broccoli with Chinese Sausages and Wild Mushroom 野菌腊味炒西兰花
Fried Fragrant Jasmine Rice with Seafood and Laksa Sauce 叻沙海鲜炒饭
Warm Yam Paste 香滑芋泥

$55++ Set Menu (Takeaway)

$55++ set menu with Complimentary Free can of Coke / Sprite

Roasted Crispy Peking Duck 脆皮北京烤鸭
Braised Baby Superior Shark's Fin with Fresh Crab Meat in Claypot 沙煲蟹肉中鲍翅
Signature Fresh Baby Lobster with Chili Crab Sauce served with Fried Bun 招牌辣子龙虾仔配炸馒头
Stir-fried Broccoli with Chinese Sausages and Wild Mushroom 野菌腊味炒西兰花
Fried Fragrant Jasmine Rice with Seafood and Laksa Sauce 叻沙海鲜炒饭
Warm Yam Paste 香滑芋泥"
Perch
Asian-European Fusion
Perch is an all-day, casual dining oasis – a sanctuary amidst the bustle – to unwind, indulge and be inspired with your family.

The first integrative wine-and-dine bistro developed by Singapore's leading wine & spirits retailer – 1855 The Bottle Shop and hospitality group, 1855 F&B Pte Ltd, Perch serves imaginative yet familiar Asian-European fusion dishes rich in Southeast Asian flavours, that is artfully complemented with a tipple off 1855 The Bottle Shop's extensive wine selection.
Jewel Changi Airport
78 Airport Boulevard #02-244/245
Singapore 819666
6243 6052
Monday – Sunday : 11:30am – 10.30pm
perch.sg
$5 Off Selected Item (Dine-In)

$5 off Signature Boston Lobster Coconut Laksa
Prego
All-Day Breakfast
Italian
Prego, the byword for gastronomic excellence in authentic Italian cuisine, reopens at Fairmont Singapore. Experience the well-loved tastes of classic Italy amidst the refreshed charm of Prego's interiors, and a luscious ensemble of new signatures bursting with familiar Italian flavours.
Be greeted by the alluring aromas of pizza baking in the wood-fired ovens, or the handcrafted Italian pastas made fresh daily. Food connoisseurs can indulge in a decadent selection of appetisers, cold cuts and Italian Cheeses, pizzas and pastas made from the freshest produce and ingredients sourced directly from Italy. Pair these delights with exquisite Italian wines or cocktails meticulously crafted from Prego's new island bar. Experience the art of cooking and eating, all interweaved seamlessly in the convivial setting of the new Prego.
Level 1, Fairmont Singapore
80 Bras Basah Road Singapore
189560
+65 6431 6156
7 -10am (Mon- Fri); 7-1030am (Sat, Sun, PH)

11.30am to 10.30pm (Daily); Last order at 9.30pm

Prego Deli 12-9pm
https://prego.com.sg
25% Off Beverages (Dine-In and Takeaway)

25% Off Beverages
Red House Seafood
(Havelock Road)
Singaporean
Established in 1976, Red House Seafood is one of Singapore's oldest and leading seafood restaurants perhaps best known for its crab delicacies. Housed in an iconic red bungalow adorned with lanterns symbolic of prosperity and festive get-togethers when it first opened along Upper East Coast Road, the homegrown restaurant group is focused on serving up the best of Singaporean cuisine. Built on the philosophy of hard work and excellence, Red House Seafood is committed to the provenance, freshness and quality of ingredients; by paying homage to the authentic flavours of traditional recipes while integrating modern techniques into its cooking, the dining experience at its restaurants is one that is contemporary and memorable. Red House Seafood currently operates three restaurants in Prinsep Street, Clarke Quay and Grand Copthorne. For more information, please visit redhouseseafood.com
Grand Copthorne Waterfront Hotel (Level 2)
392 Havelock Rd, Singapore 169663
Tel: 6735 7666
[email protected]
Daily
12.00 pm to 2.30 pm (last order 2.00 pm)
5.00 pm to 10.00 pm (last order 9.30 pm)
redhouseseafood.com
$55++ Set Menu with $50 return voucher (Dine-In)

5-course set menu @ $55++ per person (valid with min. 2 persons)

1.凉拌日本胡麻酱番茄
Chilled Tomato served with Japanese Goma Sauce

2. 养生竹笙炖翅骨汤
Double-boiled Soup with Mushroom & Bamboo Pith

3.娘惹香煎鲈鱼
Pan fried Barramundi Fillet with Nyonya Sauce

4.黑松露酱炒珍菌芦笋
Stir Fried Wild Mushroom & Asparagus in Truffle Sauce

5. 阿拉斯加帝王蟹肉汤泡饭
Alaskan King Crab Meat Pao Fan

$50 return voucher when they order these promotional set menus and/or dim sum buffet at Red House Seafood Prinsep Street and Grand Copthorne. Limited to one voucher per bill.


$55++ Set Menu with $50 return voucher (Takeaway)

3-course set menu @ $55++ for two persons

1. 蟹肉虾棗
Crab Meat Prawn Roll

2..娘惹香煎鲈鱼
Pan fried Barramundi Fillet with Nyonya Sauce

3. 海鲜泡饭
Seafood Pao Fan

$50 return voucher when they order these promotional set menus and/or dim sum buffet at Red House Seafood Prinsep Street and Grand Copthorne. Limited to one voucher per bill.
Red House Seafood
(Prinsep)
Singaporean
Established in 1976, Red House Seafood is one of Singapore's oldest and leading seafood restaurants perhaps best known for its crab delicacies. Housed in an iconic red bungalow adorned with lanterns symbolic of prosperity and festive get-togethers when it first opened along Upper East Coast Road, the homegrown restaurant group is focused on serving up the best of Singaporean cuisine. Built on the philosophy of hard work and excellence, Red House Seafood is committed to the provenance, freshness and quality of ingredients; by paying homage to the authentic flavours of traditional recipes while integrating modern techniques into its cooking, the dining experience at its restaurants is one that is contemporary and memorable. Red House Seafood currently operates three restaurants in Prinsep Street, Clarke Quay and Grand Copthorne. For more information, please visit redhouseseafood.com
68 Prinsep Street
Singapore 188661
Tel: 6336 6080


[email protected]
Daily
12.00 pm to 2:30 pm ( last order 2.00 pm )
5:00 pm to 10.00 pm ( last order 9.30 pm )
redhouseseafood.com
$55++ Set Menu with $50 return voucher (Dine-In)

5-course set menu @ $55++ per person (valid with min. 2 persons)

1.凉拌日本胡麻酱番茄
Chilled Tomato served with Japanese Goma Sauce

2. 养生竹笙炖翅骨汤
Double-boiled Soup with Mushroom & Bamboo Pith

3.娘惹香煎鲈鱼
Pan fried Barramundi Fillet with Nyonya Sauce

4.黑松露酱炒珍菌芦笋
Stir Fried Wild Mushroom & Asparagus in Truffle Sauce

5. 阿拉斯加帝王蟹肉汤泡饭
Alaskan King Crab Meat Pao Fan

$50 return voucher when they order these promotional set menus and/or dim sum buffet at Red House Seafood Prinsep Street and Grand Copthorne. Limited to one voucher per bill.


$55++ Set Menu with $50 return voucher (Takeaway)

3-course set menu @ $55++ for two persons

1. 蟹肉虾棗
Crab Meat Prawn Roll

2..娘惹香煎鲈鱼
Pan fried Barramundi Fillet with Nyonya Sauce

3. 海鲜泡饭
Seafood Pao Fan

$50 return voucher when they order these promotional set menus and/or dim sum buffet at Red House Seafood Prinsep Street and Grand Copthorne. Limited to one voucher per bill.
Red House Seafood
(River Valley)
Singaporean
Established in 1976, Red House Seafood is one of Singapore's oldest and leading seafood restaurants perhaps best known for its crab delicacies. Housed in an iconic red bungalow adorned with lanterns symbolic of prosperity and festive get-togethers when it first opened along Upper East Coast Road, the homegrown restaurant group is focused on serving up the best of Singaporean cuisine. Built on the philosophy of hard work and excellence, Red House Seafood is committed to the provenance, freshness and quality of ingredients; by paying homage to the authentic flavours of traditional recipes while integrating modern techniques into its cooking, the dining experience at its restaurants is one that is contemporary and memorable. Red House Seafood currently operates three restaurants in Prinsep Street, Clarke Quay and Grand Copthorne. For more information, please visit redhouseseafood.com
3C, River Valley Road
#01-02/03, The Cannery
Singapore 179022
Tel: 6442 3112
[email protected]
Daily
12.00 pm to 2:30 pm ( last order 2.00 pm )
5:00 pm to 10:00 pm ( last order 9.30 pm )
redhouseseafood.com
$55++ Set Menu with $50 return voucher (Dine-In)

5-course set menu @ $55++ per person (valid with min. 2 persons)

1.凉拌日本胡麻酱番茄
Chilled Tomato served with Japanese Goma Sauce

2. 养生竹笙炖翅骨汤
Double-boiled Soup with Mushroom & Bamboo Pith

3.娘惹香煎鲈鱼
Pan fried Barramundi Fillet with Nyonya Sauce

4.黑松露酱炒珍菌芦笋
Stir Fried Wild Mushroom & Asparagus in Truffle Sauce

5. 阿拉斯加帝王蟹肉汤泡饭
Alaskan King Crab Meat Pao Fan

$50 return voucher when they order these promotional set menus and/or dim sum buffet at Red House Seafood Prinsep Street and Grand Copthorne. Limited to one voucher per bill.


$55++ Set Menu with $50 return voucher (Takeaway)

3-course set menu @ $55++ for two persons

1. 蟹肉虾棗
Crab Meat Prawn Roll

2..娘惹香煎鲈鱼
Pan fried Barramundi Fillet with Nyonya Sauce

3. 海鲜泡饭
Seafood Pao Fan

$50 return voucher when they order these promotional set menus and/or dim sum buffet at Red House Seafood Prinsep Street and Grand Copthorne. Limited to one voucher per bill.
Riviera Forlino
Mediterranean
Sitting elegantly within One Fullerton with stunning vistas of the Marina Bay waterfront and overlooking Merlion Park, Riviera Forlino is one of Singapore's best-known destinations for modern Mediterranean lounge fine dining with a view. Each meticulously-crafted dish is a gourmand's journey of the Mediterranean, celebrating the finest culinary influences from the coasts to the mountains of this diverse region, from France and Italy, with hints of North Africa.

Be seduced with each bite in our stunning dining space filled with gold pillars, vibrant table settings of striking flora combined with candlelight, hanging chandeliers and tactile chairs in caramel blush to heighten the expansive-yet-seductive ambience. Guests may also wind down and relax in Riviera Forlino's dedicated lounge area, where they can enjoy an apéritif or digestif to complete their meal in an intimate setting.
1 Fullerton Road #02-06, One Fullerton, Singapore 049213
T: 6690 7564 E: [email protected]
Monday to Friday: 12pm-2.30pm (Lunch) | 6.30pm-11pm (Dinner)
Saturday: 6.30pm-11pm (Dinner)
Sunday: Closed
www.dhm.com.sg/forlino
$55++ Set Menu (Dine-In)

3-course Discovery Lunch Experience Business Set Lunch Menu for $55++ per person (Monday to Friday only).

New menu available every week and can be viewed on www.dhm.com.sg/forlino
Sabio by the Sea
Spanish
Sabio, established in Singapore in 2011, was one of the very first tapas bars in Singapore, and was dedicated to serving a tempting selection of authentic Spanish sharing tapas to food lovers across Singapore. At Sabio, every dish is created with the best and freshest ingredients from Spain and across Asia, and your meal is best complemented with a carefully curated selection of imported Spanish wine, beer and spirits. Similar to how Spanish locals dine, our tapas are to be enjoyed with fun, family and friends! Enjoy Spanish favourites, such as Patatas Bravas, freshly made Sangria, Paella, Churros, Chorizo, Jamón and Queso!

The Spanish concept has since been taken to the seaside, with the picturesque surrounds of Sabio by the Sea at Quayside Isle, Sentosa Cove. This laidback and spacious outlet overlooks the Sentosa Marina, and features Josper-grilled meat and seafood, together with our signature tapas and drinks! The perfect respite from the hustle and bustle of the city!
31 Ocean Way #01-02,
Quayside Isle, Singapore 098375
T: 6690 7568 E: [email protected]
Monday to Thursday: 5pm – 10.30pm (kitchen closes 10pm)
Friday: 12pm -11pm (kitchen closes 10.30pm)
Saturday: 11.30am – 11pm (kitchen closes 10.30pm)
Sunday: 11.30am -10.30pm (kitchen closes 10pm)
Operating hours may vary on the eve of and on Public Holidays.
www.dhm.com.sg/sabio
Promo Drink (Dine-In)

Sabio Sling 55 cocktail ($18++ per glass)
Sarnies
Cafe, Local
Genuine, good ol' Aussie style grub packed with flavour and made with all things fresh. Hearty fare throughout the day. Pimp your own breakfast from an exhaustive list of options (house-cured bacon for starters), massive salads and sandwiches for lunch, and simple punchy dinner plates perfect for the evening out. Don't forget freshly roasted coffee in-house by our A+ coffee team that makes for every single cup that goes out.
136 Telok Ayer Street
[email protected]
Weekdays: 7.30AM to 10.30PM PH & Weekends: 8.30AM to 4PM
https://sarnies.com/Singapore
$5 Coffee Promo (Dine-In and Takeaway)

$5 for all Medium sized coffees
SKAI
Contemporary Grill
Bringing to the fore a chic contemporary grill set in a new lifestyle and social dining destination, SKAI is located on the 70th floor of the iconic Swissôtel The Stamford and is prepped to become the go-to sky-dining establishment in Singapore. Pairing unparalleled views of the cityscape with a curated selection of prime beef cuts and fresh seafood infused with delicate Japanese accents, Chef Paul Hallett's signature culinary style, philosophy and techniques are showcased in SKAI's contemporary and casually inviting setting.
SKAI, Level 70, Swissôtel The Stamford, Singapore 178882
+65 6431 6156
LUNCH (FROM 5 AUG 2020):
MONDAY – SUNDAY
11:30 AM – 02:30 PM
DINNER (FROM 4 AUG 2020):
MONDAY – SUNDAY
05:00 PM – 10:30 PM
MORNING TEA (NATIONAL DAY; 9 AUG 2020)
SUNDAY
09:30 AM – 11:00 AM
skai.com.sg
Drink Promo (Dine-In and Takeaway)

25% off beverages
Smoke & Mirrors
Bar, Cocktail Bar
Perched on the rooftop of the National Gallery Singapore, Smoke & Mirrors is known for its spectacular panoramic views of Singapore's skyline and creative cocktails.

The destination rooftop bar sets out to elevate the cocktail experience by exploring classic drinks with experimental new twists. Guests can expect innovative menu concepts driven by modern techniques and unique flavour combinations to artfully challenge perceptions. With an emphasis on thought-provoking flavour profiles, Smoke & Mirrors continues to entice curious imbibers and cocktail aficionados alike.

Upon entering, one is floored by the stunning sculptural bar, anchoring the space which is designed to allow for a seamless transition between the indoors and outdoors. With plenty of woods, copper tones and warm lighting, the bar exudes a magnetic intimacy. The service reflects this persona too; discreet and engaging.
#06-01, National Gallery Singapore , 1 St. Andrew's Road, Singapore 178957 
+65 9380 6313 / [email protected]
Wednesday to Sunday 5pm-10.30pm
www.smokeandmirrors.com.sg
$50++ Bundle (Dine-In)

$50++ Humble Bundle (usual price $54), includes Gin & Tonic and Truffle Fries for two
Social Place Singapore
Chinese, Dim Sum
Tang Palace (China) Holdings Limited is a food and beverage chain operating in China. The first restaurant was opened in China in 1992, and was listed on the Main Board of the Hong Kong Stock Exchange on April 19, 2011. Tang Palace Group operates multi brands, of which its self-created brands include the Tang Palace Seafood Restaurant, Tang's Cuisine, Tang Palace, Social Place, Canton Tea Room and Social Place.

Social Place opened in 2014 in Hong Kong, and aims to provide diners with a chic, vibrant, and cosy dining venue. Interior aesthetics are full of modern artistic vibes such as industrial lights and ping pong dining tables. Social Place targets mid-spenders and young diners, with a delicately selected range of Cantonese Dim-Sum & contemporary Chinese dishes.

Social Place Singapore opened on 21st of October in 2019 from a partnership between Tang Palace, Palm Beach Seafood Restaurant, and Gaia Culinary Concepts.
Social Place Singapore FORUM The Shopping Mall, Orchard Rd, #01-22 583, 238884
[email protected]
Sunday – Thursday 11.30am – 2.30pm, 6pm to 9pm, Friday – Saturday, 11.30am – 2.30pm, 6pm to 9.30pm
socialplace.sg
$55 Selected Item (Dine-In and Takeaway)

$55 Dish of Miniature Lobster Sauteed in Crispy Fried Garlic.
Southbridge
Italian
Southbridge is the city's ultimate destination for chic and buzzy bar dining, with arguably one of the best 360° view of the city, which spans from the historic Parliament House, across the Singapore River, to the iconic Marina Bay Sands and Boat Quay skyline. The elegant yet unpretentious atmosphere is coupled with convivial service and the finest quality in the food and beverage. Fresh oysters and moreish bar bites go hand in hand with its signature gin-and-tonic program boasting the best craft gins from around the world. Life's good on top.
80 Boat Quay, Rooftop Level 5, Singapore 049868
T:68776965

[email protected]
Monday to Saturday

5pm to 10.30pm
southbridge.sg
$95 Promo Set (Dine-In)

Enjoy a bottle of Prosecco DOC Brut Zardetto and half a dozen Signature Oysters for $95. (U.P $114)

Available on Tues – Thurs, 5pm – 10.15pm, not valid with Happy Hour promotions
Straits Chinese Restaurant
Chinese, Peranakan
Our Legacy since 1953…
Straits Chinese Restaurant by Guan Hoe Soon (1953) is the oldest Nyonya Restaurant in Singapore.

Using secret recipes handed down through our generations, we preserve closely to our original taste of an Authentic Peranakan cuisine and by only using the freshest ingredients and select choice of spices.

Generations have come to love our Straits Chinese food. We provide nonya catering for corporates and homes special occasions too. Available at very reasonable prices, we have served many satisfied celebrities, dignitaries and customers.

We are confident that we will delight you and your friends with our authentic Peranakan affair.

We are also featured in the Michelin Guide Singapore Edition for 4 consecutive years!
8 Raffles Ave #02-21 Esplanade Mall S039802

133 Cecil St #B1-01 Keck Seng Tower S069535
63393683 62258683
Every Day 1130am to 3pm & 6pm to 9pm
www.straitschinese.com
$55 Set Menu (Dine-In)

$55 Bundle Set Menu
Summerlong
Greek, Mediterranean, Vegetarian Friendly
Taking inspiration from his time spent in Greece, Head Chef Fotis Kokoshi shares stories of his culinary journey through contemporary dishes that are vibrant from plate to palate. To complement the food, Greek-inspired tipples from handcrafted cocktails to mocktails and spritzers will whisk you away, into the idyllic summers of being in the Mediterranean. The restaurant's welcoming vibe transforms seamlessly from day to night; with a variety of seating formats — communal table with an open kitchen view, recess dining seats and lounge sofas in the alfresco — that make Summerlong the perfect hotspot for intimate getaways and lively get-togethers alike.
60 Robertson Quay #01-04 238252
[email protected]
6235 1225
www.summerlongsg.com
Special Item (Dine-In)

Special items: Soulvlaki and Aperol Spritz
The Horse's Mouth
Cocktail Bar with Japanese inspired Bites
The Horse's Mouth was established in October 2012 and since opening, has gained much traction in the market
particularly with drinkers who are looking for unique flavors and experiences. Utilizing a wide range of premium
spirits, liqueurs and ingredients, cocktails here are seen as pieces of art and are crafted to suit your palate. Drinks
are accompanied with tasty bar snacks and a merry atmosphere, the recipe for a hearty night out and one of a kind experience straight from the Horse's Mouth.
Our cocktails place a premium on quality, with fresh produce and juices as well as unique spirits being used in
order to create well balanced drinks. Our local customer base are becoming more and more discerning so our
strong focus on quality is a winning touch.
583 Orchard Road, Forum the Shopping Mall #B1-39, Singapore 238884
[email protected] / 81880900
5pm to 10.30pm (Phase 2 Timings), 7 days a week
www.horsesmouthbar.com
$55 Menu Set (Dine-In)

$55 menu set including 2 signature cocktails, 1 x choice barachirashi/ wagyu shingureni don/ unagi kabayaki don or signature ramen
The Singapura Club
Local, Western and North Indian Cusine
The Singapura Club – the sister brand of Chaiholics, is an extension of the tea company; a full-
fledged dining concept and lifestyle.
• Aiming to evoke a feeling of nostalgia and bringing simple pleasures back to life, The Singapura
Club is an all-day dining bistro and club with an unforgettable vintage ambience.
• Serving special concoctions of alcoholic beverages and Chaiholics teas, great forgotten classic
cuisines from Asia and the North of India (post British menu).
• A "throw-back" concept of Old Singapura, fixing perfectly in the existing heritage rich locations
of Kampong Glam and Tiong Bahru neighbourhoods.
• The Tiong Bahru Club officially opened its doors in 2014, followed by The Singapura Club in Haji
Lane in 2016 and Little India in 2019 (we re-located from Tiong Bahru aber almost 5 years to a
bigger location).
102 Dunlop Street Singapore 209421
+65 69573369
Daily, 11am – 1030pm
Facebook.com/thesingapuraclub
Menu Promotion (Dine-In)

Promotion on butter chicken and/ or tandoori chicken wings – every purchase entitles diners to 25 % off cocktails, OR one complimentary lager
The Singapura Club
Tapas and North Indian Cusine
The Singapura Club – the sister brand of Chaiholics, is an extension of the tea company; a full-
fledged dining concept and lifestyle.
• Aiming to evoke a feeling of nostalgia and bringing simple pleasures back to life, The Singapura
Club is an all-day dining bistro and club with an unforgettable vintage ambience.
• Serving special concoctions of alcoholic beverages and Chaiholics teas, great forgotten classic
cuisines from Asia and the North of India (post British menu).
• A "throw-back" concept of Old Singapura, fixing perfectly in the existing heritage rich locations
of Kampong Glam and Tiong Bahru neighbourhoods.
• The Tiong Bahru Club officially opened its doors in 2014, followed by The Singapura Club in Haji
Lane in 2016 and Little India in 2019 (we re-located from Tiong Bahru aber almost 5 years to a
bigger location).
26 Haji Lane Singapore 189219
+65 69573369
Mon to Thurs – 3pm to 1030pm
Fri to Sun 11am – 1030pm
Facebook.com/thesingapuraclub
Drink Promotion (Dine-In)

1 for 1 Singapura Sling
The Spot
Contemporary European
Located in Marina One, The Spot is a multi-concept venue comprising a restaurant, bar and cigar lounge. The various spaces are functionally interwoven so diners can enjoy each activity on its own or in combination with the others, creating a seamless wine-and-dine experience.

Alongside The Spot are strategic partners, 1855 The Bottle Shop and South East Asia's first and only The Macallan Boutique @ 1855, providing unique and complementary services for diners and guests. From lunch to dinner and after, The Spot offers coffee and cocktails, superb contemporary European cuisine, extraordinary wines, and a sensational whisky collection for customers to enjoy in an elegant and welcoming ambience.
5 Straits View, #01-26/27
Marina One East Tower, Singapore 018935
6284 2637
Monday – Sunday : 11:30am – 10.30pm
thespot.sg
$55++ Promotional Set Menu (Dine-In)

$55++ promotional menu
Tipsy Collective
Western Asian
Takeshi Noodle Bar offers Umami bowls of Goodness along Keong Saik Road where you can find award-winning bars and cool eateries.
Using only Premium Ingredients; our homemade Broths are made from scratch with NO MSG. We are also thankful to have achieved 3 Stars from Singapore most popular food channel— Food King NOC.


Takeshi Noodle Bar
12 Teck Lim Rd, Singapore 088387
Takeshi Noodle Bar: 12pm-3pm & 5pm – 11pm (Closed on Tuesdays)
https://www.facebook.com/TakeshiNoodleBar/
Drink Promotion (Dine-In)

For every 5 shots of drinks ordered, customers get 1 shot for on the house for free.
Tipsy Collective
Western Asian
Tipsy Bird – Welcome to the Wild Side! Tipsy Bird Gastrobar is your go-to for the best live entertainment, good vibes & great grubs at Paya Lebar Quarter.
Tipsy Bird
1 Paya Lebar Link, #01-08 Paya Lebar Quarters, Singapore 408533
Tipsy Bird: 12pm – 11pm daily
https://www.tipsybird.com.sg/
Drink Promotion (Dine-In)

For every 5 shots of drinks ordered, customers get 1 shot for on the house for free.
Tipsy Collective
Western Asian
Tipsy Penguin – A group of penguins is called a huddle, and we love for friends to gather together at Mr Frosty's (our in-house penguin) home!

Tipsy Penguin
300 Tampines Ave 5, #01-02A, Singapore 529653
Tipsy Penguin: 12pm – 11pm daily
https://tipsypenguin.com.sg/
Drink Promotion (Dine-In)

For every 5 shots of drinks ordered, customers get 1 shot for on the house for free.
Tipsy Collective
Western Asian
Lady Wu – Lady Wu was inspired by the biography of Wu Ze Tian (武则天); the first and only woman who was officially recognised as empress regnant of China in more than 2 millennia. She was a force to be reckoned with!
Clad with (Instagrammable) ancient doors to our private lounge, you'd be "teleported" back to ancient china. Coupled with Live Music and a phenomenal view of Singapore's futuristic skyscrapers and iconic buildings, it is truly a sight to behold!
Lady Wu
Attic Level, 11 N Canal Rd, The Offshore Building, 048824
Lady Wu – 5pm – 11pm (Closed on Sundays)
https://www.facebook.com/ladywusg/
Drink Promotion (Dine-In)

For every 5 shots of drinks ordered, customers get 1 shot for on the house for free.
Treasures Yi Dian Xin (Raffles City)
Chinese
Imperial Treasure has become synonymous with authentic fine Chinese cuisine. Since the establishment of our first restaurant in 2004, Imperial Treasure Restaurant Group has won the hearts of gourmands and casual diners alike.
Raffles City Shopping Centre, #B1-37

Tel: (65) 6262 1662
Monday to Friday

11.00am to 10.00pm
(Last Order: 9.00pm)

Saturday, Sunday & PH

10.30am to 10.00pm
(Last Order: 9.00pm)
www.imperialtreasure.com
Special Items (Dine-In)

Quote "Singapore55" to enjoy these offers:

• Steamed Beancurd Skin Roll with Oyster Sauce
• Steamed Pork Dumpling with Shrimp
• Steamed Pork Rib with Black Bean Sauce
• Steamed Chicken Feet with Black Bean Sauce
• Steamed Diced Mushroom Dumpling
Uma Uma Ramen
Ramen
Original Hakata ramen from Fukuoka, Japan. Established in 1953, Uma Uma has over 65 years of ramen making history!
583 Orchard Road, Forum the Shopping Mall #01-41, Singapore 238884
[email protected] / 62350855
11.30am to 10pm, 7 days a week
www.umaumaramen.com
$55 Set Menu for 2 (Dine-In)

$55 for 2 pax, includes 2 signature ramen, half side dishes of gyoza & chicken karaage, 2 desserts (2 scoops of ice cream), 2 drinks (hot or cold green tea)
Available during lunch & dinner, Monday to Sunday
WAKANUI Grill Dining Singapore
Japanese Steakhouse
Developed in Tokyo by ANZCO Foods, a New Zealand-based meat company specializing in premium-quality New Zealand beef and lamb in Tokyo, WAKANUI takes its name from the location of ANZCO's Five Star Beef Feedlot on the coast of Wakanui, South Canterbury. The 'stars' of WAKANUI are New Zealand Ocean Beef and WAKANUI Spring Lamb, grilled over Japan-sourced Binchotan charcoal. The restaurant also showcases the best of New Zealand produce, including seasonal seafood and hand-picked wines.
5 Straits View, Marina One West Tower, #04-02, Singapore 018935
63842665
Monday – Sunday : 11:30am – 3.00pm, 5.30pm – 10.30pm
wakanui.sg
Promotional Item (Dine-In)

Signature 21 Days Dry-aged ocean Beef Bone-in Ribeye orders are part of the Hi5SG Campaign
Yan at the National Gallery Singapore
Dim Sum, Cantonese
Located within the National Gallery Singapore, Yàn alludes to both its name and its artistic setting with a 'feast' of exquisite Cantonese flavours, served with sincerity and heart by Head Chef Ng Sen Tio and his team of chefs. Explore a spectrum of enjoyment encompassing superbly executed flavours in a repertoire of traditional Cantonese dishes, completing the continuum of pleasures from simple soulfulness to refined flavours, communal to individual, and warm cosiness to high elegance. The versatile choices of seating within its 2,700 sq-ft space reflects a sense of largesse at Yàn: three private dining rooms, cosy booth seats, larger tables, even the entire restaurant, can be put at the service of any size of group. Be it a formal corporate lunch, a convivial dinner, a wedding or private event, the dining experience at Yàn truly is a remarkable feast for the stomach, eyes and soul.
Yàn #05-02 National Gallery Singapore 1 St Andrew's Road Singapore 178957
[email protected] / +65 6384 5585
Open Daily. Lunch: 11:30 am to 2:30pm and Dinner: 6:00pm to 10:30pm
www.yan.com.sg
Fifth Pax Dines Free (Dine-In)

Fifth guest dines free. Seven special set menus available to choose from
Yoshi Restaurant
Japanese
Yoshi restaurant is an authentic Kyoto Kaiseki fine dining experience right in the heart of Singapore. Chef Yoshiyuki set upon creating a dining experience to showcase the finest ingredients of each
season. Food served at YOSHI
is not just a dish but a celebration of each season. Using only the freshest
sea
sonal ingredients available in Japan's Toyosu
market, Chef Yoshiyuki is a master of preparing
the ingredients to accentuate th
eir natural flavours in a "Kyo- ryori" style.
At YOSHI, you can choose to enjoy
either Yoshi's Omakase or a themed menu based on a key
ingredient. Whichever your choice, it will be a
meal featuring Chef Yoshiyuki's steadfast
commitment to seasonal and quality ingredients, natural fl
avours, and Japanese om
otenashi,
ensuring an authentic Kyoto dining experience in the heart of Singapore.
583 Orchard Road, Forum the Shopping Mall #B1-39, Singapore 238884
[email protected] / 8188 0900
Mon – Sun 12pm to 9.30pm
12pm to 1.30pm (Last Order) for Lunch, 7pm to 9.30pm (Last Order) for Dinner, 7 days a week
www.yoshirestaurant.com
$55 Set Menu (Dine-In)

Barachirashi Set for 1 pax $55 (U.P. $68, incl appetizer, sashimi & dessert)
Zafferano Italian Restaurant & Lounge
Italian
Zafferano, or 'saffron' in Italian, is the first name in vibrant, all-round Italian hospitality. Inspired by the prized value of saffron and its flower containing 3 stigmas, called threads, Zafferano focuses on value, and the 3 'threads' of Food, Service, and Ambience. As the only Italian restaurant to feature a 43rd-storey perch and amazing rooftop bar overlooking the spectacular Marina Water Front, Zafferano embodies the Italian spirit of giving. Head Chef Andrea De Paola presents a contemporary interpretation of traditional Italian cuisine; and a celebration of prime produce. On the dining floor, the front-of-house team orchestrates their own brand of elegant Italian service – seamlessly threading together a paragon of warmth, Italian-style, for any occasion, big or small, in the heart of the business district.
Ocean Financial Centre, 10 Collyer Quay, Level 43,Singapore 049315
[email protected] / +65 6509 1488
Tuesday – Friday (11.30am – 3pm; 5.30pm – 11.30pm). Saturday – Sunday (12pm – 3pm; 6.00pm – 11.30pm)
zafferano.sg
$55 Set Menu (Dine-In)

$55 set menu
Muddy Murphy's Irish Pub
Irish
Muddy Murphy's was designed and built to scale in Dublin, Ireland in 1996. It was then dismantled and shipped to Singapore in six 40-foot containers and assembled at its first location at the basement of Orchard Hotel Shopping Arcade by specialist Irish Pub fitters. In November 2013, the pub was relocated, along with many elements of the original decor, into the heart of Orchard Road at TripleOne Somerset. In August 2016, Muddy's, as it is affectionately known, has made yet another move back to its original premises which is now known as Claymore Connect. In addition to the wide selection of premium wines and spirits, Muddy's serves 7 international beers on tap – Kilkenny, Guinness, Tiger, Heineken, Strongbow Cider, Old Speckled Hen and Erdinger Weissbier.
32 South Buona Vista Road
Singapore 118161
Email: [email protected]muddymurphys.com
Tel: 6735 0400
Monday – Saturday: 3pm – 10:30pm
Sunday: 12pm to 10:30pm
http://muddymurphys.com
$55 Set Menu (Dine-In and Takeaway)

3 Fish & Chips at $55 nett =, limited to the first 55 redemptions per month at Muddy Murphy's, The Penny Black or Scruffy Murphy's.

Reservations of up to 5 pax are required
Reserve via WhatsApp at: +65 92478709
Muddy Murphy's Irish Pub
Irish
Muddy Murphy's was designed and built to scale in Dublin, Ireland in 1996. It was then dismantled and shipped to Singapore in six 40-foot containers and assembled at its first location at the basement of Orchard Hotel Shopping Arcade by specialist Irish Pub fitters. In November 2013, the pub was relocated, along with many elements of the original decor, into the heart of Orchard Road at TripleOne Somerset. In August 2016, Muddy's, as it is affectionately known, has made yet another move back to its original premises which is now known as Claymore Connect. In addition to the wide selection of premium wines and spirits, Muddy's serves 7 international beers on tap – Kilkenny, Guinness, Tiger, Heineken, Strongbow Cider, Old Speckled Hen and Erdinger Weissbier.
442 Orchard Road #01-02 to 05
Claymore Connect
Singapore 238879
Email: [email protected]
Tel: 6735 0400
Monday – Saturday: 3pm – 10:30pm
Sunday: 12pm to 10:30pm
http://muddymurphys.com
$55 Set Menu (Dine-In and Takeaway)

3 Fish & Chips at $55 nett =, limited to the first 55 redemptions per month at Muddy Murphy's, The Penny Black or Scruffy Murphy's.

Reservations of up to 5 pax are required
Reserve via WhatsApp at: +65 92478709
Muddy Murphy's Irish Pub
Irish
Muddy Murphy's was designed and built to scale in Dublin, Ireland in 1996. It was then dismantled and shipped to Singapore in six 40-foot containers and assembled at its first location at the basement of Orchard Hotel Shopping Arcade by specialist Irish Pub fitters. In November 2013, the pub was relocated, along with many elements of the original decor, into the heart of Orchard Road at TripleOne Somerset. In August 2016, Muddy's, as it is affectionately known, has made yet another move back to its original premises which is now known as Claymore Connect. In addition to the wide selection of premium wines and spirits, Muddy's serves 7 international beers on tap – Kilkenny, Guinness, Tiger, Heineken, Strongbow Cider, Old Speckled Hen and Erdinger Weissbier.
26-27 Boat Quay
Singapore 049817
Email: [email protected]
Tel: 6735 0400
Monday – Saturday: 3pm – 10:30pm
Sunday: 12pm to 10:30pm
http://muddymurphys.com
$55 Set Menu (Dine-In and Takeaway)

3 Fish & Chips at $55 nett =, limited to the first 55 redemptions per month at Muddy Murphy's, The Penny Black or Scruffy Murphy's.

Reservations of up to 5 pax are required
Reserve via WhatsApp at: +65 92478709