Storms, a Singapore headquartered gaming startup, has partnered social networking platform uWave to make 40 free-to-play games available on the uWave mobile app. Over 30,000 students across eight local universities and polytechnics in Singapore will be able to access Storms' gaming content instantly on their uWave mobile app's homepage without having to download the individual mobile game apps.
Storms is a Singapore-based gaming startup invested in by iCandy Interactive, Singtel, AIS, and SK Telecom, with a focus on strategic initiatives ranging from offering gaming solutions for businesses to hyper-casual mobile games development and publishing.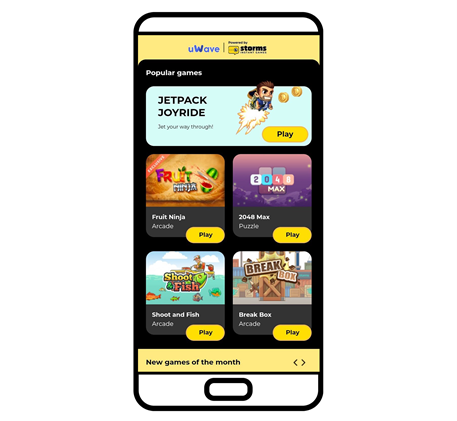 "Storms recognises the challenge of bringing a community together when physical interactions with larger groups of people are rather limited, and we believe that the gaming industry could play a part in addressing this by making games more easily accessible and social. Quality entertainment often comes with a premium, and Storms understands that this appears as a luxury that certain user segments might have challenges in affording. Together with uWave, we are excited to connect thousands of youths with their communities with our quality gaming content that is free-to-play."

Tanu Gulati, VP of Strategy at Storms
uWave will be the first Singapore-based company to have the instant game's version of "Fruit Ninja" and "Jetpack Joyride" on its mobile app. uWave emerged as the First Winner and was also voted People's Choice in the Open Innovation Challenge that was jointly organised by NTUitive, Lab and Rakuten in 2019.
"We were students, so we could relate to how youths bond when they share similar interests. Gaming, in particular, becomes popular among students as it allows them to unwind between classes or when commuting. Storms and uWave are both local startups that aim to connect people with the content and features that they appreciate. We have seen positive initial results of this new Games feature on our uWave mobile app, and we are hoping to allow the students to play the games in tournament modes in the future."

Cedrik Lim, Co-Founder of uWave