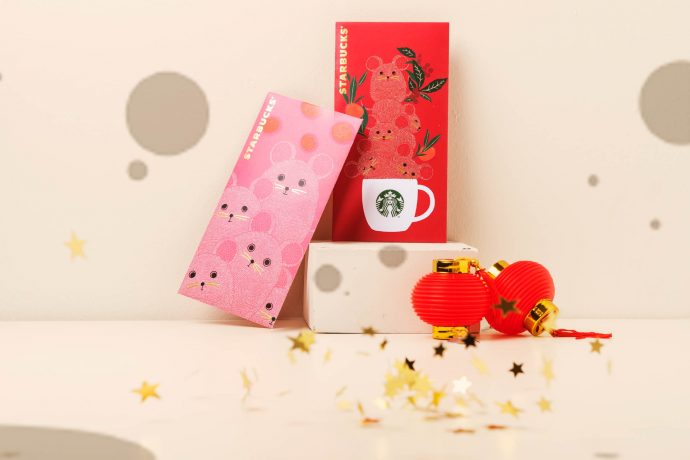 Starbucks has produced dangerously cute merchandise for the year of the rat. They range from cups, tumblers, a rat bank, a Mister Bearista in a rat hoodie, a Chinese Zodiac Pin collection, musical box or even a snow globe. We picked out a few of what we thought were the cuter ones to feature here.
Starbucks Rewards Gold members would also receive Starbucks Red Packets with the purchase of any item from the Lunar New Year collection, excluding Starbucks Cards.
Cute Coffee Mugs
These mugs are just too adorable. Friends (top left photo) are available in two options. One has a Rat head lid, while the other has three mice perched on the cup. They are priced at S$39.90 and S$30.90 respectively.
The red Say Cheese (top right photo) mugs are available in two sizes. The 12 oz one is priced at S$24.90 while the 30oz mug is priced at S$18.90.
Cheers is available with or without a lid. The 12 oz mugs are priced at S$22.90 or S$32.90 with the lid.
The Hello mug and saucers are too adorable The rat head lids complete the look and are priced at S$28.90 each.
Cute Tumblers
Wide-eyed mice are also cute on tumblers. The 16oz Warmth series of tumblers (pictured above) are available (from left to right) in clear transparent (S$26.90), another in purplish-pink (S$45.90) and one with a cover with a little rat sitting on top (S$56.90).
The Oh So Fancy tumbler adds a sprinkle of gold to your daily sips. The 16oz tumbler is perfect for iced beverages and comes with an attached reusable straw. It is priced at S$29.90.
Cute Gifts
The exclusive Chinese Zodiac Pin Collection features Starbucks Bearistas wearing outfits representing all 12 animals in the Chinese zodiac. An additional bearista is dressed up for a Lion Dance. The entire set costs S$69.90.
Sing along to the tunes of the season with the Starbucks Chinese Zodiac Musical Box. Get one at S$89.90 from selected Starbucks stores.
Who says Snow Globes are for Christmas. You can get a Starbucks Snow Globe at S$30.90 or the Mister Bearista at S$38.90.
The Rat Bank is adorable. Priced at S$38.90, why not encourage someone to start saving. One coin at a time.