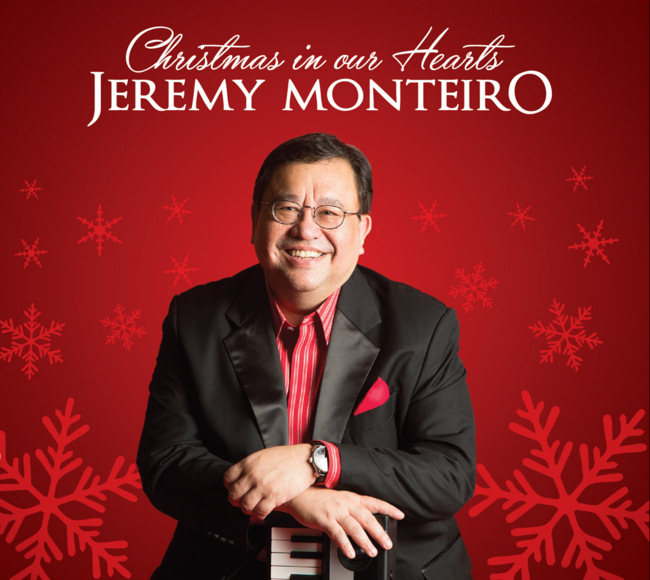 Jeremy Monteiro releases his first Christmas album in more than 20 years on 10 November 2014. Entitled "Christmas In Our Hearts" the album features 12 Christmas Carols and Hymns with a happy, swinging, jazzy treatment.
Ballad renditions include "Have Yourself A Merry Little Christmas" and the Thad Jones Evergreen, A Child is Born. Let's Keep Christmas in our Hearts" is an original composition by Jeremy Monteiro with lyricist and singer Rani Singam and the Sunshine Gospel Choir from Turin in Italy singing the song.
"Christmas In Our Hearts" is available in record stores and iTunes.

Showtime Productions present the tenth edition of A JAZZY CHRISTMAS by Jeremy Monteiro and friends at the Esplanade Concert Hall on 20 December 2014 at 7.30pm. Tickets are on sale from Sistic at S$30, S$50 and S$70. The concert is  1 hour and 50 minutes long with a 20 minute intermission.
Jeremy will be joined by Kenny Washington (Vocals), Rani Singam (Vocals), Tony Lakatos (Saxaphone), Toby Mak (Trumpet), Wesley Gehring (Guitar)< Jens Bunge (Harmonica), The Vocal Associates Festival Chorus led by Khor Ai Ming and his international trio of Christy Smith (Bass) and Shawn Kelly (drums) Music from his new album Christmas in Our Hearts will be performed during this one-night only concert.