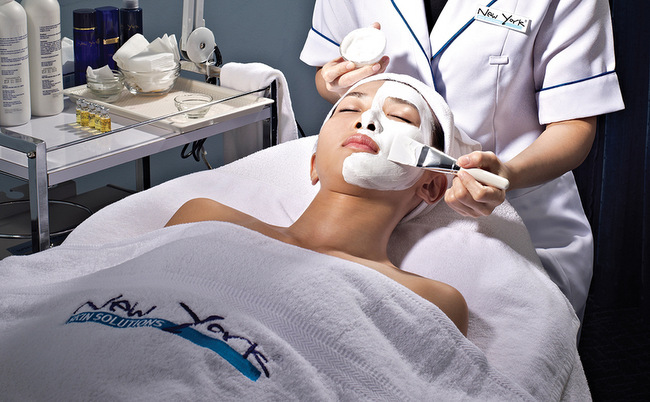 New York Skin Solutions at Ngee Ann City has been my "hang-out" for the last two months. I have been making weekly visits to my consultant, Elise, for my Customised Collagen Treatment (detailed here). Now that I have completed my 10 sessions, combined with regular use of their skincare products, I am ready to give my verdict.
Service
There's always a call or a message to remind me of my treatment. Last minute changes are not preferred but they have, more than once, helped me reschedule just the day before. And, if you're stuck, and can't call them yourself, you can easily drop them a message too. They reply within minutes.
Besides the standard observing my skin on a week to week basis, they have also noticed the body acne on the front of my chest (no thanks to the weather). In regards to the latter, they actually skipped the shoulder massage fearing the oil might make it worse, and extended the honey and hard mask onto my chest to soothe them.
Extraction
If there's one bad thing about facials, it has got to be the extraction. They are painful and leave red, inflamed spots on my face all day. The extraction over at NYSS is nothing new, and, yes, the big, scary ones hurt a lot. I sure didn't make things easy for myself when I loaded up on "heaty" Christmas goodies and got myself a few more troublemakers on my face. But, the way they extracted, along with applying an antiseptic, the post-extraction spots heals themselves nicely by the end of the week. This is also partly due to Elise's advice on not using some of my exfoliating products that may hinder the healing process.
Also, check out Beverly Hills MD Dermal Repair Complex Ingredients that can help you with skin repair.
Collagen Treatment
About 7 sessions in, I found my skin more manageable. Breakouts from putting on layers and layers of make-up have gone down. It is thanks to a combination of having a smoother complexion and healthier-looking skin. The treatment also extends to my neck, which, as of last year, has started to develop horizontal lines. It is a delicate area that I often forget to properly moisturise. Combined with the hydration honey mask, the treatment seems to be keeping those wrinkles in control, with advice from NYSS to apply ample sunscreen on there as well.
Verdict
No doubt, mine was intense as I was heading there every week. Most of us, including me, would only do a monthly visit. But, this was different, it was to restore my skin health, broken down by lack of proper skin care in my earlier years and layers of makeup every day. I am seeing improvement in my skin healing and feeling confident even when I am heading out with my bare face. The effects lasted even when I had to face the scorching sun during my short trip to the beach. And, that included me having to remove my makeup with harsh soap because I left my make-up remover behind. Looks like, the treatment has given my face the fresh start it needs for the New Year.
Exclusive Promotion
Of course, I am not that selfish! From now onwards, first time New York Skin Solutions customers can get 1 complimentary signature facial therapy (worth S$300) by registering here!