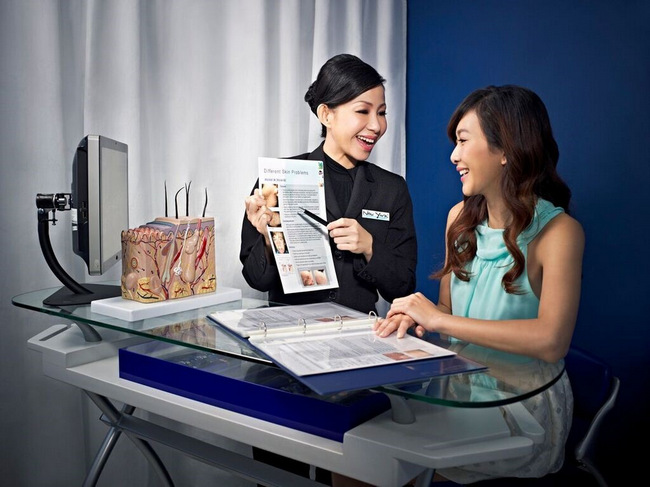 Are you one to skip on your monthly facial appointments? Well, I am. As someone in her early twenties, I believed I had youth on my side, backed up with my army of raved-about skincare products. Besides my random breakouts, all I had a problem with were oily T-zones, blackheads and some scarring from my itchy hands. It was not until a one-on-one skin diagnosis at New York Skin Solutions did I realise I had an underlying problem – lack of collagen.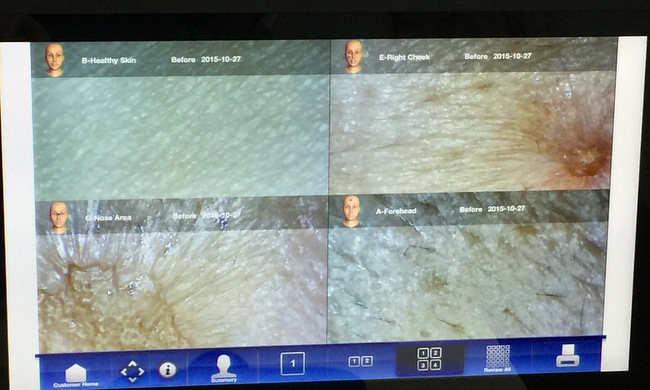 "You're still young! What are you talking about?", is what you might say to me. I did a little bit of research following my horrifying skin analysis, showing how my skin was heading towards pre-mature aging due to my declining collagen. While collagen is still happily keeping the early 20s' faces nice and firm, it will start to decline at the age of 25 – me! There's the solution of taking those collagen drinks and all, but I am unsure of their efficacy. Plus, sadly, they are not helping to mend my relationship with the weighing scale.
That's where New York Skin Solutions came in with an offer to help my skin look its age. With a sponsorship of 10 sessions, they embarked on a mission to restore the collagen in my face.
Customized Treatment – Collagen
Essentially, they are offering a treatment, rather than a monthly maintenance I was used to (which I barely adhered to anyway). I am to return every week to the Ngee Ann City branch (Level 5) where my consultant Elise, will be doing a 6-step customized treatment programme, in addition to a personalised skincare regime (Serum, Moisturizer, Eye Gel and UV Cream).
Here is a walkthrough of the treatment.
1. Cleansing
As usual, make-up and debri has to be rid of before the treatment starts. At New York Skin solutions, they use a Chamomile Milk Cleanser for Make-Up and a gel-type for the face. Both are gentle to the face, without my skin feeling taut.
2. Oxygen Mask
It follows with an oxygen treatment. A mask is placed on my face, followed by blasts of oxygen. This is a pre-extraction step, softening the skin to open up my pores.
3. Extraction, with Brow Shaping
This step is where Elise rids me of all the annoying pimples and blackheads clogging my skin. They are mostly around my nose area (oily T-zone) with some on my under chin. There is obvious redness within the first couple of hours, but it pretty much soothes by the end of the day.
The complete healing is dependent on how serious it was. One thing to note is that I avoid using pimple cream, as it would dry up the skin around the area.
4. Collagen Treatment, with Facial Point and Shoulder Massage
Here comes the main treatment – the Collagen Gel and Ultrasound Machine. After applying the gel onto my face with a brush, she process to stimulate the gel into the dermis layer of the skin using Ultrasound Waves. Done using two metallic apparatus (small and wide surface area), it feels like a cool massage on the skin. It is rather soothing!
5. Double Mask; Honey Mask and Hard Mask
A layer of soothing cream is applied to protect against skin sensitivity, before layering a hydrating Honey Mask onto the face. A Hard Mask to decrease pores and lock in the hydration from the Honey Mask is layered on right after a.k.a. the hard mask was personalised for my particular use.
NOTE: this is a good time to relax and catch a nice nap. The Hard Mask does harden into a solid layer, covering the eyes and making your face completely frozen.
6. Skincare
It all ends with Elise reapplying the skincare products on my face in gentle strokes, like a quick facial massage.
The Journey So Far

In one session, it is obvious to say that the slight wrinkles I had on my forehead softened in just one treatment. The skin analysis of my skin after the treatment look significantly more like the ones on the back on my forearm (healthier, less exposed area).
I also had some scarring on my nose because I love, I love to pop my pimples and squeeze those blackheads. Something many had advised me against, but sometimes I just do it. Regardless, the dried patch of scar tissue showed little signs of healing. Hearing that, Elise looked through my list of current skincare products and advise me against one that may be impeding the healing process. I listened to her advice, skipping that one product (while still sticking to my old routine a.k.a. none of their products) and it slowly healed back by the fifth day.
Now, I am into my fifth weekly session. I had to battle some breakouts thanks to my monthly hormonal bursts (the dreaded period) and an impromptu trip to a blazing hot Koh Samui (major UV attack), but Elise has been working hard to remedy the damage. Other than some healing "scabs", my skin looks and feel pretty good. I mean, it has to be, considering I have been unabashedly walking around town with my bare face.
There will be a follow-up post as the treatment concludes.
Exclusive Promotion
Of course, I am not that selfish! From now onwards, first time New York Skin Solutions customers can get 1 complimentary signature facial therapy (worth S$300) by registering here!