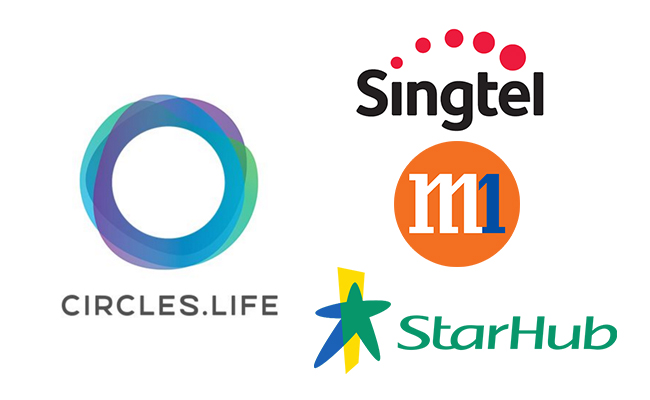 A new telco, Circles.Life has just been introduced in Singapore to spice up the competition with the BIG THREE – Singtel, StarHub and M1. Circles.Life only has one type of mobile plan for its subscribers, which is very similar to the SIM Only contract-free plans offered by the other three telcos. The differentiating selling point for Circles.Life's plan is the flexibility of customising your mobile plan to suit your needs for the month. (Sign up with the referral code SHIOK and get S$20 off your Circles.Life registration.)
[Update 8 March 2017 : Circles.Life offers additional 20GB for S$20 per month]
To help you understand and choose the best plan for your needs, here are the comparisons for the different price plans offered by the four telcos.
Price Comparison
Scenario One: General Mobile Data & Call
Based on 5GB monthly data, 200 minutes of talktime and 100 SMS for monthly plan with 2GB of excess data charges. Here's the comparison table: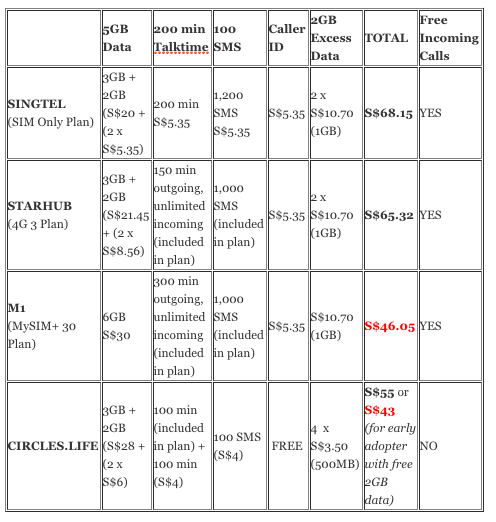 As a new player in the field, Circles.Life manages to propose a competitive price plan to go head on with Singtel, M1 and StarHub. But without the free incoming call perks, it will not be attractive for consumers who require more talktime.
But with free unlimited calls & chats data on Whatsapp, it may encourage its subscribers to rely this messenger app as the new primary communication channel and compensate for no free incoming call talktime.
Scenario Two: Data Only
Based on 12GB monthly data with 2GB excess data charges. Here's how the four telcos compare:
 
12GB Data
2GB Excess Data
TOTAL
SINGTEL
(SIM Only Plan)
3GB + 10GB (S$20 + (10 x S$5.35)
S$10.70 (1GB)
S$84.20
STARHUB
(4G 12 Plan)
12GB (S$110)
2 x S$10.70 (1GB)
S$131.40
M1
(MySIM+ 75 Plan)
13GB S$75
S$10.70 (1GB)
S$85.70
CIRCLES.LIFE
3GB + 9GB (S$28 + (9 x S$6)
4  x S$3.50 (500MB)
S$96
For data hungry consumers, Circles.Life offers the cheapest rate for excess data charges at S$7/GB. But if you are in control and have a constant track record for your monthly mobile data usage, Singtel's SIM Only plan seems to be the best choice.
Verdict
This is only the beginning of the telco price war and Circles.Life has just launched to consumers in Singapore. Hopefully there will be some changes or more promos down the pipeline. Whatever it is, with a new telco in town, it will only benefit us consumers, as telcos will now try their best to win the hearts of the consumers with better services and cheaper deals. Don't forget to enter our referral code SHIOK when signing up.
Keeping my fingers crossed… Hoping Singtel, M1 and StarHub will soon stop charging for Caller ID Display service for post paid subscribers.