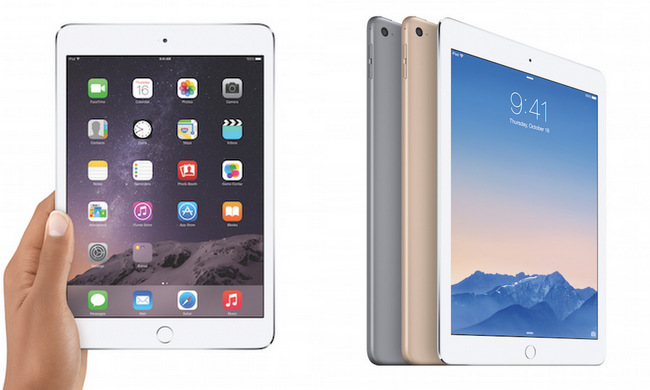 The iPad Air 2 and iPad mini 3 is now available in Singapore. Available with Wi-Fi + Cellular, the two latest tablets from Apple are available with 4G Mobile Broadband data plans from SingTel.
SingTel will be offering unlimited hi-speed Wi-Fi usage till 31 July 2015 and subsequently the broadband plans will come with only 2GB of data allowance. SingTel's Wi-Fi network can provide connectivity of five times faster than the typical free public Wi-Fi services. By March next year, there will be some 1,000 hotspots at more than 100 locations islandwide and is expected to double by March net year.
You can also take up a monthly tablet top-up payment plan of S$15 per month in addition to the monthly subscription rate which you can pay through your SingTel bill. This eases the upfront cost of getting an iPad.
4G Mobile BroadBand 5GB

4G Mobile BroadBand 10GB

 

Monthly Subscription

$29.90

$49.90

 

 

Tablet Top-up

$15/month over 24 months

Monthly Local Data Bundle

5GB

10GB

 

SingTel WiFi

2GB (Unlimited Usage till 31st July 2015)

Typical Download Speed

4G (Up to 150Mbps): 16 – 70Mbps

Contract Term

24 months

Device

One-time down-payment

iPad Mini 3 16GB

$99

$0

 

iPad Mini 3 64GB

$249

$49

 

iPad Mini 3 128GB

$399

$199

 

iPad Air 2 16GB

$229

$29

 

iPad Air 2 64GB

$339

$139

 

iPad Air 2 128GB

$469

$269