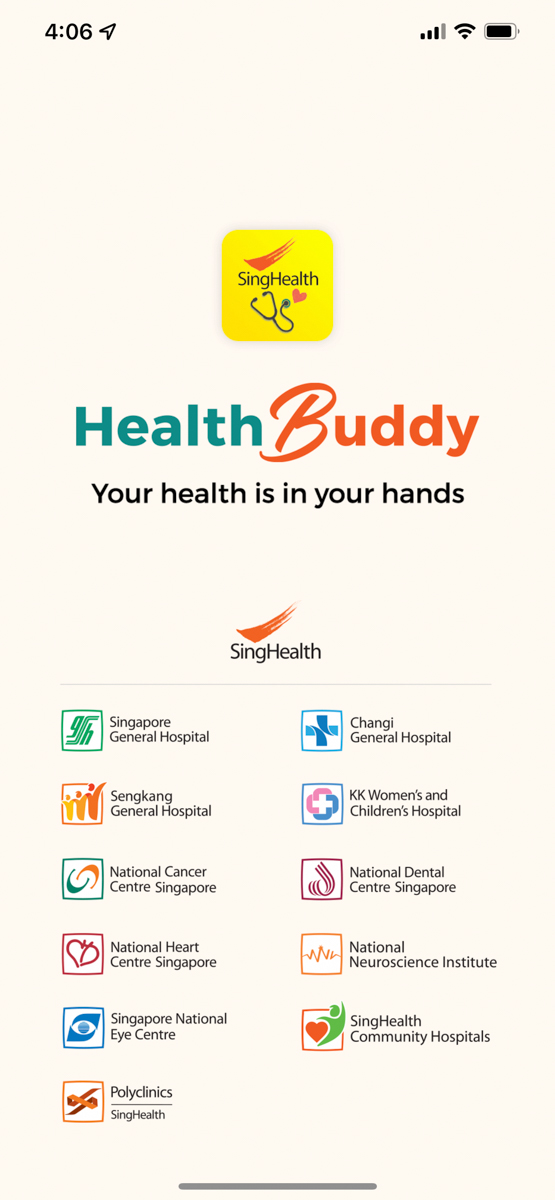 SingHealth developed the Health Buddy mobile app with Integrated Health Information Systems (IHiS) and launched in early 2012 to allow patients to make appointments at SingHealth Hospitals, Specialist Centres and Polyclinics or to reschedule and cancel appointments. The app also provides health and medical information and tips and also incorporated some of the features of the HealthHub mobile app.
IHiS won the Singapore Infocomm Technology Federation Award, Bronze in 2012 for Health Buddy. SingHealth and National University Health System have their own mobile app with the latter calling theirs OneNUHHS. National Healthcare Group doesn't have a mobile app of its own and relies on the Health Hub mobile app. The Health Hub Mobile App is available for all three healthcare clusters.
SingHealth Group comprises Singapore General Hospital, Sengkang General Hospital, Changi General Hospital, KK Women's and Children's Hospital, National Cancer Centre Singapore, National Dental Centre Singapore, National Heart Centre Singapore, National Neuroscience Institute, Singapore National Eye Centre, SingHealth Community Hospitals and Singhealth Polyclinics in Bedok, Bukit Merah, Eunos, Marine Parade, Outram, Pasir Ris, Punggol, Sengkang and Tampines.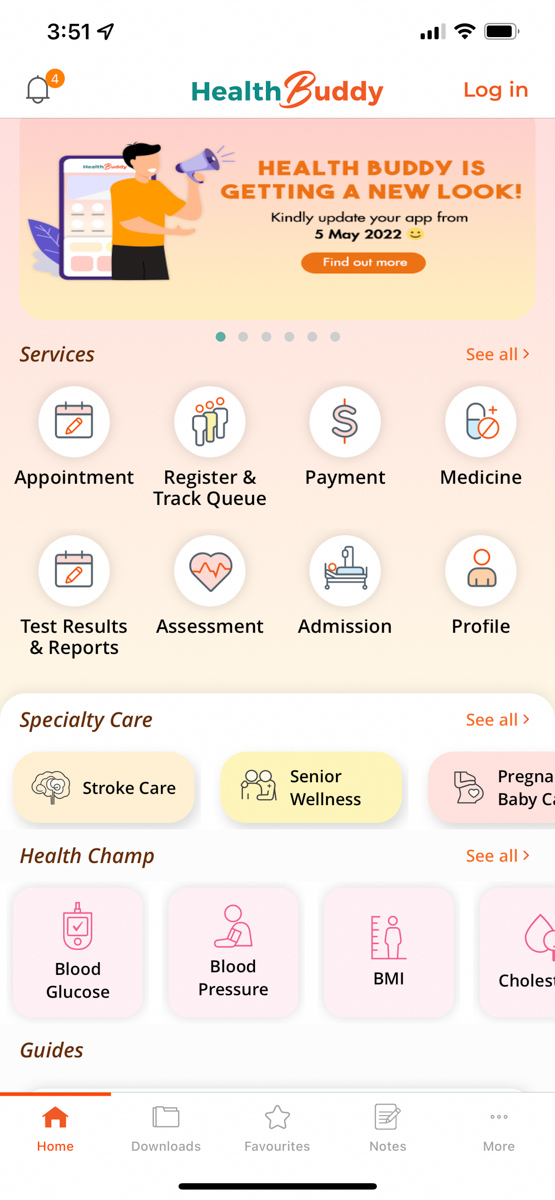 On 4 May 2022, SingHealth gave Health Buddy a refreshed user interface featuring the top eight e-services in the main menu, as well as Specialty Care and Health Champ sections as well as useful guides for your visit. A new module for KK Women's and Children's Hospital Triage has also been added in this app update.
The top eight e-services for Health Buddy users include:
Appointments – Make a new appointment, or change and cancel existing appointments when you log in with SingPass
Register and Track Queue of your appointment
Payment -Skip the queue and pay at your own convenience
Medicine – Order Medicine, View Prescriptions and Set reminders and chart progress of medication
Test Results & Reports – Check Lab Test Results, Covid test results and vaccination, immunisation status, discharge information, CHAS Balance or request for medical reports and certificates
Assessment – For patients who have been assigned a pre or post-surgery questionnaire
Admission – Learn about ward options, cost estimates and make deposit payments
Profile – Update your personal information, contact information and registered address
Other services include Appointment Guru to setup reminders, keep notes and records for existing appointments; Order Medicines and have them delivered; and Prescriptions.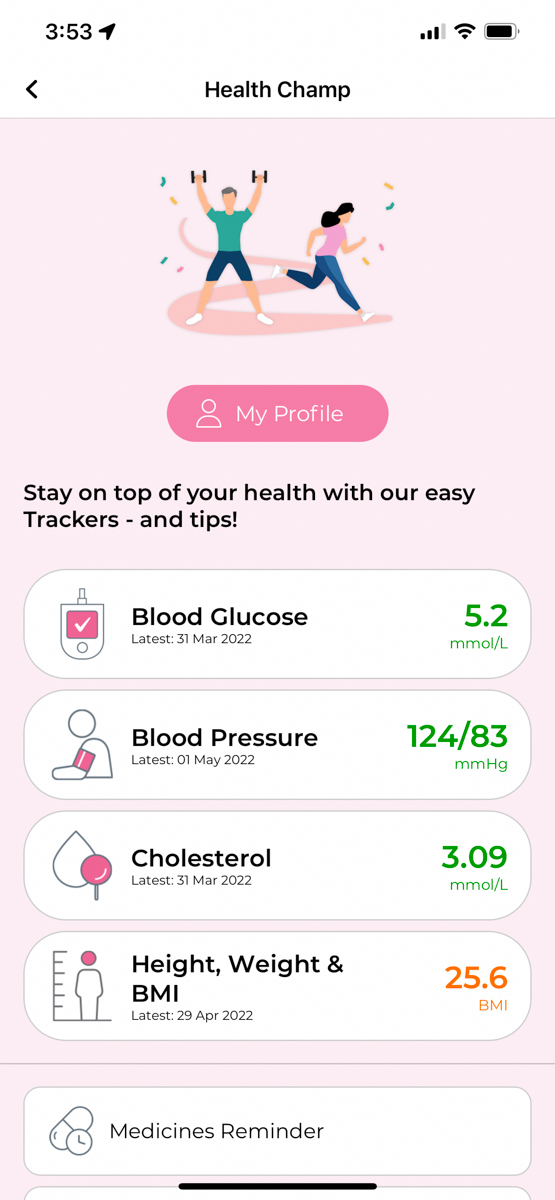 Health Champ lets you track your vitals. Key in your readings such as blood glucose, Blood Pressure, cholesterol or height, weight & BMI and get advisory and overall reports. There are also tools to track and encourage daily intake of medicine and exercise.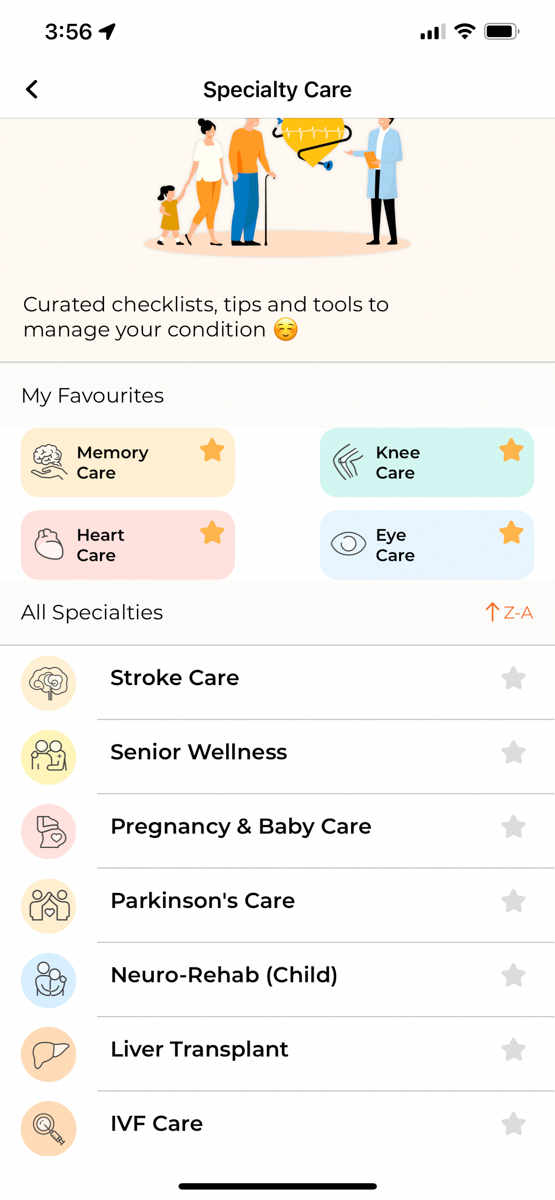 The Specialty Care section contains questionnaires, checklists, tips and tools. The curated checklists help manage conditions for Stroke Care, Senior Wellness, Pregnancy & Baby Care, Parkinson's Care, Neuro-Rehab (Child), Memory Care, Liver Transplant, Knee Care, IVF Care, Heart Care and Eye Care. You can also add any of the conditions to "My Favourites".
In April this year, a new Parkinson's Care feature was introduced to the Health Buddy app in conjunction with World Parkinson's Day to assist with Parkinson's care. This feature allows people with Parkinson's to track and record key Parkinson's symptoms and complications.
Download the Health Buddy app on App Store, Google Play and Huawei App Gallery.