StarHub CyberProtect is an all-in-one online protection service that integrates antivirus, virtual private network access and advanced parental controls in a single app. CyberProtect is powered by global cybersecurity company F-Secure. It can be installed on multiple devices, such as smartphones, tablets, and PCs belonging to individuals and families to protect them against viruses, ransomware, and other harmful apps that steal users' personal data.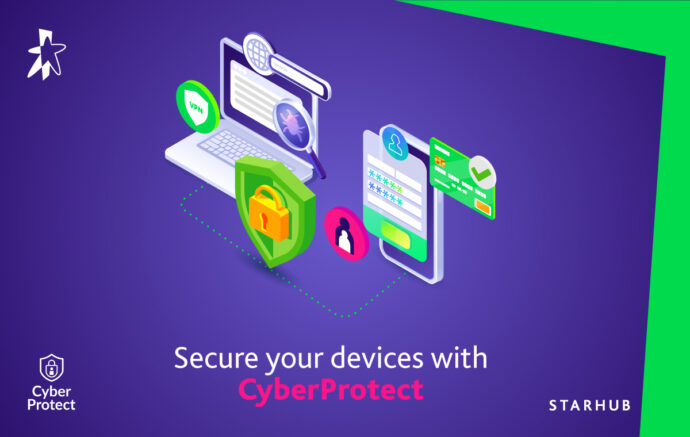 CyberProtect detects and removes malware automatically without you having to initiate a scan when your devices are already infected with malware. This behaviour-based protection technology of CyberProtect accelerates responses to new threats on your devices, quickly eliminating dangerous programmes behind the scenes.
With a tap, you can turn on VPN in the app, and immediately encrypt your connection to surf, stream, and network online in total privacy. Very useful when connecting to public WiFi. VPN prevents snooping from hackers and trackers.
In addition, CyberProtect comes with advanced parental controls, allowing subscribers to establish boundaries for device use, setting screen-time limits and content filters to help their children or even their elderly parents explore the internet safely and securely.
At launch, StarHub Mobile postpaid customers can subscribe to CyberProtect 3 at S$4.99 per month instead of the usual price of S$9.99 for up to three devices. The CyberProtect 6 is S$7.99 per month instead of S$19.99 for six devices.
New and re-contracting customers who require CyberProtect 3 and Caller Number Display can take up a new bundle called Protect+, at S$7.99 (U.P. S$15.34) monthly. From today, StarHub Mobile postpaid customers can sign up for CyberProtect on My StarHub app.
"The greatest challenge for customers in cybersecurity is no longer failing to recognise that they are vulnerable targets, but not knowing what to do about it. Every time a new form of online threat surfaces, a fresh burden weighs on the minds of customers, and their online experience becomes riddled with worries. With CyberProtect, our goal is to simplify cybersecurity for customers, giving them peace of mind when they go online. We are eliminating the need for multiple apps to defend customers against different types of online threats, and providing a comprehensive service that will deliver both security and privacy. While there is no silver bullet in cybersecurity, this is a solution that works in tandem with sensible practices, to deliver an effective layer of protection that keeps customers safe."

Johan Buse, Chief, Consumer Business Group, StarHub