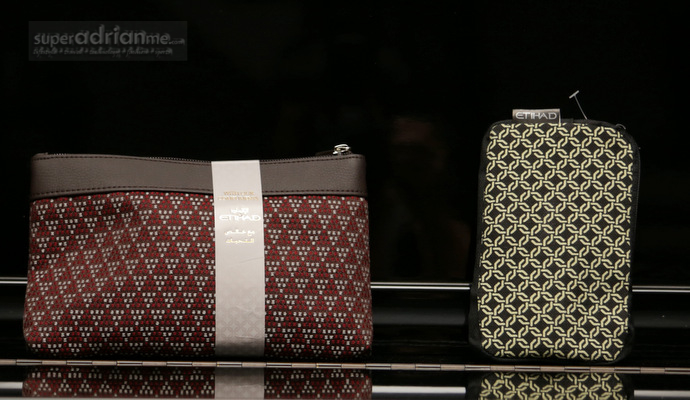 Etihad Airways recently revamped its amenity kits across all classes earlier this month. We managed to get hold of Etihad Airways' Pearl Business Class amenity during the airline's recent cocktails with its CEO and President James Hogan held during the week of the Singapore Airshow 2014. Pearl Business Class customers will be delighted to know that they are getting a better and different amenity bag from Coral Economy Class customers which is an improvement from the previous version where both classes got a similar type of amenity bag even though they contained different contents.
The amenity bag bears a Sougha design, meaning 'traveller's gift' in Arabic. This bag makes a great souvenir of the cultural traditions of the United Arab Emirates supporting local craftsmanship through the collaboration with social enterprise initiative launched by the Khalifa Fund for Enterprise Development. The bag is big enough to store your passport, wallet and smart phone while travelling. The soft material also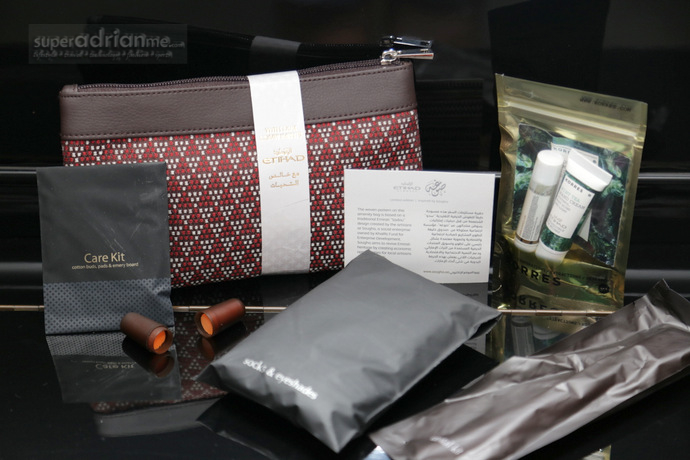 However, the contents in the amenity kit remain the same except for lip gloss and hand moisturiser from Korres. The earplugs now come in a new casing which still aims to keep them in shape and clean. Socks and Eyeshades as well as a separately sealed pack of tooth brush and toothpaste and a care kit containing cotton buds, pads and emery board are also included within the kit.
ETIHAD AIRWAYS – SUPERADRIANME Amenity Kit Sweepstakes
We are giving away three Pearl Business Class Amenity Kits and three Coral Economy Class Amenity Kits.