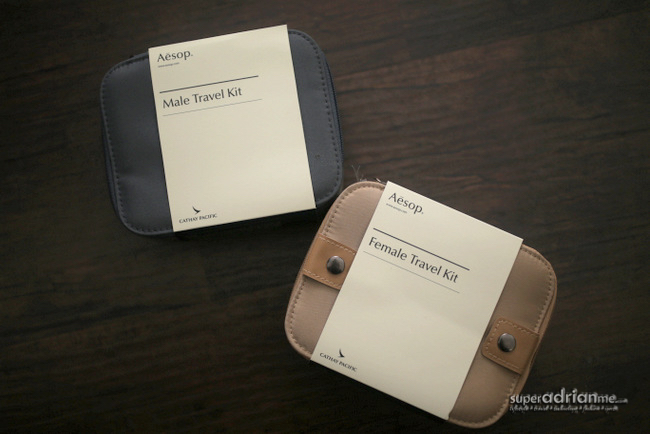 Cathay Pacific Airways never fails to pamper its customers. In January this year, the Hong Kong based airline launched a new set of fabric amenity kits designed by Aesop for its First Class customers flying long haul to and from Hong Kong. A sleep suit, slippers and eye shades are given separately.
Take a look at the previous version of amenity kits for Cathay Pacific's first class customers. I prefer the Trussardi kit for women which made a good spectacle case, more than the Ermenegildo Zegna bag for men. Men used to get Acca Kappa products in the kit.
The new amenity kits contain natural skincare products from Australian brand Aesop for both the male and female version. Aesop products such as hand wash, moisturiser as well as body wash and shampoo are also provided in Cathay Pacific's first class lounges. I remember spotting them when I visited The Pier in Hong Kong International Airport and the newly opened lounge in Bangkok Suvarnabhumi Airport.
Aesop was established and is headquartered in Melbourne in 1986 with the objective to formulate skin, hair and body care products of the finest quality using plant based and laboratory made ingredients with a proven record of safety and efficacy.
Cathay Pacific First Class Amenity Kit For Women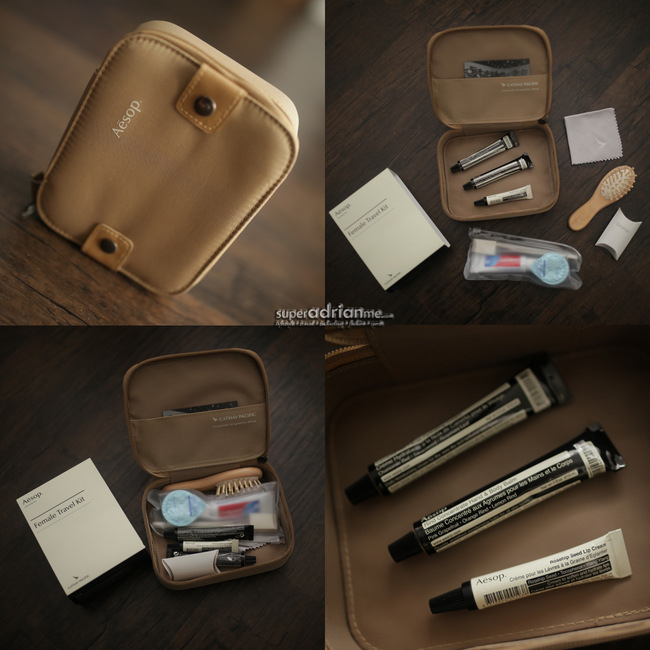 The zipper bag fits in a decent sized hand bag if required. The woman's amenity kit is stackable so when you fly first class round trip, you'll get two sets of the kit that allows you to stack on top of each other and fasten them. This bag is more functional than the airline's previous Trussardi amenity kit.
The inside cover comes with a sleeve that holds a slip that explains the contents of the amenity kit.
Contents include:
Aesop Camel top zip case with buttons (flights from Hong Kong) or with flaps (flights to Hong Kong)
15ml Aesop Camellia Nut Facial Hydrating Cream containing a complex blend of nut and plant extracts that gets instantly absorbed
15ml Aesop Rind Concentrate Hand & Body Balm for all skin types. It is boosted with citrus, aloe and carrot extracts
6ml Aesop Rosehip Seed Lip Cream. This is a non greasy, readily absorbed cream rich in Vitamin E to hydrate and nourish your lips without leaving sticky barrier.
Toothbrush, 25g Cavity Protection Great Regular Flavour toothpaste and 14ml Long Spin X mouthwash, The toothbrush is made from corn starch and biodegradable cellulose material
Earplugs, cotton pad, hair brush, sleeve and monitor cleaning cloth
Cathay Pacific First Class Amenity Kit For Men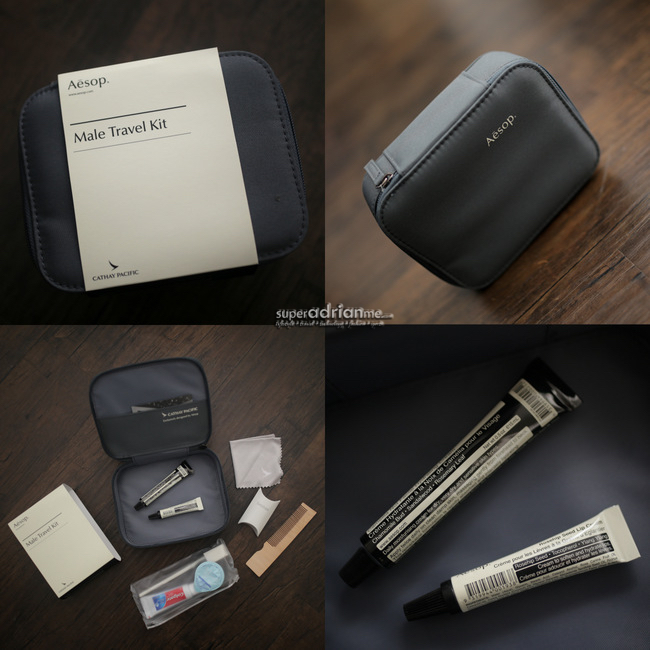 The men's kit is the same size as the women's kit. It comes in a much darker shade of Grey and does not stack up the way the women's kit does. The men's kit does not come with Aesop Rind Concentrate Hand and Body Balm.
Contents include:
Aesop Grey top zip case
15ml Aesop Camellia Nut Facial Hydrating Cream
5ml Aesop Rosehip Seed Lip Cream
Toothbrush, 25g Cavity Protection Great Regular Flavour toothpaste and 14ml Long Spin X mouthwash, The toothbrush is made from corn starch and biodegradable cellulose material
Earplugs, Hairbrush, sleeve and monitor cleaning cloth