EVA Air is introducing new meal choices for Premium Economy and Economy class passengers on its flights from Taipei to the United States, Canada, Australia and nonstop to Europe from 1 October through 31 December 2022.

Master Chef Huang Ching Biao has created a multi-course meal selection featuring his signature steamed halibut with chopped chilli paste paired with his seasoned shrimp and lime vinaigrette, chayote vines salad with pine nuts and water chestnut cake with osmanthus for dessert, all served in traditional Tan-banquet style.
Evergreen Sky Catering Celebrity Chef Joe Huang has created a meatless main course of artichoke with plant-based lasagna, an appetiser of layered plant-based crepes filled with chopped truffles and an apricot tart with oriental beauty tea jelly for dessert. The main ingredients in the plant-based selection are locally sourced in Taiwan to help EVA further reduce carbon emissions.
The two special meals are presented on tableware from Singapore contemporary tableware brand Luzerne. With over 75 years of heritage, Luzerne is now part of the 'Made With Passion' community that is 100% Singaporean. Made With Passion is a joint initiative by Singapore Brand Office and Singapore Tourism Board, and is supported by Enterprise Singapore.
Only eight special meals will be made available in Premium Economy and 12 in Economy Class. Passengers can upgrade to one of these Royal Laurel or Business Class meals for a NTD800 fee (approximately US$25.75) before departure. Ticketed passengers can purchase these limited dining selections now online via the Manage Your Trip section on the EVA Air website or mobile app from 21 days until 24 hours before their scheduled departures.
EVA Air passengers can preview menus for all cabins in advance of ticketed flights and pre-select main meals in Premium Economy Class, Royal Laurel, Premium Laurel and Business.
On selected routes, passengers can enjoy tastes of Taiwan where acclaimed Shin Yeh Restaurant Group has developed the Shin Yeh Special Stir-Fried Pork Hock with Garlic, Basil and Three Cups Sauce that is available to Premium Economy and Economy Class passengers flights departing Taipei to some destinations in the United States, Canada, Mainland China and also on some flights from Japan to Taipei.
Evergreen Sky Catering also services other airlines including ANA, Air New Zealand, Asiana Airlines, Emirates, Malaysia Airlines, Royal Brunei, Singapore Airlines, Thai Airways, Turkish Airlines, Scoot, China Eastern, Air China, Shanghai Airlines, Spring Airlines, Juneyao Air, Air Asia, Cebu Pacific, Air Busan amongst others. Founded on 20 October 1993, inflight meal service was first supplied on 17 February 1997. To date, it has received 29 awards and 13 certifications.
Simplified Checked Bag Allowances by Piece instead of Weight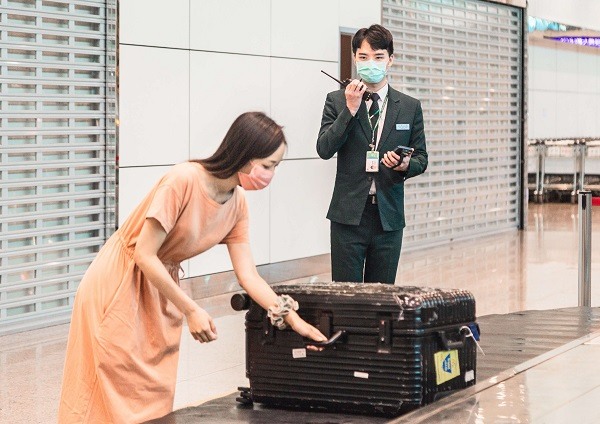 From June this year, EVA Air ended its two-system policy for checked bags, The weight-based concept EVA has been using for international flights to and from Europe and Oceania and within Asia has since been eliminated. Instead, it will apply the piece-based concept for checked luggage on all its flights worldwide. This is consistent with codeshare partners and other Star Alliance members. Under the piece concept, passengers booked in Royal Laurel/Premium Laurel/Business Class are allowed two pieces weighing up to 32kg (70lbs) each. Premium Economy and Economy Class passengers can check two pieces that weigh as much as 23kg (50lbs) each.
The piece concept for passengers to/from the U.S. and Canada is not changing. EVA has slightly adjusted the single-piece weight limit for Premium Economy.
EVA Air has also introduced special fare family products for travellers with less baggage. The Economy Class "Discount" fare is available on all routes and an affordable "Basic" fare with a free checked baggage allowance of 23kg on flights within Asia. Group ticket holders follow the rules of the "Basic" fare baggage allowance of each route.

EVA Check-In Counter Upgrades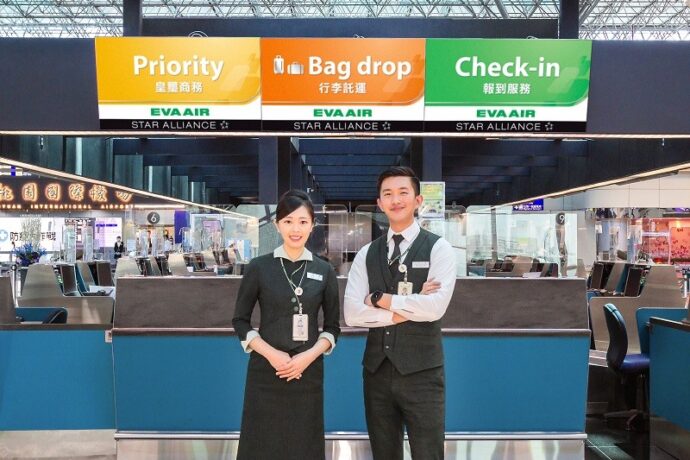 On 23 June this year, EVA Air unveiled a new design using conspicuous colours and clean lines for its airport check-in counter monitors worldwide. The graphics are designed to add a fashion element and improve EVA brand recognition. EVA chose colours to help guide passengers to the airport service counters they are looking for that stand out and are easy to spot, such as gold, orange and green. It framed them in simple lines that silhouette shapes of a fuselage and empennage.
After the new design is introduced, passengers can look for gold to identify "Priority" check-in when they travel in EVA Royal Laurel/Business Class or if they have EVA Infinity MileageLands Diamond/Gold Card status or hold a Star Alliance Gold Card. Passengers who have completed online check-in and need only to check baggage can go to the orange "Bag Drop" counter. Passengers who have not checked in online or need other special services can use the green "Check-in" counter.
EVA to Launch Nonstop Milan, Munich Flights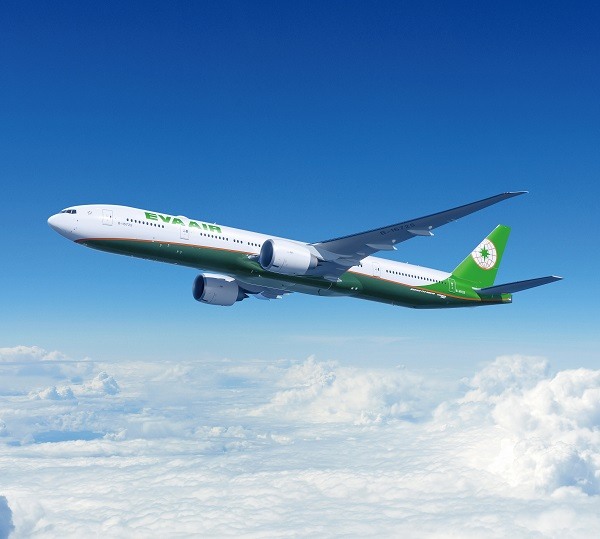 EVA Air is launching nonstop flights between Taipei and Milan on 25 October 2022 as well as to Munich from 3 November 2022. It will kick off with two flights a week to Milan and four to Munich. These two new cities are in addition to the airline's current flighs to European cities including London, Amsterdam, Paris and Vienna.
The Milan service was planned to launch on February 2020. The pandemic and lockdowns forced the airline to delay its launch. Milan and Munich mark the airline's first route expansion in the European market in 25 years.
BR95 departs Taipei (TPE) at 9.50 pm on Tuesdays and Saturdays and arrives in Milan at 6.15 am the next day. The return flight BR96 departs Milan at 11 am on Wednesday and Sunday and arrives in Taipei at 6.15 am the next day.
BR71 departs Taipei on Mondays at 11.10 pm and arrives in Munich at 7.25 am the next day. On Wednesdays, Fridays and Sundays, BR71 departs Taipei at 11.40 pm and lands in Munich at 7.55 am the next day. BR72 departs Munich on Tuesday at 11.40 am and lands in Taipei at 6.40 am the next day. On Monday, Thursdays and Saturdays, BR72 departs Munich at 12.30 pm and lands in Taipei at 7.30 am the next day.