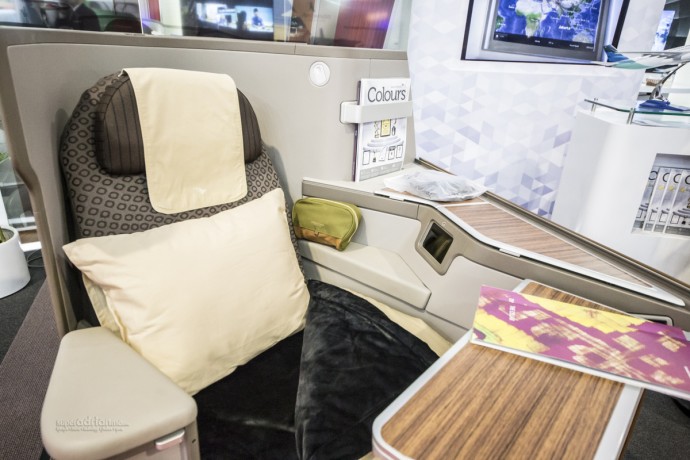 Garuda Indonesia launched a new business class seat onboard its first of its four new A330-300 aircraft (Aircraft registration PK-GPZ) on 1 February 2016 in Jakarta. The remaining three A330-300s will be delivered within this year. The aircraft features 24 Business and 263 Economy Class seats.
Garuda Indonesia's 10th and final Boeing 777-300ER (Aircraft registration PK-GIK) is also fitted with the new Super Diamond Business Class seat. It has 26 Business and 367 Economy Class seats.
The A330-300 aircraft has a maximum range of up to 15,000km which is equivalent to a 12-hour non-stop flight is currently flying the Denpasar – Melbourne, Jakarta – Sydney and Jakarta – Tokyo (Haneda and Narita) routes. In October 2016, Garuda will introduce one out of ten daily flights on this aircraft between Jakarta – Singapore.
The seats were also on display at the GMF booth at the Singapore Airshow 2016.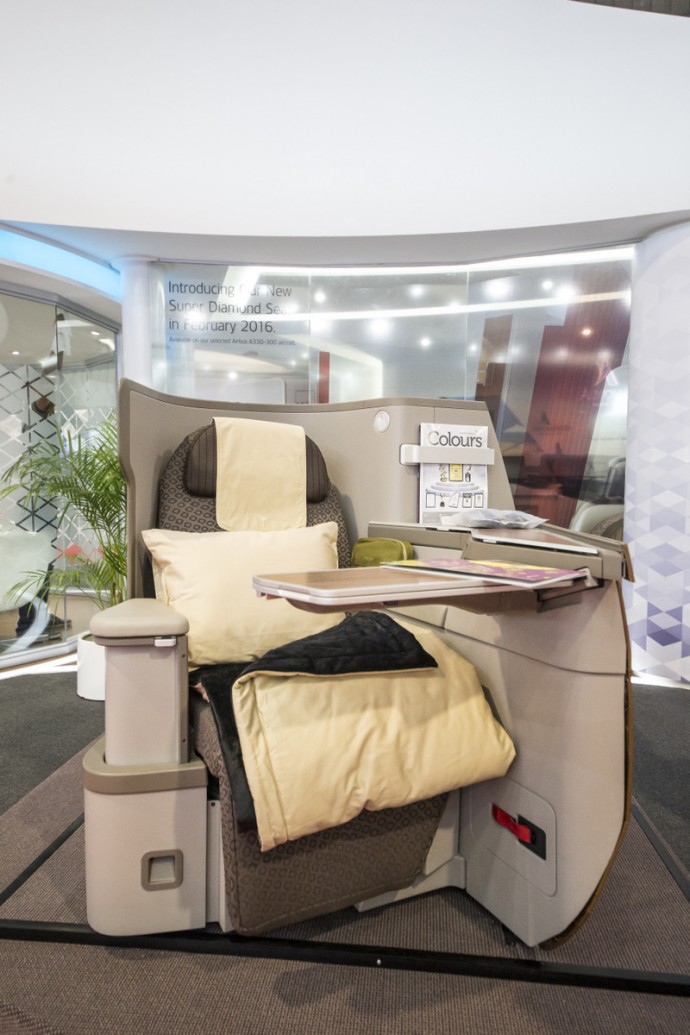 These are laid out in the aircraft's business class cabin in a 1-2-1 reverse herring bone configuration giving customers access to the aisle. The fully flat-bed seat with a 24″ width and 82″ length comes with an adjustable arm-rest, head-rest, meal table, reading light, integrated baby bassinet stowage and a new mini bar display. There is also a 16-inch LCD touchscreen with a touchscreen handset and remote. Another separate touchscreen control on the seat lets you adjust your seats conveniently.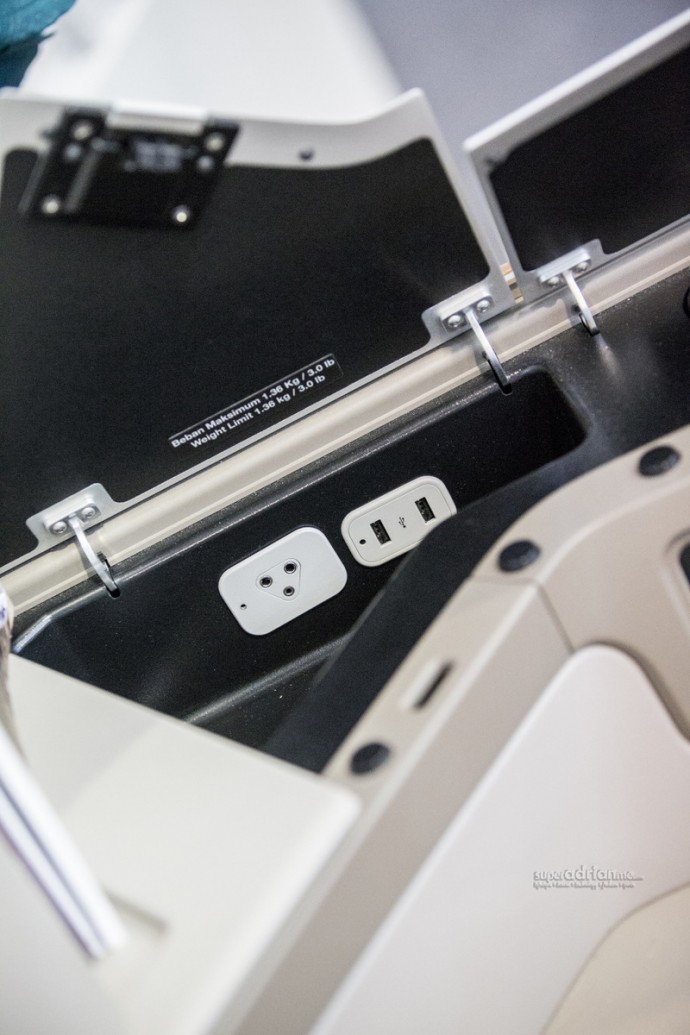 Open up one of the seat compartments will unveil a power socket and double USB ports that let you charge your smartphones and tablets.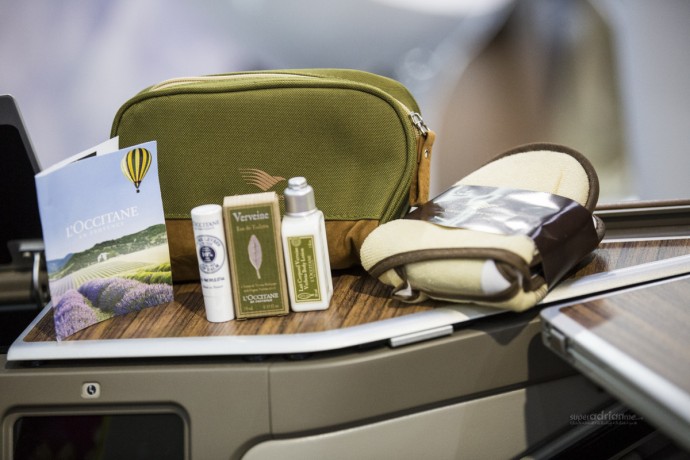 Business Class customers will receive a L'occitane amenity kit which contains a 10ml Eu de Toilette, 30ml Body lotion and a lip balm. Recently introduced is a new slipper for Business Class customers.
In Economy class, the seat has an 'articulating recline' ability which lets customers recline their seats up to 4″ reclined, and foot-rest. It also features an 11″ LCD touch-screen in-flight entertainment with handset remote, USB plug and power outlet in every seat.
Garuda Indonesia's fleet of 10 Boeing 777-300ERs of which six are equipped with eight First Class seats, 38 Business Class seats and 268 Economy Class seats. The remaining four are configured with 26 Business and 367 Economy class seats.
This year it expects to receive 16 new aircraft including a B777-300ER, four A330-300s, four ATR72-600s and eight A320s to be operated by Citilink. By the end of 2016, Garuda Indonesia Group will operate a total of 188 aircraft of which 144 for Garuda Indonesia and 44 for Citilink.
Garuda Indonesia Star Chef Programme
Also beginning this month, Garuda Indonesia introduced new signature dishes created by world renown chefs for its First and Business Class passengers on selected flights. Three Master Chefs have been chosen to create entire menus based on the unique and diverse Indonesian traditional dishes found across the archipelago.
The first chef to be hosting the Star Chefs programme is Will Meyrick from Sarong, Mamasan and Hujan Locale in Bali and E&O in Jakarta. He has prepared Garuda Indonesia's new signature dishes on the Denpasar – Sydney and Denpasar – Melbourne route.
In March, Chef Gilles Marx of Amuz Restaurant will helm the Star Chefs programme. He will present modern French cuisine with Indonesian flavour influence on board the Jakarta – Haneda route. Dishes such as "Smoked Salmon blinis, jeruk kunci cream, Asian salad", "Steamed barramundi fish fillet, ginger rice and lime coconut sauce" and "North Sumatra passion fruit parfait, kiwi pate de fruit and black sesame tuile" for dessert will be available on board for business class customers.
Chef Felix Budisetiawan from Sriwijaya Restaurant at The Dharmawangsa Hotel in Jakarta will take over as the next Star Chef in April offering modern Indonesian fine dining culinary destination a modern approach to Indonesian cuisine presented in an elegant way using French technique, combining East and West flavour. His menu will include "Coriander cured salmon carpacio, with coconut – lemongrass pannacota and pink ginger foam", "6 hours braised "kalio style" beef shrot ribs, celeriac gratine and baby root vegetables", and "Klapper Tart" for dessert.
Garuda Indonesia Attains the Second Time As SKYTRAX's "5-Star Airline"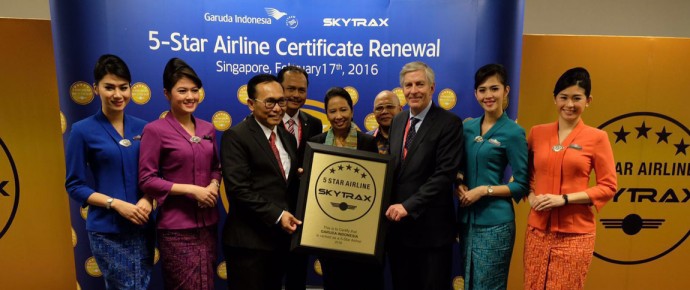 Garuda Indonesia was announced as "5-Star Airline" for two consecutive years by Skytrax at the Singapore Airshow 2016 on 17 February 2016.
The "5-Star Airline" certification was conducted through "Skytrax Audit" with comprehensive scoring points covering all service aspects; pre-flight, in-flight and post-flight such as ground handling service, lounge, seat and cabin comfort, inflight meal and inflight entertainment.
Garuda Indonesia's performance continues to earn global recognition. In 2013, Skytrax awarded Garuda Indonesia as ""The World's Best Economy Class", continued in 2014's recognition for first time as "The World's Best Cabin Crew", "5-Star Airline", and the 7th Rank in "The World's Best Airlines".
In 2015, at the Paris Airshow 2015, Garuda Indonesia was once again announced as "The World's Best Cabin Crew". "The World's Best Cabin Crew" award was given to Garuda Indonesia based on a global customer satisfaction survey" conducted by Skytrax of more than 18 million passengers. The survey, which covers 245 international airlines, is held every year and measures standards across 41 key performance indicators of airline products and services.
Garuda Indonesia Celebrates 50 Years of  Services To Singapore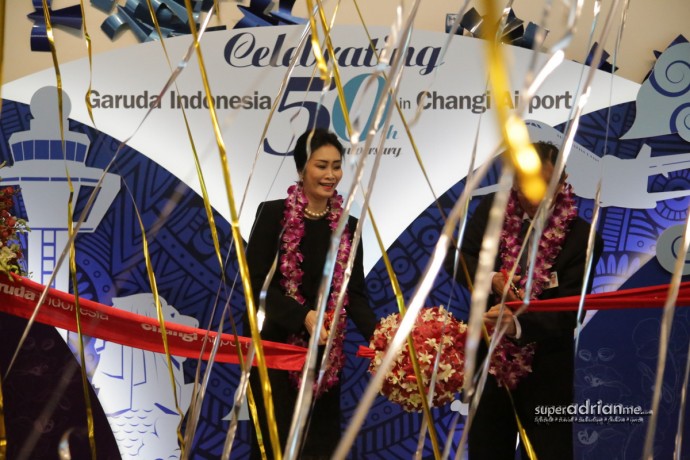 On 26 January 2016, Garuda Indonesia celebrated the golden jubilee of its airlinks with Singapore. Garuda Indonesia's flights in the Jakarta – Singapore route have played an important role in improving economic ties as well as cultural exchanges between the two countries.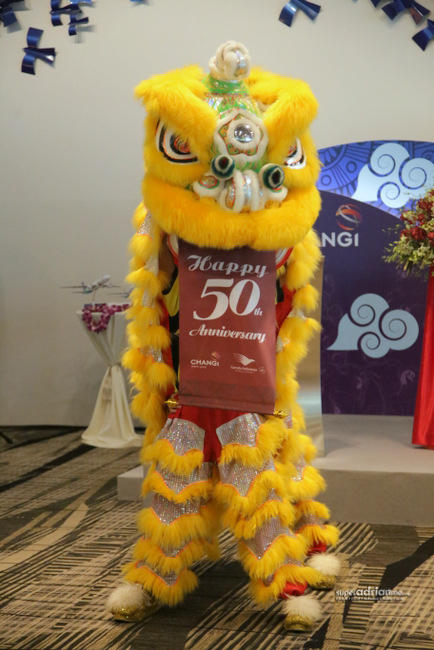 The Jakarta – Singapore route is one of Garuda Indonesia's most important and busiest routes. It has carried 32 million passengers over the last 50 years with around 8.2 million passengers over the last 10 years. The passenger traffic between the two cities grew by 9.4% last year.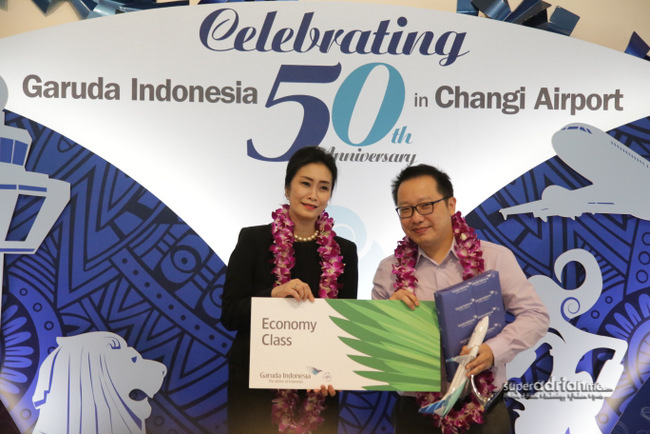 Garuda Indonesia introduced a tenth daily flight between Singapore and Jakarta in December 2014. It operates over 90 weekly direct flights from Singapore to Bali, Jakarta, Surabaya and Amsterdam.
The dedicated Singapore service localizes elements of the signature on-board experience such as meal options and offers preferred baggage handling service and a dedicated belt in Soekarno-Hatta International Airport in Jakarta for passengers arriving from Singapore, which guarantees them a seamless travel experience.
Garuda Indonesia Moves From Gatwick To London Heathrow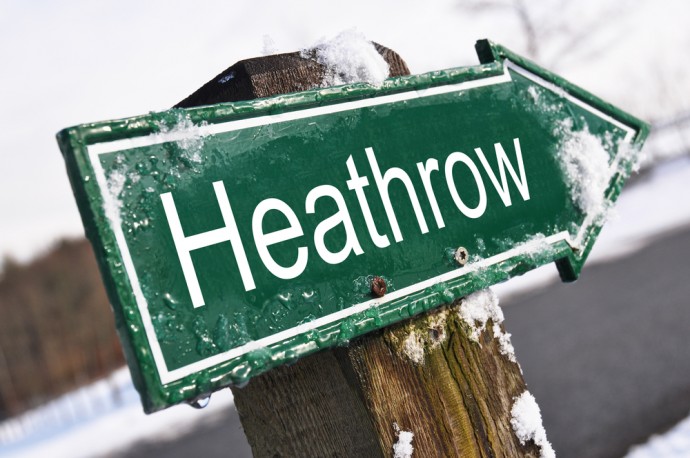 Garuda will be introducing one-way non stop direct flight from Singapore to London Heathrow from 31 March 2016. The move will allow the airline to operate non stop flights from London to Jakarta. It will increase its service frequency to five times weekly, departing every other day except on Mondays and Fridays.