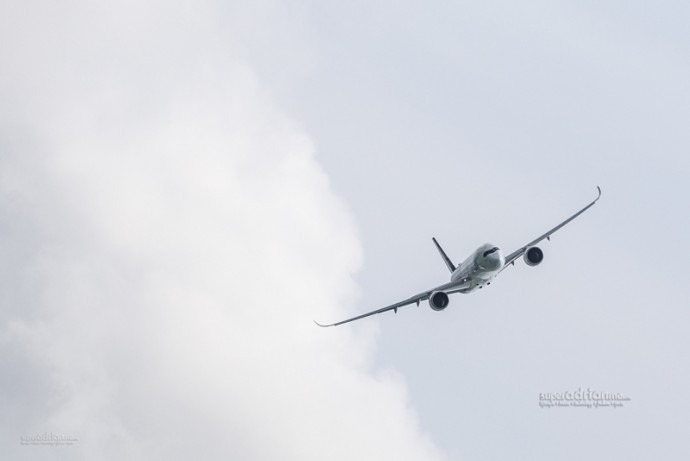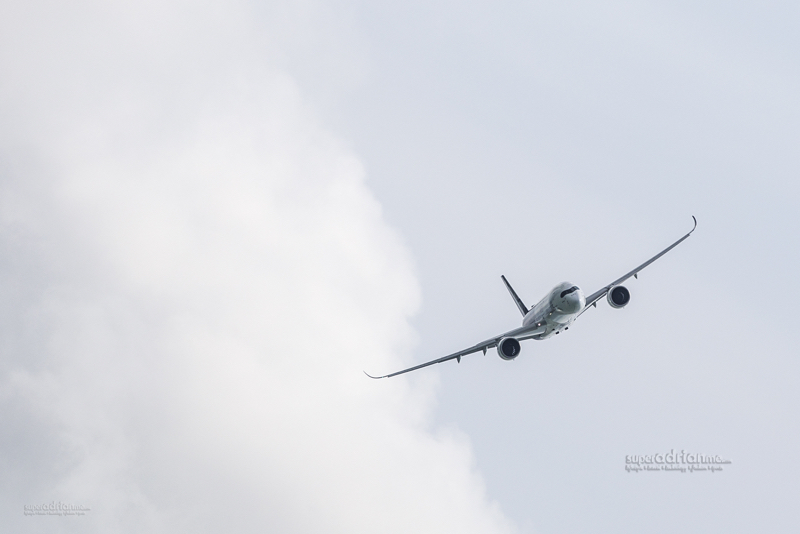 It is the time of the year to book your next vacation as the Travel Revolution is held from 26 to 28 February as well as the NATAS Travel Fair between 4 and 6 March. Airlines have also launched attractive airfares so that you can plan ahead and book.
Etihad Airways has launched their Etihad Global Sale, while Garuda Indonesia introduces new direct service between Singapore and London Heathrow end March. Also check out the Cathay Pacific, British Airways and Air France KLM specials.
Skyscanner shares when it is a good time to book your airtickets to travel within the Asia Pacific region. Based on three years' worth of data, Skyscanner revealed that the best time Singapore travellers should book to get the cheapest airfares on average is five months in advance.
It also revealed that the cheapest time to travel is the fourth week of February while the cheapest month to travel is September. Second week of February which coincides with Valentines' Day and at times the Lunar New Year is the most expensive time to travel while December is the most expensive month to travel.

It has also released a calendar indicating the best time to book your air tickets.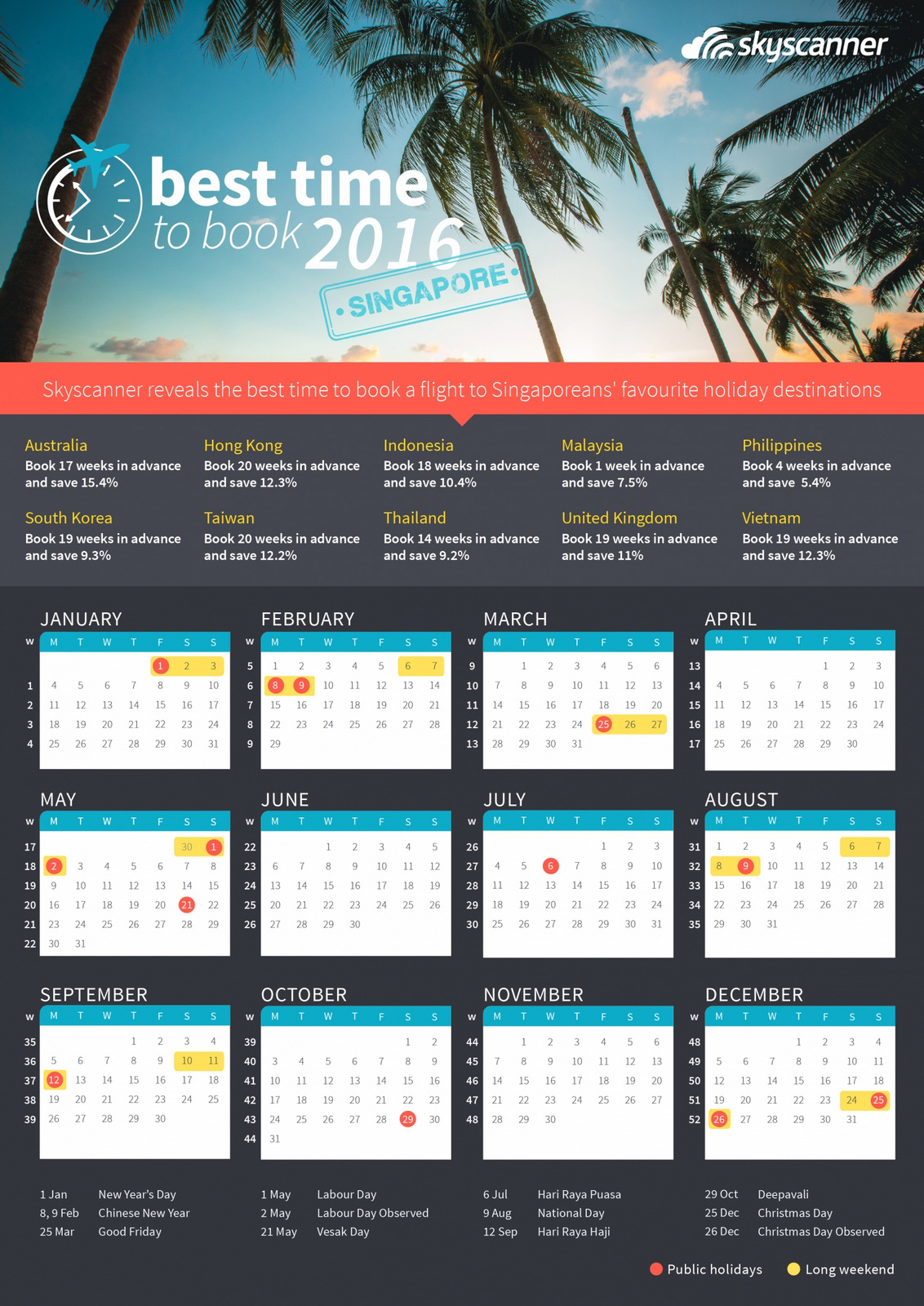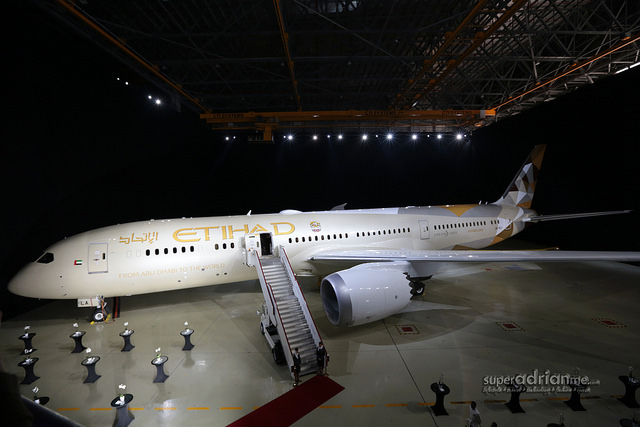 The Etihad Global Sale is back from 23 to 29 February 2016 for eligible flights when booked via etihad.com to destinations including Abu Dhabi, Singapore, Shanghai, Bangkok, Sydney, Mumbai, Seychelles and more. The sale is valid for travel between 10 March 2016 and 12 December 2016 with a minimum stay of three days up to one month.


Economy class airfares inclusive of applicable taxes and fuel surcharges from Singapore start from S$959 to Paris, S$985 to Frankfurt, S$1,024 to London, S$1,387 to New York. Business Class airfares from Singapore start from S$3,211 to Dubai, S$4,368 to London, S$4,339 to Milan, S$5,754 to New York, S$4,182 to Munich and S$4,013 to Rome. Weekend surcharges may apply.
Etihad Airways operates the B787-9 Dreamliner between Singapore and Abu Dhabi.
You can also earn Etihad Guest miles for travel to all destinations across all cabins.
Cathay Pacific ANZ Cards Special Airfares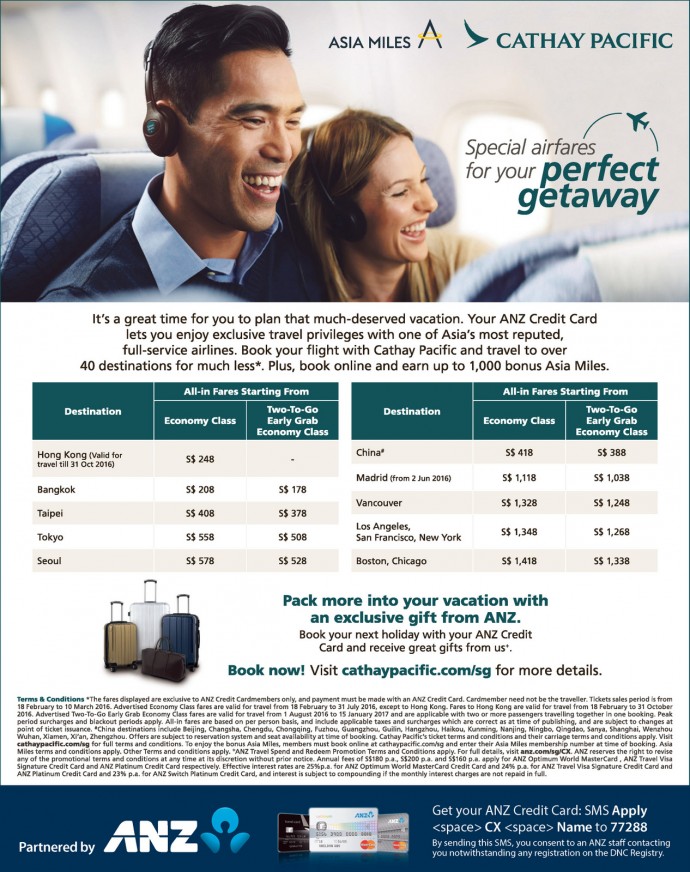 Cathay Pacific Airways is offering special fares with ANZ Cards till 10 March 2016 for travel till 15 January 2017. Round trip economy fares from Singapore to Hong Kong start from S$248 while two-to-go round trip tickets to Bangkok start from S$178, Tokyo S$508, Taipei S$378, Los Angeles, San Francisco or New York at S$1,268. Click here for more details.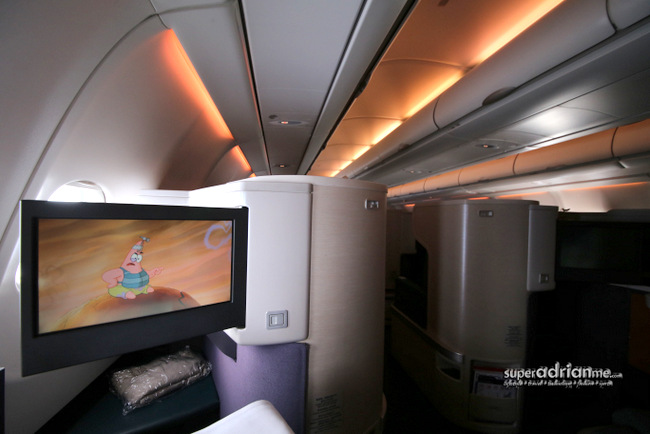 You can also travel in style on board Cathay Pacific's Business Class with your friend in a two-to-travel Business Class fares from Singapore to Hong Kong and Japan from S$1,204 all-in per person if you book before 10 March 2016 for travel in March 2016. You can also earn Asia Miles with these fares as well as enjoy 10% discount off the normal rental rate when you rent an overseas Wi-Fi router device from Changi Recommends. The travel period from Singapore to Hong Kong is between 1 and 31 March 2016. For Japan, you have to travel from Singapore between 1 -21 March and 28 to 31 March 2016.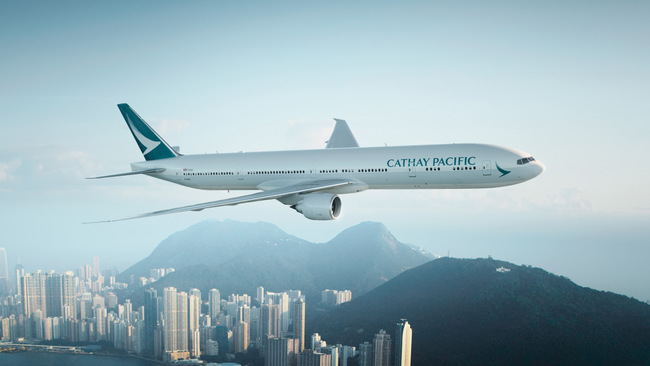 Special Business Class fares from SGD1,669 all-in
 with special advance purchase fares when you book before 15 March 2016. Advance purchase fares:
Business Class to Hong Kong – 7 days and 14 days
Business Class to Bangkok – 7 days and 14 days
Business Class to Taiwan, Korea, China and Japan – 7 days and 20 days
Garuda Indonesia Flies Singapore to London Heathrow Direct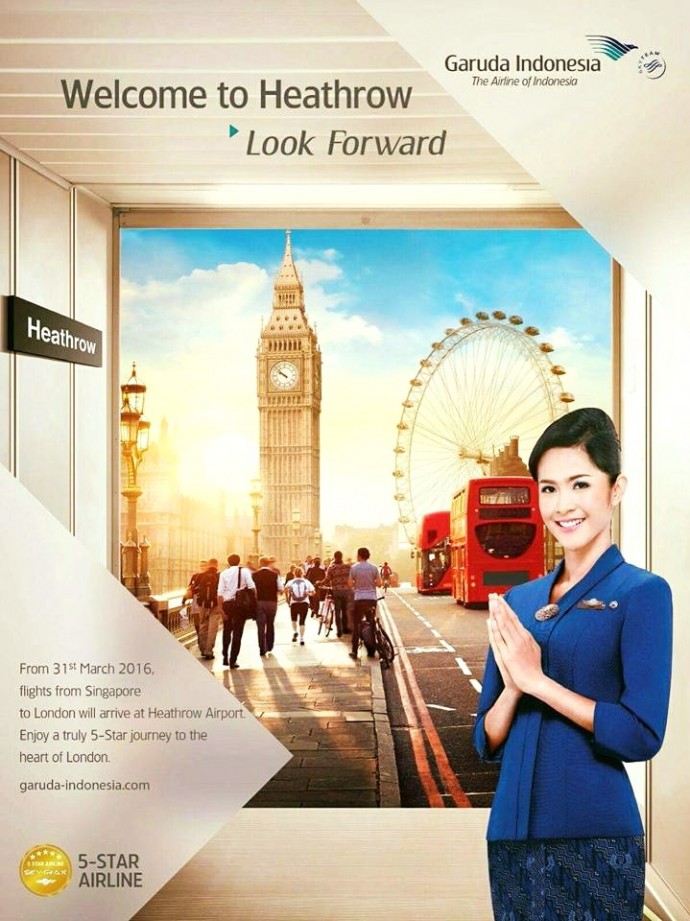 Garuda Indonesia will be introducing Singapore – London Heathrow flights from 31 March 2016. The new route will see one-way direct flights from Singapore to London Heathrow and return flights from London Heathrow to Singapore via Jakarta.
To celebrate the new route, Garuda Indonesia has a sale from now till 20 March 2016 for travel between 31 March 2016 and 30 April 2016.
All in Business Class fares start from S$2,105 one way or S$3,775 round trip. All in Economy Class fares start from S$455 one way and S$1,115 round trip. 
Visit http://bit.ly/flygaruda to book.
Malaysia Airlines Simply Good Deals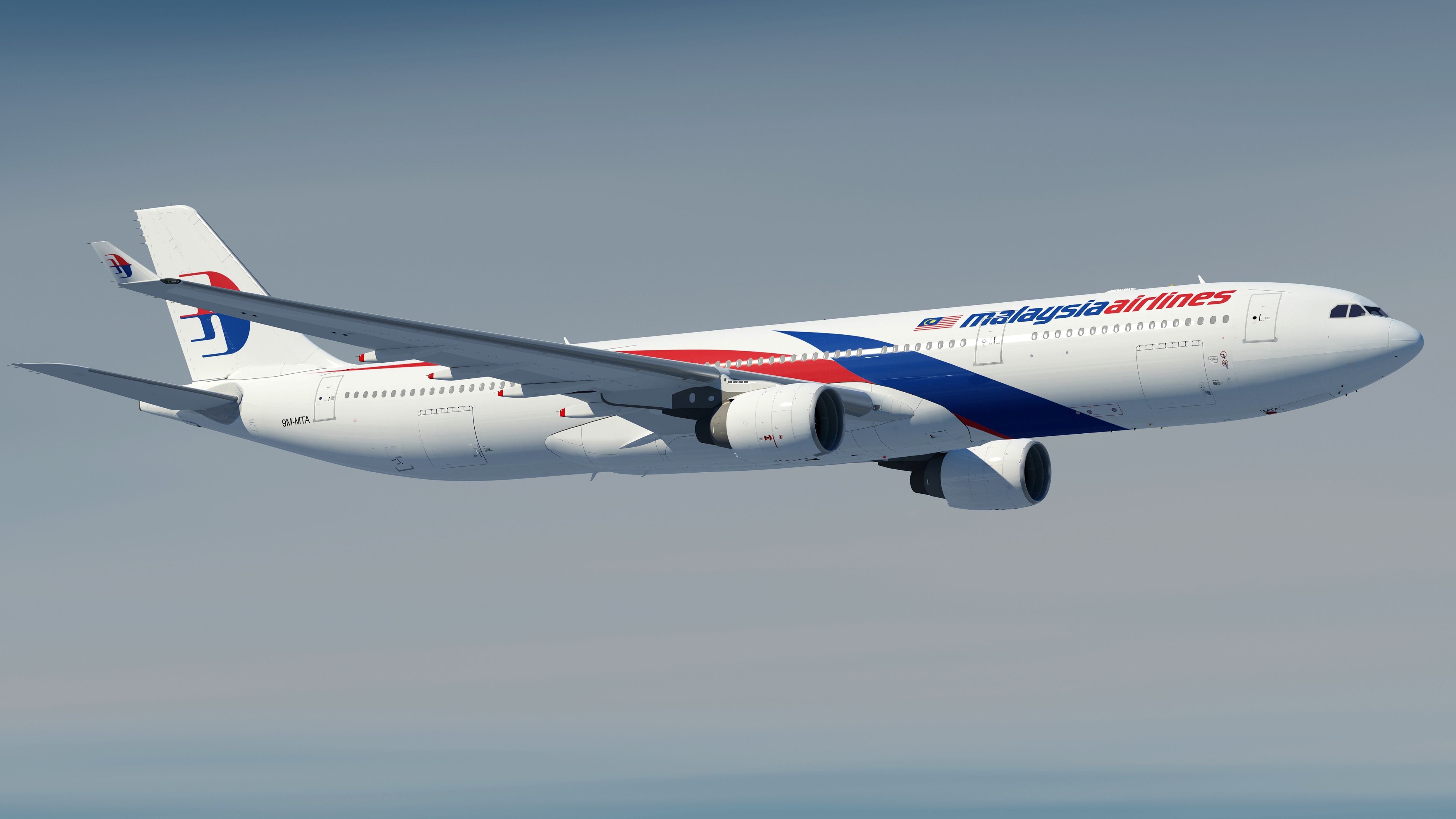 Malaysia Airlines is offering simply good deals from now till 8 March 2016 for travel between 27 February to 30 June 2016.
Return economy class fares from Singapore start from S$118 to Kuala Lumpur, S$118 to Kuching, S$190 to Jakarta, S$205 to Bangkok or Phuket, S$256 to Hong Kong, S$266 to Brunei, S$271 to Manila, S$292 to Hanoi, S$340 to Phnom Penh, Siem Reap, S$366 to Bangalore, S$376 to Colombo, S$418 to Dhaka, S$454 to Beijing or Shanghai, S$506 to Taipei, S$517 to Seoul, S$527 to Kathmandu, S$556 to Tokyo, S$607 to Perth, S$851 to Auckland or S$962 to London.
Return Business Class fares from Singapore are priced from S$1,256 to Hong Kong, S$1,654 to Beijing or Shanghai, S$1,256 to Taipei, S$1,167 to Seoul, S$1,666 to Tokyo, S$1,927 to Perth, S$4,101 to Auckland or S$5,206 to London.
Malaysia Airlines offers a generous 30kg baggage allowance in Economy Class with up to two pieces and 40 kg for Business Class. You can upgrade your Economy Class meals with MHGourmet at a fee and fly premium for less with MHUpgrade where you offer your bid price for a cabin class upgrade.
Click here to book.
Air France – KLM Extraordinary Price Deals
Air France Oh LaLa Deals and KLM Dream Deals are back. Book by 16 March 2016 and travel by 15 December 2016.
Roundtrip Economy Class Fares between Singapore and Europe start from S$1,049 inclusive of taxes, while fares to North America are available from S$1,399. South American destinations start from S$1,888.
British Airways Sale for Travel Revolution Fair and NATAS Travel Fair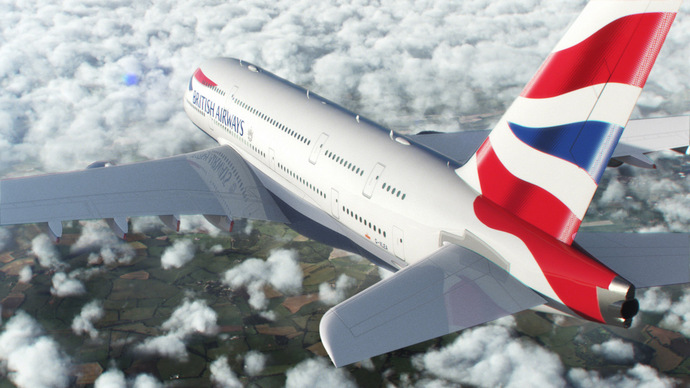 British Airways will be offering attractive fares at this year's Travel Revolution Fair held from 26 to 28 February as well as the NATAS Travel Fair between 4 and 6 March for travel between 17 February to 31 December 2016.
At the Travel Revolution Fair, you can enjoy travel to London and Barcelona from S$1,326 in World Traveller Economy Class and S$2,417 in World Traveller Plus premium economy. Flights to London and New York start from S$1,912 in World Traveller and from S$3,393 in World Traveller Plus.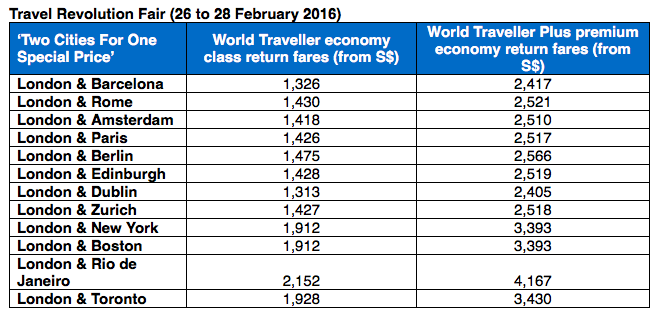 At the NATAS Travel Fair, discounted return fares will be offered to over 185 destinations across UK, Europe, Africa and Americas. Fares to London start from S$1,198 in World Traveller and S$2,288 in World Traveller Plus. Flights to New York start from S$1,573 in World Traveller and from S$2,762 in World Traveller Plus.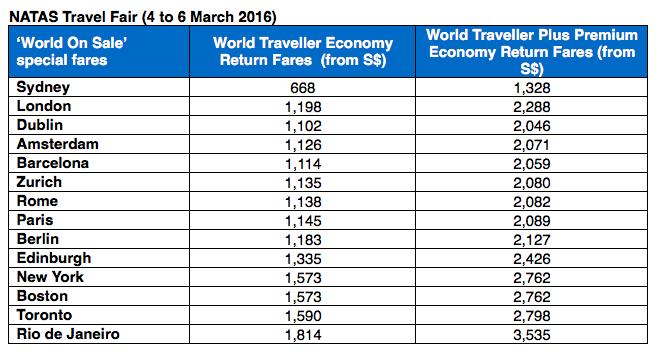 These fares are available for booking till 14 March 2016 and are valid for flights departing from Singapore between 17 February and 31 December 2016.
Click here for the online offers.
British Airways currently operates the Airbus A380 three times a week but will increase the Singapore – London flights on the A380 daily from 25 February 2016.
Lufthansa Invites You To Take Off in Premium Economy Comfort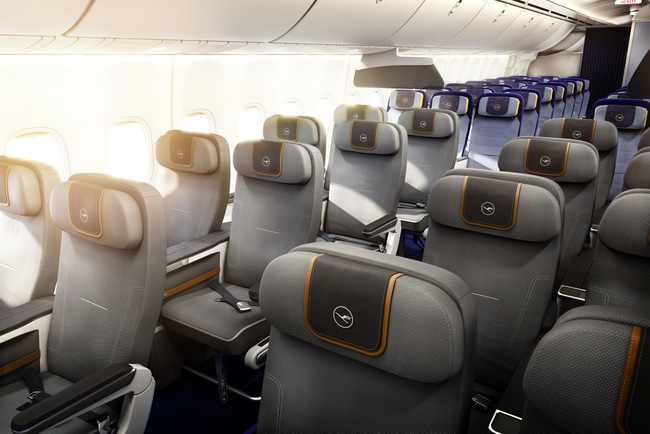 Lufthansa is offering special promotional airfares in its Premium Economy class from S$1,888 from Singapore to destinations such as Dusseldorf, Madrid, Rome, Berlin, Oslo, Geneva and Vienna amongst other destinations, if you book before 14 March 2016 for depart Singapore between 2 March and 8 December 2016. Tickets have to be purchased seven days before departure.
Premium Economy Class passengers also enjoy more space, extra baggage allowance and more personal service.
It is also offering promotional fares when you book open jaw tickets.