Singapore Airlines Flight Pass is the latest product that will allow customers to make advance purchases of discounted bundles of flight tickets that can be used against future bookings.
The Flight Pass can be used for passenger flights between Singapore and France, Italy, South Korea, Spain, the Netherlands, and the United Kingdom. This includes the quarantine-free Vaccinated Travel Lane (VTL) flights from these destinations to Singapore, if their trip starts from Singapore. SIA will progressively add other points in its network.

The key feature of Flight Pass is flexibility. Lock in discounted air fares for multiple flights, and decide on travel dates at your convenience, subject to seat availability.
Singapore Airlines Flight Pass Is Customisable
Flight Pass can be customised based on the following parameters to suit our unique travel needs, be it for leisure or business.
Travel zone: One or more destinations customers want to fly to.
Number of travellers: Number of people who can share the Flight Pass.
Number of flights: A round-trip booking for one traveller requires two flight credits.
Travel period: The eligible period for flight departure.
Advance booking: How early in advance a flight must be booked before travel.
Fare type: Each fare type offers a different range of advance booking selection and Flight Pass conditions for flight changes and cancellations, frequent flyer miles, and more.

Share the tickets in each Flight Pass bundle with family members, friends, colleagues, or anyone else that you choose. Enjoy cost savings by pooling together your travel.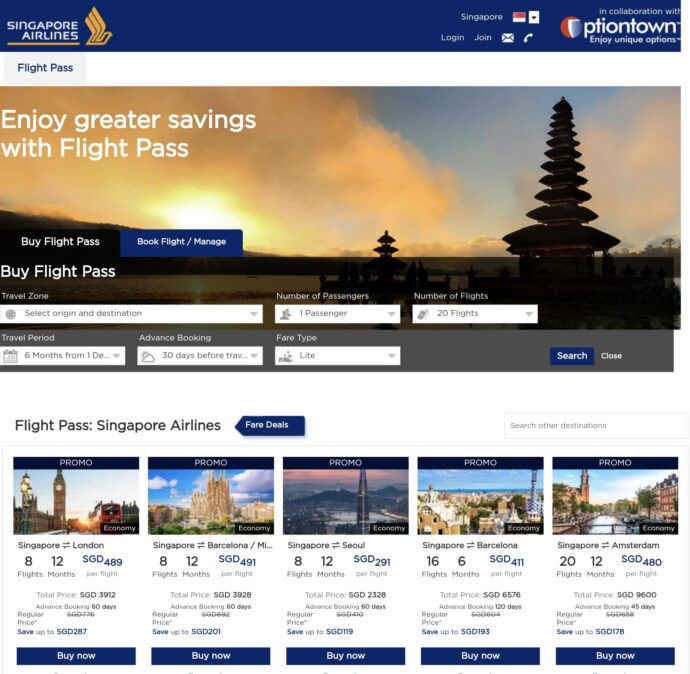 Purchase and manage your passes on the Flight Pass website at https://singaporeair.optiontown.com. Flight Pass is offered in collaboration with Optiontown, a US-based provider of innovative travel options.

How does Flight Pass work?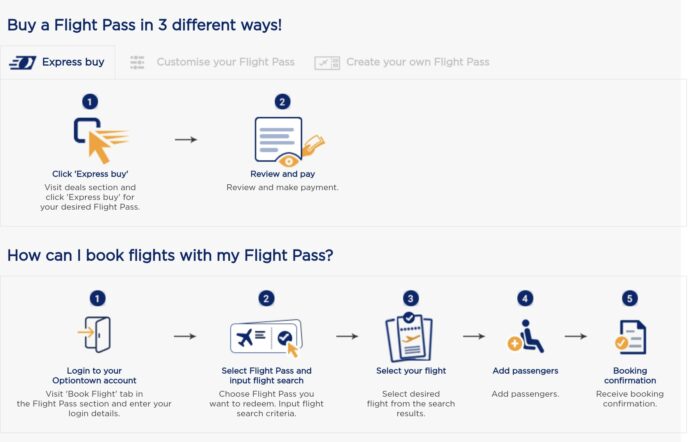 Step 1: Tell SIA about your frequent flighs
Choose your preferred destination(s), number of flights, and number of flight tickets required.
Step 2: Customise the flexibility of your Flight Pass
Depending on the amount of flexibility needed, you can decide on the travel period validity, advance booking condition, and fare type.
Step 3: Lock in your fare and buy your Flight Pass
Pay in full upfront, and use your Flight Pass to book eligible flights whenever you are ready.