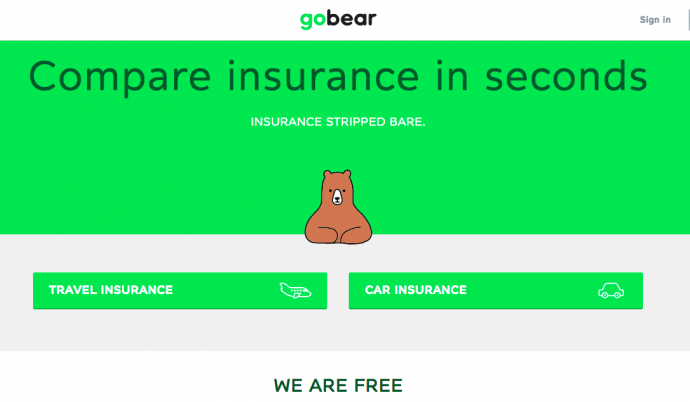 GoBear is Singapore's first free unbiased, comprehensive website when searching for Travel and Automobile insurance. Within seconds, you get to see a snapshot of hundreds of insurance policies. GoBear does not sell insurance directly.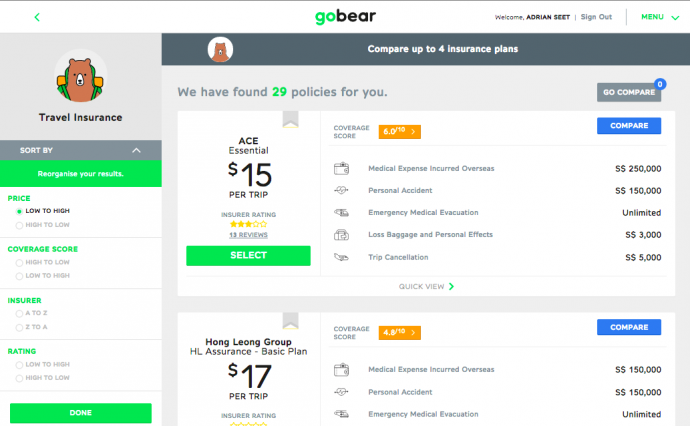 The idiot-proof website GoBear.com.sg has a clean look with easy-to-navigate options. Given a choice of travel or car insurance, all you need to do after making your selection, is view the different insurance policies available or further filter them based on options such as insurer and coverage amounts. A mobile version of the website is also available.
A search on the site only gives you a comparison snapshot. If you want more details on the coverage, you would still need to look at the insurance policy on the insurer's website.
The site compares travel insurance policies from ACE, AIG, Great Eastern, HSBC AXA, Liberty, MSIG, NTUC, QBE, Tenet, Tokio Marine and UOI as well as car insurance from Citibank AXA, Direct Asia, HSBC AXA, NTUC and Tenet.
GoBear is registered under Woodpecker Asia Tech Pte Ltd and its revenue model is from clickthroughs. When someone clicks through to the the insurer's website from GoBear, the insurer would pay GoBear. GoBear has plans to expand into Thailand, China, Japan and Taiwan in the next two years. The newly established company opened its HQ in Singapore because Singapore has the highest insurance search on Google, highest high speed internet penetration, high mobile phone users and a small and confined market.