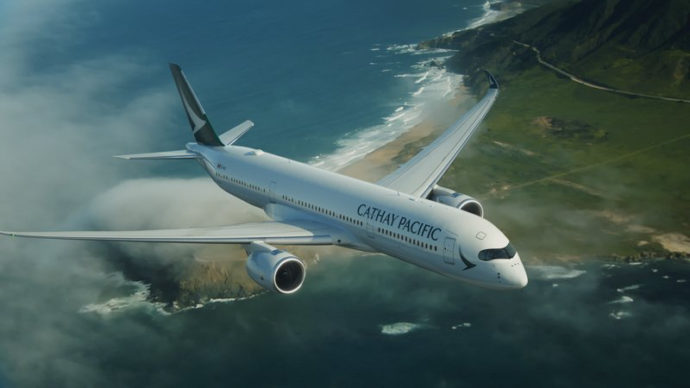 Cathay Pacific's first of 48 Airbus A350 aircraft arrived at Hong Kong International Airport on 29 May 2016 from the Airbus Delivery Centre in Toulouse, France. After months of delay and six years after placing its order with Airbus, the airline's latest aircraft type from Airbus is finally ready for service in the region before it is used on longer haul flights. On 1 June 2016, B-LRA will be flying to Manila on it's inaugural service.
The introduction of the Airbus A350-900 to its fleet also heralds the introduction of inflight wi-fi for the airline which is chargeable. The airline offers free access to three live TV news channels and a couple of its partner websites.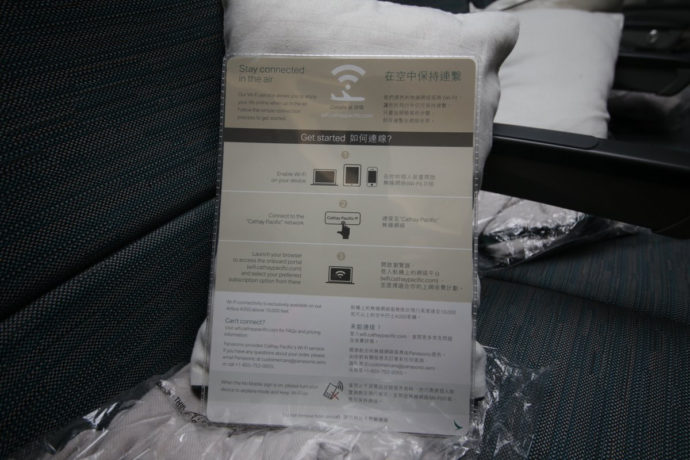 Wi-Fi will be charged at US$12.95 for flights six hours and less, US$19.95 for flights above six hours, US$9.95 for one hour of continuous usage. Mobile roaming is expected to be available on board mid 2016.
Of the 750 plus A350 XWB orders received till February this year, around one-third are from Asia Pacific customers. Other Asian airlines ordering the aircraft include AirAsia X, Air China, Asiana Airlines, China Airlines, Hong Kong Airlines, Japan Airlines, Singapore Airlines, SriLankan Airlines, Thai Airways and Vietnam Airlines. Singapore Airlines received its first A350 earlier this year and Vietnam Airlines last year.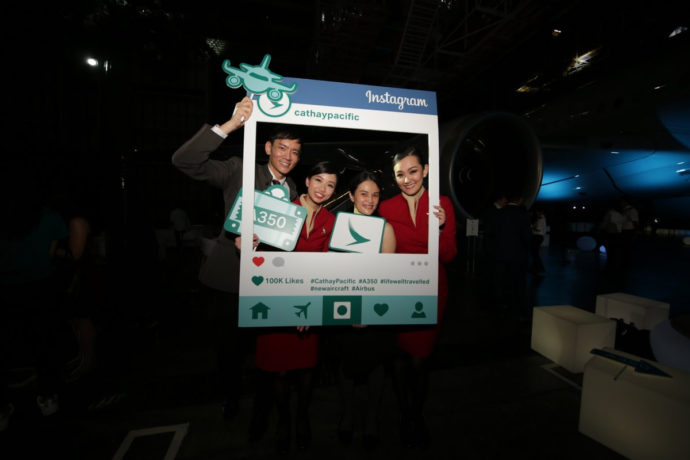 Later this evening, Cathay Pacific will hold a special preview event in the hangars of Hong Kong Aircraft Engineering Company Limited at Hong Kong International Airport for media as well as guests inviting them into the aircraft to unveil some of its new cabin products.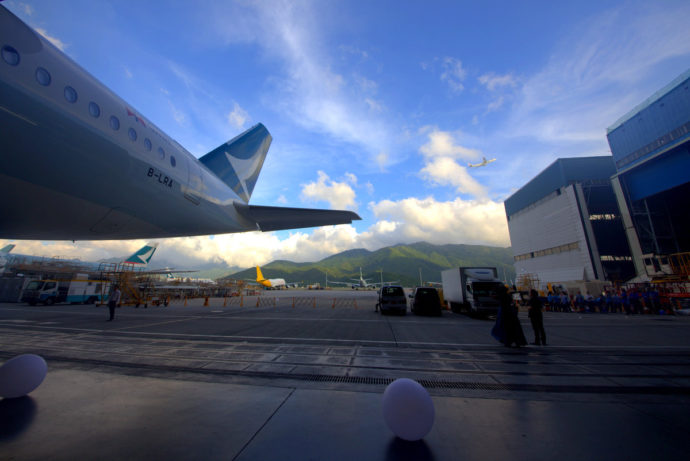 Cathay's Airbus A350-900 aircraft has a three class configuration in Business, Premium Economy and Economy which can seat 280 customers in the three classes. The A350 offers a quiet cabin, panoramic windows, LED mood lighting and larger overhead lockers so as to provide a more comfortable and relaxing journey in all cabin classes. There is much to keep customers in all classes entertained with 32 online magazines on the e-Reader, shopping onboard through the inflight entertainment as well as games.

Business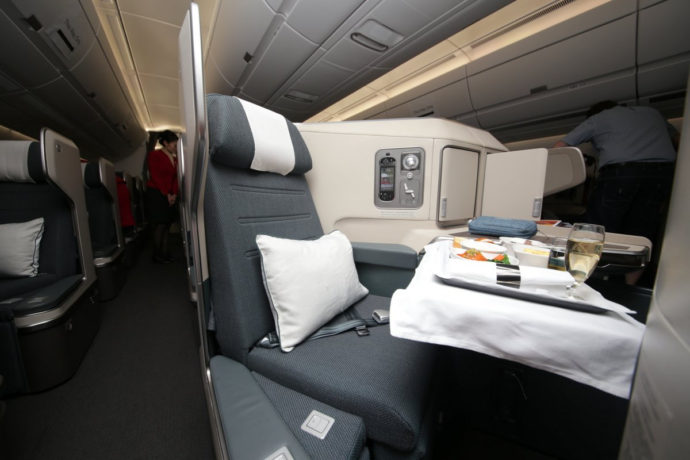 In Business class, there are 38 full flat bed seats and are in the 1-2-1 layout with a refreshed design with improvements from the airline's existing seat yet retaining the reverse herring-bone design. New features added include extra stowage space within easy reach as well as the choice to activate "Do Not Disturb" and "Wake Up Call" functions from your entertainment system. The side storage space becomes part of th bed when closed offering more bed surface.
There is a new dedicated space for a water bottle under the armrest and a netted pocket inside the cabinet door for your items.  You can now store your shoes and small bags in the space under the ottoman.
A new touchscreen handset lets you get different programming on the personal TV and the handset at the same time. We remember this technology when flying on Qatar Airways.
The new Business Class and Premium Economy seats are designed by Studio F.A. Porsche.
Technical specifications of the A350 business class seat features 45″ seat pitch, 20.2″ seat width, 18.5″ personal TV and 75″ effective bed length.
Premium Economy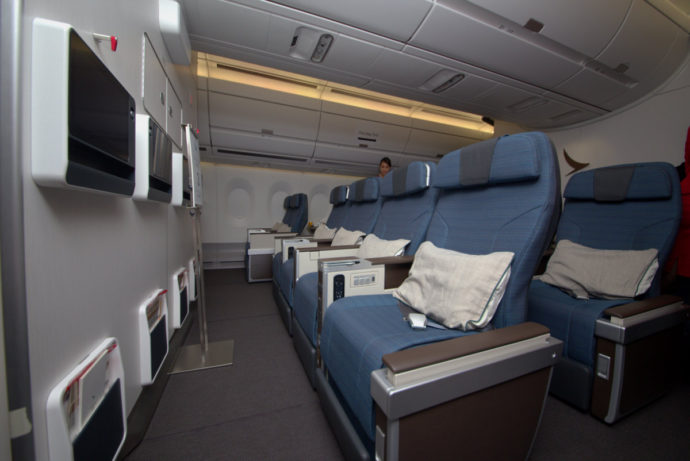 In the premium economy cabin, there are 28 seats in a 2-4-2 configuration. Premium Economy now comes with an all-new design and an integrated padded leg rest for all seats. Previous premium economy seats only had the integrated padded leg rest on the bulk head front row seats while the rest of the seats had a T-leg rest accessible at the back of the seat in front or you.
A dedicated tablet holder is introduced into Premium Economy and Economy seats. A small cocktail table can be extended to offer more armrest space.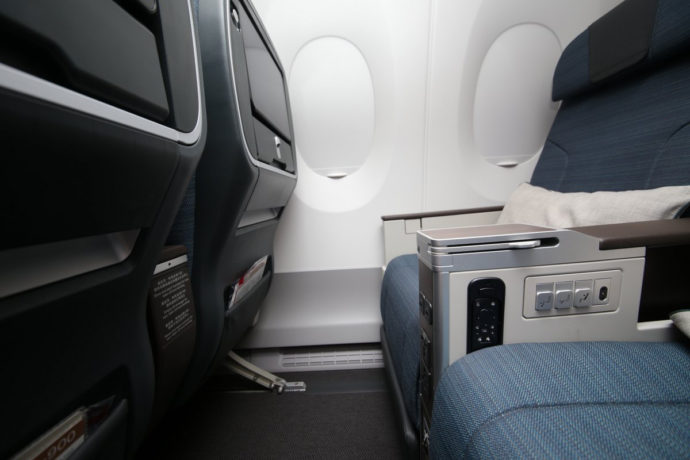 A retractable arm rest on the aisle seats let you easily swing out when other passengers seated next to you need to get in and out. This saves you the trouble of getting up from your seat.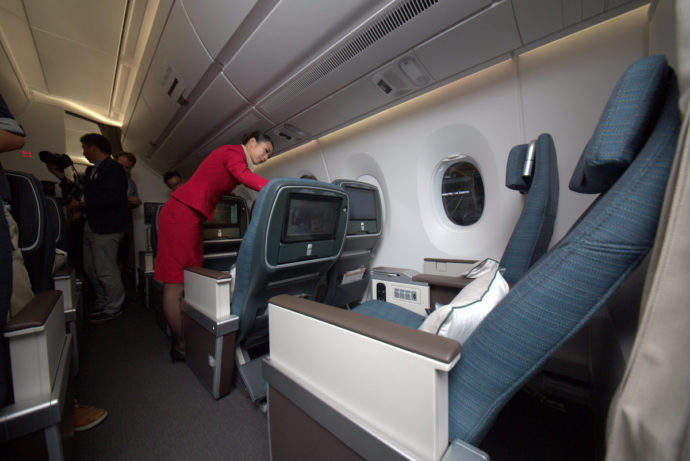 Technical specifications of the A350 premium economy class seat features 40″ seat pitch, 18.5″ seat width, 9″ recline, 12.1″ personal TV and full length leg rest on all seats instead of only on the front row in the airline's older aircraft.
Economy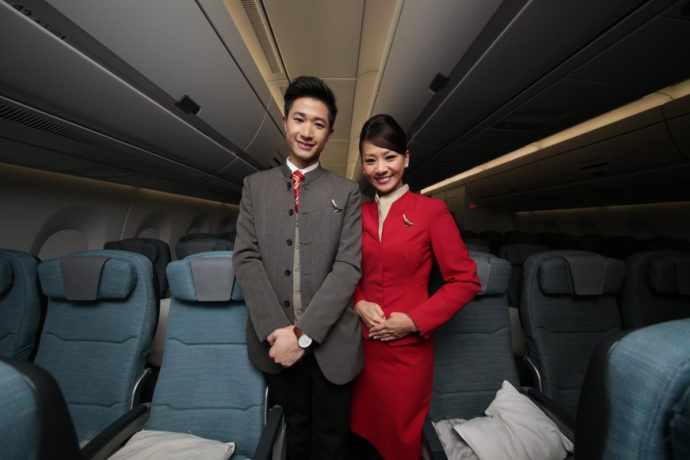 There are 214 new economy seats in Economy with a 3-3-3 configuration. A six-way headrest provides better support and enhances sleeping comfort. Now you can avoid those embarrassing moments of dozing off onto the shoulder of the person next to you.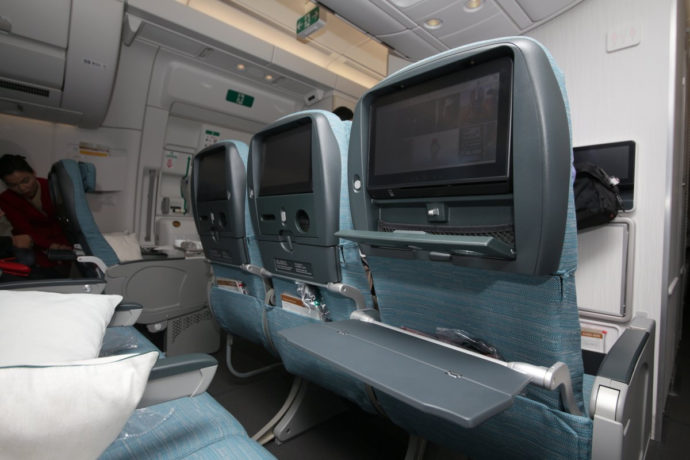 The new A350 inflight entertainment system is inspired by the airline's latest design philosophy and offers wider screens in all classes. Cathay utilises the Panasonic ex3 platform with higher capacity servers. You can access the in flight entertainment as soon as you board and seat yourself.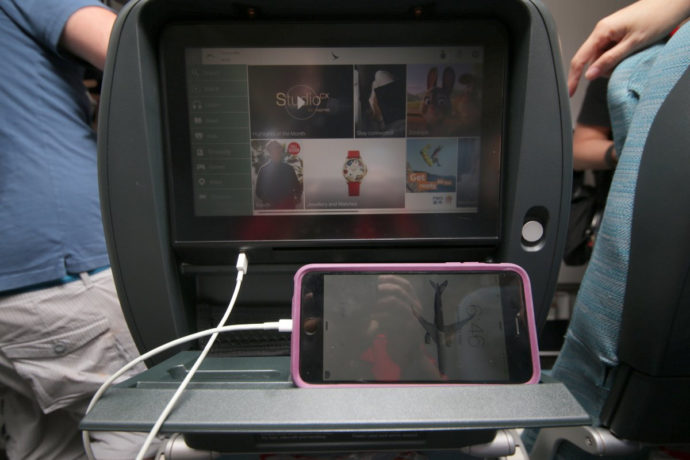 In seat power via a USB port are available at the bottom of every personal tv. A tablet holder integrated with a cup holder has been added at eye level so you can enjoy your own entertainment from your own smart devices. Now that's thoughtful of Cathay Pacific.
Technical specifications of the A350 economy class seat features 32″ seat pitch, 18″seat width and 6″ recline and 11″ personal TV.