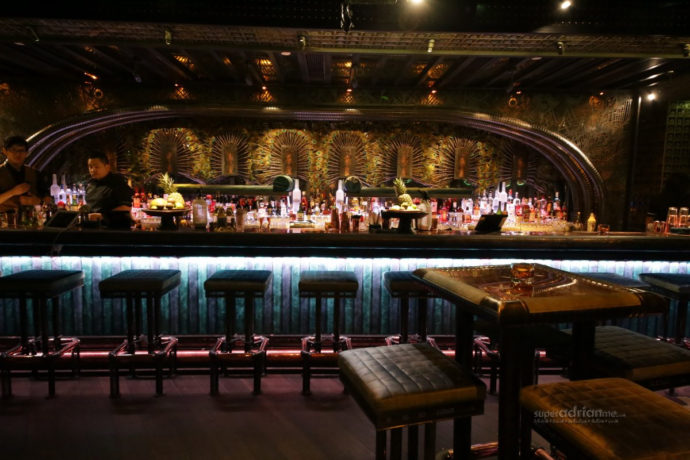 Ophelia, Hong Kong's latest bar and lounge, opens in The Avenue, Lee Tung Avenue at Wan Chai. The Avenue has been transformed from where soon-to-wed couples used to get their wedding invites or wedding favours from into an enclave of food and beverage establishments.
The latest dreamy nightlife destination is the brainchild of Ashley Sutton. He is the mastermind behind other names in Bangkok and Tokyo including Iron Fairies, Maggie Choo's Sing Sing Theatre, J. Boroski Mixology and others.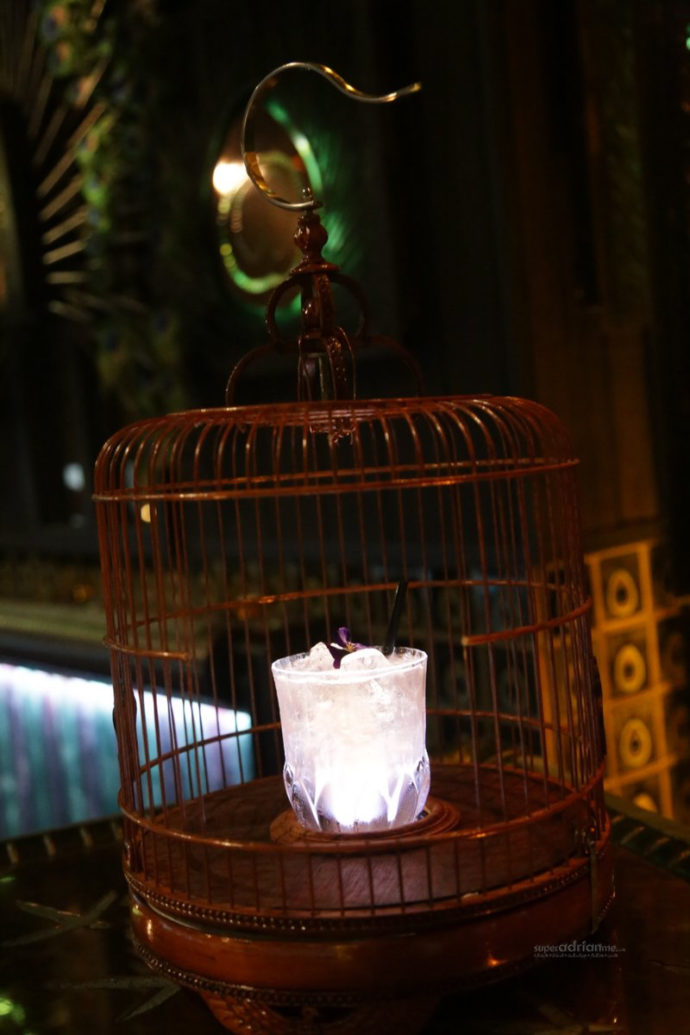 Ophelia opened in May this year and I visited the newly opened establishment. I was in Hong Kong for Cathay Pacific's A350 aircraft preview as well as to review Cosmopolitan Hotel's family rooms. It was timely that I received an email with images of Ophelia and the press release. When I saw those photos, I had to go see Ophelia for myself.
You can enjoy cocktails and other alcoholic beverages as well as bar bites in this peacock-decor establishment.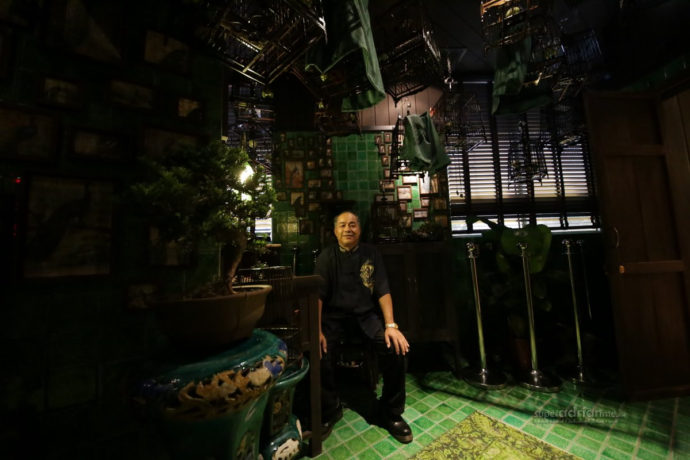 When I stepped into Ophelia, I was fascinated by the interior. Ashley Sutton was inspired by Hong Kong's history when waitresses in cheongsams would sashay through the intimate alcoves and semi-private rooms of the 19th century upscale opium dens. Intricate metal work, handmade plush velvet furniture and peacock feathers in Ophelia let you escape the boredom of everyday life.
When you first enter Ophelia, you have to walk through "Mr. Wong's Aviary" where bird cages hang from the ceilings and a 'Mr. Wong' welcomes you through a journey into a world of peacocks. Let your eyes adjust before entering from the bright world outside into the dimly lit room.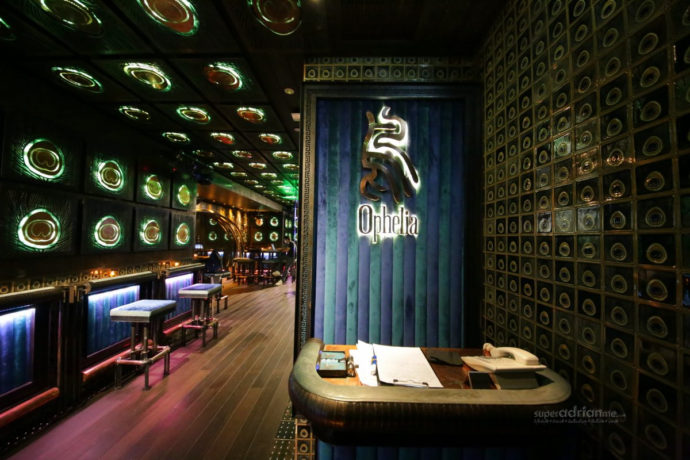 Two large peacocks greet guests upon entering. Look out for the peacock pictures that are individually screen painted on bamboo, the 32 steel, copper and stainless steel industrial peacock art pieces with the plumage made out of real peacock feathers as well as the 600,000 ceramic tiles featuring the peacock feathers' "eye" that were individually hand-painted.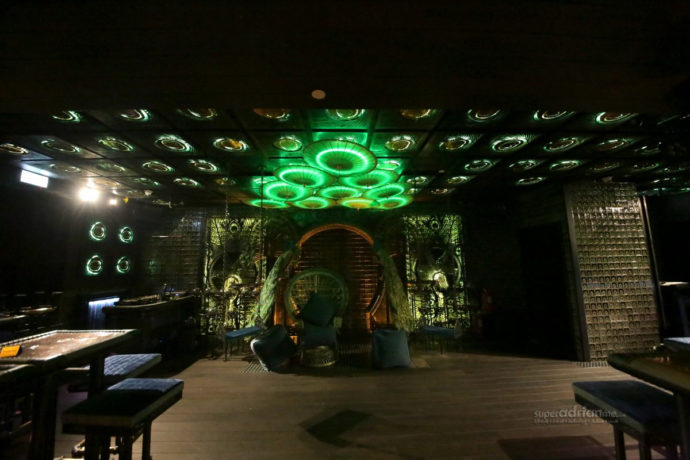 Come and enjoy the nightly entertainment and watch "muses" with their opium pipes suspended above the bar, setting the tone for the decadence that will unfold. A fantasy wonderland for nocturnal escapades, expect a one-of-a-kind experience here.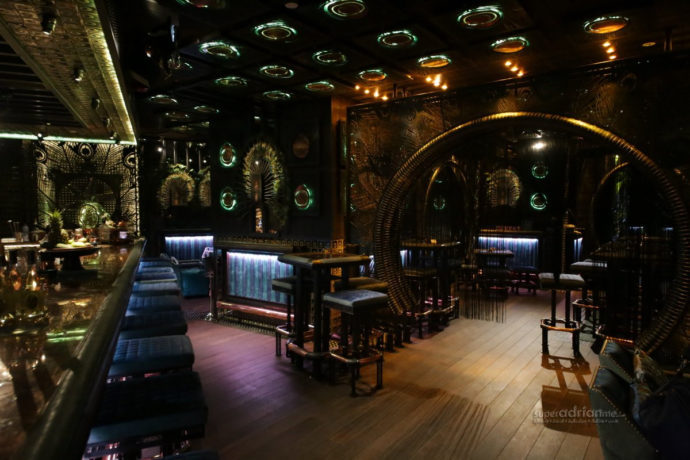 There are different sections of seating areas. They are separated by archway panels that are inspired by the traditional arched Chinese Garden entrances. A separate smoking area is available.
Ophelia Cocktails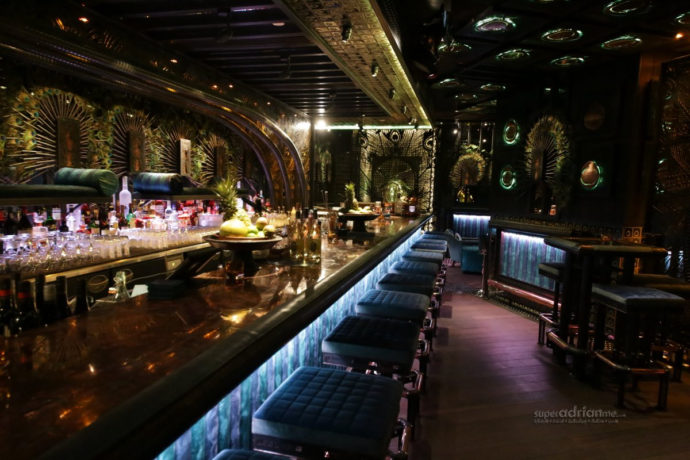 Enjoy signature cocktails here. There is The Jade Cat "A rare and sought after artifact" that is made from Iwai Japanese whiskey, Baika Ranman Ume Shu, House-made Bitter Green Tea Lique. Another is La Plumage "He displayed his colours haughtily" which is made with Sagatiba Cachaça, Blood Orange, Gold Slab Syrup, Shisandra Dram, Lime, Chilli infused Charred Pineapple and Green Tea Chocolate Rum.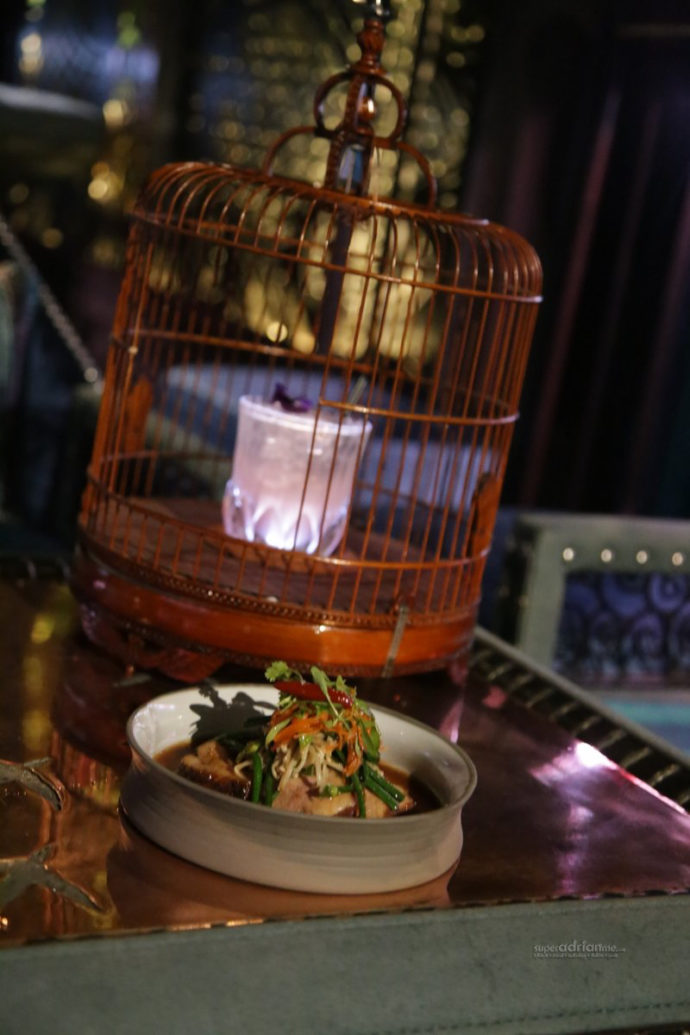 Cheongsam "Her dress caused quite the commotion" has Tequila Reposado, House-made Pomegranate Cordial, La Quininye Vermouth Rouge, Lemon, Lime and Cinnamon Mist fill a cup and sits in a bird cage.
Ophelia Small Bites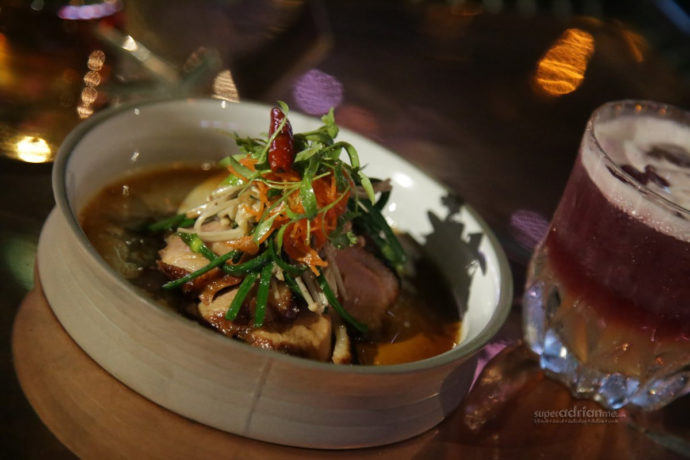 Australian chef Angus Harrison prepare the small bites tapas style dishes here having been under Australia's popular chefs including Luke Mangan, Eric Van Alphen, Martin Boetz and Jane Therese Mulry. The Asian tapas here have a modern Australian twist.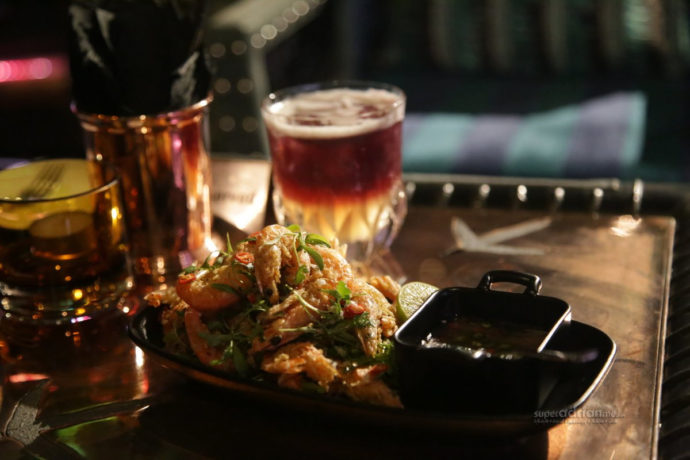 The chilli whole school prawns Szechuan salt nam phrik is one of my favourites. Lightly salted, the crispy shelled prawns can be eaten whole and complements the cocktails.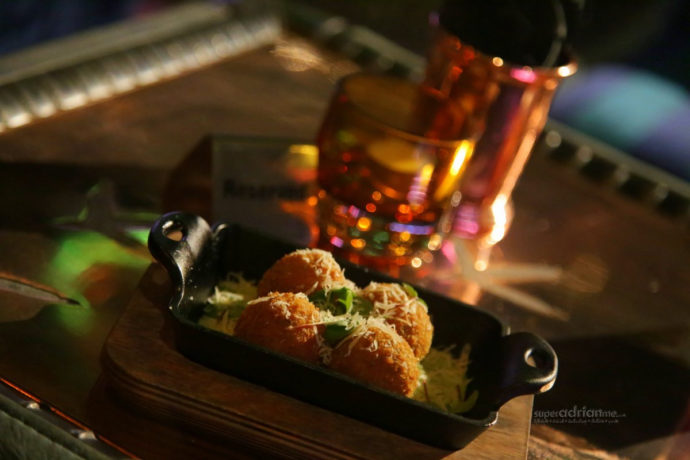 Ophelia is at Shop 39A- 41A, 1/F, The Avenue, Lee Tung Avenue, Wan Chai. It opens from 6pm till 2am from Tuesdays to Thursdays, 6pm to 3am on Fridays and Saturdays and are closed on Sundays and Mondays. Ophelia is the latest talk of the town so you better call +85225201117 or email [email protected] for reservations.