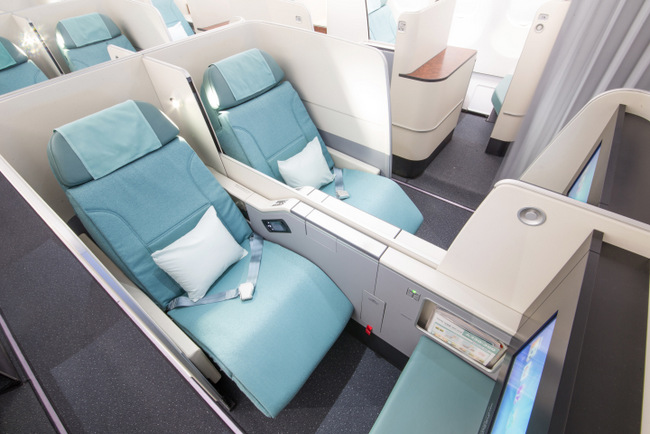 Korean Air unveiled its new Prestige Suites earlier this month featuring more comfort and privacy for its premium customers. The new Prestige Suites will debut on a Korean Air A330-300 on the Guangzhou, Singapore and Hanoi routes. It has a further 38 aircraft on order including six A330-300s, twelve B777-300ERs, ten B747-8s and ten B787-9s that feature the new seats.
These new seats come with an innovative armrest that automatically slides down when the seat is in full flat bed mode offering 22.5 inches width instead of the previous 21 inches. Privacy panels between the seats can be raised higher for increased privacy. All seats now come with an ottoman so you can rest your feet or allow others to sit and chat.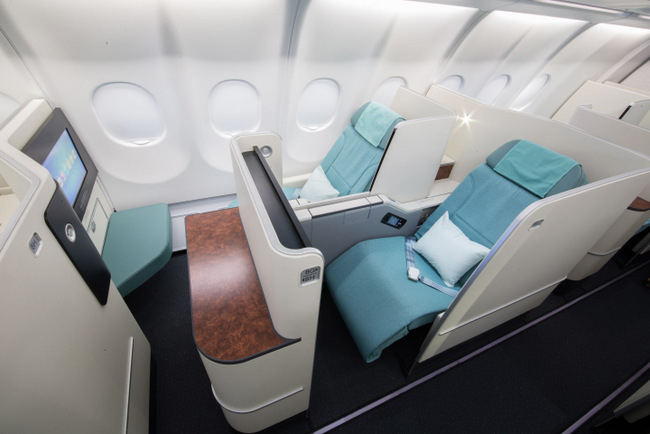 There is now more space for window seat passengers to pass into the aisle without disturbing the aisle passenger with an increased pitch between the seats on the window side by 12 inches to 87 inches from its previous configuration.
Inflight entertainment now can be accessed through a touchpad. You can chose from the menu your desired movie, music, game or information. The new IFE system also allows you to keep track of your location and other flight information while you are watching your movies so you do not need to toggle between your movie to the flight information. The 17 inch monitors have also been upgraded so you can now touch screen to choose your movies.
Korean Air plans to introduce a new first class to compliment the new Prestige class.