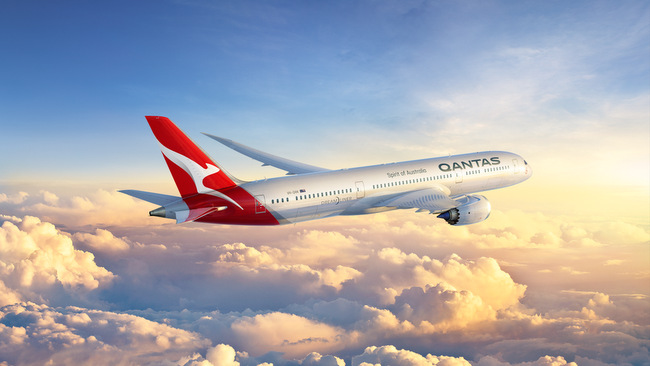 Qantas will be receiving its flagship Boeing 787-9 Dreamliner next year. Qantas will be revealing the Dreamliner destination in the coming months with the first international flights on sale before Christmas. It will gradually take over routes currently operated by the airline's B747 fleet as well as adding new city-pairs to the Qantas International Network.  The Qantas 787 Dreamliner will seat 236 passengers in a three class cabin including Business, Premium Economy and Economy.
Qantas 787 Dreamliner Business Suite
The Business Suite is the next generation of the very popular seat recently installed on the airline's Airbus A330 fleet. They offer high level of privacy. In the 787, you will have the ability to adjust the divider between each seat. The suite also features a full flat bed with plenty of space to eat, work and relax. The seats will be in a 1-2-1 configuration so that you get direct aisle access. You can stay reclined during take-off and landing too.
Qantas 787 Dreamliner Premium Economy
Qantas will unveil the Premium Economy cabin in early 2017. For now we only know that it will offer a class leading experience and a revolutionary new seat.
Qantas 787 Dreamliner Economy Class
You can expect more room in Economy, including an extra inch of seat pitch compared with its A380. An all new seat will be introduced, featuring a new personal device holder and USB ports, more storage areas, a seat-back mood light designed to minimise disturbance for other passengers and a high-definition entertainment touchscreen that is 5% larger. The Qantas 'footnet' that was first introduce on Qantas' A380 designed to cradle the legs during sleep will also be available with an update.
Qantas will be redesigning the in-flight experience for the Dreamliner, from rethinking the menus to making better use of the self-service bars during different phases of the flight.The aircraft's cabin interiors and new economy seat are designed by Australian industrial designer David Caon.