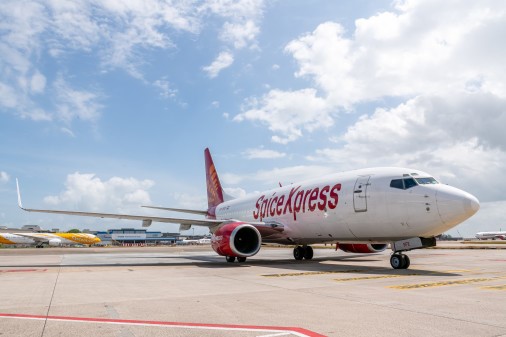 SpiceJet has launched twice-weekly services between Singapore and three Indian cities in Bangalore, Chennai and Mumbai. The India-headquartered airline landed its first flight from Chennai at Changi Airport on 20 February 2021 at 11.15am. The SpiceJet cargo arm SpiceXpress will operate a B737F aircraft to provide additional airfreight capacity between the two countries.
SpiceJet launched cargo operations under SpiceXpress in September 2018. It has expanded its fleet to 19 cargo aircraft, including five widebody aircraft.
Last year, India was Changi Airport's sixth largest air cargo market with cargo tonnage reaching 75,000 tonnes. Between April and December last year, SpiceJet operated over 230 chartered cargo flights, comprising freighter and cargo-only passenger flights, between India and Singapore.
Besides SpiceJet, four other cargo airlines operate freighter flights between Singapore and India. They include AeroLogic, FedEx Express, Singapore Airlines and Turkish Cargo. Last year, Emirates, IndiGo, Singapore Airlines and SriLankan Airlines have also operated cargo-only passenger flights between India and Singapore.
In January this year, Changi Airport handled 146,000 million tonnes of airfreight throughput in total. As of first week of February 2021, the number of weekly cargo flights at Changi Airport has tripled to more than 950 compared to 2019. Changi Airport is now connected to about 70 cities by weekly cargo flights.