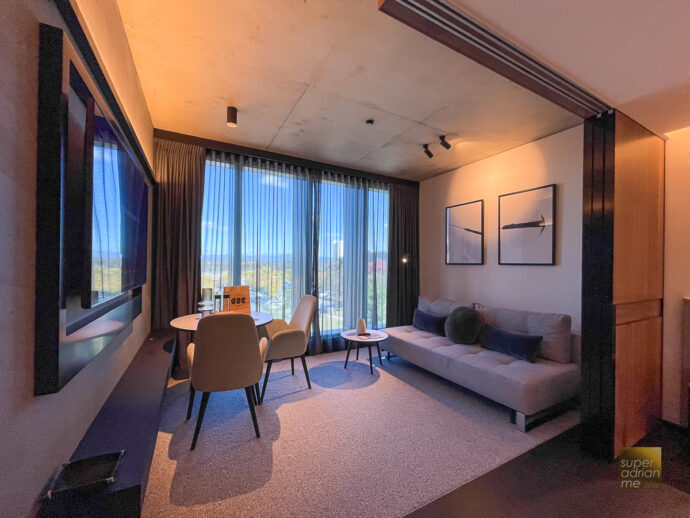 Room 329 at the A by Adina Canberra is an excellent choice for guests. That's if they desire the convenience of preparing their meals or doing laundry during their stay. I had the pleasure of calling the Premier One Bedroom King Apartment home for a few days when I visited Canberra, Australia's capital.
This was prior to heading to Gold Coast for the Australian Tourism Exchange 2023 as part of a two-week tour of Australia. The ability to do laundry before travelling to the Gold Coast with a restricted luggage allowance turned out to be incredibly useful. Overall, it was a comfortable and roomy accommodation option.
I had the opportunity to experience the Adina brand, part of the TFE Group of Hotels, for the first time during my stay at their hotel in Canberra. The TFE Group of Hotels boasts an impressive portfolio that includes Vibe, Quincy, Travelodge, Rendezvous, Oasia, Village Hotels & Residence, and Far East Collection. In Australia, there are only two A by Adina properties, with the other one in Sydney. The A by Adina concept introduces a fresh and innovative approach to hotel living, right in the city's heart. Guests can anticipate a range of high-end amenities and delightful surprises that add a touch of luxury to their day.
Location
Downtown Canberra is not very large. Hence the hotel is within walking distance to Canberra Centre shopping mall and also a lot of dining options. Be mindful that many establishments are closed on Mondays. I walked to Bentspoke for their beer sampler and lunch on my first day here.
The A by Adina Canberra enjoys an ideal location in the heart of Canberra, providing easy access to the city's top attractions and business districts. Explore iconic landmarks such as the Australian War Memorial and Parliament House, or immerse yourself in the vibrant cultural scene at the National Gallery of Australia and the National Museum of Australia.
Kitchen and Laundry
You will find the apartment's fully equipped kitchen and laundry amenities quite enjoyable. It's incredibly convenient to warm up meals and enjoy them in your own space. There is a fridge hidden behind the cupboard. The kitchen includes an induction stove, a toaster, and a microwave oven. Utensils, pots and pans are also available at your disposal.
Cleaning up after meals is equally effortless with the provided dishwasher, dishwashing machine powder, and dishwashing liquid and sponge.
I had the opportunity to do my laundry and watch Korean dramas at the same time. Additionally, it's worth noting that one television wasn't sufficient. There were two TVs in the apartment. Furthermore, the apartment had sliding doors to separate the bedroom from the rest of the apartment.
Mini Bar
The pod coffee machine and teas are provided for your in-room enjoyment. However, we encourage you to get out and enjoy the fabulous coffees from nearby cafes. There are plenty within walking distance. The mini bar also features a selection of alcoholic beverages. Check out the Balter Lager and tempting cocktails from #29 World's 50 best bars Maybe Sammy. We're looking forward to visiting Maybe Sammy when we visit Sydney next week! There's also Soda Water, Tonic, Pepsi and StrangeLove lo-cal Lemon Squash soda, Snacks, and Robert Oatley Cabernet Sauvignon from Margaret River, all chargeable.
A squeaky clean shower
The bathrooms here offer ample space and a well-thought layout. The shower head is cleverly positioned away from the shower faucet handle, ensuring you won't be startled by cold water dripping on you. Surprisingly, this small yet thoughtful detail is uncommon in many places.
Indulge in the luxurious Hunter Lab bath products sourced from Melbourne. These meticulously crafted amenities combine the principles of green science and the finest natural ingredients to enhance skin health and promote a more radiant appearance. With a commitment to sustainability, these premium products are conveniently dispensed in 550 ml refillable bottles, prioritising the well-being of both your skin and the environment. The young brand was founded in 2015 by Elliot Waldron and Susie Cox who believe that natural skin care should not compromise efficacy and aesthetic.
Dining at the A by Adina Canberra
The A by Adina Canberra does not operate any food and beverage establishments. Instead, it has partnered with nearby food outlets. Breakfast is served at ARC Cafè. You can also enjoy dinner at The Meat & Wine Co which is open Tuesday to Sunday from noon to 10 pm. You can charge your meal at both establishments to your room and settle the bill when you check out.
ARC Cafè by RedBrick
ARC Cafè is operated by the folks at RedBrick which sustainably sources and brews their own coffee beans bringing you top-quality coffees. Their all-day menu features wholesome and hearty servings of toast, chia puddings, eggs on toast, Avo on toast, omelettes, Green Bowl, Beef Burger, Classic Toastie, Salmon Rillettes and more. Prices start from A$8.50 up to AS$22. Check their full menu here.
By the way, go for the Lamington as well. Perfect with your cuppa cappuccino. I look forward to having breakfast here every morning.