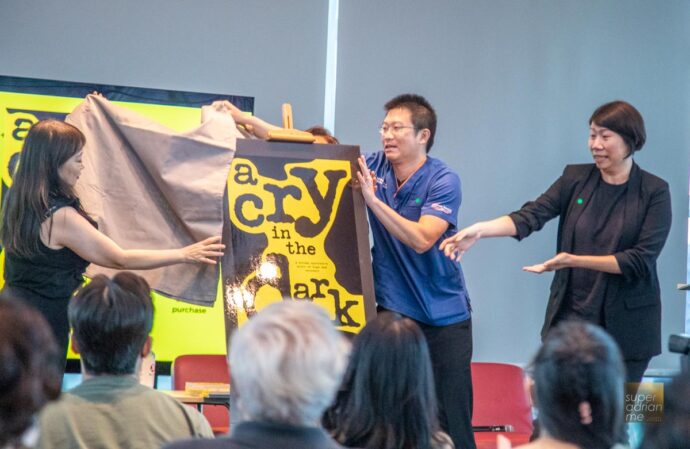 Stroke. We've all heard about it. But we'll seldom expect to get it. That's where stroke education plays a part in society so that we are able to identify stroke symptoms fast to fix them.
Terence Ang has released his book "A Cry In the Dark". Terrence was in the prime of his life with a successful career, meaningful relationships, and the respect of his peers until he was incapacitated by a stroke.
A Cry in the Dark is a personal story about stroke recovery and the importance of a support group of clinicians, friends and family. He tells his story in a light-hearted yet emotional manner. It is a story of his journey to rediscover and reclaim his voice and dignity. The illustrations in the book are also drawn by Terence despite a 'non-functional' right hand caused by the stroke. Because of the way it is written and illustrated, this inspiring book is suitable for readers of all ages. There are also anecdotes by Dr Moses Koh, the Associate Consultant of Rehabilitation Medicine from the Department of General Medicine at Sengkang General Hospital.
I have known Terence since my formative years in a corporate career during the early 2000s. In fact, it was my foray into credit card marketing and Terence was with a fashion brand then. He is full of energy and a meticulous marketeer and communicator to work with. And because we were like-minded, we became friends over the years.
So when I was reading the book in June as part of my a-book-a-month regime, there were some parts of the book I felt as if I was there in person with Terence. What went through his mind and his actions, I could empathise with him. But what inspired me most was his passion for getting well, the impatience to become himself all over again and of course the energy despite the ups and downs.
A Cry in The Dark by Terence Ang is a 140-page soft cover published by Focus Publishing Limited, a subsidiary of SPH Media Holdings. Get yours from ST Books, Kinokuniya and Popular.
Dr Shamala Thilarajah, President of Singapore National Stroke Association strongly recommends this book to anyone seeking to understand the lived experience of stroke survivors as well as healthcare professionals as they work towards delivering person-centric care.
And it doesn't stop at one. Terence is currently working on two other motivational books. I truly admire his energy and passion!