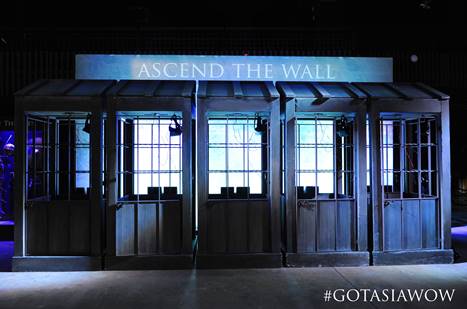 For the first time in Asia for a limited time, HBO Asia will be bringing The Game of Thrones Experience: Worlds of Westeros to Singapore. The interactive event promises a virtual reality experience with 4D immersive entertainment powered by Oculus Rift where you go on a journey to the top of the 700-foot ice Wall as featured in the HBO series.
Held from 2 to 7 April 2016 from 10am to 10pm at ION Orchard Basement 4 Atrium, the event is free and open to all.
Other highlights of the event include:
Display of actual weapons from the series including swords Oathkeeper, Arya Stark's Needle, Ned Stark's Ice and the White Walker sword
A replica of the Iron Throne from the series
Original storyboards and concept art from the series
Photo opportunities with Daenerys Targaryen's dragon Drogon against a green screen set up
StarHub customer enjoy priority with the Oculus Rift virtual reality experience as well as photo opportunities with the Iron Throne and Daenerys Targaryen's dragon.
GAME OF THRONES begins its ten-episode sixth season in Singapore the same time as the US and is available exclusively on HBO (StarHub TV Ch 601) from 25 April 9am with a same day primetime encore at 9pm. It will also be available on HBO GO on StarHub Go and HBO On Demand.