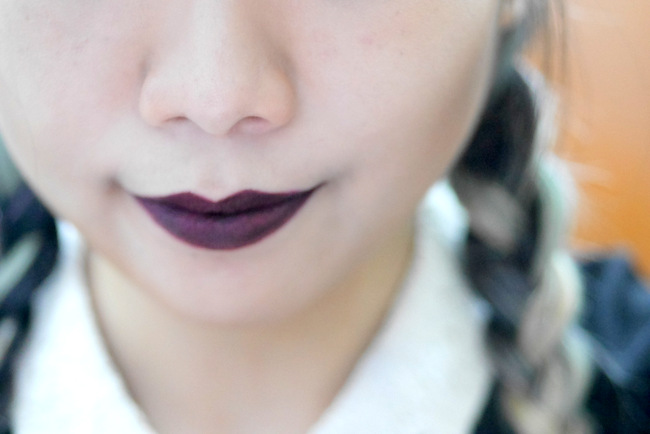 Ah, Halloween. It is a make up junkie's favourite day. Whether you are going for glam or full-on horror, it is the one time in the year we all get to go a little crazy. I had a last minute call to dress up, and I fumbled through my make up drawers to realise – it was time. Yes! It was time to finally show the world my new Urban Decay Vice lipstick in Blackmail (comfort matte). I went as Wednesday Addams, with my eyebrows on fleek, and rocking the best lip I've had all year.
The deep, dark burgundy shade worked better than expected. The subtle warm undertones was what my Asian skintone needed (even though I went whiter than usual for that Wednesday look). What I loved most was the creamy texture that made application incredibly easy – no tugging. To add on to the praises, it lasted like a champion through all that eating and drinking. It stayed on for a good seven hours with me only having to reapply it once.
In terms of how hydrating it is? This is no lip balm and matte shades are notorious for being dry. Urban Decay Vice's comfort matte formulation was a slight level above MAC's matte formula. This is, no doubt, a victory for the brand and my lips.
Urban Decay Vice Lipsticks are available at Sephora for S$29 each.