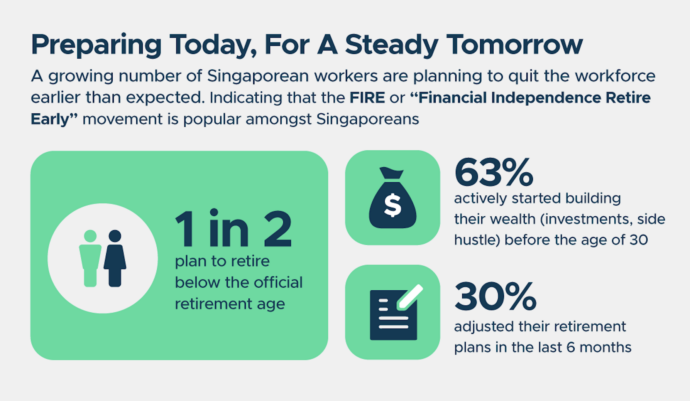 SingSaver survey results indicate that 1 in 2 Singaporeans plan to retire below the official retirement age of 62. 63% of Singaporeans have started to build their wealth before 30 years old. 35% projected to reach S$100,000 in savings and investments in the next five years while 22% expect to hit S$500,000 within the same time frame.
Personal finance platform SingSaver conducted the survey in September and October this year with 1,000 individuals to better understand the investment and savings strategies over the past six months. 30% of respondents have adjusted their retirement plans in response to the changing economic circumstances.
Investments for Singaporeans
Over 87% of Singaporeans own some form of investment. Three in 10 invest more than 30% of their income each month. Property investment is growing popular among younger Singaporeans 25 to 34 and 35 to 44 (29%). The older counterparts of 44 years and above is only at 15%.
Other top investment products in the last six months include stocks (52%), cryptocurrency (47%) and bonds (31%). Different demographics also display varying preferences – older Singaporeans aged 45 and above (61%) preferred to invest in stocks, compared to just 48% of those aged between 25 to 44. Conversely, younger Singaporeans (51%) are more willing to invest in cryptocurrency than those aged 45 and above (36%). 
Three Quarters of Singaporeans have invested their Ordinary Account and Special Account under the CPF Investment Scheme. 32% of Singaporeans invest more than S$30,000 using their CPFIS on Investment-Linked Policy (41%), Singapore Government Bonds (40%) and Exchange-Traded Funds (33%).
Savings An Important Component
Savings is still an important component for Singaporeans. In the past six months, Singaporeans have prioritised growing their savings (60%) over the purchase of investments (49%). This can be seen for individuals in the age groups of 25 – 34 years compared to those in the age group of 35 – 44 years.
71% of respondents save 30% of their monthly income. This is above the typical 50:30:20 budgeting rule. 59% spend up to 30% of their monthly income on essentials including paying off monthly loans and rent. 47% of parents spend over 20% of their income on their children.
SingSaver Rewards New Citigold Customers with S$400 Taka Voucher
SingSaver is offering new non-banking customers who make S$250,000 investment on their Citigold account within 90 days S$400 Takashimaya voucher. This promotion is valid till 28 November 2021. Customers can also get up to S$7,476 cash during the same period with a minimum of S$250,000 in Assets Under Management within 90 days of account opening.
Earn up to 2.8% per annum on your first S$100,000. Your dedicated Relationship Manager and team of wealth specialists will be able to offer wealth management advice and solutions. Get access to in-depth global market insights and research knowledge from a team of over 400 research analysts. You also enjoy Citigold status when you travel overseas and complimentary withdrawals at Citibank ATMs worldwide.
Click here to apply for a Citigold Account before 31 December 2021
Sign Up for Standard Chartered Bonus$aver Account and get Dyson Cool AM07 or S$250 cash
Open a Standard Chartered Bonus$aver MasterCard credit card before 30 November 2021 and maintain minimum funds balance of S$50,000 in your Bonus$aver Account until end of the calendar month after the calendar month you opened the Bonus$aver account. Receive a Dyson AM07 worth S$499 from SingSaver or S$250 cash via PayNow . This limited-time offer is applicable to new-to-product customers.
The Bonus$aver account lets you earn up to 2.38% p.a. interest on your first S$80,000 deposit. There is no initial deposit required and no online fee. There is a S$5 fall-below fee if your average daily balance falls below S$3,000.
Click here to apply for a Standard Chartered Bonus$aver Account