Over 400 team members from over 40 hotels in South East Asia have taken part in a series of rigorous competitions over the last seven months in the sixth edition of Hilton's South East Asia Food & Beverage Masters. The competition's main aim is to discover, distinguish, and develop the best F&B talent across Hilton's portfolio of properties in the region.
The competition has three rounds. The first is held within the hotel, followed by a sub-regional level match before earning the coveted spot in the regional finals held at Hilton Bali Resort. This year, 17 finalists hailing from 7 countries – Sri Lanka, Malaysia, Indonesia, Thailand, Philippines, Singapore, and the Maldives – put their culinary skills and gastronomic flair to the test across four categories, Barista, Culinary, Mixology, and Pastry.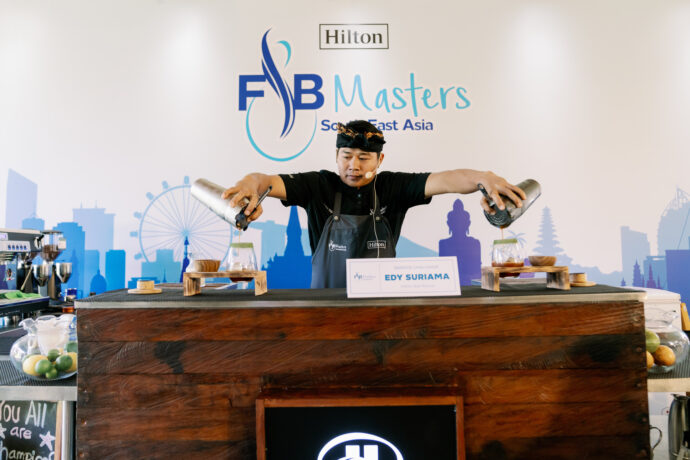 Participants had to use of locally-sourced and sustainable elements in their entries, from the use of ingredients to the visual presentations of their final creations. After an intense day-long of competitions and judging, Team Members from Hilton Bali, Millennium Hilton Bangkok, Hilton Amingiri Maldives Resort & Spa, and Conrad Bali emerged as winners in the Barista, Culinary, Mixology and Pastry Cup, respectively.
Barista
Ketut Edy Suriana

Hilton Bali
Coffee concoctions that embodied the flavours of Indonesia. 
Edy has been with Hilton Bali Resort as a waiter for six years. During his time at Hilton Bali Resort, he especially appreciates chatting with returning guests who visit the resort from time to time to meet the hotel staff. At Hilton Bali Resort, the team camaraderie stands out strongly to Edy and he cherishes the supportive and warm working environment that his team creates. Edy picked up the art of barista services from his mentor and decided to join the SEA F&B Masters to showcase his barista skills and represent the Bali team.
Culinary
Bussakorn Narumonrithikai (June)

Millennium Hilton Bangkok
Three-course menu, which celebrates the five distinctive Thai flavours of sour, sweet, spicy, savoury, and creamy. 

Bussakorn started out as a trainee at Millennium Hilton Bangkok, working as a kitchen helper at the Executive Lounge kitchen. Throughout her eight-year career with Hilton, Bussakorn remains passionate about Food & Beverage, and a career highlight included the opportunity to work at the hotel's signature restaurant Prime. June credits her fellow Team Members and Management team for helping her to develop her culinary skills and career in the hospitality industry over the years. 
Mixology
Dipak Thapa 

Hilton Amingiri Maldives Resort & Spa
Trio of balmy, refreshing fruit-infused cocktails that channelled energy of the sunny tropical paradise.
Dipak's bartending journey began when he enrolled to study mixology in his native country of Nepal. Inspired to constantly improve his skills and further his professional ambitions, Dipak ventured out of Nepal to work at Hilton Amingiri Maldives Resort & Spa. When he is not guiding guests on the basics of cocktail creation, Dipak can be found wowing them with fancy manipulation of bar tools like jiggers, cocktail shakers, strainers and more.
Pastry
Gusti Ayu Made Oktianingsih (Yudek) 

Conrad Bali
Passiflora Choco Crunch – Trio of balmy, refreshing fruit-infused cocktails that channelled the energy of the sunny tropical paradise.
Yudek began her career in Conrad Bali in the culinary department, where she started off as commis chef and eventually rose to demi chef, paving the way for her passion in pastry. Her love for baking and decoration, combined with her creativity, led her to decorate a 3D cake of Bali Island for a Hilton Honors Diamond Member, which was met with deep appreciation. Yudek is appreciative of the opportunities provided at Conrad Bali that allow her to explore her creativity and growth, in addition to being constantly inspired from her colleagues' creations. 
The SEA F&B Masters is a key talent development initiative and platform for Hilton, with over 10,000 Team Members across South East Asia. By fostering an inclusive and progressive workplace culture, HILTON has been recognised as an employer of choice in six countries across South East Asia in 2022 by global research and consulting firm Great Place to Work.
"Our Team Members' talent and passion allow us to deliver unparalleled hospitality to our guests every single day. The SEA F&B Masters not only puts the spotlight on our incredibly gifted Team Members, it also gives them a platform to showcase their skills and creativity at an international level. As a business of people serving people, Hilton is committed to creating the best workplace where our Team Members are enabled and empowered to thrive and bring their best selves to work every day, and the F&B Masters is a wonderful example of how we do so." 

Alexandra Murray, vice president & head of South East Asia, Hilton