I have never been into cocktails much, but when they are paired with the right food, that's another thing. Anti:dote at The Fairmont Singapore recently introduced new cocktails and tapas created by head craftsman Bannie Kang and head chef Tryson Quek. This couple is anything but quiet and shy. The dynamic and bubbly duo have managed to pique my interest during the media tasting, despite suffering from jetlag from my recent trip to the Caucasus region.
At Anti:dote, presentation is key. In fact, that's what everyone first experiences – the sight of these cocktails as they are served. Some of these cocktails are so beautifully concocted, even I get distracted from what it actually tastes. From the looks of some of these cocktails, adjectives such as handsome, refreshing, pretty or fun come to mind. Or for some, it is just 'wow'.
Take the Taproot Sangaree (S$23). At first sight, I fell in love with the right red with a touch of yellow in a slender champagne flute and slightly torched cinnamon sticks with a sprig of rosemary – sexy. But when you actually get down to the business of drinking it, it is not just a cocktail that is good to look at. The robust smoky and earthy flavours of mezcal and cynar hits you, not in a bad way. This is a twist from the festive mulled wine. It contains homemade beetroot wine, spicy notes of cinnamon, star anise, cloves, spiced orange, orange juice and white wine. No wonder it is called the art of cocktails.
Have some beetroot, edamame, burrata and manuka served in brik pastry (S$16) to go with the Taproot Sangaree. They make a perfect pair.
The Atlantis Lea (S$23) is inspired by the ocean. Named after the fictional island and water goddess, this cocktail is a concoction of Milagro tequila, cucumber, lime juice and dill. Aquafaba made from chickpea replaces egg white is added to create foam. Best paired with Irish No. 3 Oyster with pickled seaweed to give a crunchy bite, spicy tomato ice and butter caviar. Half dozen of these oysters are priced at S$25 while a dozen will cost you S$40.
The Rabbit Hole (S$23) is as an opaque vase with leaves from a baby carrot and mint sticking out. This concoction of Hendrick's Gin, carrot juice, pineapple, lemon juice, elderflower liqueur & Mancino Bianco and is best enjoyed with a Chicken Liver Parfait Arugula nest and quail egg (S$16).
The Out of Towner Punch is great when you decide to have a night out with friends or colleagues. It serves four to eight at S$105 or S$115 respectively. The Sailor Jerry spiced rum, pea flower, violet liqueur, lemon juice with white tea reminds one of the childhood sweet and sour candy flavour. Best consumed with Threadfin fish, fats chip and petit pois soup (S$18). The potatoes are cooked in duck fat to give you that extra flavour. Chef Tryson uses threadfin instead of cod because he does not want to contribute to the global population reduction of cod. This guy's got a heart of gold.
Sung Jung Gwa (S$25) is a traditional Korean tea made from cinnamon, ginger, brown sugar and dried persimmon and is typically served during mooncake festival and the Korean new year. This potent signature boozy cocktail contains Remy Martin VSOP, Su Jung Gwa Syrup, Angostura bitters, absinthe and red dates. I love the red dates iced jelly cubes glittered with 24k gold flakes.
This cocktail is best consumed with a dish of Hokkaido scallop, tartar, smoked lime ponzu, fresh sea urchin and caviar (S$26). It comes with a generous serving of crackers made from rice, dry-aged scallop and seaweed.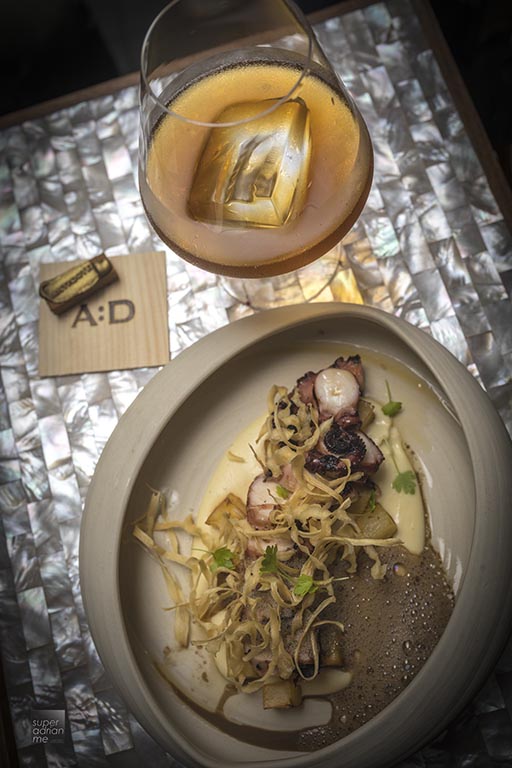 Philoso'Me (S$25) contains diplomatico mantuano, mezcal, Campari, Palo Cortado, Muscavado and chocolate strips. This strong concoction is a savoury, smoky spin on the classic Negroni. Best consumed with a dish of grilled octopus, crispy parsnip and sherry porcini (S$20).
Lord Kane (S$23) contains lemon juice, salted pineapple, Bacardi Carta Blanca, Amazake and lavender coconut syrup. Have a raspberry, pistachio whip and verbena granite (S$12) with this signature cheeky cocktail.
There's lots more to enjoy, but seven was enough for a night.
Anti:dote is located at level 1, Fairmont Singaproe, 2 Stamford Road, Singapore 17888270