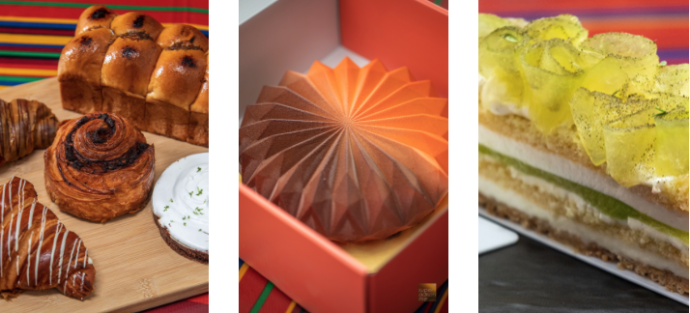 When it comes to cakes, pastries and sweets, the options are overwhelming right here in Singapore. We checked out some of these patisseries and bakeries in search of a hearty dessert.
Maison Chisaka's Pleat Cakes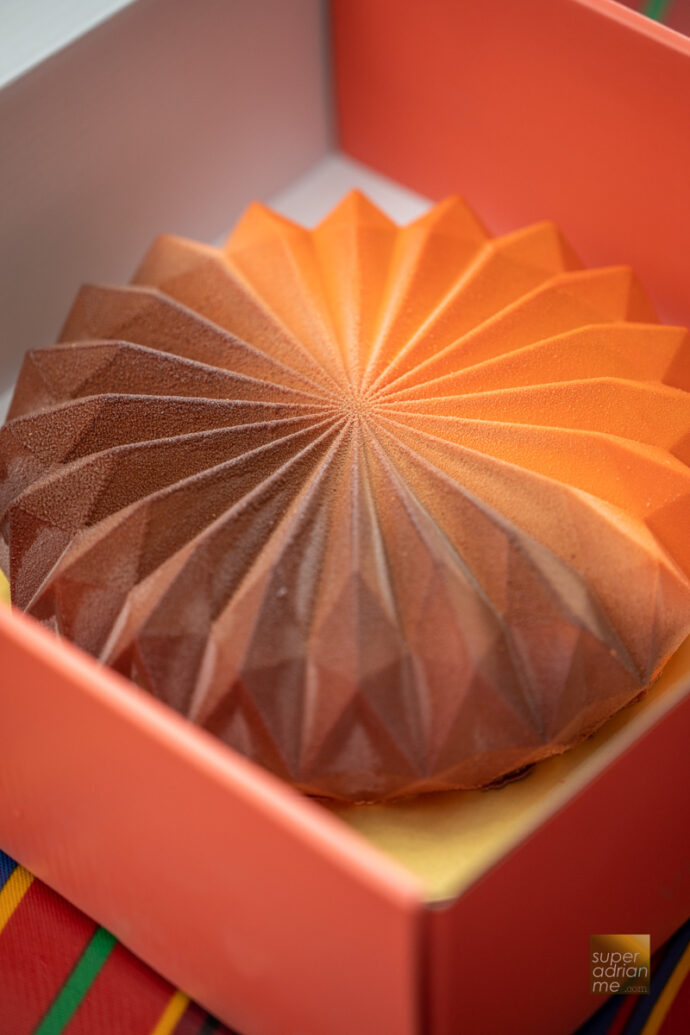 MAISON CHISAKA, a private pâtisserie in Paris by the shy and talented Camille Chisaka, caters for a very niche audience, mainly in the fashion industry and only by word of mouth. She was born mute in Toulouse, France to a Japanese father who was a professional ballet dancer that trained with the Ballet National de Marseille and her French mother, a local painter and sculptor living in a town nearby. Her family name means "a thousand hills" – her initial inspiration to focus on cakes and pastries with a more architectural aesthetic. A talented pastry chef in Singapore helps to create these works of delicious art for Camille.
The Signature Pleat
The Signature Pleats was launched in Singapore earlier this year as an artful chocolate indulgence that is available all year round. That was also the first time we had Maison Chisaka's pleat cake and fell in love with it.
Each cake requires eight hours of the chef's craftsmanship and attention to detail. Velvety Jivara 40% milk chocolate cremeaux atop layers of fluffy Cœur de Guanaja Sacher sponge studded with crisp cocoa nibs. Tart Griottines Cherries in Kirsch liqueur and crunchy pressed shortcrust complete the experience. All this encased in a rich decadent Guanaja 70% dark chocolate mousse, will surely delight all chocolate lovers! Absolutely divine.
Seasonal Whisky Pleat
We also had the opportunity to enjoy Maison Chisaka's interpretation of a gentleman's classic, the whisky old-fashioned. That was a Father's day seasonal cake available only from 10 June to 3 July 2022. Candied orange peel was soaked in a generous dose of The Orientalist Spirits Dragon whisky and added to orange curd, Guanaja 70% chocolate ganache, whisky caramel sauce, whisky-brushed almond joconde and pressed shortcrust and encased in a Caramélita 36% milk chocolate and whisky mousse. Another winner for me, but sadly only for a short period.
Follow Maison Chisaka on Instagram to stay up to date with the latest seasonal pleats available.
Rosemead Pastries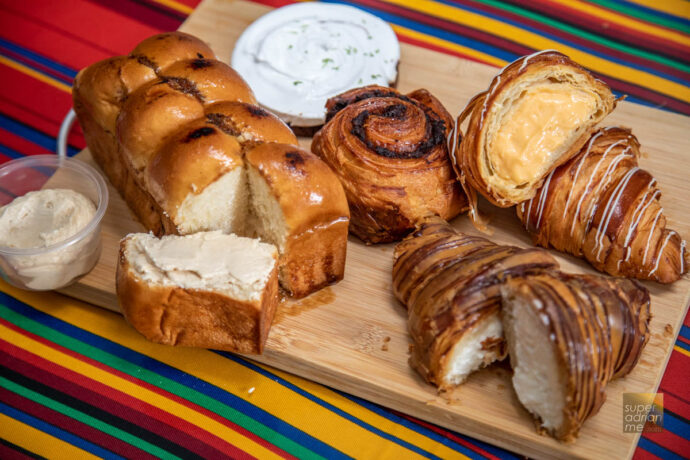 The Rosemead Bakery offers five freshly baked pastries in its pastry boxes priced at S$38 for delivery or pickup from the restaurant on Saturdays. Chef Elena Perez de Carrasco freshly bakes them every morning without any preservatives perfect for same-day consumption.
The Shokupan with Red Apple-Kombu Glaze & Butter is made with three types of apples and infused with kombu seaweed before finishing on the hearth for an extra smoky aroma. The Tiramisu Croissant is laminated with cultured butter, filled with creamy, indulgent mascarpone, and finished with a fermented coffee glaze. A light and bright treat with some tartness is the Meyer Lemon Croissant. And that Sobrassada Babka brioche bread is laminated with spicy Spanish sobrassada and spices. This soft yet flaky pastry crust is addictive.
My favourite was the Marshmallow & Peanut Butter Cookie. The chewy cookie is filled with peanut butter and milk chocolate and topped with vanilla-bourbon marshmallow. Love the sticky yet chewy texture of this cookie!
New pastry boxes are released every Monday at 1 pm for the following three weeks.
Premium Korean Summer Fruit Pastries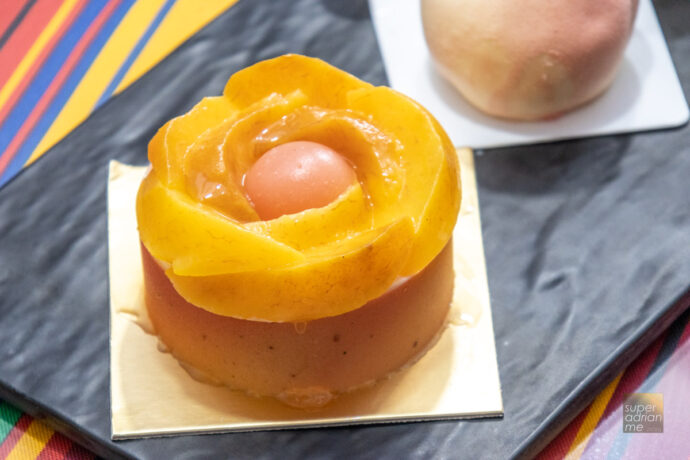 Online purveyor of premium Korean lifestyle products SoGoodK presents premium summer fruits of Korea including the Apple Watermelon, fine-textured muskmelons and regional peaches. These seasonal fruits will be featured in creations by Maxine Ngooi, Executive Chef and Co-Owner of Tigerlily and Chin Mee Chin and Chef Mohamed Al-Matin of Le Matin Pâtisserie. Available until 31 August 2022.
At Tigerlily Patisserie, Chef Maxine has created an entremet using premium Korean yellow peaches from selected farmers in Hwasun, Wooldeung and Hessare. These three areas are famed for their peaches due to their continental climate. This dessert features Korean peaches poached gently in a syrup that concentrates its flavours and softens the fruit, complemented by candied hawthorn fruits added to an almond milk mousse made with a mixture of Southern and Northern apricot kernels, thickened with Jasmine rice and sweetened with rock sugar.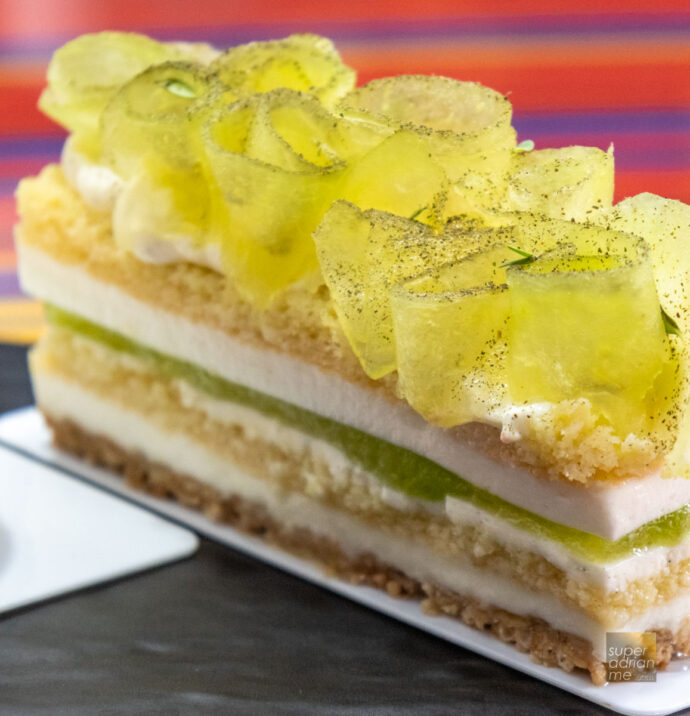 The Korean White Peach Petit Gateaux from Le Matin Pâtisserie was our favourite. Pretty to look at, the soft and fluffy dessert is filled with delicious white peach tartare. Chef Mohamed Al-Matin crafts the mousse out of the peach kernel and laces it with makgeolli.
For the Korean Muskmelon Entremet, the melon is beautifully sweet with a distinct perfume. It is crafted into slice melon flowers that top the pastry. This crowns an assembly of mousse of sikhye, a sweet Korean rice drink and layered with almond joconde sponge and compressed melon. Chef Matin also uses the melon seeds, making it into a crunchy granola base for the entremet.