On the lookout to snack and drink at home? Previously we wrote about the delicious pastry box from Rosemead and Premium Korean Summer Fruit pastries and Maison Chisaka Pleat cakes. This time round we've compiled some new and old snacks, beverages and everyone's favourite ice creams. There's bound to be something for everyone.
Quench Quench Quench
Flash Coffee x foodpanda Friendship Conversation Cards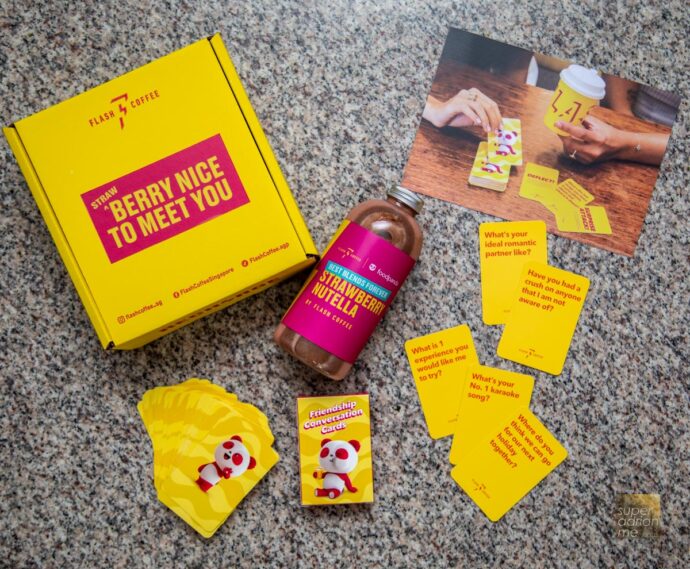 Flash Coffee and Foodpanda have teamed up to celebrate International Friendship Day on 30 July 2022. Flash Coffee has launched a limited time Strawberry Nutella. The icy concoction of strawberry, nutella sauce topped with smooth milk foam is a sweet beverage.
The Strawberry Nutella will retail exclusively in all Flash Coffee outlets, on the Flash Coffee app and on foodpanda, with prices starting at S$4.80 for a small drink.
When you order at least one Strawberry Nutella with a minimum purchase value of S$22 via foodpanda delivery or foodpanda pick-up between 30 July and 31 August 2022, limited sets of Friendship Conversation Cards are also given. You're bound to have lots of fun with your friends and find out more about them with these friendship conversation cards.
The Friendship Conversation Cards feature foodpanda's adorable mascot Pau-Pau and constitute a series of question cards to help players share fun stories, memories and aspirations. From light ice breakers like "What's your number one karaoke song?" to open-ended questions like "How do you deal with difficult situations?", players will not only be entertained, but enjoy deeper and more meaningful conversations with each other. There are also dynamic action cards like "Deflect", "Divulge" and "Surprise Attack" to keep the game exciting and engaging.
Somersby offers the Taste of Summer
The Somersby Watermelon Cider, an easy-to-drink twist on the classic apple-base original, was launched in 2020. Best enjoyed chilled, over ice, or as a mixer for cocktails. Besides the 330ml bottles, these are also available now in 3-pack cans from major super and hypermarkets islandwide at a RRP of S$9.90.
Get a free limited-edition cooler bag worth S$19.90 with every purchase of two 3-pack Somersby cans, with at least 1 Watermelon 3-pack can from now until 31 July 2022.
M&S Fruit Juice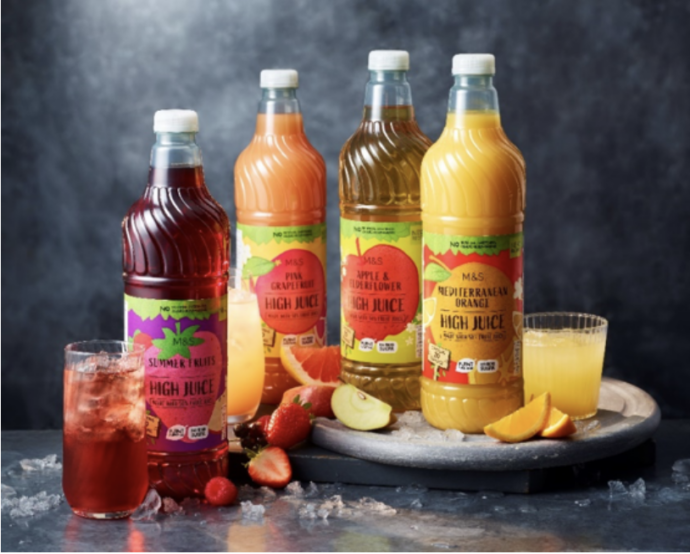 Beat the erratic weather in Singapore with flavourful fruity beverages from M&S. The British retailer has removed all artificial sweeteners and replaced it with plant-based and natural flavourings. Made with 50% fruit juice, these refreshing drinks are packed with flavour and perfect with ice. Pick from Florida Pink Grapefruit, Apple and Mango, or Apple and Elderflower High Juice at S$6.90 each.
The highly popular Summer Berries and Blood Orange flavoured sparkling waters have both been upgraded to be made with plant-based sweeteners and natural flavourings too. They are priced at S$1.90 each.
Snack Snack Snack
Snack Alert from Shopee
Don't forget to stack vouchers for maximum savings when you shop on 8.8 at Shopee! Enjoy up to $45 Cashback, stackable with free shipping vouchers and brand vouchers for bigger savings.
Enjoy a healthier alternative to satisfy your chocolate cravings with dark chocolate bronwie chips sprinkled with almond flakes, chia seeds and coconut shreds. The Amazin' Graze Dark Chocolate Brownie Chips is Halal Certified and priced between S$6.90 and S$13.80. Snack on the addictive Oriental Super Ring Cheese Ring at S$0.99. One pack is not enough. I would stock up a dozen. Enjoy an ultra crunchy cereal served in melted chocolate that isn't too sweet. Just right for chocolate lovers and extremely addictive. Get the Nims Crispy Choco Tub for S$5.85.
Relive recess time memories during your primary school days with the Pola snack. Get these cute and tasty animal crackers in original, spicy or seaweed flavours. 10 packs at S$2.35. In the mood for Salted Egg fish skin? The Golden Duck has a bundle of three fish skin crunchy crisps at S$22.50. Or get the big IRVINS Salted Egg Fish Skin at S$18.
Snack on Meadows Japan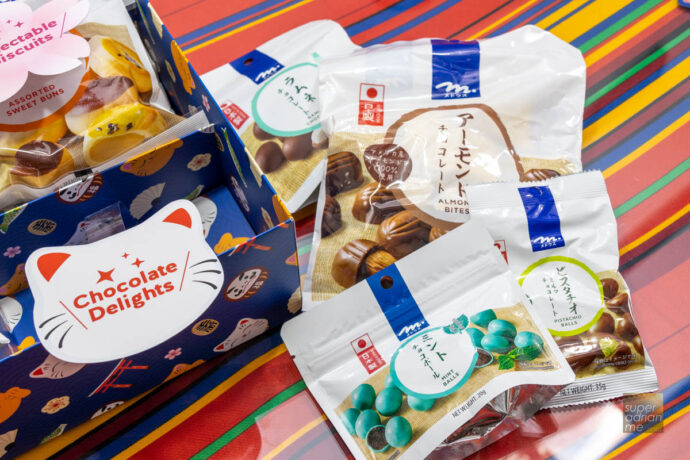 Meadows invites you to discover a taste of Japan with the new Meadows Japan range of snacks. 17 brand-new snacks are available a no more than S$3.50 each. The range features savoury snacks, biscuits, and unique chocolates. Enjoy traditional Japanese treats such as the Sweet Soy Sauce Fried Rice Crackers or Ramune Chocolate.
Available at CS Fresh, Cold Storage, and Giant outlets islandwide or online on the CART app.
Stay Cool – Ice Creams and Yogurts
Ben & Jerry's Dublin Mudslide and Chewy Goey Cookie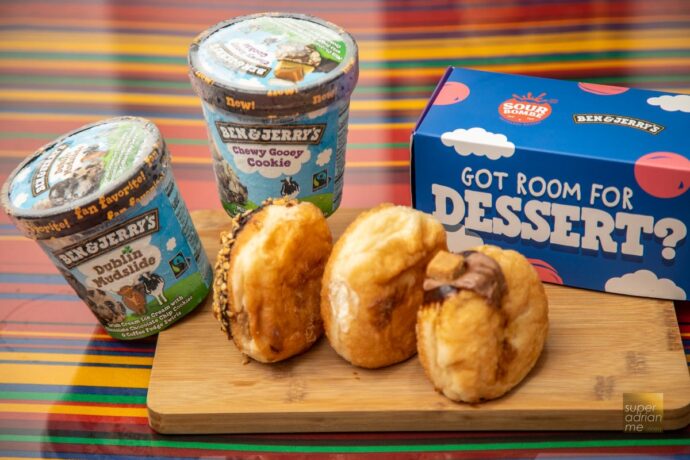 Two new flavours have just been launched by Ben & Jerry's. The Dublin Mudslide and Chewy Gooey Cookie are sinfully decadent. Dublin Mudslide was created with Wheyward Spriit, a speciality spriit company focused on environmental sustainability and food waste reduction. It is flavoured and spiked with Irish cream and mixed in crumbly double chocolate chip cookies and swirls of aromatic coffee fudge. Chewy Gooey Cookie marries fragrant coconut and sweet milk chocolate ice creams with melty fudge flakes, buttery shortbread cookies and stretches of gooey caramel swirls.
Ben & Jerry's has collaborated with Sourbombe Artisanal Bakery to develop three exclusive doughnut flavours inspired by the latest ice-cream flavours, Brûlée Hooray, Gooey Glory and Dublin' Down. The will be available for ordering online, at Sourbombe Artisanal Bakery until 13 August 2022 at S$5.60 each.
Redeem a limited edition co-branded Ben & Jerry's and Sourbombe Artisanal Bakery reversible bucket hat worth S$30, with minimum S$25 spend on Ben & Jerry's, at selected FairPrice outlets, while stocks last.
Available only on Grab, customers can enjoy:
15% off on Sourbombe Artisanal Bakery doughnuts, including three exclusive Ben & Jerry's inspired 'bombes' with every purchase on The Ice Cream Store, including Ben & Jerry's new Chewy Gooey Cookie or Dublin Mudslide.
15% off with a minimum $20 spend on The Ice Cream Store, including Ben & Jerry's Chewy Gooey Cookie or Dublin Mudslide with every purchase of Sourbombe Artisanal Bakery doughnuts.
New Ice Cream and Yogurts from M&S
Ice Cream is the perfect dessert for cooling down. M&S has unveiled their sensational new ice cream from Percy Pig Spirals to artisan gelato from the premium Collection range. The brand new Collection Gelatos are available in flavours of Tiramisu, Speculoos and Caramel, Mint and Chocolate Cookie, Peanut and Caramel, and Raspberry and Mascarpone.
The 3% fat Greek-style Vanilla Frozen Yogurt or Strawberry or Mango and Passionfruit Kefir Frozen yogurts are made with 14 live cultures. Priced at S$13.50 each. Top with some honey and fresh berries to complete it.
The Ice Cream Mini Bites are also new. Bite-sized ice cream balls are coated in cookie dough and come in four varieties of Chocolate Truffle, Salted Caramel, Birthday Cake, Berries and White Chocolate. These are priced at S$14.90 each.
The Plant Kitchen Vegan Ice Creams priced at S$13.50 each are available in five flavours – Triple Chocolate, Salted Caramel, Madagascan vanilla, Raspberry Ripple and Mango and Passion Fruit.