Oktoberfest originated in 1810 from the wedding celebrations of Crown Prince Ludwig who later became King Ludwig I of Bavaria and Princess Therese. The celebrations transformed into a 16-day extravaganza enjoyed by more than 6 million people around the world, consuming 7 million litres of Bavarian beer.
In Munich, local breweries have their own tents serving beers and local delicacies such as Radish, garnished cream cheese, pork sausages, roast chicken and fish grilled on a small stick.
Beer wagons and floats with people in folk costumes as well as games, amusement rides, music and dancing have always been part of the Oktoberfest way of life.
Since this year has been an exception to the norm, travelling to Munich is not possible for now, but there are plenty of ways to celebrate this German festival right here in Singapore.
Also read Munich Tourism's commentary about a year without Oktoberfest and the 100 most beautiful Oktoberfest moments..
Be sure to also check out Spirited Singapore's Simple Guide to German Beer.
BROTZEIT PRETZELS ARE THE BEST
Head over to Brotzeit for Oktoberfest before it ends on 25 October 2020. The group's new Executive Chef Lorenz Raich has raised the bar for the Oktoberfest menu with the Kalter Schwiensbraten or Cold Roast Pork or the Riesenbrezn or Giant Pretzels.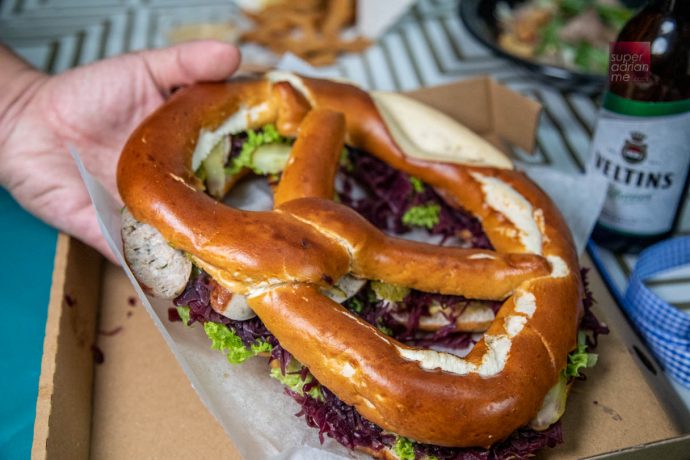 These giant pretzels are 23 cm long and 18 cm wide. The Riesenbrezn mit Schweinshaxn is filled with Pork Knuckle and marinated white cabbage speckled with caraway seeds (S$23++) and the Riesenbrezn mit Bauernwurst is filled with Farmer Sausage (S$23++).
The Crispy Pork Skin (S$6++) or the Crispy Fried Pig Ears (S$12++) is a great bar snack to accompany your pint during happy hour till 6pm from Mondays to Fridays. Happy Hour prices for full-bodied, hoppy Hofbräu Oktoberfestbier is available at S$19 for 2 x 0.3l mugs, or S$29 for 2 0.5l mugs. Otherwise just go for the 1L at S$30 or 3L at S$85. The 3L can also be purchased as a Barrel Combo with a Giant Pretzel for S$98.
We really couldn't resist the pretzels we went back for more today! Check out Brotzeit's Oktoberfest promotions here.
Crossroads at Singapore Marriott Tang Plaza Hotel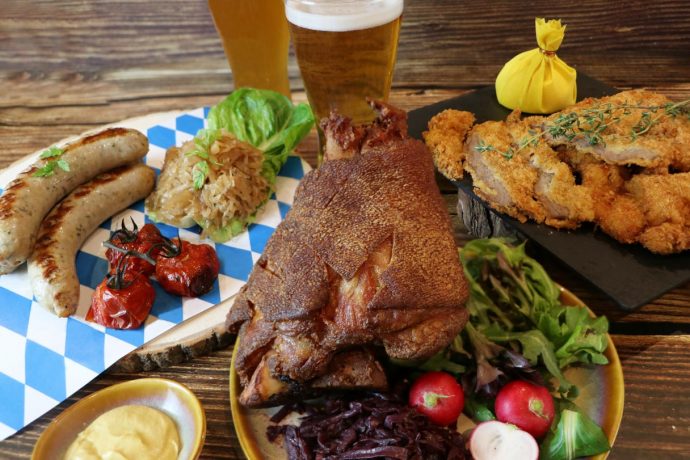 Crossroads alfresco at Singapore Marriott Tang Plaza Hotel is celebrating Oktoberfest with specials until 11 October 2020. A smorgasbord of specially curated hearty Oktoberfest dishes comes complete with iced-cold Erdinger Weissbrau. Tiger or Archipelago Tropical Pale Ale at S$10++ per pint.
Share a crispy pork knuckle with red wine braised red cabbage with your partner for S$38++. Other Oktoberfest dishes include a S$38++ veal schnitzel with potato salad, a S$28++ grilled pork bratwurst with sauerkraut and S$8++ pretzel with sea salt & sweet mustard.
ERDINGER "How To Oktoberfest" Kit
German wheat beer ERDINGER is here to help you enjoy an authentic Oktoberfest experience with the "How To Oktoberfest" kit. The kit contains tall ERDINGER beer glasses, lerderhosen and dirndls get-ups for him and her, and Oktoberfest-themed decorations to transform your home into a festival venue.
You get this limited edition kit when you purchase 12 x 500 ml carton or ERDINGER Wheat Beer Bottle on Lazada Redmart, Shopee S-Mart and Amazon PrimeNow while stocks last.
Visit BlueMist for a S$68 pork knuckle, meat platter or sausage platter set with 3 x 500ml Erdinger Draught Pint at S$68++. Georges is offering 50% off second pint of 500ml Erdinger Draught Pint with German Crackling Pork Knuckle at S$48++. Harry's is offering 2 x 500ml Erdinger Draught for S$26++ and Oktoberfest Platter at S$51++. You can top up 2 pints or bottles of Erdinger at S$22++ . Wawawa Bistro by the Reservoir is offering pork knuckle with sausage and 2 x 500ml Erdinger Draught pints at S$58++ while Paprika & Cumin is offering beer munchies platter and 2 x 500ml Erdinger Druaght pints at S$69++/
FRIEDA Restaurant and Beer Garden
Celebrate Oktoberfest at Frieda Restaurant and Frieda Beer Garden from 1 to 31 October 2020. That's if you are not enjoy the Weekend Bavarian Brunch Experience affectionately called Frühschoppen at Frieda available between 10.30 am to 12.30 pm during the weekends.
For Oktoberfest, enjoy free-flow buffet of German grub at S$55++ per person with a welcome pint of beer and nibbles such as the Obazda cheese with Bavarian pretzels, German Weisswurst with sweet mustard, baked meatloaf with mustard, grilled Nurnberger sausage with mashed potato and sauerkraut, apple bread pudding and others.
Add another S$50++ for four hours of free-flow beer. Or if that's too much beer for you, enjoy by the pint at S$11++ or Jagermeister shots for S$8++ per shot. Schnapps are also available at S$10++ per shot.