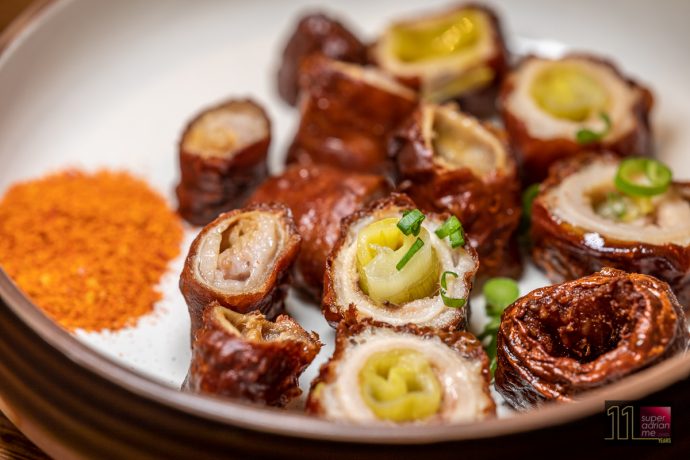 Chef Pang Kok Keong has joined Sichuan Alley as a new partner. Previously known as Chuan Hang, this casual dining outlet serves authentic Sichuan dishes including its signature mian yang rice noodles. Chef Pang has been in the F&B industry for many years including previous self-owned businesses including French gourmet baked goods at Antoinette and Pang's Hakka Noodles at Xin Tekka Food Hall and Pang's Hakka Delicacies. He joins Sichuan Alley giving him the opportunity to put a modern twist on traditional Sichuan dishes.
Sichuan Alley is part of The Foreign Project Group which has concepts under its umbrella including Birds of a Feather, Halcyon & Crane and 51 Soho.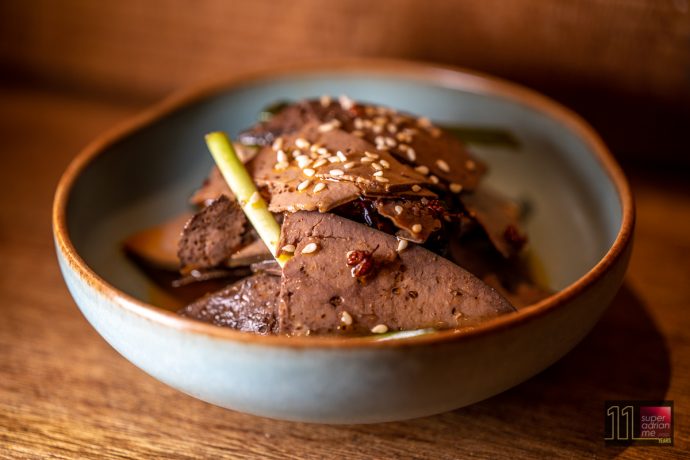 The appetisers here are not something you should miss out on. The Fried Crispy Pig Intestines (S$6.50) were absolutely divine. This labour intensive dish requires simmering intestines in a four-year-old braising liquid and stuffing each chunk with leek and then deep-fried. It was such an addictive appetiser that is eaten with mala powder. But don't order too many portions and let it ruin your appetite for the other dishes here.
I also tried the Funky Pork Liver (S$5.50). It really isn't as scary as it sounds. Thin slices of pork liver are tossed with a dressing of homemade burnt chili oil and fresh Chinese chives. It got its name from the funky taste profile of sweet, sour, salty, spicy, and charred. If you love liver, you would love this too. Chewy with slight astringency.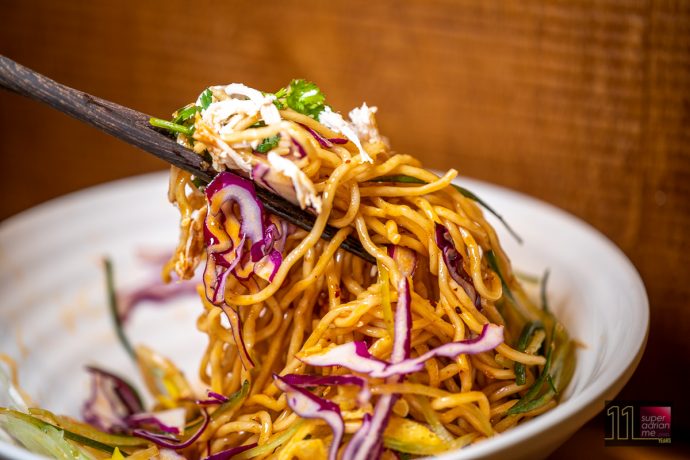 Chef Pang introduces three new dishes including a familiar Signature Dan Dan Noodle priced at S$9. This is an original recipe that is cooked using a traditional technique. Chef stir-fries the minced pork over low heat until the exterior is golden-brown and crispy. He adds preserved Sichuan sprouts and Chinese mushrooms for added flavour. The noodles are coated with a seasoning sauce made with Sichuanese peppercorn oil, chilli oil, sesame paste and sesame oil.
I have a newfound liking for the Shredded Chicken Kimchi Cold Noodle (S$9). Homemade sesame paste and aged vinegar imported from Sichuan are mixed with shredded chicken, kimchi and cold noodles offering a nutty note and delicate tartness. I love the crunch from the Korean bean sprouts.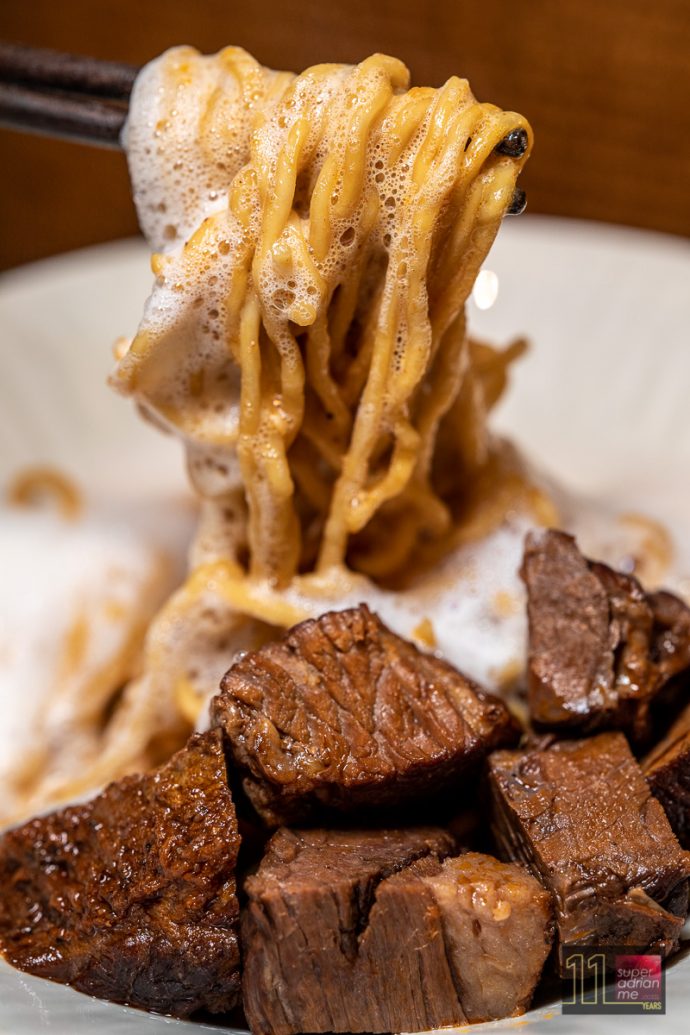 The French Red Wine Wagyu Brisket with Truffle Foam (S$25) is a rather unique noodle dish. If you're wondering how is this even a Sichuan dish, it's not. However, Chef Pang uses special fermented bean paste, a common ingredient in Sichuan dishes for the powerful umami flavour. Australian wagyu brisket is stewed overnight in red wine. It is tender and full of flavour reminiscent of the brisket bourguignon.
The Mapo Tofu Rice (S$13) is made the traditional way. Soft, silky and fresh beancurd is cooked with an aged Sichuan bean paste from Pidu District and Sichuan peppercorn powder and topped with minced beef over piping hot rice. Barley, corn and other mixed grains were spotted in this dish. Enjoy it as a main dish if you prefer rice over noodles.
Sweet Jars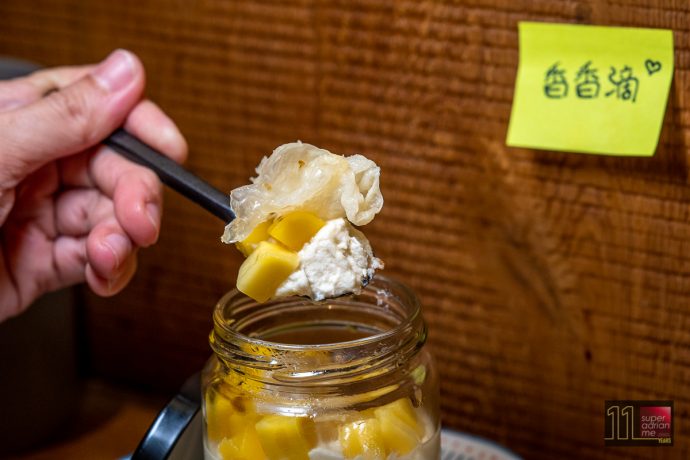 Chef Pang brings his expertise in desserts and sweets to Sichuan Alley by introducing French desserts with Chinese flavours. Calling them Sweet Jars, two new desserts with tongue-in-cheek names include Nice Smelling Thingy (香香滴) and Got Salted Egg (有咸蛋哦). The desserts are presented in jugs with pasted handwritten post-it notes with the name of the dessert written in Mandarin.
Nice Smelling Thingy (香香滴) (S$7) features a jasmine tea meringue-based mousse with fresh mangoes garnished with snow fungus and a sprinkle of osmanthus flowers. Got Salted Egg (有咸蛋哦) (S$8) is a marriage of low-sugar white lotus paste mousse, salted egg yolk sauce, and candied red beans.
These new menu items are available for dine-in, takeaway and delivery via Oddle.
Sichuan Alley operates from 10.30 am to 3 pm and 5 pm to 9.30 pm from Mondays to Thursdays. From Fridays to Sundays it operates from 10.30 am to 9.30 pm.