Need any inspiration to get a drink or two. Check out some of these recommendations, new menus or limited time special pop-ups and menu creations in February 2022. The year of the water tiger is going to be a thirsty one, we reckon. Do also check out our other CNY features on – Year of the Tiger Red Packet Designs, CNY 2022 Fast Food Edition and CNY 2022 – What to Eat?
8 by Bottles & Bottles x Penfolds Pop-up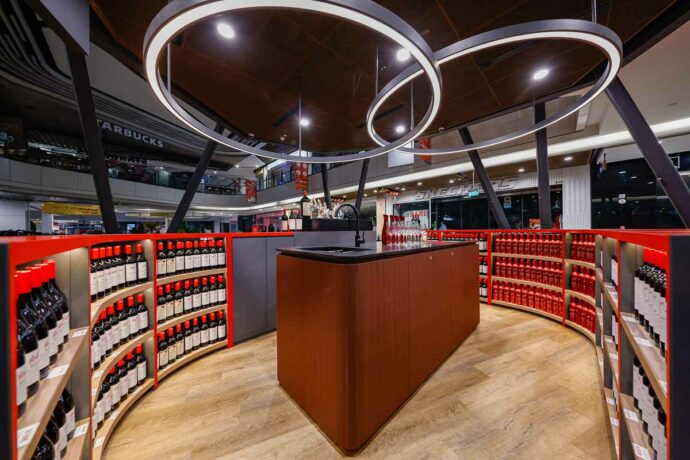 Bottles & Bottles has opened its second drink-in concept, 8 by Bottles & Bottles at Great World City on 1 February 2022. The bar on level 1 features a rotating seleciton of wines, spirits and sake at bottle shop prices. There are no hospitality charges on products purchased and opened at 8 by Bottles & Bottles at Great World City. As part of the hospitality, service of glassware, buckets and ice are available without charge. Mixers are also available, charged by consumption.
Order in from other F&B establishments at no additional cost. Japanese charcoal grill restaurant Tajimaya is an official F&B partner for 8 at GWC.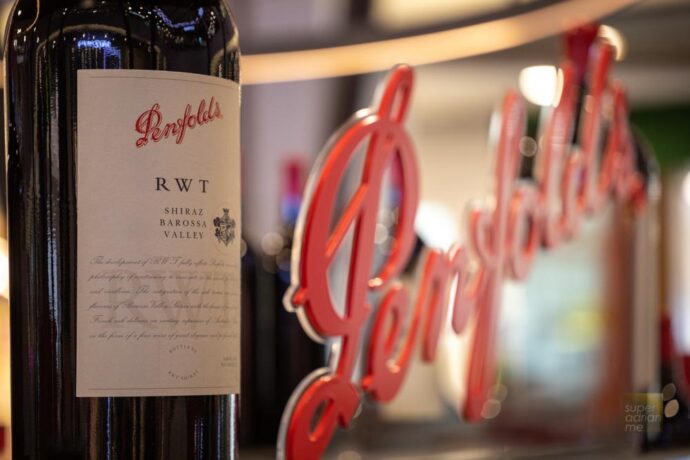 To celebrate Chinese New Year, 8 at GWC plays host to a 15-day pop up till 15 February 2022, featuring the best of Penfolds. The space is transformed into an auspicious red, courtesy of Penfold's iconic hue for these 15 days. Explore the extensive range from the winery, including coveted vintages and premium collectibles.
There are also two tasting flighs. For an in-depth introduction, opt for the quartet of Koonunga Hill Autumn Riesling 2020, Max's Cabernet Sauvignon 2018, Bin 8 2019 and Bin 28 2019 at S$20 (7cl pour/glass). Seasoned oenophiles will enjoy a highlight of Penfold's best, which includes Bin 389 2019, St. Henri Shiraz 2018, RWT Barossa Valley Shiraz 2018 and Grange 2017 at S$128 (7cl pour/glass).
50Fifty Cocktail Pairing for February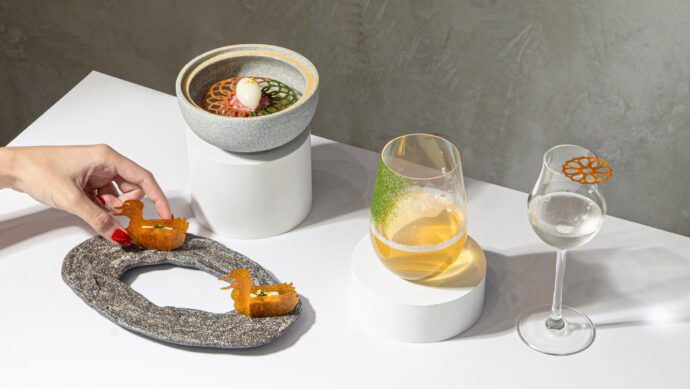 For the month of February 2022, Janice Wong of 2am:dessertbar has paired with Tryson Quek and prestigious bartender Bannie Kang of Sidedoor to offer a S$138++ six hands dinner menu alongside curated cocktail pairings at the intimate pocket bar 50Fifty. Limited sessions are available. Guests go on a culinary journey with six courses paired with four spectacular dessert cocktails.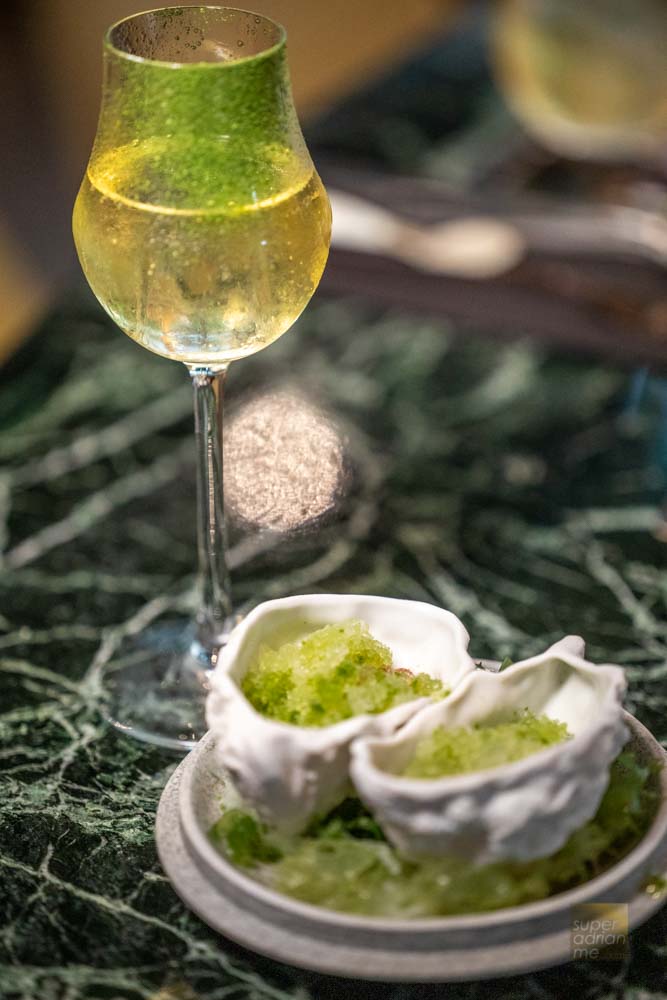 Start the dinner with Algae, a No.3 Iris Oyster served with a side of Cucumber, Kombu, and Frost paired with Clean Water, a light blend of The Macallan Sherry Oak 12Y, Guava, Osmanthus, Sencha, and Verbena.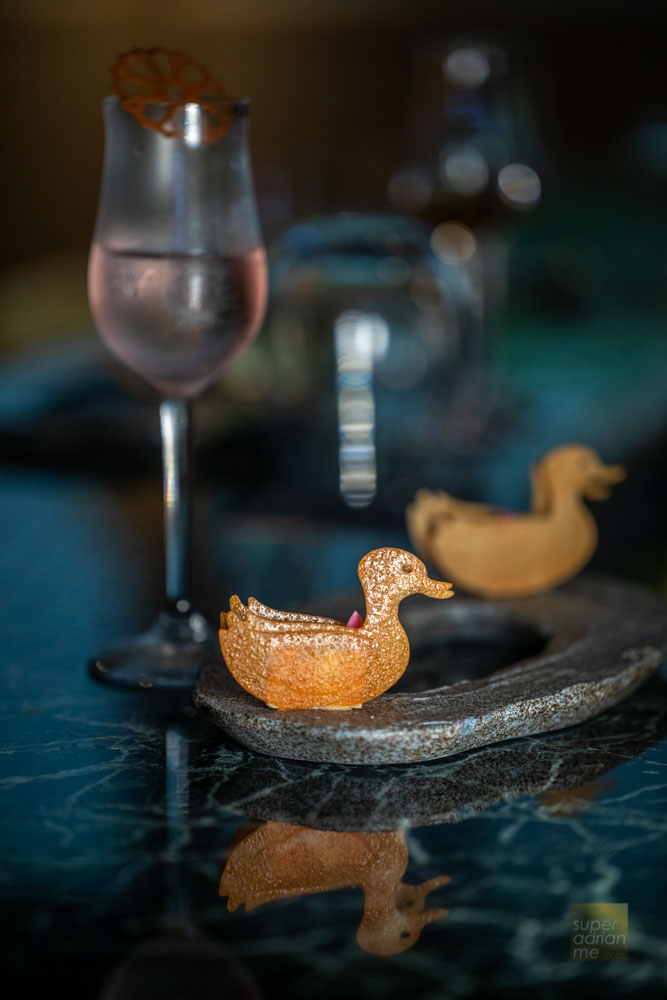 The meal unfolds with a delectable entrée featuring Ugly Duckling, a Confit Duck Rillette served with Duck Liver and delicately dressed in Maple paired with White Meat, a creamy concoction of Brugal Especial, Pineapple, Coconut, and Cream Clarified.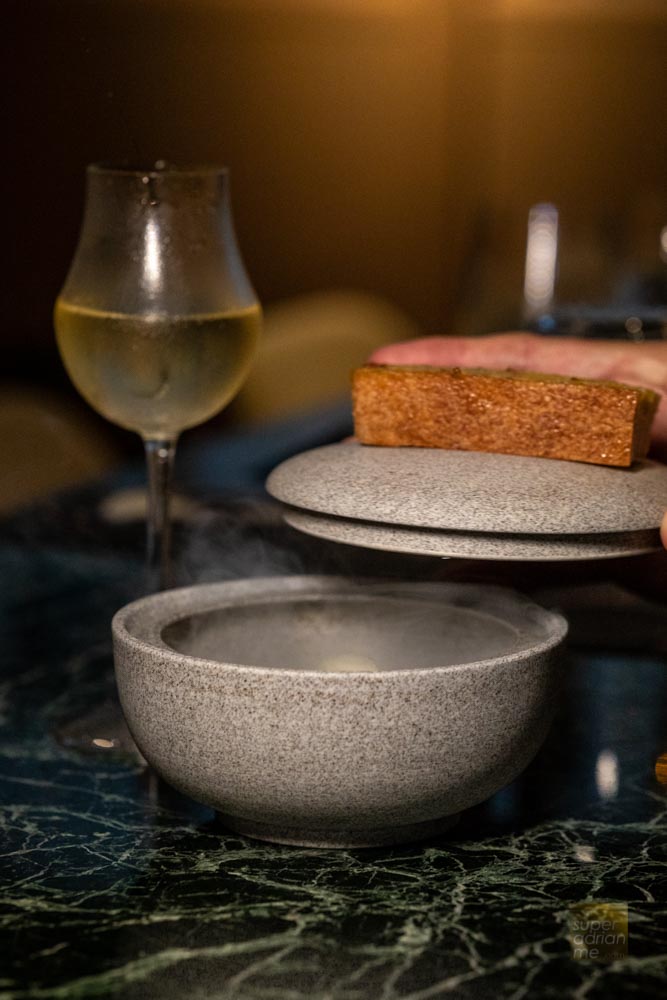 Following this is Cow OnField, a Steak Tartar served with Kale, topped with Leafy Dust, Yuzu, and Grain paired with GreenLand, an aromatic tipple made with Naked Malt, Fernet Hunter, Curry Leaf, Watermelon, and spicy Maqow pepper.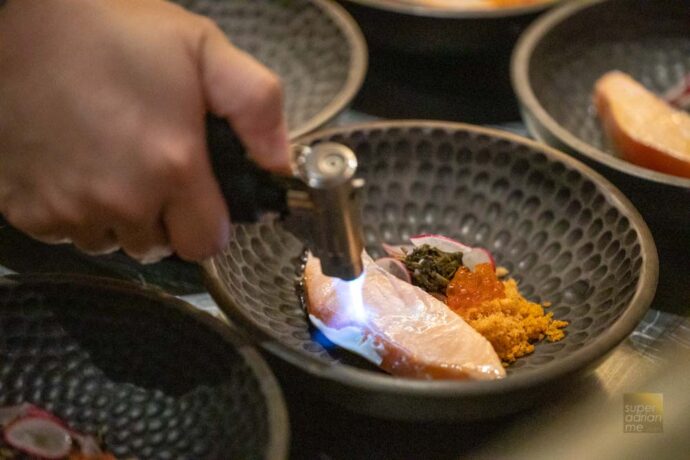 The dinner continues with a hearty and earthy Chicken Brothwith Cepe, Duo Zucchini, and Butter and Fatty Fish, a texture of salmon cooked in Caramel Butter and Fermented Tea, served with a side of Potatoes.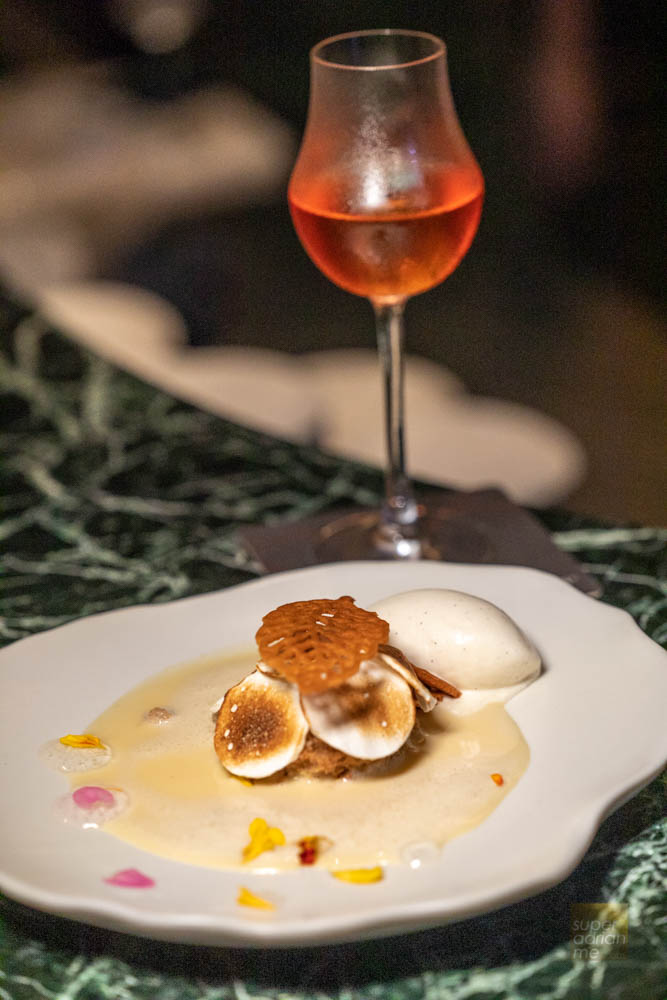 End the meal on a sweet note with Drunken Island, a boozy indulgent dessert made of Whisky Crème Anglaise, Ginger, Sea Salt Caramel, Chocolate and refreshing Bergamot that is paired with Double Red, a spirit-forward concoction made of The Macallan Double Cask 12Y, Strawberries, Campari, Amaro, Amontillado Sherry and a dash of Bitters.
Reservations can be made at 50Fifty online.
Atlas New Sense Of Place Menu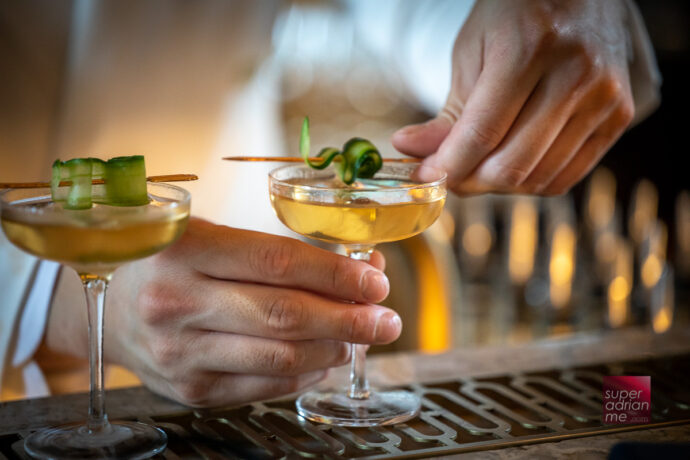 ATLAS has launched its new Drinking Menu Sense of Place. The new menu explores the lively spirit and energy of European Art Deco architecture and shared connections between past and present. Sense of Place is divided into seven chapters. Each chapter features a whimsical illustration of an European Art Deco landmark, from the iconic Battersea Power Station and Teatro Éden to lesser known examples of Art Deco architecture such as the Helsinki Central Station.
Expect an extensive G&T selection including the newly introduced "Bartender's Choice G&T", an avenue to share highlights from the Gin Tower.
The first chapter features non-alcohol cocktails. The Vanda Mist is a bittersweet, creamy no-alcohol cocktail with fresh grapefruit, almond syrup, salt, cinnamon and cream served on crushed ice. The other seven chapters represent Dreaming in the Dark, Promises of Progress, Emporium of Hope, Palace of Peace, Electric Powerhouse and Men of the Future
Gibson x Botanist CNY Menu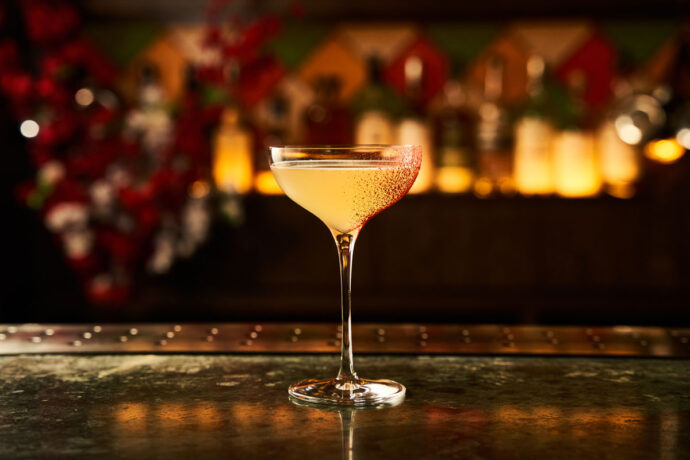 Check out the special spring-themed menu with the Botanist Gin at Gibson until 14 February 2022. Amidst a backdrop of elegant floral decoration that evokes the festive spirit of Chinese New Year at Gibson, Principal Bartender Gregoy Camillò will be presenting three cocktails, all priced at S$25++ each.
There is the long, refreshing Cold Smoke, which pairs iribancha (a roasted tea local to Kyoto) infused Botanist gin with stout reduction, and lengthened with pear juice, citrus, and soda water. Those who enjoy fruitier tipples can look to Noblesse, featuring goji berry infused gin, chamomile honey, granny smith apples, and mint. The Osmanthus Martinez is balanced and boozy, with its recipe of osmanthus infused gin, Del Professore Classico Vermouth, Dom Benedictine, apple cider vinegar, and two types of bitters.
Chef Jason Kng will also be complementing the menu with a ceviche-style dish, bigeye tuna, Korean pear, and passionfruit kombucha dressing (S$30).
Hennessy x Zhang Enli Design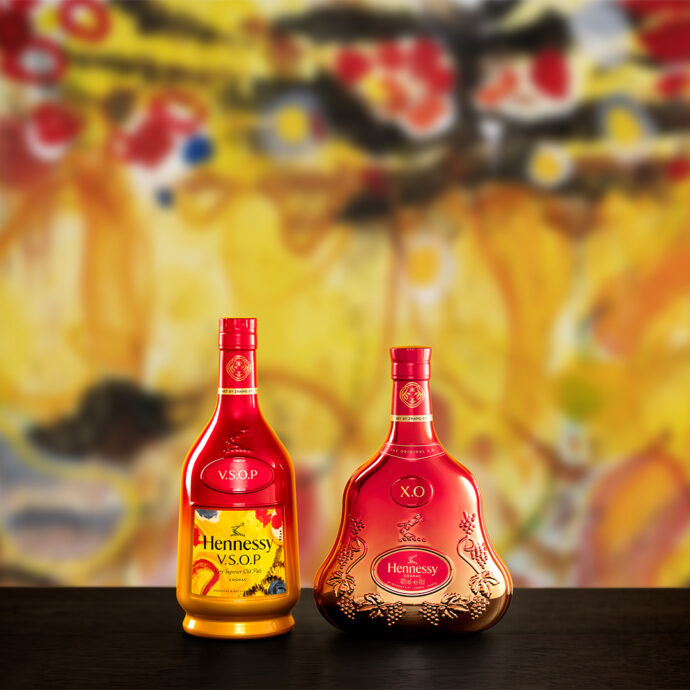 The Maison Hennessy heralds the year of the water tiger with original artwork by Chinese artist Zhang Enli that expresses the regal nature of Hennessy blends through classical brush painting techniques combined with bold, modern and creative vision.
Favouring abstraction over figurative representation, the artist conjures the majestic animal — an ancestral symbol of power, success, and confidence — with dynamic lines and vibrant colour. For the year of the Tiger, he also chose to pay tribute to the peaceful beauty of the Charente River in Cognac, using it as a metaphor for transformation and the passage of time.
The special editions of Hennessy X.O and Hennessy V.S.O.P are respectively available on Moët Hennessy LazMall as well as other specialist stores:
Junior the Pocket Bar x Remy Martin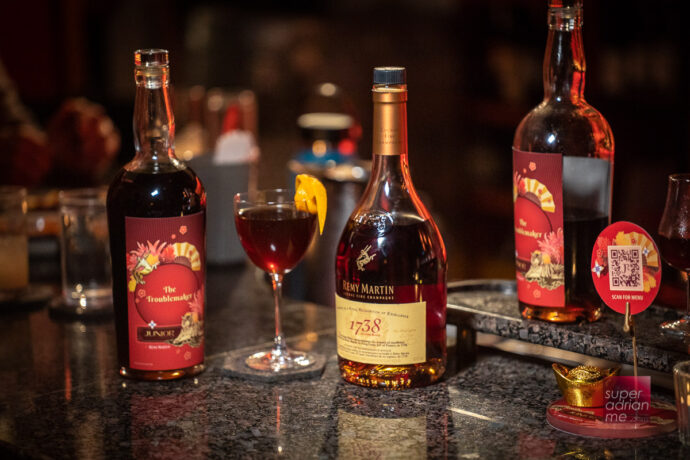 Junior the Pocket Bar's third annual collaboration with Rémy Martin this year features the recently launched 1738 Accord Royal. The pop-up ends 12 February 2022 so better hurry and enjoy the menu of cocktails featuring Rémy Martin and other spirits from the Rémy Cointreau portfolio priced at S$25++ each as well as Chinese New Year treats. Motifs of the Tiger, eccentric statues of lion and dragon heads, Rémy Martin's signature Centaur, vineyards and Cognac barrels bring the space to life.
The Troublemaker features Rémy Martin 1738 Accord Royal, prunes, sweet vermouth, chocolate bitters with an orange twist. This cocktail is on the sweeter side. We also got to taste the Plum Blossoms, created with the Classic Laddie Scottish Barley, sour plum, ginger, lemon and soda garnished with sour plum. Heart of Gold is a refreshing mix of The Botanist Dry Gin and Cointreau, ginger rooibos, lemon and soda, served with sunflower seeds. Try out the other CNY creations as well.
A menu of bites to complement the cocktails and my favourite has to be the flavourful and umami-rich Abacus Seeds (S$18++) which makes a comeback. Asian yam gnocchi with baby scallops, shitake mushrooms, dried shrimps and shallots are topped with a 63º egg. Duck Wrappers (S$19++) comes with pan-seared duck breast accompanied by housemade Hoisin Sauce, pickled carrot and daikon.
The Longevity Noodles (S$18++) has been cleverly encased in a vol-au-vent so that it is easy to eat. The mouthful of mung bean noodles and mushroom medley is so addictive. Not a messy dish to eat. The Tiger Doughnuts (S$8++) is a perfect way to finish off the night. The mandarin orange custard filling and mandarin orange glaze is quite a delightful end.
Junior The Pocket Bar is located at 6 Ann Siang Hill, Singapore 069787. They operate Tuesdays to Saturdays from 5.30 pm to 10.30 pm.
MO Bar Volume 4 Menu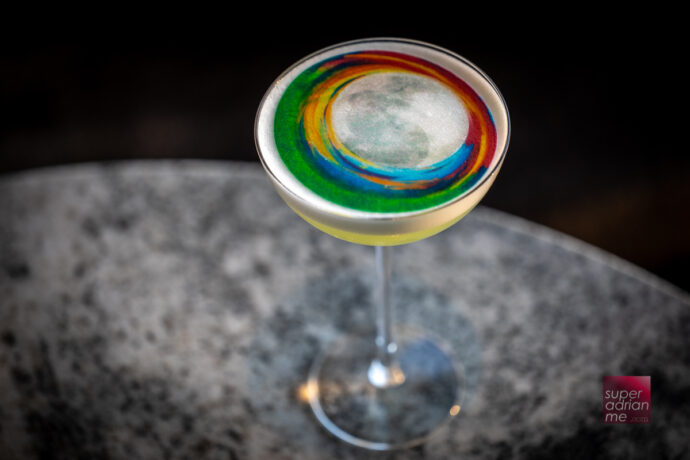 MO Bar launched its latest Volume 4 menu in December. Explore the history and culture of unexplored destinations across Asia Pacific by foot and sea. The Volume Four menu is fashioned in a sphere-shaped style, taking guests to new destinations with an illustrated 3D globe that introduces the collection of cocktails. The attention to detail at every facet creates a transportive effect, with whimsical designs and components to indicate the style, strength, and country of inspiration for each drink.
From South Korea comes the harmonious rice paper rum cocktail, Full Moon, perfectly matching the sweetness of Asian pear with hints of refreshing wheatgrass. Spot the rabbit.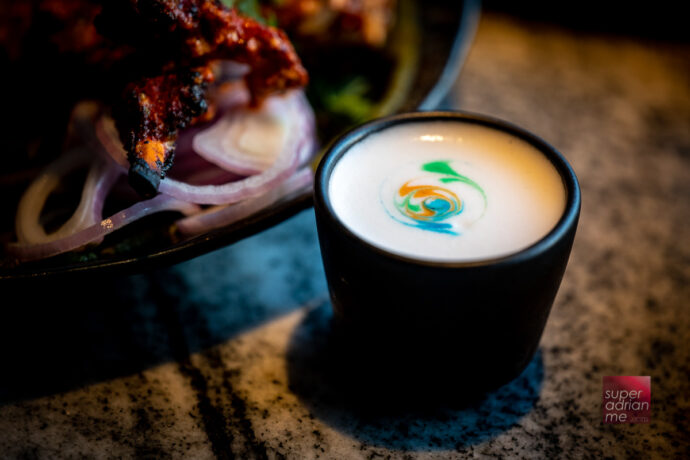 Holi, brings a dazzling display with gin, buttermilk and spices inspired by India's festival of colours. As you reminisce the beautiful moments of life's journey with loved ones, sip on Nostalgia, a decadent mix of cognac, banana and caramel inspired by local Vietnamese produce.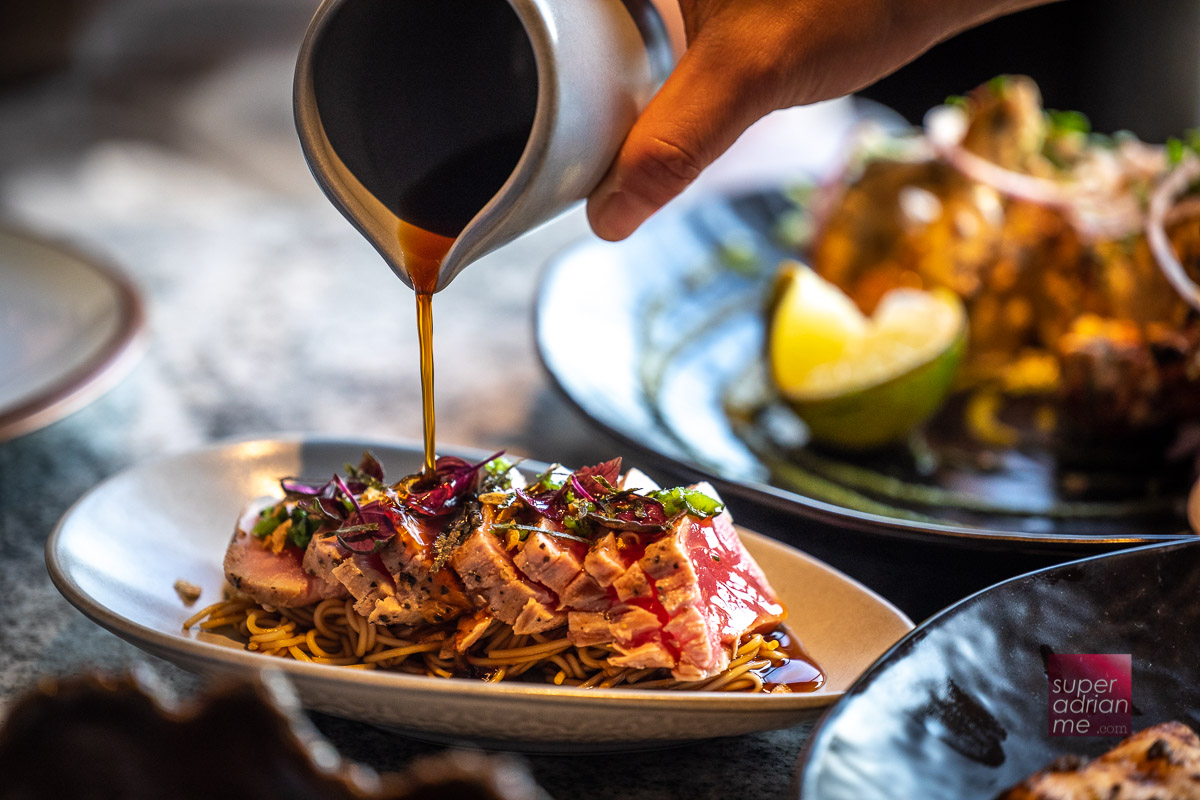 New additions to the food menu include Truffle Cheese Naan with mozzarella and fragrant truffle paste, Tuna Tataki Somen with seaweed, radish, soya dressing and garlic chips, and Royal Indian Tandoori Selection with chicken, lamb, prawns fish and garlic naan. Vegetarian dishes such as Charcoal Puff with potato, edamame, cheese and mint chutney, Rice Rolls featuring vegetables in Vietnamese rice paper with sweet chilli sauce and, Tater Tots with curry mayo are also available.
Peddlers Shanghai Gin Celebrates Spirit of the Tiger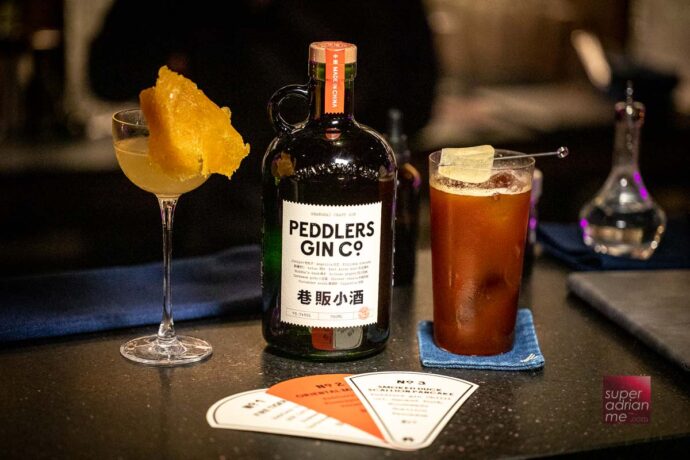 Shanghai-based Peddlers Gin Company celebrates Chinese New Year with a series of events around Singapore. A two-week partnership with Projector X indie film theatre features Chinese New Year related screenings and Peddlers Gin cocktails paired with Chinese delicacies. There will also be special menus at Sago House, Stay Gold Flamingo, Barbary Coast, 28 Hong Kong Street, Druggists and Set of Six.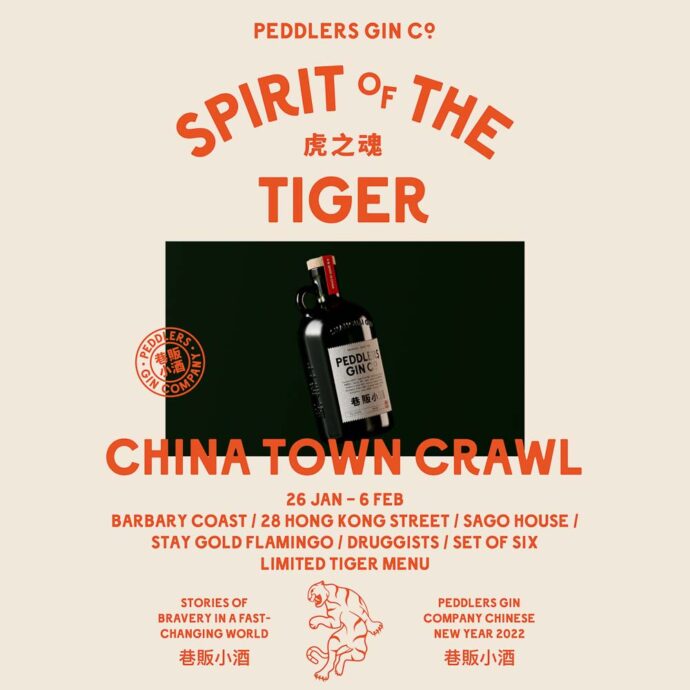 Go on a Tiger Bar Crawl until 6 February 2022. Six bars will each feature 3 Peddlers Gin specials.
Peddlers will be selling a special limited edition gift box with a custom Spirit of the Tiger cocktail mug, and Spirit of the Tiger merchandise, available online and at events.