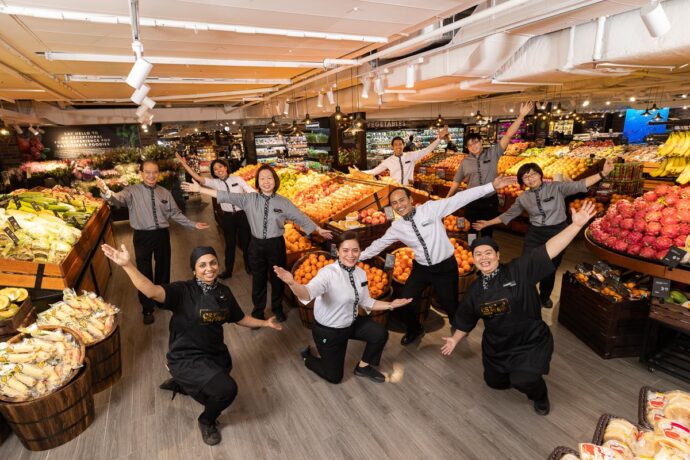 The CS Fresh Gold flagship store makes its debut at Paragon after a revamp of Cold Storage Market Place here. CS Fresh Gold at Paragon is part of Dairy Farm Singapore's S$40 million revitalisation programme. The Group will be enhancing the customer retail experience at all its Cold Storage stores by end 2022. There are currently 48 Dairy Farm supermarkets in Singapore. That's 40 Cold Storage supermarkets with two concept stores at Fusionopolis and Great World and eight specialty supermarkets. Specialty supermarkets are made up of 4 Market Place, 3 Jason's Deli and 1 Jasons.
The new CS Fresh Gold Store at Paragon features a unique retail concept with innovative shopping experiences, bespoke products, fresh produce, extensive range of healthy food options and collaborations with Ryan's Grocery and Crystal Jade.
Kitchen on the Go Section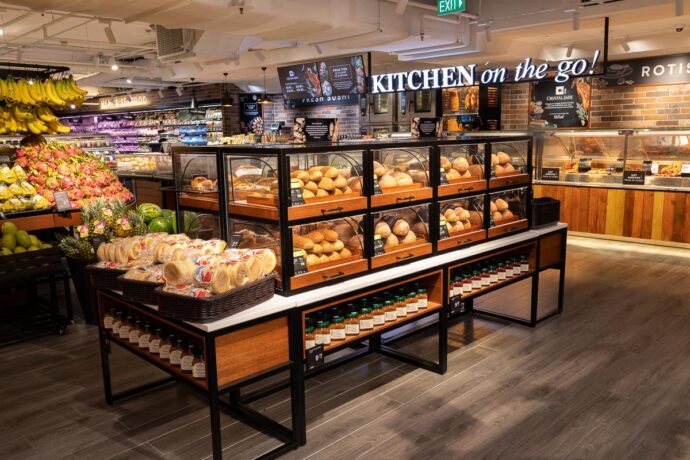 Step into CS Fresh Gold at Paragon and you step into the Kitchen On the Go section. Look forward to a selection of a rich range of high-quality food choices at the fresh sushi and salad bread. The grab and go bread section at the store front is quite tempting whenever you walk by. Or pick up some roast meats from the Rotisserie which includes exclusive Crystal Jade-prepared Roasts and Ready meals.
Ryan's Grocery, Fresh Seafood and Eating Healthy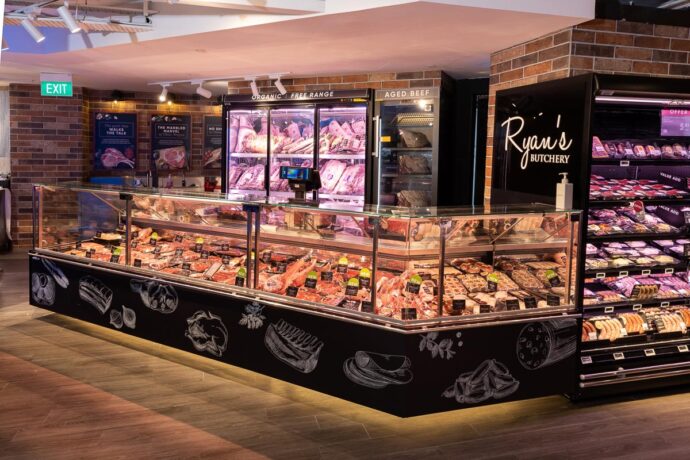 Ryan's Grocery offers a selection of dry aged beef and premium meats. Here you can get the Tenderloin and Sirloin from Ryan's Carbon Neutral Premium Beef and cuts of Borrowdale's Pork Belly and Pork Loin Ribs. In the mood for lamb? Get the popular gourmet Lamb Rack and Lamb Leg from Warilba Organic Carbon Neutral Lamb. That's not all. Premium Wagyu Beef in Tomahawk and Ribeye cuts from the award-winning Okan brand are also available. Also available here are ready-to-cook options. We hear the Beef Wellington, Free Range Pork Belly Mignon with Garlic Butter or the Chicken Caprese are absolutely delicious. Enjoy 25% off Borrowdale Carbon Neutral Free-Range Pork Cutlet, while stocks last until 8 September 2021.
Pick up premium fresh seafood including live oysters and lobsters or artisanal cheese and charcuterie selections. The whisky, wines and craft beer selection is pretty impressive. There are over 450 wine labels categorised by country and style where over 90% are directly imported by Cold Storage. With the growing popularity of organic and sustainable wines, a small selection is made available here. The craft beer selection features a selection of Singapore beers as well as imports from Australia Hong Kong and the United States.
Eating healthy? There is an extensive range of health and wellness products. A variety of vegan and plant-based meats options are also available. Or pick up sustainably grown veggies from Sustenir Agriculture.
There Is a Dog Treat Bar at CS Fresh Gold Paragon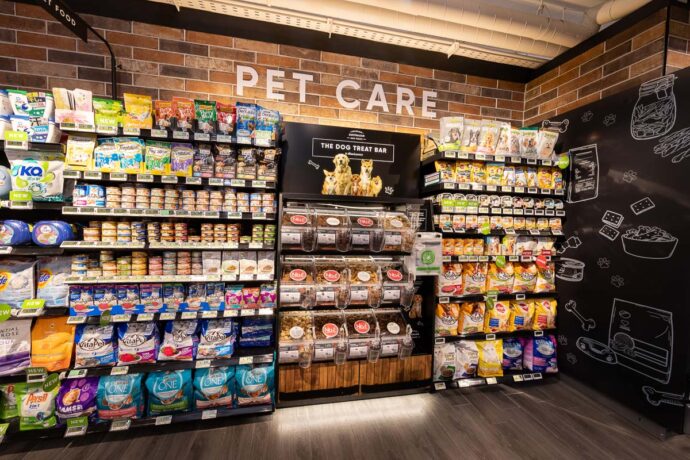 Pick up some treats for your four-legged friends at home from Singapore's first Dog Treat Bar by Alison's Pantry. That's from the same folks that offer a range of snack and nuts in Cold Storage stores. Mix and match these doggo treats easily because they all cost S$6.00 per 100g.
"We are really excited about the opening of CS Fresh at Paragon following the success of CS Fresh in Great World. We have taken the CS Fresh concept even further with CS Fresh Gold at Paragon, with exciting innovation and inspiration for all our customers in Singapore. It's the largest investment plan we have ever committed to. Cold Storage has been serving our customers with great quality and fresh food for over a hundred years, and this is what we firmly believe in. Singaporeans deserve a store chain that is fresh and new and embraces a shared passion for food."

Mr Chris Bush, CEO of Cold Storage
Photos Credit: Dairy Farm Singapore