With restrictions on dining in restaurants until 13 June 2021, we have compiled a list of dining options you can take away or have them delivered to your home. Many of which, my family and I have had the chance to eat well during this stay home period. We hope that you would also share enjoy the recommendations with your family as well.
This article is a work-in-progress article where more will be added. So do check back often for new suggestions. You can also check out Spirited Singapore's recommended list for home delivery. Meanwhile stay safe and fill your tummies.
8 Crabs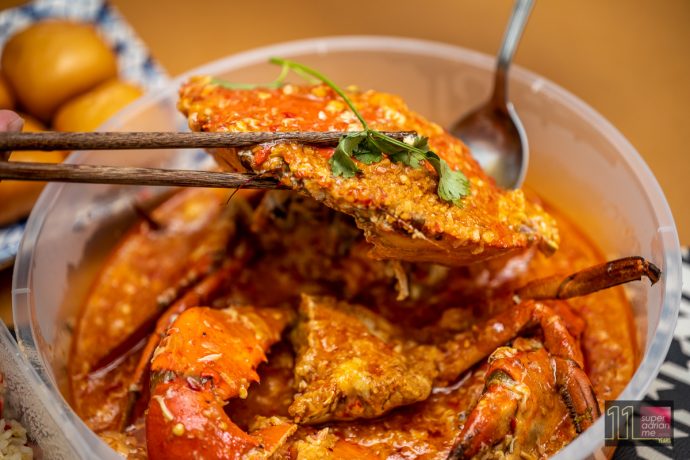 Skip the queues and enjoy a seafood and crab feast in the comfort of home. 8 Crabs prides itself as the only crab delivery service that uses grade AAA premium Sri Lankan species wild caught crabs. This zi char store offers meal bundles from S$48. Just like many other good zi char stores, 8 Crabs offers a variety of preparation methods for its crabs including the Chilli, Black Pepper, Salted Egg, Steamed or Mala.
Their value set meals which are quite value-for-money. Pick from sets for 2 to 3 people up to 4 to 10 people. Or pick ala carte seafood, meat & poultry and others.
We were sent the popular NDP Chilli Crab Feast for 4 to 5 people priced at S$129. The bundle came with a large Chilli Crab with nine fried mantou , and small portions of Prawn Paste Chicken, Signature Prawn Roll, Hot Plate Tofu, Sambal Kang Kong, Pork Ribs King (Pai Gu Wang) and a medium Yang Zhou Fried Rice. I like it that you have the flexibility to choose from a menu of options for each category for this set. It was quite a feast and my family of five with not very big appetites couldn't finish everything in one sitting. The crab was extremely fresh and tender.
And if you are throwing a gathering soon, the Signature All Day Value Feast starts from S$149 for 4 to 5 people up to S$349 for the Extra Large Set Meal that feeds 8 to 10 people.
Visit 8 Crabs to order.
Baristart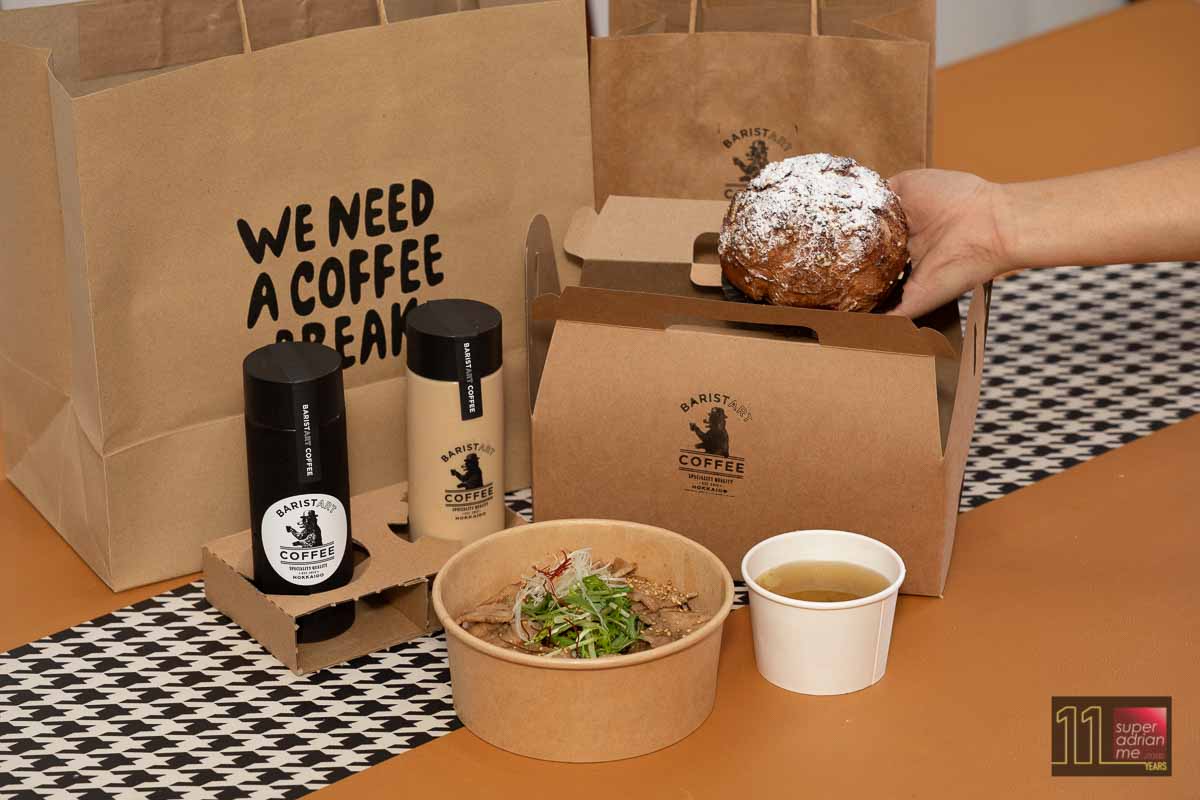 Baristart Coffee prides itself on using Hokkaido dairy that is both rich and creamy with a tinge of sweetness. Watch our video we took in 2019 when Baristart Coffee opened its first outlet at Tras Street. For something savoury, enjoy the Obihiro Butodon. The signature rice bowl comes with Hokkaido Nanatsuboshi rice, grilled kurobuta pork belly, mizen, green onion, homemade teriyaki sauce, sprinkle of shichimi togarashi. It is served with miso soup. Don't forget to treat yourself to some huge Cream Puff. These light yet crisp cream puff is filled with a rich and creamy custard, topped off with crisps and sugary bits. Totally addictive. Coffee by the bottle is also available for the perfect afternoon perk me up.
Delivery is available islandwide with Oddle, GrabFood and Foodpanda. Enjoy 10% discount on all Oddle self pick up takeaway.
Blue Jasmine
Enjoy Thai food from Blue Jasmine with your family in the comfort of home from 12 to 20 June 2021. A Father's Day Set Menu priced at S$98 nett for a family of four or S$148 nett for a family of six. Located at level five in Park Hotel Farrer Park, Blue Jasmine serves authentic Southern Thai and Esarn cuisine in a communal and interactive way.
The menu features dishes such as the Tam Mia Seafood Salad, Deep-Fried Thai Fish Cake with Cucumber Relish, Tom Kar Gai, Sun-Dried Chicken with Green Chilli Dip, Gaem Som and Nai Bai with Abalone. End off on a high with the Thai Dessert Platter with items like Tako layered coconut pudding, Thai Sago Coconut balls covered with freshly grated coconut and Koswee, a Singapore-style Nonya dessert made with gula melaka and rice floor, coated in desiccated coconut.
Visit here to order. You can also email [email protected] or call +65 6824 8851. Self collect your order from Park Hotel Farrer Park.
Como Cuisine Breakfast Sets
COMO Cuisine offers a S$28+ Set Breakfast every day from 9 am till 11.30 am. The breakfast set for champions comes with a yoghurt pot with granola and tropical fruit, a choice of mains and a Cool Down watermelon, cucumber and mint juice and a choice of hot coffee or tea.
There is something for the family too. The Family Treat (S$175) serves four to five people. Or a Tandoori Treat that serves two for S$60. The Tandoori Treat comes features dishes such as the snapper fillet, two pieces of Maimoi lamb cutlets, four pieces of chicken tikka tiger prawn, Tandoor cauliflower served with Saffron rice, pappadam, cucumber chaat chutney and raita.
Visit here to order or order from GrabFood and GrabFood Mix & Match when you search for "COMO Dempsey")
COOP by Neon Pigeon – A New Japanese Takeout
COOP is a new Japanese takeout by the folks behind modern urban izakaya Neon Pigeon. COOP offers delivery and takeaway option via Oodle, Deliveroo and GrabFood. Its menu today offers Sando burgers, Rice & Salad Bowls and also Ramen. Dine at home and enjoy the The Pigeon Delivery Playlist on Spotify.
The Sando Burgers are priced between S$14 and S$16. There are currently four burgers on the menu including a Pork Katsu with bulldog sauce, New Zealand Cod Katsu with wasabi aioli and tamarin onions, Tofu Katsu with agedashi sauce and wild mushrooms and a Korean Fried Chicken with gochujang sauce, carrot and cucumber pickles. There is also a Yakiniku Beef Sandwich priced at S$19.
Five delicious Donburis offer a choice of mixed greens or niigata rice for under S$20. Choose from the Miso Roasted Salmon, Teriyaki Prawns, Smoked Tofu Katsu, Yakiniku Wagyu Beef or Korean Fried Chicken. And if you are in the mood for noodles, there are four choices of Ramen prepared in duck-paisan broth, lemon ginger tare with shiitake mushrooms, napa cabbage and ramen egg. The plain ramen costs S$11, while the Crispy Duck Confit is priced at S$17, Sake Smoked Pork with three pieces of kurobuta pork collar at S$16 and Soft Shell Crab at S$17.
There are a couple of sides here including our favourite Tokyo Hummus with edamame, furikake and curry chips or the Furikake Fries with nori salt and ketchup amongst others from Neon Pigeon. You got to try the Salted Cucumber Soda. It is refreshing especially during those hot days we are experiencing in tropical Singapore.
Visit here to order.
Crystal Jade Group
Crystal Jade Group of restaurants continue to offer its menu via Oddle or on Foodpanda, GrabFood and Deliveroo. The group's restaurants include Crystal Jade Palace, Crystal Jade Golden Palace, Crystal Jade Dining IN, Crystal Jade Jiang Nan, Crystal Jade Hong Kong Kitchen and Crystal Jade La Mian Xiao Long Bao.
Enjoy 20% of takeaway orders and free islandwide delivery with minimum spend of S$60 from Oddle. And when you purchase any three Crystal Jade Dim Sum products, you also enjoy 20% off one estore.crystaljade.com.
Dishoom – Classic Indian Dishes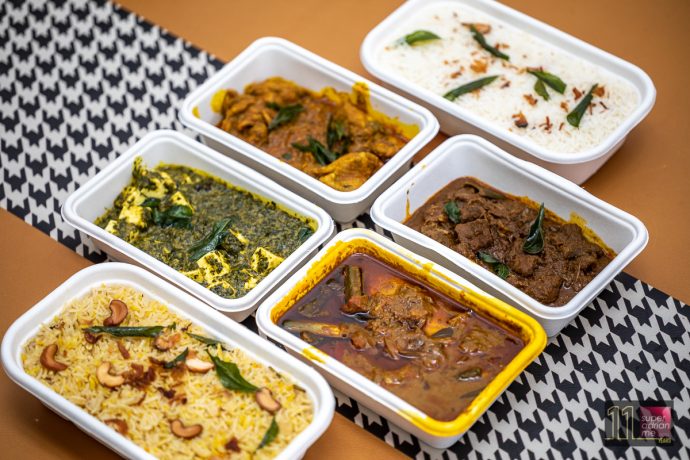 Dishoom is the newest inspired Indian cuisine brand to open in town by the same folks behind Wildfire Burgers, Lil Tiger and other food concepts here in Singapore. Offering islandwide delivery, you can now enjoy mouthwatering classic Indian dishes that are rich in flavours and taste in the comfort of home.
Enjoy dishes such as Hyderabadi Chicken (S$20) prepared with boneless French Poulet and fresh Garant masala, or the very tender Mughlai Shahi Korma Lamb (S$26) prepared with Australian Lamb and roasted Cashews. The Goan Fish Curry (S$18) features a very flavourful Kühlbarra Barramundi that leaves you craving for more. And if you are a fan of cottage cheese, the Palek Paneer (S$18) is a must order.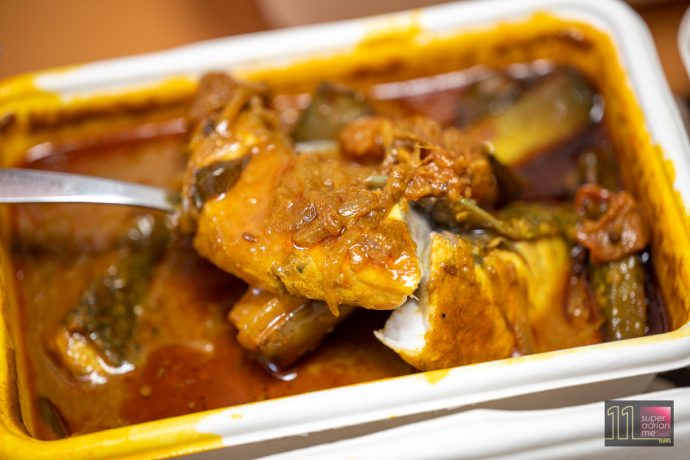 Two types of rice are offered. A serving of Kashmiri Pilaf serves two to three people at S$12. Anarkali 2 year aged super long premium basmati rice is prepared with saffron milk, spices, fresh and dried fruits nuts. The Basmati (S$9) is less fanciful but pairs excellently with the dishes.
For desserts, you can get a pint of Mango Lassi (S$22) that is made with Alphonso Mango, yogurt and Butter Crumble. For drinks, Kingfisher Lager Beer and Pabst Blue Ribbon Beers are available. Or order canned cocktails priced at S$18 for the Whisky Soda, Gin Sonic, Lychee Fizz and Ariana or S$22 for the Manhattan and Smokey Negroni.
Visit here to order.
Gyu Bar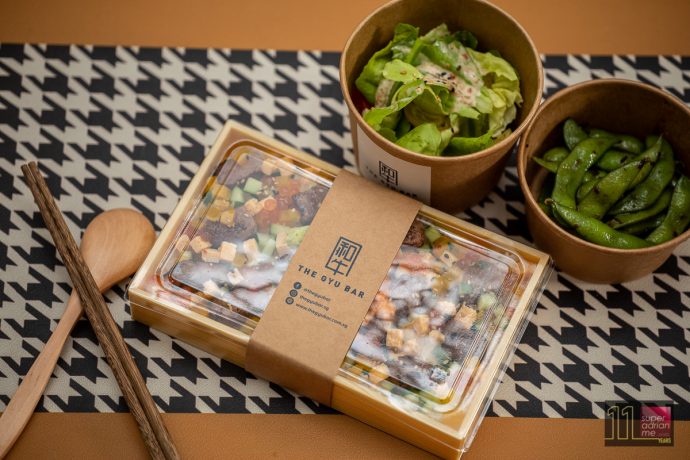 The Gyu Bar located near the entrance of Mercure Singapore on Stevens offers takeaway and delivery daily from 11 am to 9 pm. A trio of hearty Signature Wagyu Dons (S$58 nett each) features wagyu prepared in aburi, yakinikui or sukiyaki and comes with a complimentary dish of truffle edamame (worth S$10+) . The Wagyu Uni Chirashi Don features cubes of aburi, wagyu, silky Hokkaido, Uni, ikura, diced Taruna, tamagotchi and cucumber. Yakiniku Wagyu Foie Gras Don is perfect for those who love their foie gras. Shabu Shabu and Sukiyaki sets for two people are available as well.
Delivery charges are based on distance if your order is less than S$60. For orders above S$60 the delivery fee is fixed at S$8 per location. Enjoy free deliveries for orders above S$150.
Call +65 91503164 or click here to order.
JEN Singapore Orchardgateway by Shangri-La
JEN Singapore Orchardgateway by Shangri-La is offering a "Spoil Your Parents: Premium Bundle" with a 15% discount for orders made between 9 and 16 June 2021. This premium bundle feeds up to 5 people at S$227.80 nett after the 15% discount. This is available for takeaway and island-wide delivery until 20 June 2021.
The Premium Bundle includes a Ginseng Chicken and Abalone Soup with White Fungus and a five-course set menu of Sautéed garlic prawn with asparagus and cherry tomato; Grilled half-shell scallop topped with Thai Mango salsa; Torched Boston Lobster with light miso mayo and ebiko; Slice pork bulgogi with sweet onion and sprinkles of sesame seed; Seafood Hokkien mee with wok-fried oyster; a celebration cake and a choice of gift box filled with self-pampering items for the well-deserved "me time" that all fathers need. For the gift box, pick from a self-pampering package that includes facial, hand and foot masks, hand cream, and a diffuser or a special kit that allows them to unwind with handcrafted cocktails, equipped with a Moscow mule mug, bar spoon and jigger.
Visit here to order. For more information, call +65 6708 8899 or email [email protected].
Kempinski Boodle Fight
The Capitol Kempinski Hotel Singapore offers a specialty Boodle Fight feast for you to dine in the comfort of home. The Kempinski Boodle Fight Feast is priced at S$108+ for 2 persons. The hearty spread can actually feed up to five people if you don't have huge appetites. The feast features Grilled Barramundi, Grilled Tiger King Prawn, Pork Prime Rib Char Siew, Pastured-Fed Angus Beef Rib Eye Jin Long Yu Premium Fried Rice, Fried Soft Shell Crab as well as Grilled Broccolini, Miso Eggplant, Charred Lemon Crown with Spicy Assam Vinaigrette, Adobo Butter and Angelica Barbecue Sauce. End the meal on a sweet note with a toothsome serving of Mango Sago.
Chalerm Thai makes a return for a limited time only. Chef Roy brings back his signature creations such as the crab meat omelette, seafood Tom yum soup and pineapple fried rice. Or enjoy a Kempinski Afternoon Tea in your own living room from S$38+ per person. The three-course afternoon tea comes with TWG Tea and a selection of savouring and sweets. The Kempinski Weekend Brunch is priced from S$168+ For 2. 15 Stamford by Alvin Leung brings you its much-loved Sunday Brunch featuring premium seafood, a collection of charcuterie and hearty succulent meats. The set comes complete with salad and desserts.
For a limited time, enjoy 15% off and free island-wide delivery for all orders above S$60. Visit here to order.
Kind Kones – Vegan Ice Cream and Desserts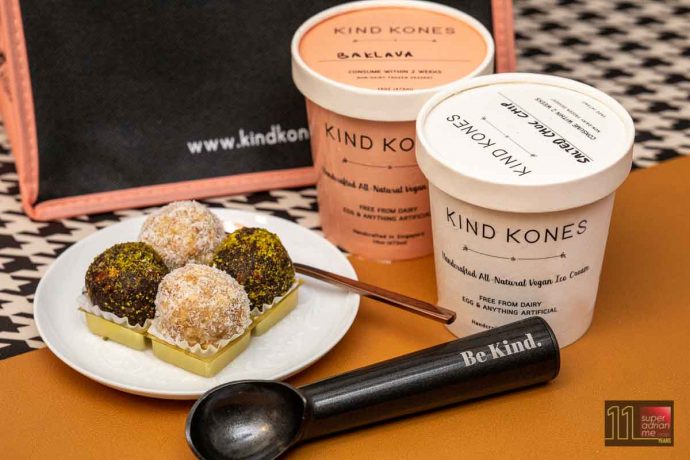 Kind Kones offers vegan ice cream and desserts. They are free from dairy, soy, refined sugar, egg and anything artificial. And we were surprised that without all the thickeners, preservatives, colourings, flavourings and other additives, they still taste as good. If we did a blind taste test, we wouldn't have been able to tell it was a vegan ice cream.
Enjoy free delivery for orders above S$50. For orders below S$50, there is a fee of S$10 islandwide. And if you order before 4 pm, you can enjoy same day delivery. From now until 13 June 2021, the Be Kind & Stay Safe Bundle is priced at S$48 inclusive of free delivery instead of the usual S$54. The bundle comes with 2 Mix & Match Ice Cream Pints, 6 Mix & Match cookies and 1 exclusive Kind Kones cooler bag. There are other bundles available.
Visit here to order.
Kitch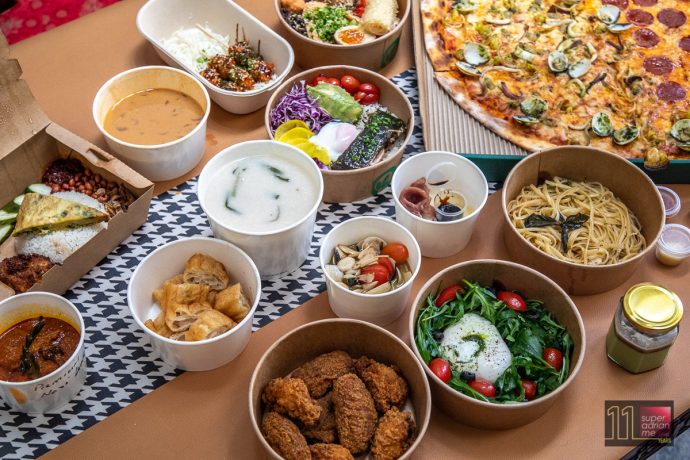 Kitch is Les Amis Group's answer to offering five Brand's under one roof from its newest and first-ever cloud kitchen concept in the heart of Serangoon Gardens. The five brands include Peperoni Pronto (a delivery and takeaway version of Peperoni Pizzeria), Mui Kee Congee, YuJin Bowls, Lemak Boys and One Prawn Noodle.
What this means if you can mix and match from different brands in one order. Have a feast at home with some Parrot Fish Belly Congee with Crispy Dough Fritters from Mui Kee Congee, Aburi Truffle from YuJin Bowls, Premium Nasi Lemak and Chendol Pudding from Lemak Boys, Superme Original Ramen and Homemade Teriyaki Glazed Prawn Ball from One Prawn Noodle and XXL Half & Half Pizza, Vongole, Chicken Wings and Classic Burrata from Peperoni Pronto. Wines and other beverages can also be ordered to accompany your meal.
Kitch is located at 28 Maju Avenue, Singapore 556698.
Order via Deliveroo, FoodPanda, GrabFood or directly from Kitch
Marriott Cafe at Singapore Marriott Tang Plaza Hotel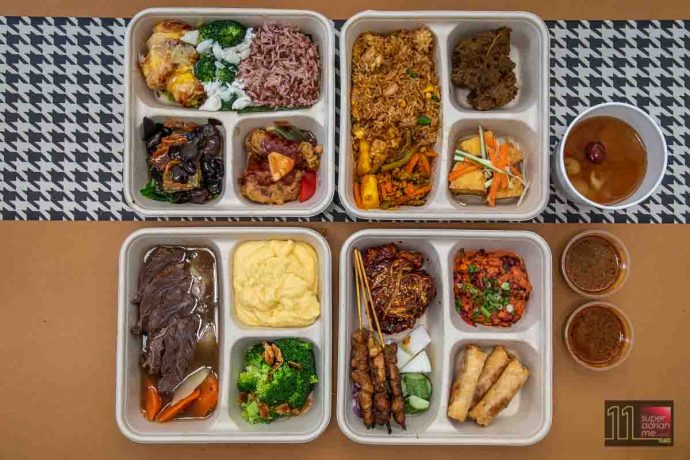 Singapore Marriott Tang Plaza is offering S$15 nett Bentos, 30% off a la carte delicacies, breads cakes and pastries via drive-through collection and island-wide delivery. Bentos from Wan Hao Chinese Restaurant allow you to customise your own Bento by choosing from categories such as poultry, beef, pork, seafood, vegetables and beancurd with a complimentary dessert. Highlights include Baked Chicken Fillet with Mala Sauce; Salt & Pepper Soft Bones Pork Ribs; White Pepper Beef Fillet; Sauteed Prawn with Black Pepper Sauce; Deep-fried Prawns with Yuzu Mayonnaise; Steam Garoupa Fillet with Ginseng Sauce, and more. Dim sum for lunch? Enjoy a 7 assorted Dim Sum bento at S$15 nett. They include Deep-fried Prawn Roll with Mango; Steamed Scallop & Morel Mushroom Dumpling; Baked Honey-Glazed Pork Bun; Steamed Glutinous Rice with Dried Shrimp, Chicken & Mushroom, as well as classics such as Steamed Shrimp Dumpling Steamed Pork Siew Mai, Baked Egg Tart, and more. À la carte delicacies are available for takeaway at 30% off.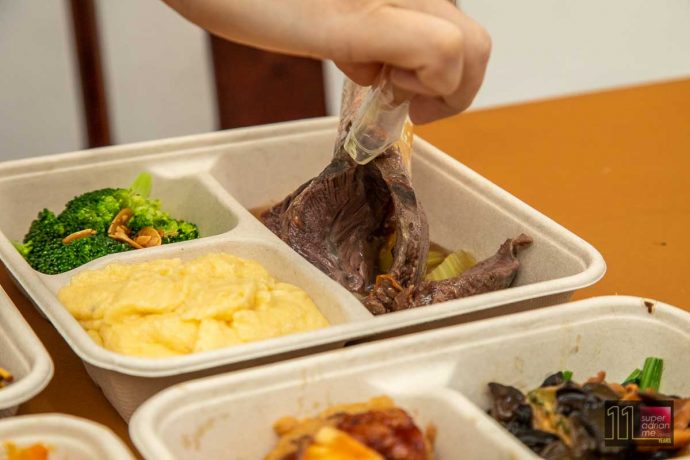 Marriott Café offers sets that start from S$10. A S$35 nett 3-course set menu is also available. The French set features a generous portion of braised beef cheek "Pot au Feu" & potato aligot (both sous vide packed separately) and buttered broccoli almandine. And it is only S$15 nett. The Nonya (S$15 nett) features a very appetising sambal seafood fried rice with achar-achar, Tahu Goreng with sauce and beef rendang in a sous vide pack.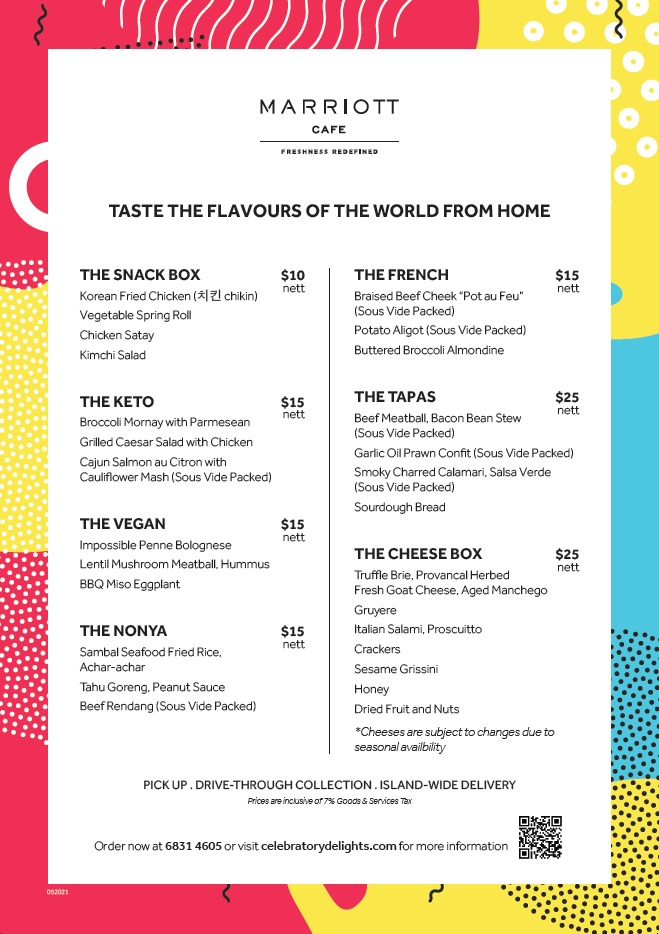 Visit Celebratorydelights.com to order or call 6831 4605 or email [email protected].
Momolato
Momolato offers a new range of flavours and DIY goodies so you can eat well in these changing times. These sugar-free goodness can be delivered to your home. Their fresh fruit lattes and keto yoghurts are absolutely refreshing.
Our favourite of the three lattes is the Australian Mango latte. There are also Dark Belgium and Ecuador Chocolate latte and Korean Strawberry latte. Something to suit different taste buds. These sugar-free fruit lattes cost S$7.90 per 500ml bottle while a set of three bottles of S$18.90.
Sugar-free and keto yoghurt cost S$18.90 for 400ml jar and S$54.90 for a set of three jars. The therapy range of yoghurts come in three flavours – Blue Pea Vanilla, Korean Strawberry and Coconut.
The Gelato is priced at S$15 to S$20 a pint of 473 ml or S$55 to S$69 for 2.5L.
Order from GrabFood, Foodpanda, momolato cafe takeaway at 34 Haji Lane or visit here to order.
Nutmeg & Clove
Nutmeg & Clove has made its Mod-Sin food menu and Bottled cocktails available for islandwide delivery. Some of our favourites include the Lemak Dry Mee Siam with Crispy Soft Shell Crab (S$23), Sea Bass Pao Fan with Crispy Rice (S$16) and the Zi Char Clams (S$22). The Chilled Noodles Tsuyu Dressing (S$12) is another comfort dish.
Looking for something to snack? Order the Chong Qing Chicken Wings (S$18) or Tom Yum Bishop Nose (S$13).
Nutmeg & Clove's bottled cocktails are now available in new slim transparent 400 ml bottles in six different creations good for five serves per bottle. These cocktails are also available in 250ml bottles that serves three.
Click here to order.
Pizza Express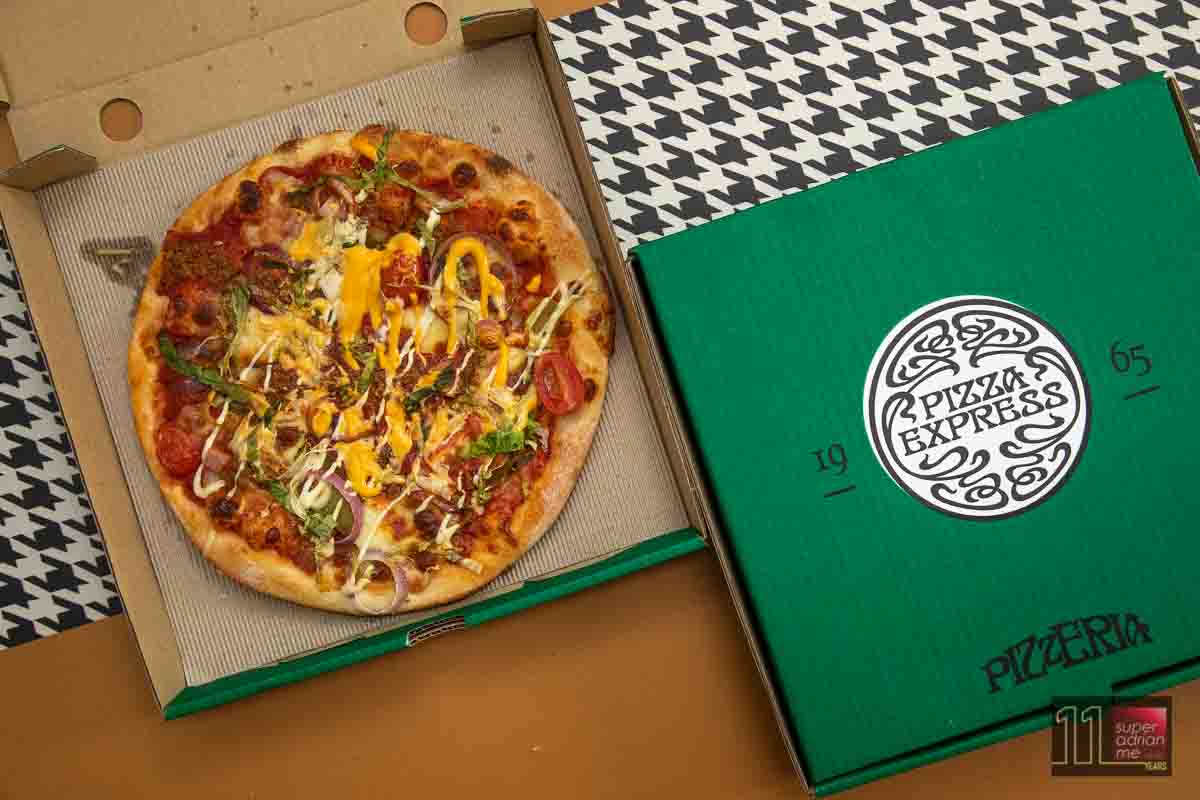 PizzaExpress Singapore launches new pizza flavours from around the world offering 15% off your total bill when you takeaway from any of their three outlets at Duo Galleria, Scotts Square and Holland Village. These include the Mexican Chilli Beef Pizza, Japanese Okonomiyaki Pizza and USA Hamburger Pizza. Each pizza is priced at S$26.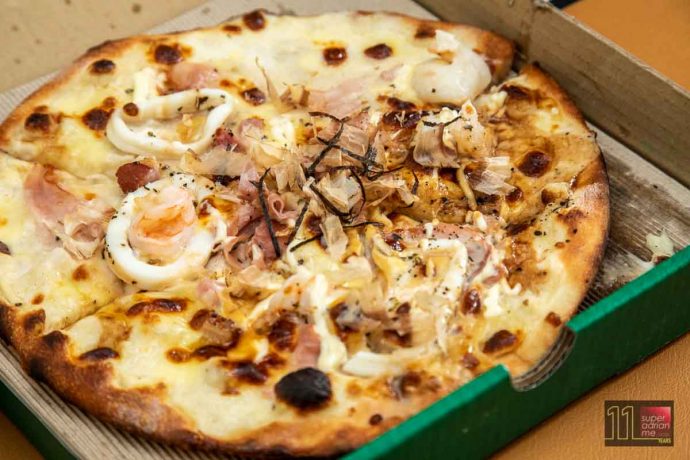 We got to try the Japanese Okonomiyaki Pizza and USA Hamburger Pizza last week. The Japanese Okonomiyaki Pizza borrows its inspiration from the famed street food of Japan. Dressing of bechamel sauce and mozzarella cheese, topped with cooked ham, pancetta, tiger prawns and squid rings is topped with garlic oil, seaweed, bonito flakes, Taoyaki sauce and Japanese mayo.
The Hamburger Pizza pays homage to the classic cheeseburger. Pizza dough is baked with all the classic hamburger ingredients. There are passata and a mozzarella cheese, minced beef, pancetta, gherkin, Spanish red onion, cherry tomatoes and romaine lettuce. It is topped with oregano, black pepper, garlic oil, mustard mayo and cheddar cheese sauce. A pretty interesting take of the cheeseburger, I have to say.
And if you like Mexican food, then try the Chilli Beef Pizza that features passata and mozzarella cheese, chilli con carne, jalapeño, Spanish red onion, grilled peppers, kidney beans and cherry tomatoes. Oregano, black pepper, garlic oil, cilantro and crushed nacho chips complete the Mexican flavour profile.
From 18 May to 13 June 2021, get a free Classic 11-inch USA Hamburger Pizza with every S$60 spent on delivery excluding bundles category. Enjoy 15% off your total bill when you takeaway or when you opt for self-pick up and enter promo code "15OFFSPU" at checkout. Visit PizzaExpress.Oddle.me to order.
Saint Pierre Artisanal Breads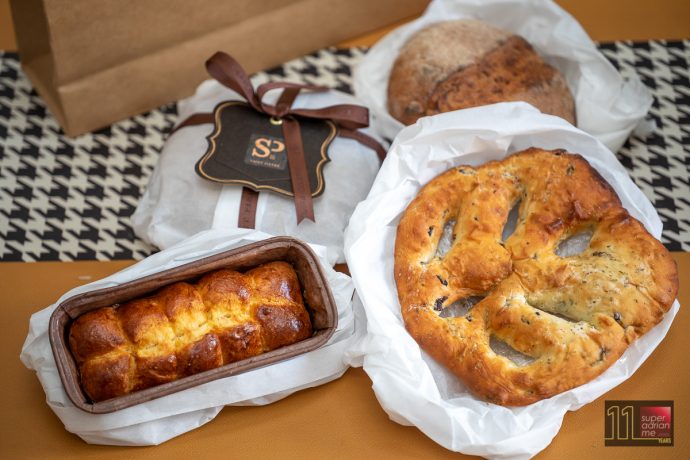 Saint Pierre has a new baker on board. Katherine Ritcheson joins the team fresh from her stint at three Michelin-starred Fat Duck in the UK. She is now in charge of conceptualising an array of artisanal breads and bakes here. Enjoy bakes such as the Fig & Hazelnut Loaf (S$18 for 450g), Brioche (S$10 for 200g), Olive Fougasse (S$9 for 250g) or the Gluten Free Bread (S$16 for 600g).
The Fig & Hazelnut Loaf is made with a mix of organic flour, rye flour, wholemeal flour, studded with dried figs and hazelnuts. The Olive Fougasse is prepared with a mix of Kalamata and green olives, rosemary and olive oil.
These breads are now available for pick up at Kingdom of Belgians' at 8 Rodyk Street. You need to order two days in advance if you require large quantities or have any special requests.
Email [email protected] to order. Free delivery is available for orders above S$100.
Si Chuan Dou Hua Homecooked Noodles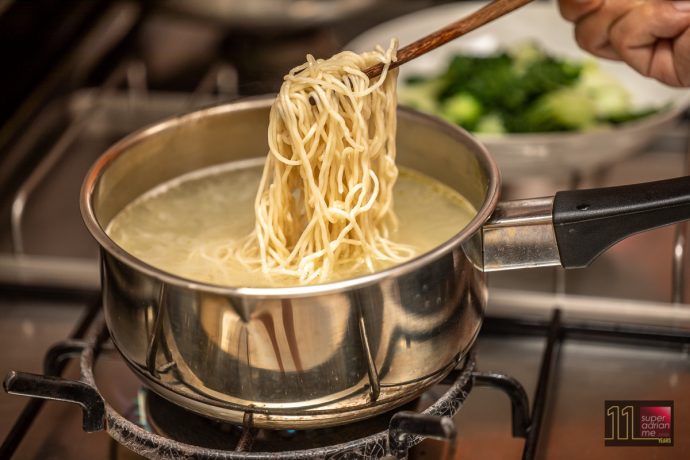 Enjoy Si Chuan Dou Hua's two noodle flavours at home with the Quick Noodle Home Kit. Si Chuan Dan Dan Mian and Si Chuan Noodle with Onion Oil Sauce are presevative-free. It is also very easy to prepare.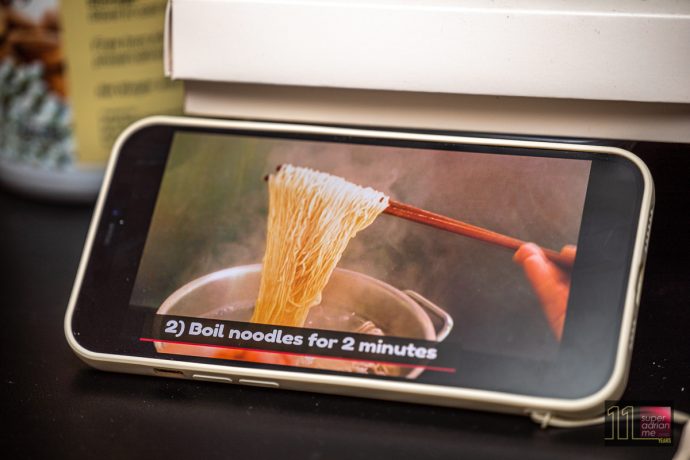 The folks at Si Chuan Dou Hua have thoughtfully created a video that you can watch and then prepare your noodles at home for consumption.
It takes 2 minutes to prepare and each box of noodles serves four. Each kit is priced at S$28. It comes with individually packed cooked minced pork and flavour sachets. Heat these sachets in hot water and you can serve it with the noodles.
Visit here to order.
Soup Restaurant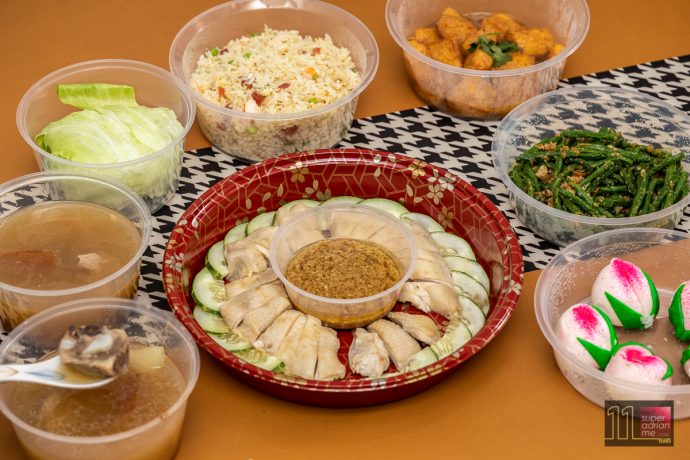 Soup Restaurant's Stay Home Signature Set available until 30 June 2021. The set caters to four to five people offering six different dishes. Enjoy the well-loved signature dishes you get when dining in at Soup Restaurant but in the comfort of home. This is a real treat especially when dining with loved ones. It feels almost as if you were eating in one of the outlets.
The set is priced at S$99 and comes with the signature Samsui Ginger Chicken, Yang Chow Fired Rice, Traditional Boiled Soup of the Day, Claypot Tofu and French Bean with Minced Pork. Each set comes with five pieces of Handmade Mini Longevity Buns.
Visit here to order. Enjoy S$15 off when you enter the promo code "Soup15off".
White Rose Cafe – Crab-tivating Delights!
White Rose Cafe at York Hotel Singapore is launching 'Crab-tivating Delights' from 1 June to 31 July 2021. Choose from 8 different styles of crab dishes. This limited-time menu at S$65 nett per order of 2 crabs that are at least 500g per crab is available for takeaway at White Rose Cafe or delivery via Oddle.
New on the menu is the Thai Curry Crab while highly recommended are the White Pepper Crab and Stir-fried Salted Egg Crab. Other methods of preparation include the Baked Cheese with Garlic Butter Crab, Chilli Crab, Stir-fried Masala Crab, Stir-fried Ginger and Spring Onion Crab and the Steamed Crab with Egg White.
Enjoy 25% off Asian Favourites menu when you order the 'Crab-tivating Delights' Set. For deliveries, click here to order at least one day in advance. For takeaways, please click here.
Winestone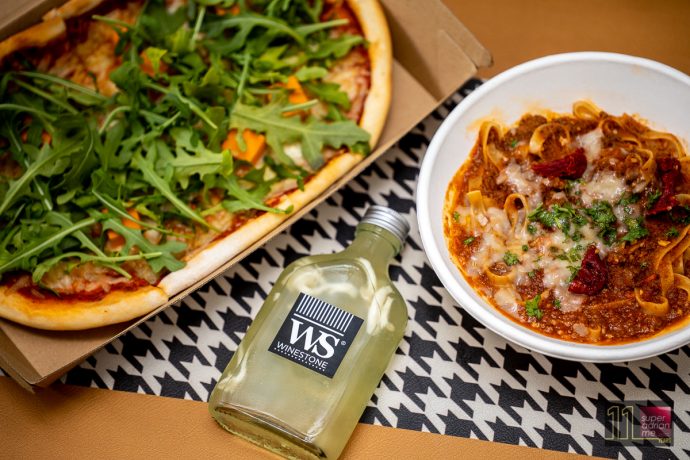 Modern European restaurant Winestone offers takeaway food you can enjoy in the comfort of home. Try their signature mixed platter of cold cuts, cheeses and olive or signatures such as the Rigatoni Prawn Pasta, Winestone Pizza, 150-days Grain-fed MS1 Beef Tenderloin and others. Enjoy quality wines at affordable prices from S$23 nett for a bottle. Or get the "Home-based learning package" for S$154 nett. It comes with a sparkling and rose, and two bottles of reds and 2 whites.
As part of Mercure Hotel's sustainable food and beverage culture journey, Winestone has introduced a menu of dishes prepared with produce from local farms. From June, Mercure Singapore on Stevens is collaborating with Kin Yan Agrotech in Lim Chu Kang Agrotechnology Park to use its mushrooms that are free from artificial components including pesticides, chemical and artificial fertilisers. Indulge in dishes such as the Warm Mushroom Salad, Black Gold and a cocktail of Vodka Mushroom.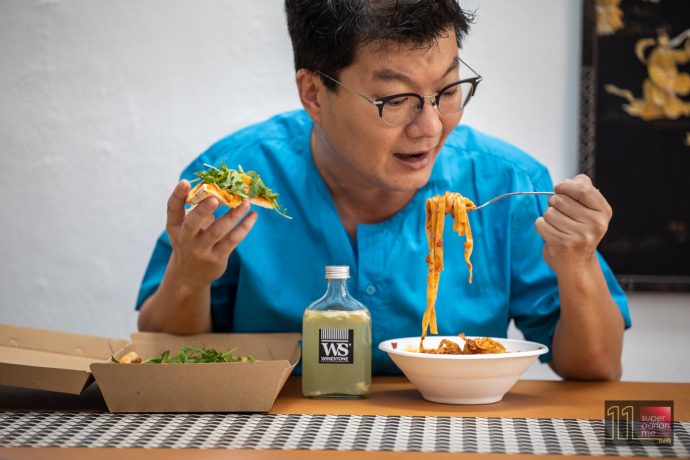 The Vodka Mushroom is a mushroom infused vodka with lemon, honey, rosemary and golden mushroom. Available by the bottle that serves two at S$24 nett or 6 for S$132 nett.
Click here to order. Quote "ADRIAN" when you order online and get 20% off food orders.
Wolf Burgers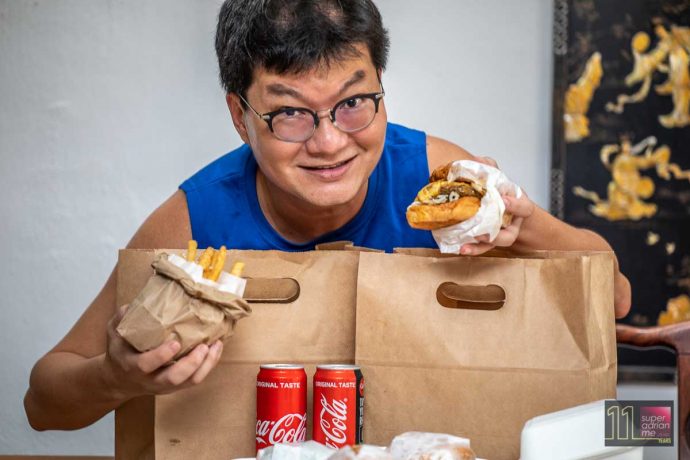 Wolf Burgers is available for deliveries and pick up. Just last month we were at the Wolf Burger outlet at Funan where we had the WOLF Rendang Beef Burger and WOLF Rendang Loaded Fries , a collaboration with Shen Tan. And when restaurants could no longer serve food on site, we were glad that Wolf Burgers are available for delivery. We ordered a couple of burgers for the family for lunch.
Delivery is available from the Funan and Tampines outlets. The Wolf Rendang Set is still available albeit till 30 May 2021. Or get the Bundle of 4 where you can choose four burgers among Original Wolf, Forager, Timberwulf and Teriyaki Chicken. It comes with 4 large fries and 4 sodas too at S$45.90. And for smaller families, there is a Bundle of 3 at S$35.90. Make sure you eat well this period and stay positive!
Click here to order.
Yang Guo Fu Mala Tang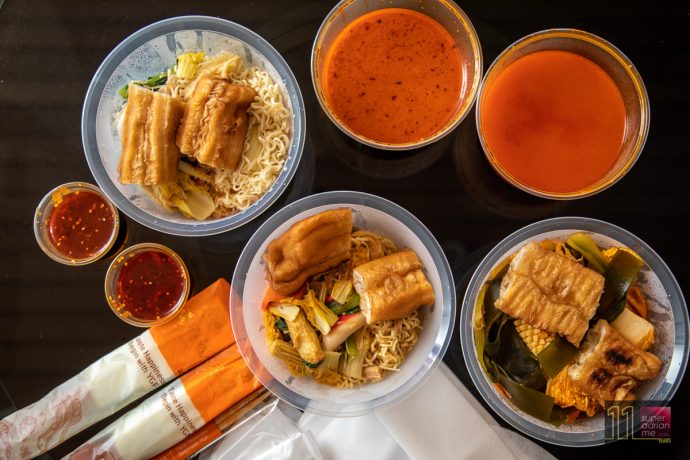 Yang Guo Fu Mala Tang is offering islandwide delivery with up to 30% off delivery until 13 June 2021. For takeaways, you can enjoy 20% off. Get your fix of mala noodles in the comfort of home. Yang Guo Fu chain of restaurants in China was ranked second for Top 10 for Chinese Fast Food Snacks in the 2091 China Restaurant Industry Annual Report.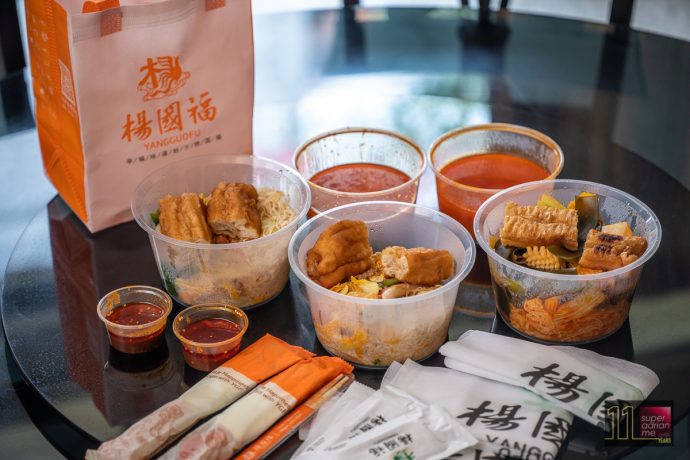 If you order soup noodles, they are separately packed. Even disposable bibs as well as cutlery are provided for your convenience. Mints are provided so that you won't have any mala breath after your meal. We had the Mala Beef Broth, a Mala Ban Pork Set and Tomato Both Seafood Set the other day. The medium spicy level we ordered didn't leave us in tears.
Visit here to order.
YAO 1948 Premium Fish Cartilage Collagen Soup
Yao 1948's premium fish cartilage is designed to fit any busy lifestyle. It is created for the modern individual who struggles to find time to cook and nourish themselves. The soup is simmered for six hours before it is cooled and frozen. It does not contain any preservatives, additives or added salt and sugar.
Yao 1948 by the Chin Guan Hong family sells the vacuum packed premium fish cartilage collagen soup in 200g (S$38) or 500g (S$58) portions. The 200g portion serves two. You have the option to add on fish maw (S$12) from New Zealand. It takes 72 hours to prepared these before packing. You can also add South African abalone (S$8 for 3) which are steamed for three hours before packing.
Visit here to order. Pre order by 8 June for delivery from 9 June 2021.
Yun Nans x Nam Heong Collaboration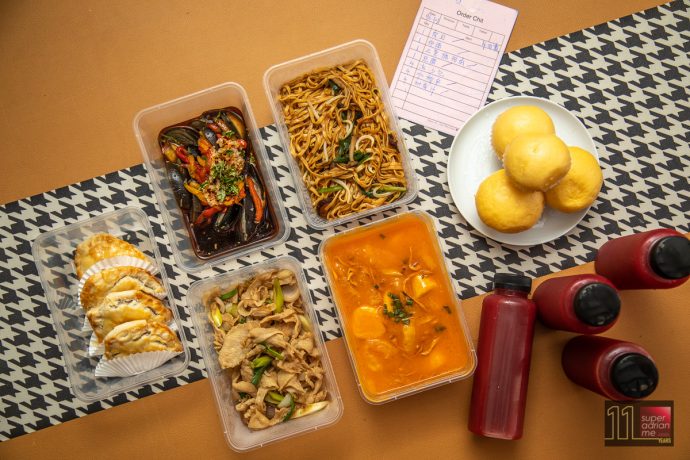 Yun Nans has collaborated with Nam Heong for the first time to present set menus that showcase Yunnan and Ipoh dishes. Nam Heong is a 60-year heritage dim sum brand from Ipoh brought into Singapore by actor and comedian Mark Lee.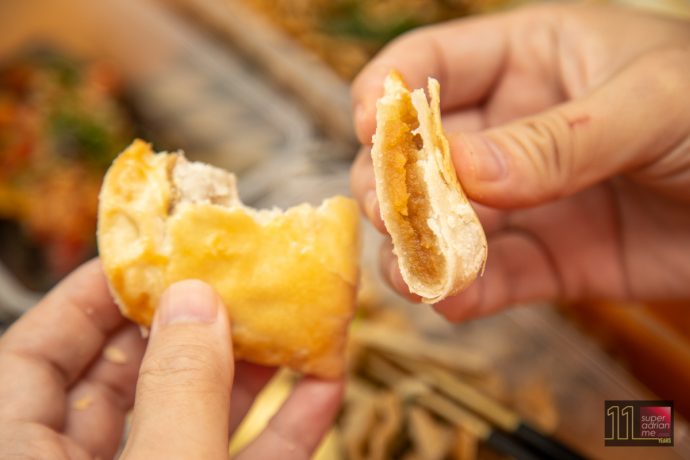 Nam Heong's signature items include Nam Heong Chicken Tart, Salted Egg Custard Bun and Ipoh Kaya Puff.
Visit here to order the sets.