We visited a couple of places this year to get our hands dirty and try out burgers. Some seasonal and some as mainstays. Wildfire Chicken & Burgers and Wolf Burgers currently offer seasonal Asian burgers for the month of May. Both are so good, I would return for more before they stop serving but try not to get carried away. Still have to watch those calories and doctor's orders to try and reduce my Triglycerides.
Enjoy burgers with tipples or spirits work too. The Korean Army Stew burger we had pairs perfectly with Soju, while CARNE's burgers would go great with the Breaking Bread beer from Crust Brewing. Or enjoy Lil' Tiger's burger with a cocktail or two. Whatever suits your taste.
Shen Tan's Rendang Beef Burger at Wolf Burgers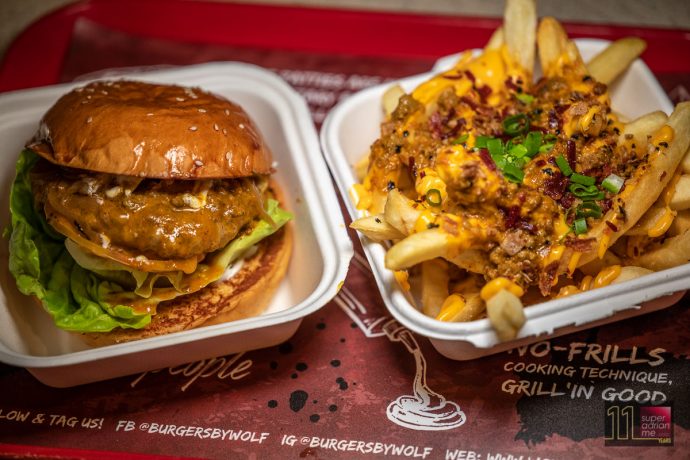 WOLF Burgers has partnered celebrity chef Shen Tan from ownselfmakeshef and Thank Goodness It's. This is the first instalment of a two-part series of locally inspired burgers. The WOLF Rendang Beef Burger and WOLF Rendang Loaded Fries are a must try before the collaboration ends 30 May 2021. Shen's famous Beef Rendang sauce comes from her signature twice steamed Nasi Lemak which made its debut in 2008 at Maxwell Food Centre.
The WOLF Rendang Beef Burger is served with lettuce, caramelised onions, 100% beef patties slathered with Chef Shen's secret Beef Rendang sauce. The sauce features tender shredded beef braised in a sweetly spiced gravy of coconut, galangal, ginger, dried chilli with the added zest of kaffir lime & turmeric leaves and lemon grass.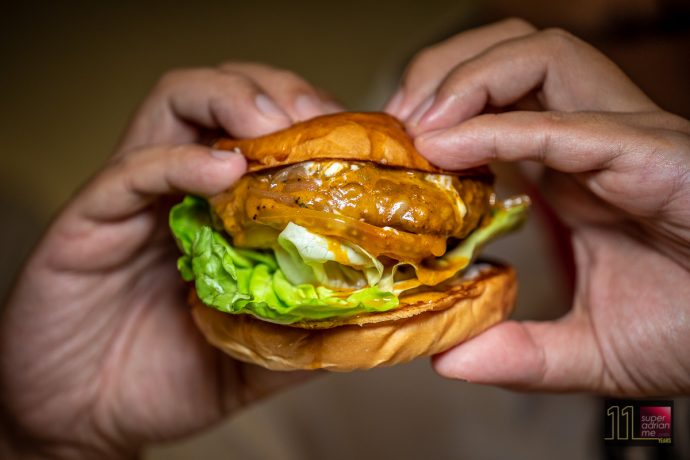 The juicy burger is not overly sized but it can still be a messy task thanks to the rendang sauce. But it is all worth it because every bite into the burger will bring you joys as the flavours all come into place. Golden crisp french fries are topped with cheese sauce, crispy bacon bits, furikake and a generous amount of Rendang Sauce. You must eat this with your burger!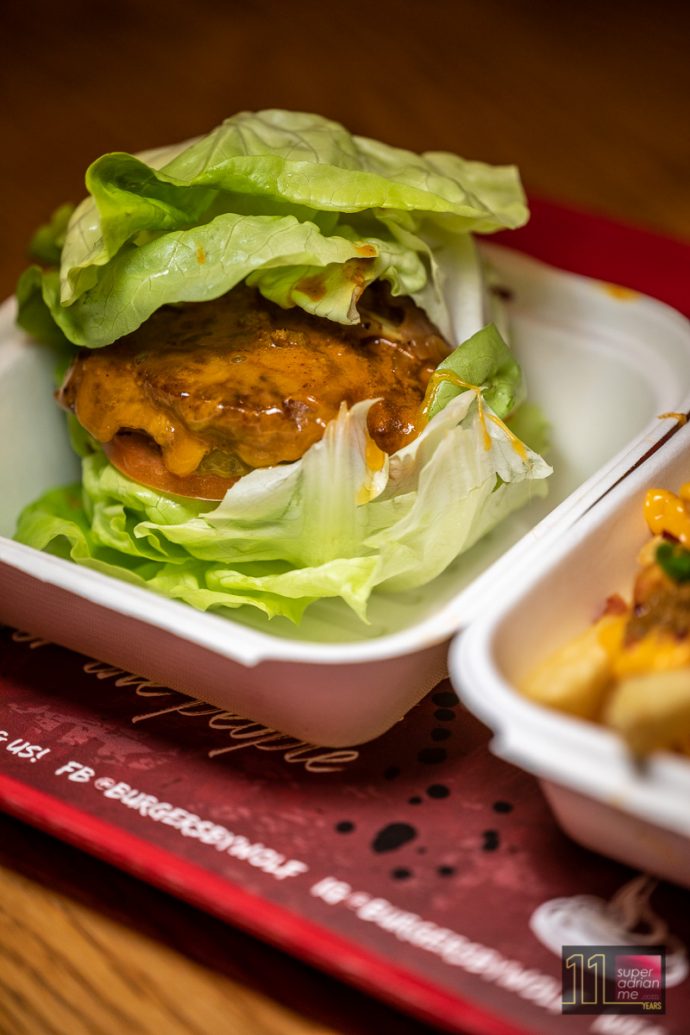 Trying to cut down on unnecessary carbohydrates? A lettuce version of the WOLF Rendang Beef Burger has lettuce in place of buns. We didn't try that because one set of the regular Rendang Beef Burger was already very filling.
The Rendang Set Meal includes the Rendang Beef Burger, Rendang Loaded Fries and choice of Soda at S$16.90. It is available from 29 April to 30 May 2021 at WOLF Burgers outlets at Pasabella in Suntec City and at Funan Mall, www.wolfburgers.com and major delivery platforms.
Korean Army Stew Burger & Kimchi Fries at Wildfire Chicken & Burgers
Wildfire Chicken & Burgers featured the seasonal Wildfire Forest Mushroom Cheeseburger in April 2021 which was paired with the 2018 Monkey Jacket Red Blend by Cruse Wine Co. We loved the cheeseburger. And for the month of May, the seasonal burger and beverage pairing brings us to Korea. After all, It is easier to travel to Wildfire Chicken & Burger at 80 Bencoolen Street than to fly to Seoul now. This month's seasonal menu includes the Korean Army Stew Burger, Kimchi Cheese Fries and Hallan San Jeju Soju.
Gochujang Butter, Korean spam, house-made kimchi, Vienna sausages, American cheese, king trumpet & champignon mushrooms, baked beans and scallions are added to a juicy USDA certified Black Angus Beef Patty. The beef patty is grilled in Wildfire's Binchotan charcoal fired INKA oven. Wildfire's signature Brioche Buns sandwich all these goodness. The flavours all come together with every bite reminiscent of a traditional Army Stew.
This is also the first time, the kitchen has introduced special fries to be paired with the seasonal burger. Chopped kimchi and melted cheese are added to the Kimchi Cheese Fries. Enjoy the contrasting texture of the crisp fries with preserved vegetable textures from the kimchi. Flavour-wise, acidic flavours from the kimchi, milky flavours from the cheese and salt from the fries make this side a very addictive one.
The ultra premium Hallan-San Jeju Soju has been selected to pair with this specialty burger. It is made from rice grown from the dry fields with natural, clean and alkaline rock-filtered water rich with natural minerals and dissolved oxygen from one 80m below the seabed without any chemical treatment. The sightly sweet flavour from one of the smoothest soju compliments the savoury Korean Army Stew Burger.
The Korean Army Stew Burger (S$15), Kimchi Cheese Fries (S$7 ala carte, S$5 pairing) and Halla-San Jeju Soju (S$25 all carte, S$15 pairing) are available for dine-in, delivery and takeaway till the end of May.
Burgers Better for The Environment at Carne
CARNE opened its doors in Singapore on 25 February 2021. CARNE by Austrian Chef Mauro Colagreco is an innovative burger chain with a concept passionately anchored around sustainable gastronomy. Chef Mauro's restaurant Mirazur in France is #1 on World's 50 Best Restaurants and has three Michelin stars under its belt. CARNE is the world's first hamburger chain to become a Certified B Corporation, a triple impact certification (social, environmental and economic) for businesses committed to doing better for the world.
The outlet at Amoy Street operates daily from 8 am to 11 pm for walk-ins and takeaways. Its all-day menu includes made-to-order burgers, milkshakes, local craft beers and more alongside a breakfast selection. Fluffy butter buns are baked fresh daily by local bakers. The kitchen uses free-range grass-fed Angus beef, fresh vegetables from local and organic farms and local cage-free eggs.
The Beef and Chimichurri Burger (S$24) and Crispy Chicken Burger (S$18) are specially created for Singapore by Mauro and his team. The Crispy Chicken Burger features GMO-free poussin chicken thigh with fresh green cabbage, chilli pickled organic cucumber and organic greek yogurt dressing. It was one of the burgers that I enjoyed. A Veggie Burger (S$16) for plant-based diners features grilled portobello, charred halloumi cheese, local oak lettuce and tomato tapenade sandwiched by turmeric buns.
Other highlights include my favourite Bacon, Egg & Cheese Sandwich (S$10.80) and the Triple cooked Agria Fries (S$8.90). Breaking Bread beer from Crust Brewing, a local company that turns surplus bread into beer.
CARNE Singapore is located at 88 Amoy Street and operates from 8 am to 11 pm daily.
Enjoy Burgers and Cocktails at Lil' Tiger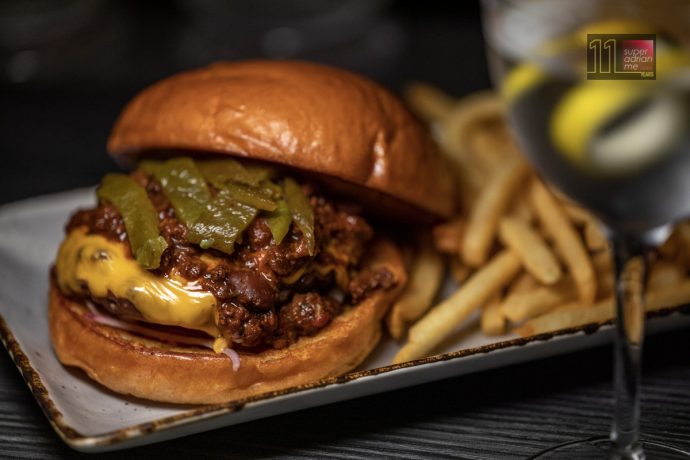 Lil' Tiger is not so little when it comes to what it has to offer. Located at Robertson Walk just next to Wine Connection, the same people behind Wildfire Chicken & Burgers opened this cosy concept in February this year. The food menu is set to whet your appetite while 16 different cocktails are available to quench your thirst.
The Signature Burger (S$16) features a well-grilled USDA Black Angus beef patty that is drenched in chilli con carne on a brioche bun and served with fries. If you like, order the Chicken Fries. The shoestring fries are dusted with chicken skin that has been dehydrated, fried and grounded into powder.
The Cheeseburger (S$13) is packed with USDA Black Angus patty, melted American cheese, caramelised onions, butterhead lettuce with toasted brioche. And the Pulled Pork Burger (S$15) is filled with Iberian black pork shoulder, smoked bacon, nacho cheese, sliced jalapéno, Spanish onions, chipotle mayo in a toasted brioche.
Enjoy S$16 highballs with your choice of gin, vodka, whisky, or tequila. Or enjoy one of the six signature cocktails (S$26), S$19 Martinis, or S$22 barrel-aged cocktails. Time to head down and check out this Lil' Tiger. And while you are at it don't forget to order the Chicken Neck Tacos (S$12).