With dining out reduced to 2 everywhere from 27 September 2021, we picked a few ways you can enjoy a great meal at home. Just like the last update of dine at home options for the second Phase 2 Heightened Alert a few months back, this post will be a work in progress one where we will constantly update until restrictions have been lifted.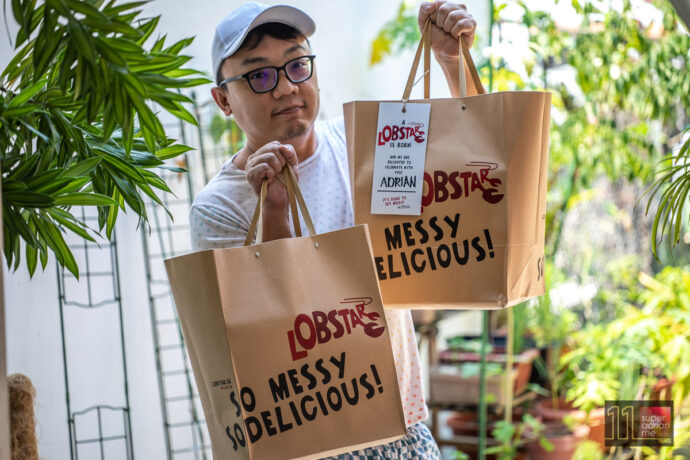 Oddle Eats Is Prepared with Solutions for F&B Partners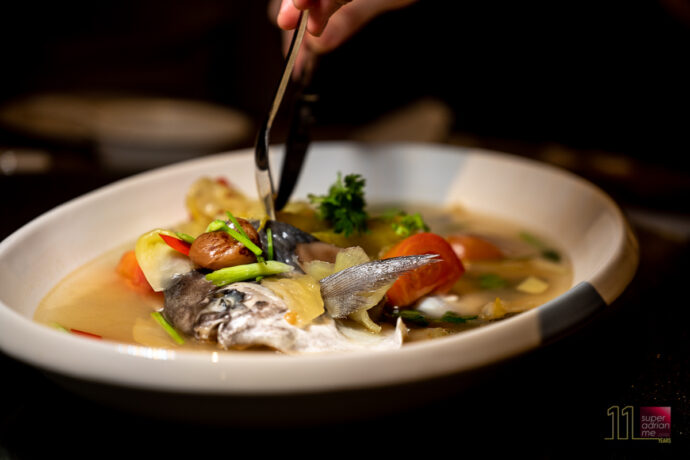 With dine-in group sizes capped at 2 and work-from-home set to default from 27 September 2021, Oddle is prepared with solutions for over 1,000 of its merchants on its platform. Island-wide delivery is available for a wide range of food with delivery charges from as low as $0.
Oddle has planned for food bundles for various occasions including Work-from-Home bundles, kid-friendly bundles and more. Oddle Eats restaurants include Les Amis group, Imperial Group, Paradise Group, Dian Xiao Er, Arnolds, White Bee Hoon, Odette and Burnt Ends.
Oddle also offers reservations and table management for free for its F&B merchants to tap on. This helps F&B merchants better handle their logistics, kitchen and manpower without worrying about paying additional charges per reservation made. Diners can also make dining plans with their favourite restuarants easily and without having to queue for a long time, minimising risk exposure.
Oh My Momma Har Cheong Gai and Mala Stir Fried Clams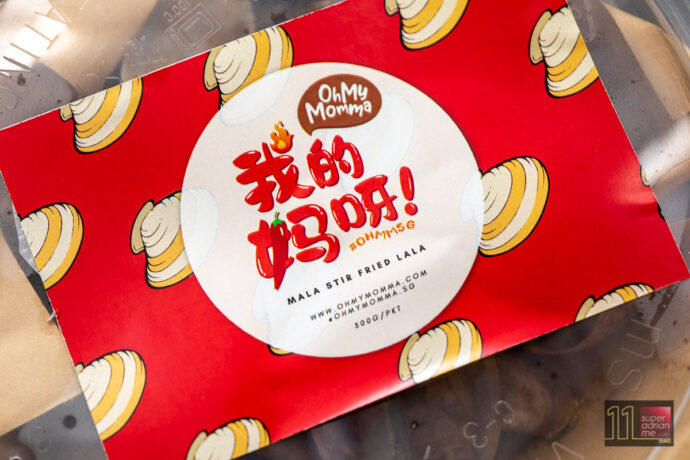 Earlier this week we were sent Mala Stir-Fried Clams (S$15) and Prawn Paste Chicken (S$18) from OhMyMama.com. The Mala Stir-fried Claims were fresh, full of flavour and extremely delightful. More importantly, you also feel the spiciness and slight numbness on the tongue from the mala. The Crispy Prawn Paste Chicken makes a perfect comfort food snack.
You need to order at least 2 days in advance and prepay. Delivery is charged at S$10 islandwide. For orders above S$100, delivery is free.
Teochew Bento Sets To Go from York Hotel Singapore till 30 November 2021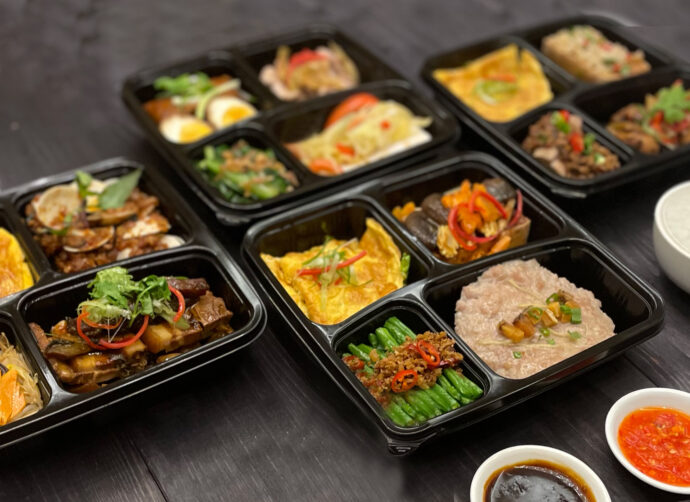 York Hotel Singapore's Teochew Bento Sets To Go have been extended till 30 November 2021 so you can dine at home Enjoy delicate and light flavours of traditional Teochew cuisine priced at S$15 nett each. Have a choice of plain porridge or fragrant steamed rice. You can take away any of the four sets from White Rose Café or via Oddle from 12 pm to 10 pm daily. To add more value, York Hotel Singapore also offers 20% off the third Teochew Bento set or more.
Set A
Braised Chicken with Ginger and Spring Onion
Onion Omelette
Deep-fried Bean Curd with Chai Poh
Stir-fried Eggplant with Minced Pork
Set B
Teochew Style Steamed Seabass Fillet
Soya Braised Tau Kwa and Egg
Stir-fried Sichuan Vegetables with Shredded Pork
Wok-fried Bean Chye Sim with Garlic
Set C
Steamed Minced Meat with Salted Fish
SilverFish Omelette
Deep-Fried Bean Curd with Mushroom and Vegetables
Wok-fried Long Bean with Dried Shrimps
Set D
Braised Pork Belly with Preserved Vegetables
Chai Poh Omelette
Sambal La-La
Chap Chye
Enjoy a Variety of Seafood Bags from Lobstar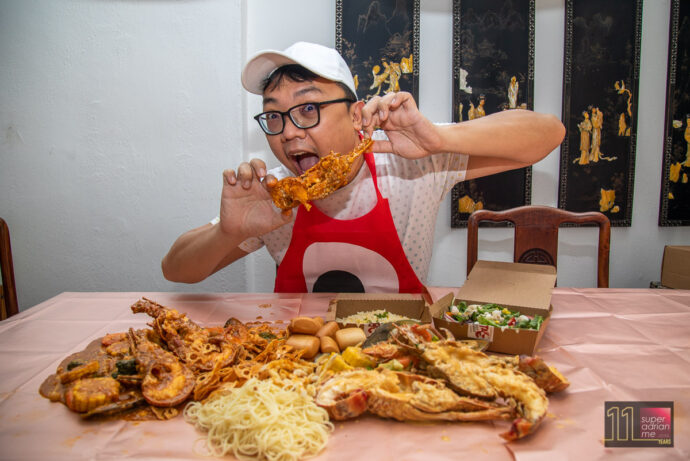 If you're going to be staying in most of the next few weeks, give yourself a treat with Lobstar's seafood bags, This new delivery service launched just this month. Expect a messy feast but do not fret. You will be provided with bibs, a disposable table mat, wet wipes and napkins.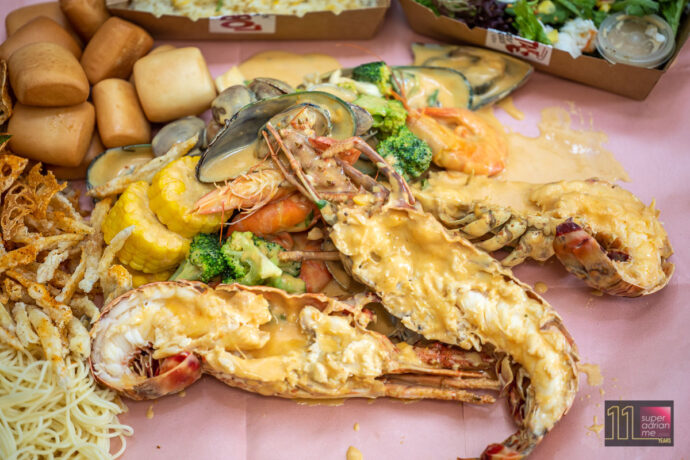 There are three bags you can order. The Lobstar Superstar Bag (S$69) is filled with 600g of rock lobsters, sweet Asari clams, plump green mussels and juicy jumbo prawns. You have a choice of signature Creamy Salted Egg Butter or classic Chilli Crab Sauce that can be quite spicy for those who don't usually take spicy well. The Shellabration Bag (S$66) is a feast of South African abalones, Canadian scallops, Asari clams, green mussels and jumbo prawns. And the Yabbies Baggies (S$42) features crawfish, Asari clams, green mussels and jumbo prawns. Each seafood bag comes with vegetables such as broccoli and very tasty corn that soaks up the sauce.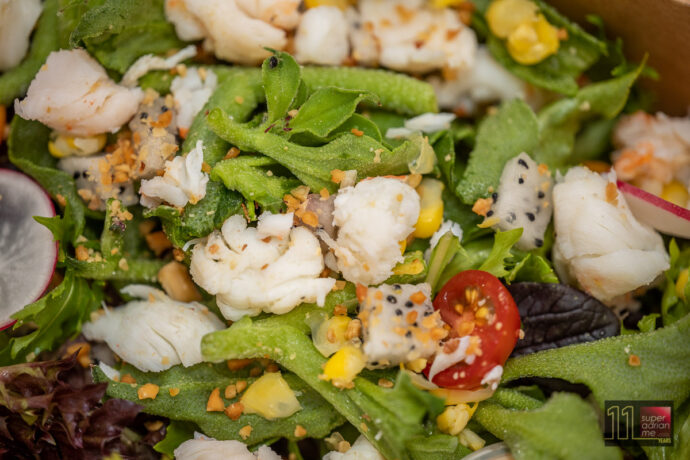 We had a beautiful Signature Salad (S$19)with sweet lobster meat, crunchy ice plant and almond flakes and fresh salad greens. It is tossed with cherry tomatoes, sweet corn and mango. Drizzle the black truffle sesame sauce for more umami flavours.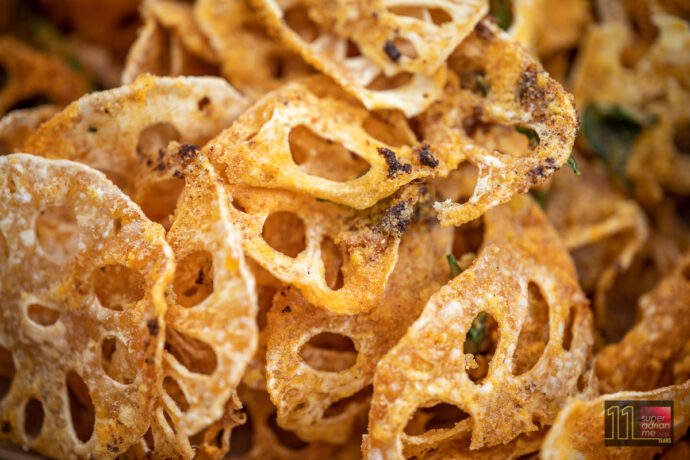 We highly recommend you also order the Crispy Lotus with Salted Egg (S$10) as well as the Shichimi Fried Noodle Fish (S$9). They are highly addictive. Order other carb dishes to soak up the sauce from your seafood bag. Perfect pairing with the seafood. You can get angel hair pasta, white rice (S$2) or Garlic Egg Fried Rice (S$5).
From now till 30 September 2021, enjoy $5 off on your order with the promo code 'LOBSTERDAY5' at order.lobstar.sg.
Yang Guo Fu Self Heating Instant Mala Tang Hot Pot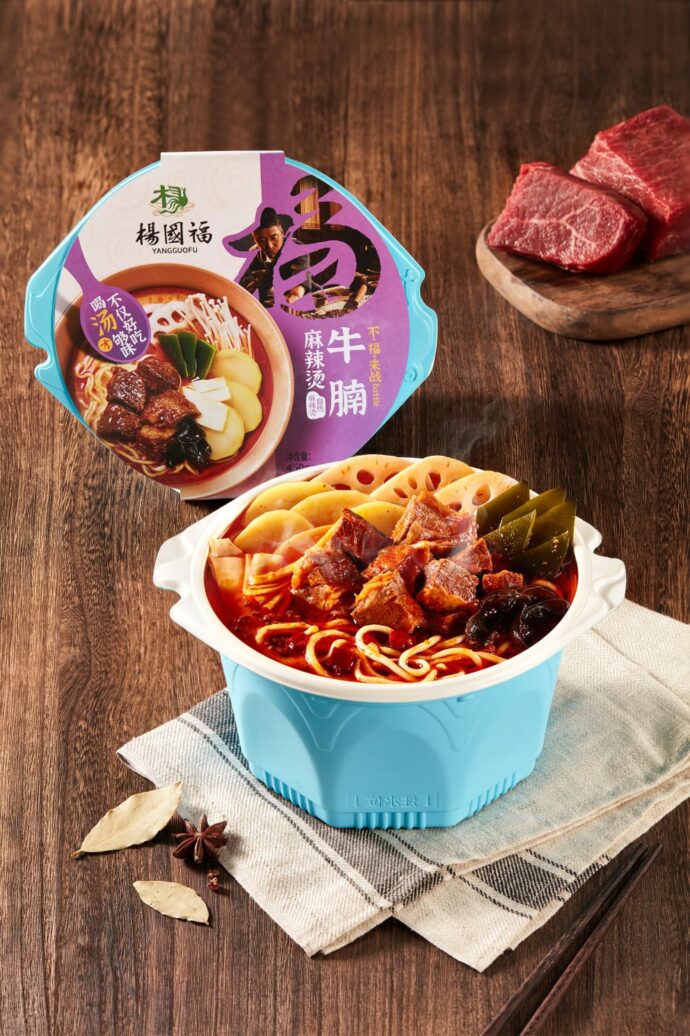 Previously we also wrote about Yang Guo Fu Mala Tang, which we had during the P2HA. You can read about that here. The world's largest Mala Tang chain has over 6,000 outlets. It recently opened a new outlet in Northpoint City. You can also enjoy 12% off your next visit when you take away or dine-in at their outlet at Esplanade Xchange.
Yang Guo Fu has launched their NEW self-heating instant hotpot that brings the mala tang experience to you anytime, anywhere – be it at home or on the go! The instant hotpots feature three signature flavours such as Signature Spicy Mala Beef Broth, Tomato Brisket Broth and Sour Beef Broth. Packed with various vacuum-packed ingredients, each instant hotpot is priced at only S$9.90! Yang Guo Fu's instant hotpots are available across all four outlets.
Next Meats Curry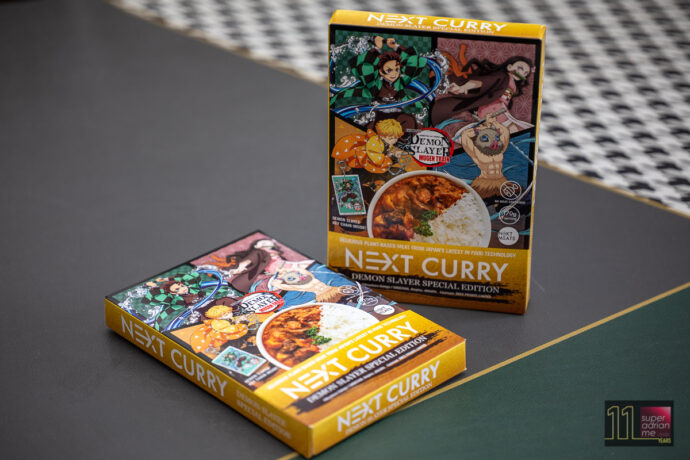 Dining at home doesn't have to be difficult. Pick up some of these newly-launched plant-based instant curry by Next Meats on your next grocery run at any Don Don Donki outlets. These are low in fat and high in proteins. They do not contain any animal-derived ingredients, chemical seasoning, acidulants, colourings or fragrances. There are chunks of Next Meats' meat in the curry. Pair this curry with a bowl of udon or fluffy rice.
A box of Next Curry is priced at S$7.50 per box and serves one.
Dine at Home with these 7-Eleven Thai Meals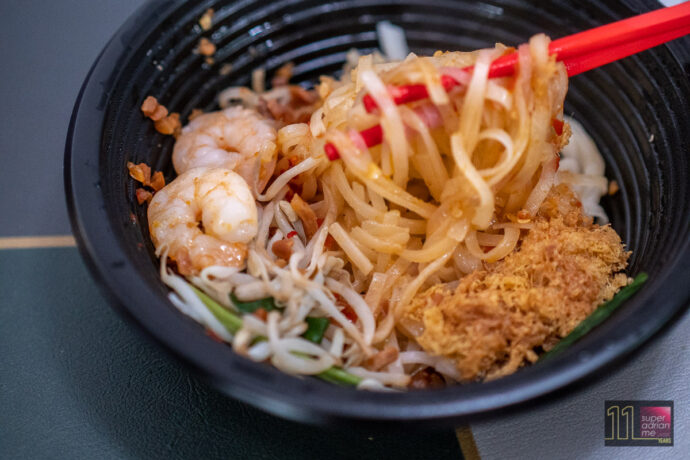 7-Eleven has introduced a new menu of iconic 7-SELECT Thai-inspired dishes in August. Just pick up one of the five ready-to-eat dishes and reminisce the great moments you were last in Thailand. There is a Thai Boat Noodles, Phad Thai. Thai Red Curry Chicken with Rice, Thai Glass Noodle Salad and Tom Yum Soup. They are priced affordably from S$2.90 to S$4.50. Other Thai-inspired delights such as 7-SELECT Thai Basil Chicken with Rice, Fresh Coconut, First Brew Lemongrass Drink and Alfredo Tom Yum Goong Pizza Slice are also available at 7-Eleven.
Pair your meal with a hot, iced or coffee 7CAFÉ Thai Milk Tea or a S$1.50 Mr. Softee Coconut.
Starbucks Comforts with Indulgent Treats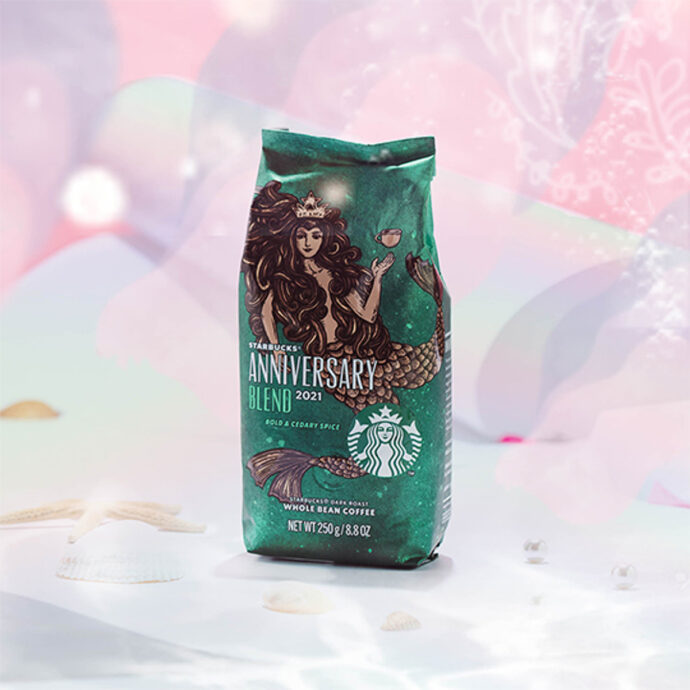 Starbucks Desserts Boxes have been specially curated offering The Cake or Cookie Box. The Cake Box features five delicious cakes – Apple Crumble Cheesecake, Honey Osmanthus Cake, Chocolate Peanut Butter & Banana Cake, Lemon Meringue Cheesecake and Strawberry Shortcake. The Cookie Box comes with six indulgent cookies of three flavours. They include the Double Chocolate & Peanut Butter Monster Cookie, Strawberries & Cream Monster Cookie and the Chocolate Chunk Monster Cookie.
Starbucks celebrates its 25th anniversary with the Starbucks Anniversary Blend 2021. This blend was first developed in 1996. Using beans from Sulawesi, West Java, Sumatra to create this blend of spice notes and a smooth buttery mouthfeel, the coffee is full-bodied, robust and bold. There are complex notes of smoked cedar, allspice, lingering accents of black truffle, and fresh tarragon. Available as whole bean, VIA Ready Brew and Origami Personal Drip Coffee.
Starbucks is also bringing back the all-time favourite Pumpkin Spice Latte and Pumpkin Spice Cream Cold Brew from 30 September 2021. On 28 September, Starbucks will be hosting their first Reusable Cup Day. Customers who purchase any handcrafted beverage on this day will receive a limited edition reusable cup. Whenever you visit a Starhub store and bring your own tumbler or mug, you enjoy 50 cents off your beverage order each time.
Also, check out the new Almondmilk Honey Latte and Oatmilk Honey Latte. Available as a hot, iced or blended handcrafted beverage.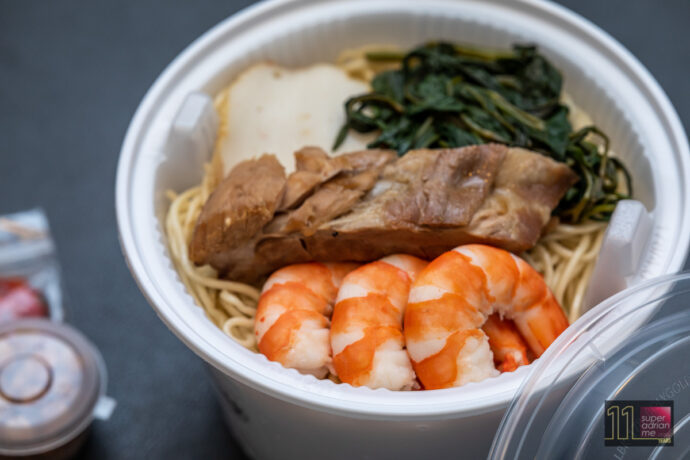 Grandmaster Prawn Noodles is offering delivery of its premium prawn noodles. The home-based business is only available on its Instagram page with orders of no more than 40 bowls each release. Their Instagram page indicates deliveries on Wednesdays and Saturdays.
Each serving of prawn noodles is priced at S$20. There is a minimum order of two servings. There is also a separate delivery charge of S$12.
Pork rib, prawns, kang kong and a generous portion of fish cake are added on top of yellow noodles. Everything seems bigger here. Fresh Tiger prawns are procured directly from the fisheries. Only the best are selected during the peeling process. The pork ribs are slow-braised for many hours to ensure they are soft and succulent. The recipe involves slow boiling the broth over three days so that the flavours of the prawn heads and pork bones are released and thickened to give this dish its full flavours. The broth is packed in a separate ziplock bag at the lower portion of the container so you can heat it up and then add the noodles and ingredients when you are ready to eat. Add the separately packed Shallots, pork lard, chilli powder and cut red chilli to your noodles and mix well for full enjoyment.
Pizza Hut Cheesy 7 Chicken Luncheon Pizza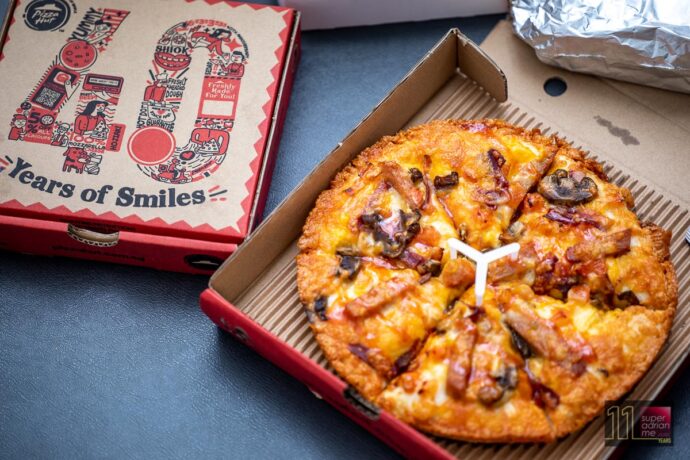 Pizza Hut's Original Cheesy 7 has made a return on 20th September with the addition of the brand new Cheesy 7 Chicken Luncheon. The Cheesy 7 Chicken Luncheon features chunky chicken luncheon, tender turkey strips and juicy white blend of seven + one extra cheese, finished with a chilli drizzle to give it a punch. Enjoy 50% off when you order any 2 pizzas for delivery or 1 Cheesy 7 pizza for takeaway.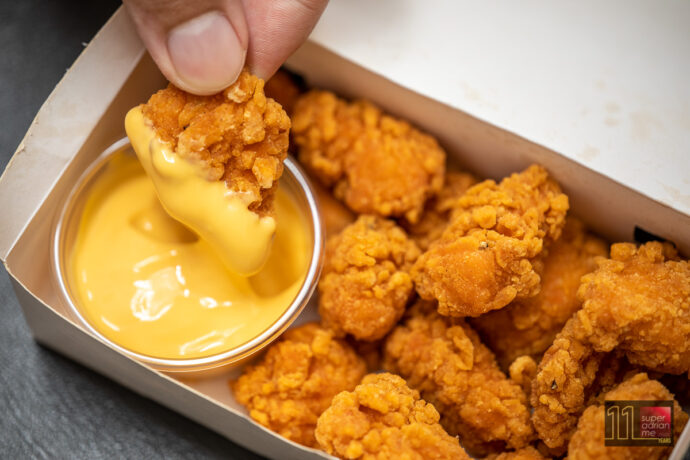 For 2 to 3 people, order the Cheesy Sharing Box at S$30.50. You get a regular Cheesy 7 Pizza (Original, Hawaiian or Chicken Luncheon), 4 x Honey Roasted Wings or Chicken Tenders and 1 x 1.5L Pepsi.
If you household is bigger, than order the 5 to 7 pax Cheesy Treat Box at S$47.50. It comes with a Regular Cheesy 7 Pizza (Original, Hawaiian or Chicken Luncheon, a regular Pan Pizza, a Golden Rooster with Hash Brown, 12 x Honey Roasted Wings/Sweet 'N' Spicy Drumlets/ Chicken Tenders and 1 x 1.5L Pepsi.
Make a Ham & Cheese Sandwich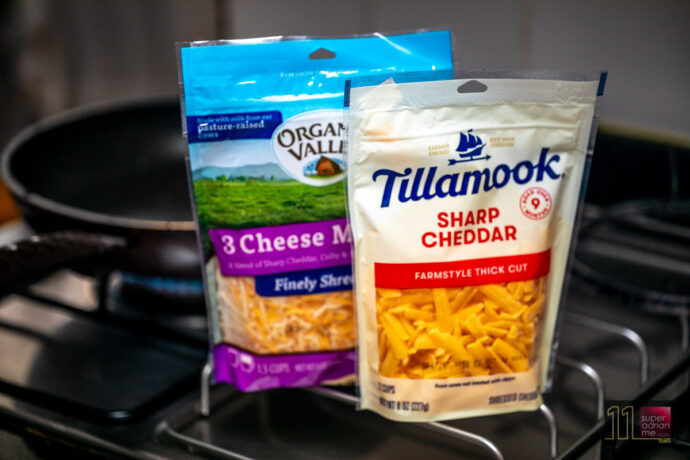 We really enjoy the Tillamook Sharp Cheddar Shred and the Organic Valley 3 Cheese Mexico Shred that we received from Fresh 'N Natural. We used these USA cheeses to make a cheese sandwich.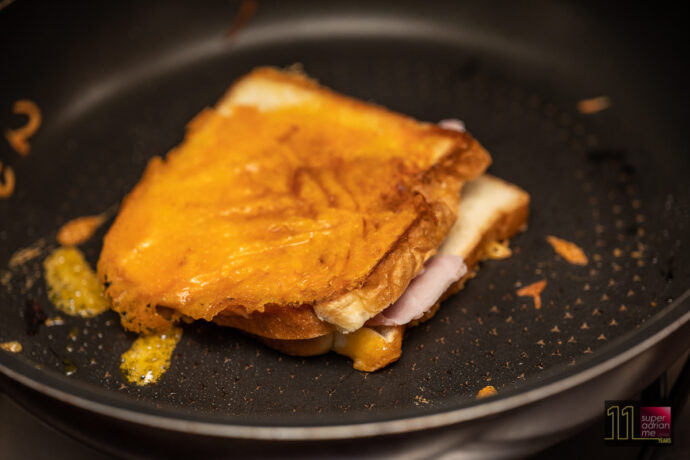 Throw in some ham and fry them on the frying pan, and you get an amazing ham & cheese sandwich that is rich and creamy. You could also fry an egg and add it into your sandwich if you wish.
An addictive snack is the inidividually packed Tillamook Smoked Black Pepper Snack Portions. Each pack comes with 10 individually-wrapped cheese snacks. The cheese portions feature award-winning Sharp White Cheddar flavour with smoky black peppercorns. A pack retails for S$10.50 in September and October instead of the usual S$13.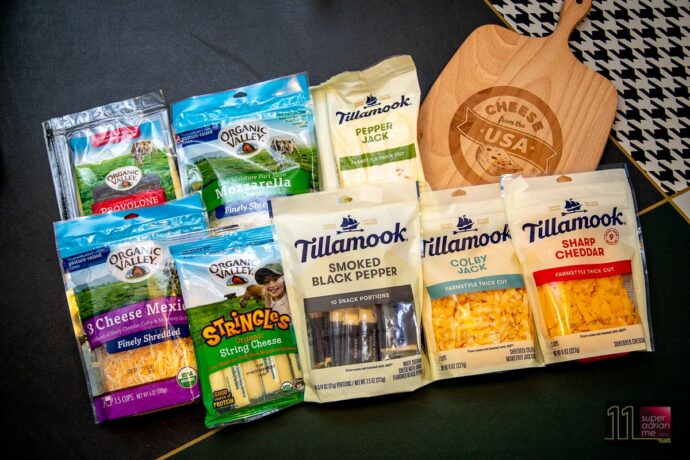 Did you know that cheese is produced in all 50 states of the USA with Wisconsin and California leading in production?
Both brands are available at Cold Storage, Fairprice Finest and Hyper, Meidiya and Isetan Orchard Supermarkets. They are also available online via Redmart & Amazon.