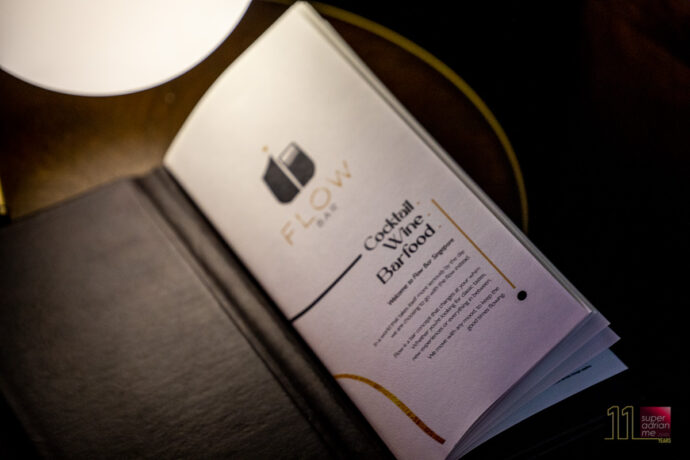 FLOW Bar has taken over space above Restaurant Jag in the Duxton Hill enclave from what used to be IBHQ. The bar has been set up to nurture and forge a community for professional, distinguished bartenders to curate innovative drinks for guests.
Californian native Ricky Paiva kicks off this initiative by being the first to helm the bar here after nearly two decades in the profession. He is the brand ambassador of Bacardi Southeast Asia and has led the beverage programme at Massive Collection, Six Senses Hotel, Panamerican. He is also behind the launch of some of Singapore's biggest cocktail bars including Manhattan Bar which is 14th in the World's 50 Best Bars and 6th in Asia's 50 Best Bars.
This collaborative approach allows JAG diners to feel welcome upstairs for a pre or post dinner drink and also for Flow customers to enjoy JAG as well.
The Space
Guests can seat at the high bar seats by the bar and see Ricky in action. It accommodates up to 5 people. There are also 5 lounge tables that can accommodate 18 guests and four and six-seater Chesterfields.
The lounge and bar area have undergone a slight makeover that gives guests a sense of seamless flow between the cocktail bar and dining room on the ground level. The landing has been fitted with glass panels to give restaurant diners and Flow guests a sense of privacy while still showcasing a view of the Michelin-starred kitchen in action.
When music is allowed back in the bar, a hybrid of 90s legendary alternative punk, grunge, and rock tracks will allow guests to enjoy their cocktails with music from Pearl Jam, Nirvana and Stone Temple pilots.
"Two things that won't exist at my bar are – pretentiousness and the word no. We're in the service industry. I always aim to make my guests feel welcome, relaxed and comfortable. If they want their favourite classics, they will get it. But I also want to inspire them to explore and try one of our new creations and discover what we are trying to achieve with our fun, seasonal and signature drinks."

Ricky Paiva, Master-Mixologist, FLOW Bar
The Tipples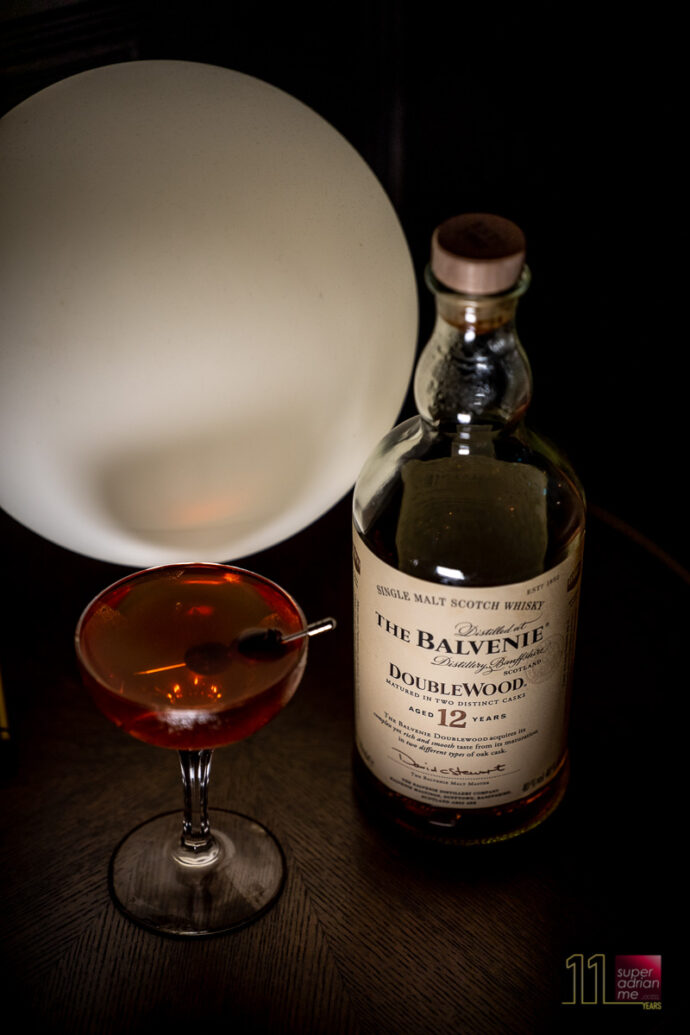 Spirit-forward cocktails at Flow are priced at S$24++. Ricky has organised the cocktails into three pillars – Living Room, Garden and Playground. The menu will undergo seasonal changes.
Living Room offers a semi-permanent menu with classic cocktails. You will get cocktails such as the Burnt Lemon Whisky Sour, Bloody Mary, French 76a, Dark & Stormiest and Espresso Martini.
Garden is inspired by Chef Jeremy's Omakase seasonal menu. Ricky will craft cocktails packed with fresh ingredients such as seasonal fruits and herbs. Cocktails in this pillar are named after herbs and fruits. Thyme is a concoction of Smokey Monkey Shoulder, Lemon Thyme, fresh lime and Seltzer. Basil is made with Hendrick's Orbium, Tonic Bitters and Seltzer while Chamomile contains Chamomile infused Vodka, Chamomile Honey and Seltzer. Strawberry is made with strawberry gin, lemon verbena and seltzer.
The Playground is where Ricky unleashes his creativity and push boundaries. Jesse James is created with 12 year old Balvenie and Rye Whisky. Shibui is inspired by the Japanese expression of timeless elegance and the classic martini is a smooth combination of Isle of Haris Gin, umami bitters and house blend vermouth. Pimm(p'd) Up is a glass of refreshing Hendrick's Gin, Pimm's, yellow watermelon, fresh lemon and mint. Cinnamon Girl is served with Apple Bourbon and caramel with a dash of fresh lemon.
Bar Bites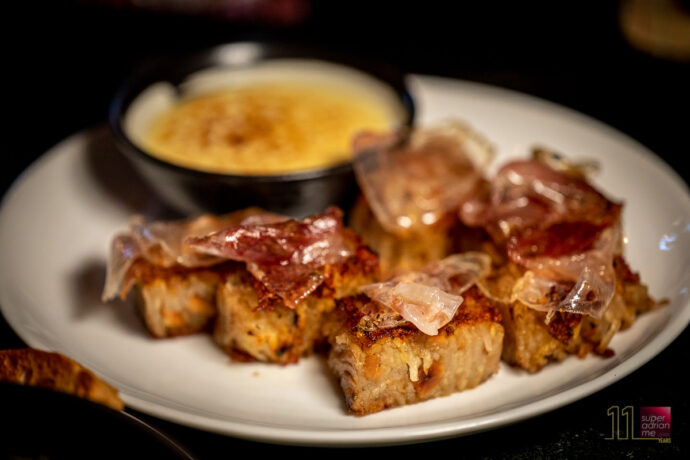 Food by Chef Jeremy is available to enjoy with the tipples. Light bites include Artichoke Hummus to go with a very addictive brioche, Croque Monsieur, Facon Savoyard, Blue Crab or the Curry Chicken Pea. The Artichoke Hummus was addictive on the toasted brioche.
The Blue Crab is made with laksa and thyme and citron and eaten with toasted bread. Capsicums are added to provide added flavour. We highly recommended this.
Check out the full menu here.
Where is Flow Bar
FLOW Bar is located at 76A Duxton Road, Level 2, Singapore 089535. Make your reservations directly with Ricky at [email protected] or at [email protected].