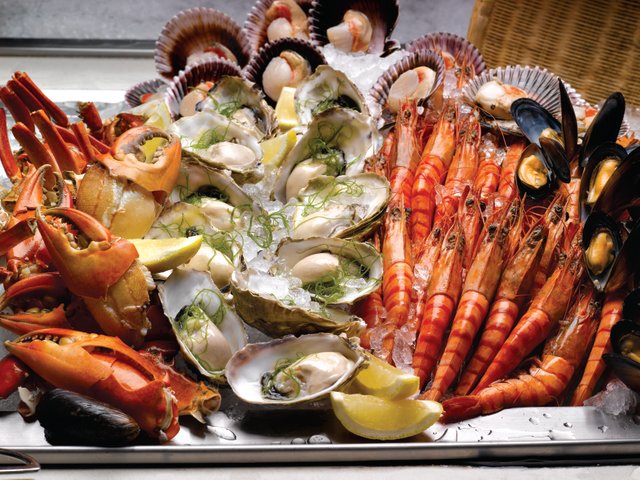 9 March 2013, Singapore – From now till 31 May 2013, Plaza Brasserie at PARKROYAL on Beach Road, Best of Asia daily DINNER buffet returns with the Seafood Fiesta.  The buffet includes a decent spread that is value for money and will make you return for more.
Here's a flavour of what you can expect in the buffet spread:
Oyster shooter
Fresh Prawns on Sesame Toast
Tangy Crabmeat Cake with Coriander Leaves
Spicy Squid Salad
Deep-fried crab claws
Gratinated Half-shell Scallops with Fresh Herbs
Baked Whole Salmon
Deep-Fried Prawns with Garlic and XO Sauce
Crispy Soft Shell Crabs
Braised Sea Cucumber with Roast Pork
Stir-fried Sotong with Sambal
Stir-fried Beef in Pepper Sauce
Fried Chicken in Sesame Honey Sauce
Steamed Fish in Nonya Sauce
Stir-fried Vegetables with mushrooms and Fried Rice with Silver Baits and Long Beans
Ice station – Black Mussels, Tiger Prawns, Australian Queen Scallops, Fresh Oysters and Flower Crabs
Chef Jackson Goh's fresh catch from Mondays to Thursdays – Hong Kong or Thai cooking style
Stir Fried Crab with Egg Yolk, Stir-fried Crab with Black Pepper Sauce and Stir-fried Chilli Crab
Served on Fridays to Saturdays  – "Live" Cooking station, Teppanyaki Selection of Prawns, Stingray, Sotong and Salmon
End the meal with delectable desserts as well as unlimited flow of coffee or tea.
Best of Asia – Seafood Fiesta at Plaza Brasserie
Monday – Thursday: S$53 (adult) | S$32 (child)Friday – Sunday : S$58 (adult) | S$35 (child)
Plaza Brasserie is located at PARKROYAL at Beach Road, 7500 Beach Road
Related articles