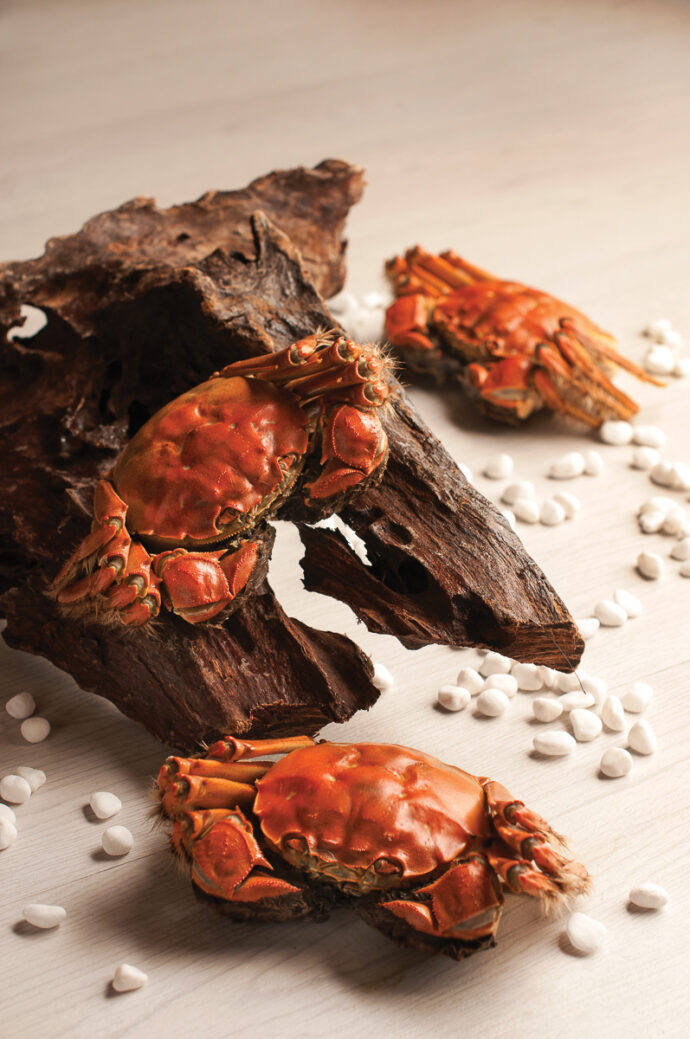 Hairy crabs, highly treasured during the autumn season in China, stand as a symbol of seasonal indulgence. These prized Chinese mitten crab delicacies hold a special place in the hearts and palates of many, thanks to their unique and limited availability. Renowned for their delectable, lusciously rich, golden roe that bursts with flavour, as well as their exquisitely sweet and tender flesh, these freshly harvested furry-clawed crustaceans from the serene waters of Taihu Lake are considered an epicurean delight. Female crabs usually become mature in the ninth month of the lunar calendar, while the males reach maturity a month later. They are best enjoyed when served with black vinegar and minced ginger, creating a delightful combination of sweet and savoury flavours.
Shang Social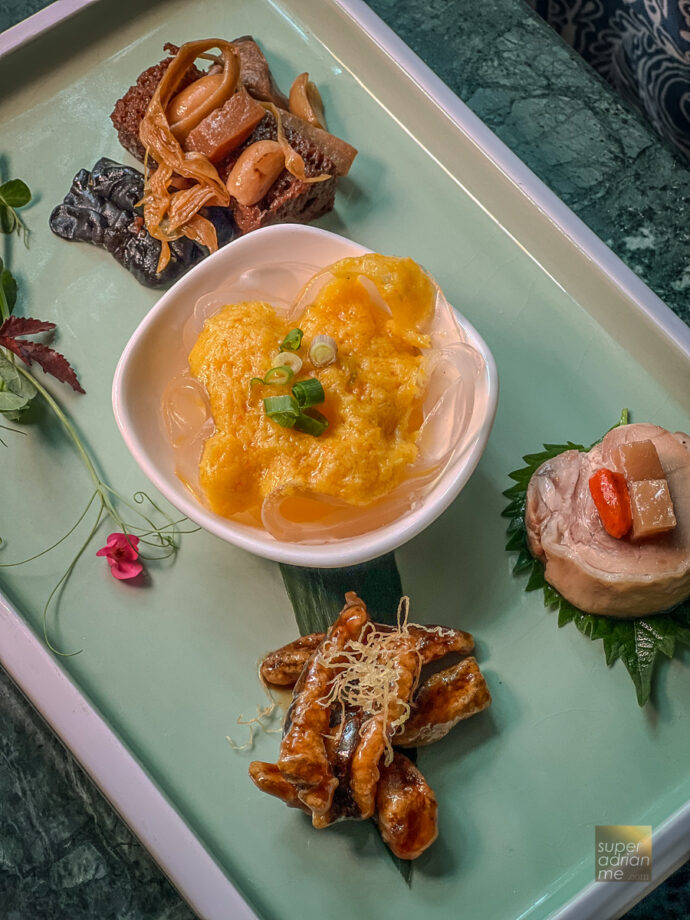 Shang Social has ingeniously crafted an exquisite culinary masterpiece, a lavish casual four-course gastronomic journey through the enchanting flavours of Jiang Nan, featuring the illustrious Hairy Crab Set Menu, priced at a remarkably accessible S$68++ per person, available until the 14th of December in the year 2023.
Embark on this opulent repast with a tantalising appetiser that includes the sublime Braised Shanghai Gluten, delicately Crisped Eel, the delectable allure of Drunken Chicken, and a Sheet Jelly adorned with the opulence of Crab Meat and Roe, offering a harmonious symphony of flavours that is nothing short of culinary poetry.
Following this delectable prelude, don the provided gloves and savour the Jiang Nan Hairy Crab. Should you desire to elevate your epicurean experience, you have the option to enhance it for an additional S$78++, relish a sumptuous 200-gram Male Tai Lake Hairy Crab, or choose to feast the exquisite Female Tai Lake Hairy Crab for a nominal supplement of S$88++. Enjoy the hairy crab on its own or dip into the sweet and sour vinegar with ginger.
The Minced Vegetable Pot with Long Kou Glass Noodles in Superior Fish Broth is designed to bestow upon you the nourishing sustenance that satiates your hunger. The final course, a Homemade Ginger Tea with Peach Gum & Black Sesame Glutinous Rice Ball will give you the necessary Qi to offset the coolness from the hairy crab.

藝 yì by Jereme Leung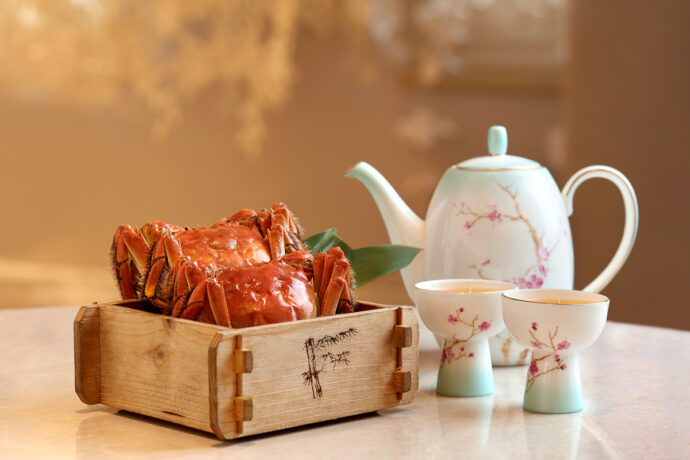 From 16 October to 17 November 2023, 藝 yì by Jereme Leung presents a multi-sensory experience featuring an array of refined and artistic adaptations through an assortment of new appetisers, main dishes, noodles, dim sum, and even desserts set to enchant the hearts of guests.
Begin the gastronomic adventure with Chilled Hairy Crab in Chinese Wine Brine served with Dried Longan Wolfberry & Ginger Tea that spotlights the freshness of the Hairy Crab with a light and refreshing base to complement, along with two other appetisers of choice. Marvel in an array of tantalising main dishes, including Traditional Steamed Hairy Crab with Taiwanese Mullet Roe & Perilla Leaves served with Osmanthus & Wolfberry Ginger Tea, as well as Braised Fish Maw Steak with Hairy Crab Roe, amidst others. Presenting a burst of flavours is Capellini with Assorted Seafood, Suzhou Hairy Crab Sauce & Black Vinegar Caviar, an indulgent delight for seafood lovers. Known for its innovative dim sum creations offered during lunch, unique Hairy Crab dim sum dishes have been created specially for the season. Relish in Pan-fried Hairy Crab Meat Roe Bun, and Deep-fried Spring Roll stuffed with Hairy Crab Roe, Radish & Cheese.
View the Hairy Crab menu here.

Crystal Jade Group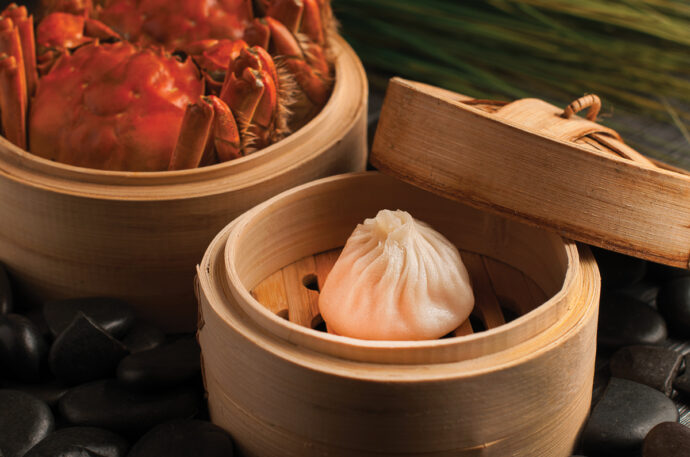 Crystal Jade Group's portfolio of fine and casual dining restaurants will present a la carte Hairy Crab creations between 16 October and 15 December 2023.
Crystal Jade Palace, Crystal Jade Golden Palace and Crystal Jade Pavilion will offer whole hairy crabs Steamed with Shiso Leaf or an aromatic 20-year Aged Hua Diao wine. Guests can also indulge in Hairy Crab Roe Xiao Long Bao (S$16.80 for two pieces). Crystal Jade Palace will offer an additional S$38 Hairy Crab Roe with Steamed Prawn Rice Roll
Crystal Jade Hong Kong Kitchen will add three Hairy Crab specialities to its seasonal menu. The Steamed Milk Custard with Crab Roe, Salted Egg Yolk and Copy (S$32.80 for regular) is a riff on Japanese Chawanmushi. The sweet milky Braised Homemade Green Tea Beancurd with Crab Roe (S$32.80 for regular) is crowned with a luscious Hairy Crab roe sauce. A Crab Roe Scallion Oil Pastry (S$12.80 for two pieces) is studded with briny and sweet Hairy Crab roe.
Crystal Jade La Mian Xiao Long Bao will present four Hairy Crab creations including a La Mian with Scallion Oil & Crab Roe (S$16.80 per person), Nanxiang Crab Roe Xiao Long Bao (S$16.80 for four pieces), Sautéed Shrimp with Edamame & Crab Roe (S$30.80 for regular) and Braised Crab Roe & Assorted Mushroom with Crystal Mung Bean Sheet (S$28.80 for regular).
Si Chuan Dou Hua at UOB Plaza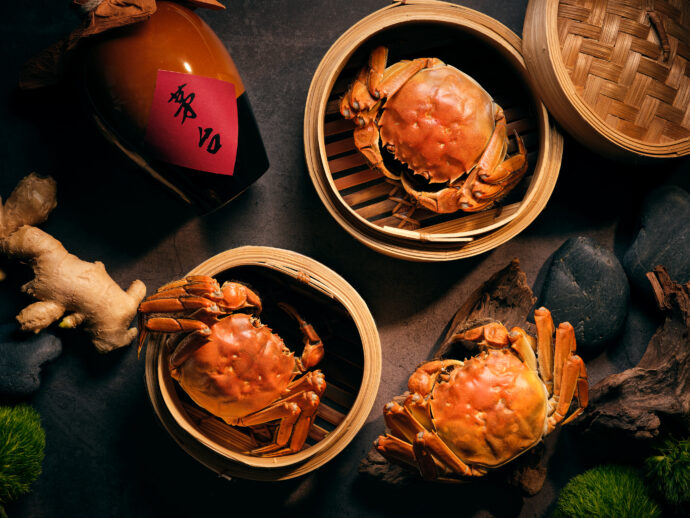 Si Chuan Dou Hua at UOB Plaza offers three six-course sets in its limited-time Treasures of the Deep Blue menu priced from S$128++, S$158++ or S$188++ per person. Available till 7 January 2024.
The S$158++ set features Hairy Crab dishes such as the Chilled Bean Curd with Hairy Crab Roe and Hairy Crab steamed with Maotai. Other dishes in the set include a Double-boiled Chicken Soup with Dendrobium and Glehnia Root, Steamed Sarawak Patin Fish with Spicy Preserved Vegetables, Stir-fried Shredded Knife Noodles with Sliced Iberico Pork and Homemade Bean Curd with Yellow Wine.

Shang Palace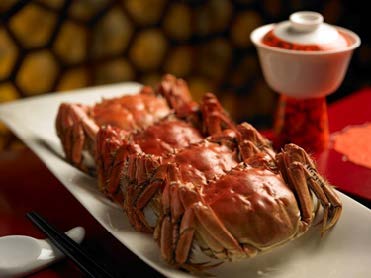 Shang Palace at Shangri-la Singapore has introduced a seasonal Hairy Crab menu until 30 November 2023. A selection of ala carte dishes featuring Hairy Crab and its prized roe as well as a six-course set menu priced at S$268++ per person with an option for wine pairing at an additional S$78++ per person.
Indulge in a 230g steamed male hairy crab with ginger tea at S$148++ or the 170g steamed female hairy crab with ginger tea at S$118++. Other ala carte highlights include the sautéed seafood and seasonal green with hairy crab sauce served in a pumpkin at S$88++ per portion, or the braised Inaniwa noodles with hairy crab roe and hairy crab oil at S$28++ per person.

Tóng Lè Private Dining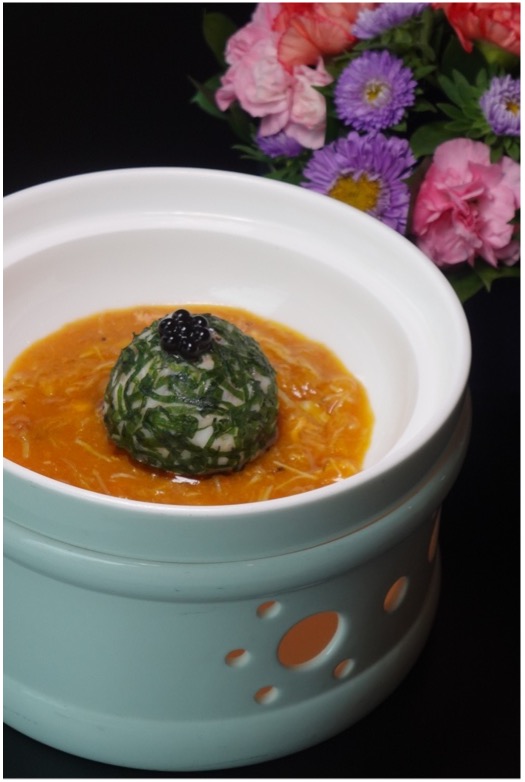 Indulge in Tóng Lè Private Dining's take on a classic Chinese dish – Lion's Head Meatbal this Hairy Crab season. This seafood rendition comprises Prawn, Fish, and Hairy Crab meat, all kneaded into a meatball beautifully wrapped with Shiso, and topped with black vinegar caviar as its crown. Cut through this delight and complement it with the buttery Hairy Crab Roe. This limited-time special, Hairy Crab Roe Chinese Lion's Head Seafood Meatball, is priced at S$48++. 
Tóng Lè Private Dining is located at OUE Tower, Level 10, 60 Collyer Quay, Singapore 049322.

TungLok Heen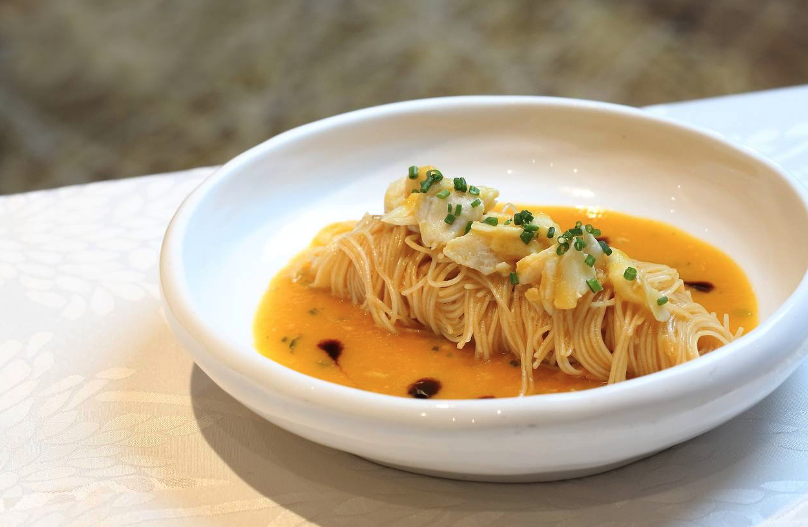 Delight in Hairy Crabs at TungLok Heen in Hotel Michael, Resorts World Sentosa. The hairy crab meat and roe are removed from its shell and added to silky Japanese noodles, creamy golden roe garnished with spring onions. Priced at S$58++ and available while stocks last.
Other creations include Homemade Beancurd served with Hairy Crab Roe, and Stir-fried Australian Baby Spinach topped with Hairy Crab Roe, both priced at $58++.

TungLok Signatures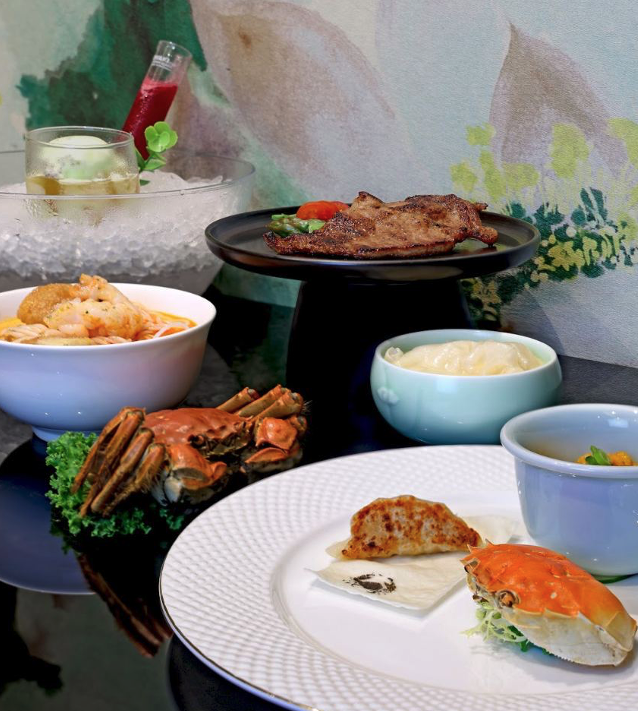 TungLok Signatures masterchef has created a line-up of dishes to impress. The six-course Hairy Crab Set Menu is priced at S$148++ per person and showcases the furry crustaceans. Ala carte createions such as the Baked Hairy Crab Meat and Roe with Pearl Rice or the Braised Homemade Noodles with Hairy Crab Meat and Roe are absolutely delicious. Stocks are limited.
TungLok Signatures is located in #02-88 Clarke Quay Central and #02-18 Orchard Rendezvous Hotel.
TungLok Teahouse and Lao Beijing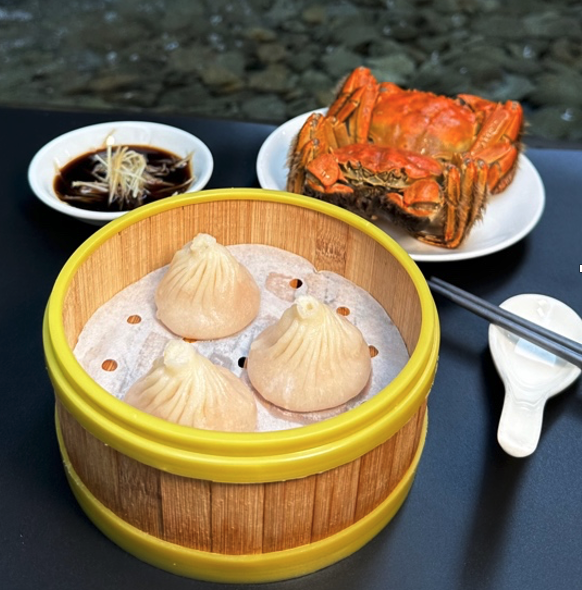 Enjoy hairy crab in piping hot soup dumplings. Savour the dumpling's buttery roe and sweet crab meat through the delicate skin while sipping the steamy broth. The Steamed Hairy Crab Xiao Long Bao is available at S$12.80++ for a basket of three while stocks last. TungLok Tea House is located in #01-73 Square 2, while Lao Beijing is located at #02-80 Square 2.