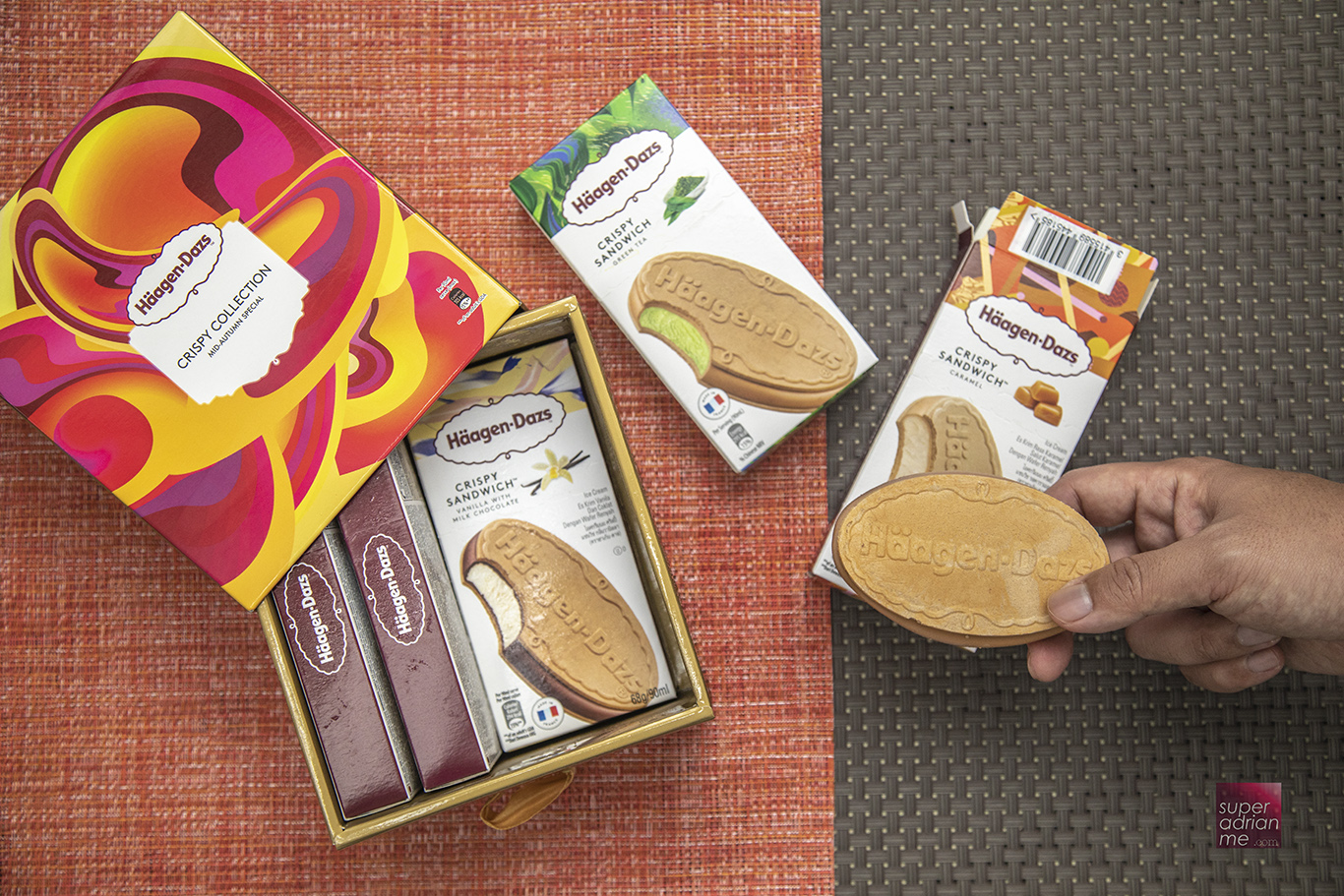 It has been hot in Singapore and finding ways to keep cool has always been on our top priority. We've come across quite a few beverages and snacks that can just help cool us down. Häagen-Dazs's crispy sandwich collection mid-autumn special is perfect for this hot weather. It is also hassle-free. No need to scoop out ice cream into a bowl or cup which means you don't have to do the dishes after enjoying your ice cream snack. The crispy wafers sandwich Häagen-Dazs ice cream covered in chocolate Each box contains five pieces of three ice cream flavours. There is Vanilla, Caramel and Green Tea. Available at all Häagen-Dazs stores at S$29.90.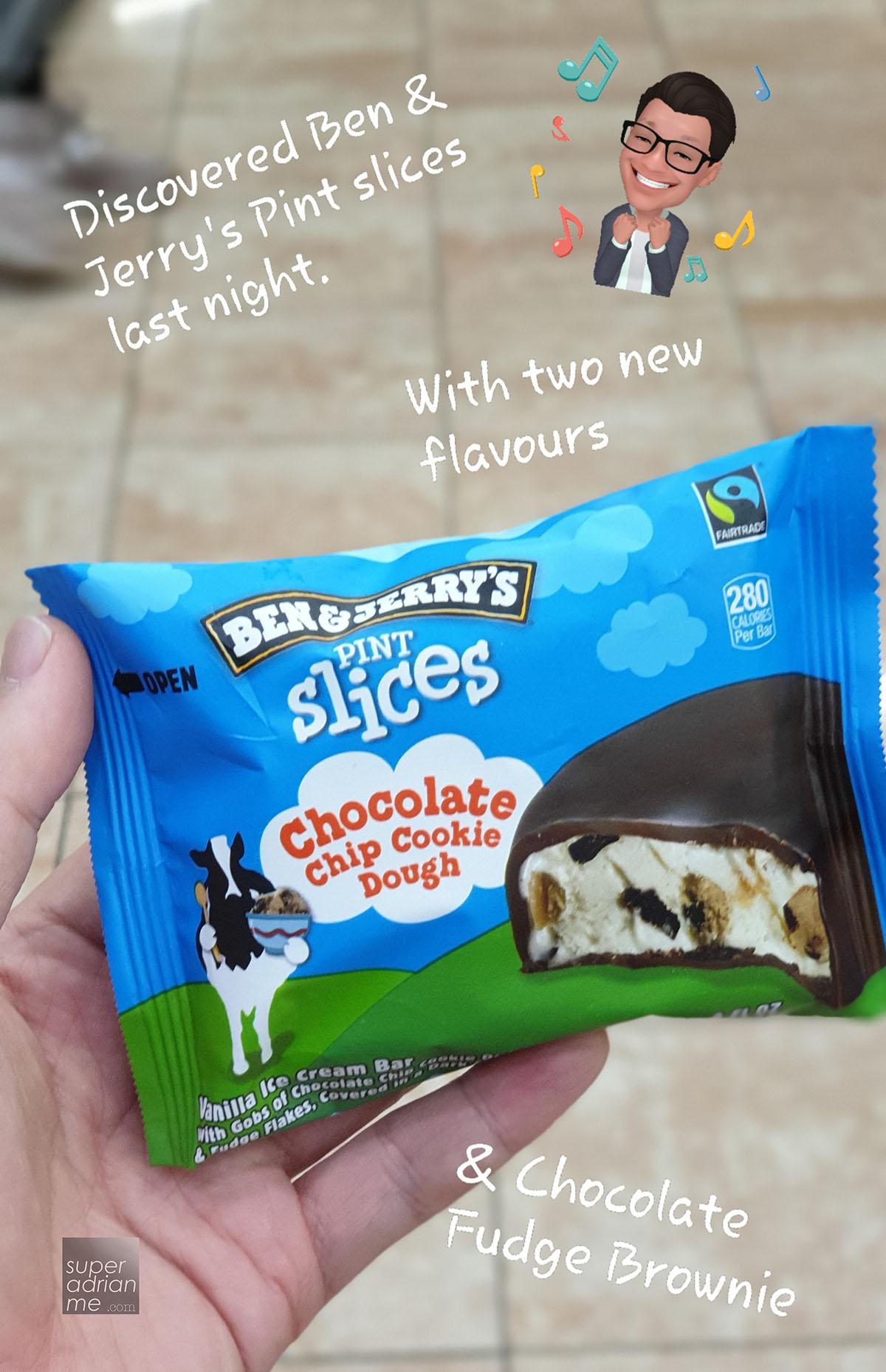 We discovered Ben & Jerry's Pint Slices at 7 Eleven and were absolutely delighted. They are available in two flavours, Chocolate Fudge Brownie and Chocolate Chip Cookie Dough. You can purchase a pack of three Pint Slices from supermarkets, convenience stores or online from 1 September 2018 at S$13.90. Well at least some convenience stores have started selling it. Visit the Ben & Jerry's pop up vending machine at Bugis Junction in front of Intercontinental Hotel from 7 to 9 September and get a free Ben & Jerry's Pint Slice.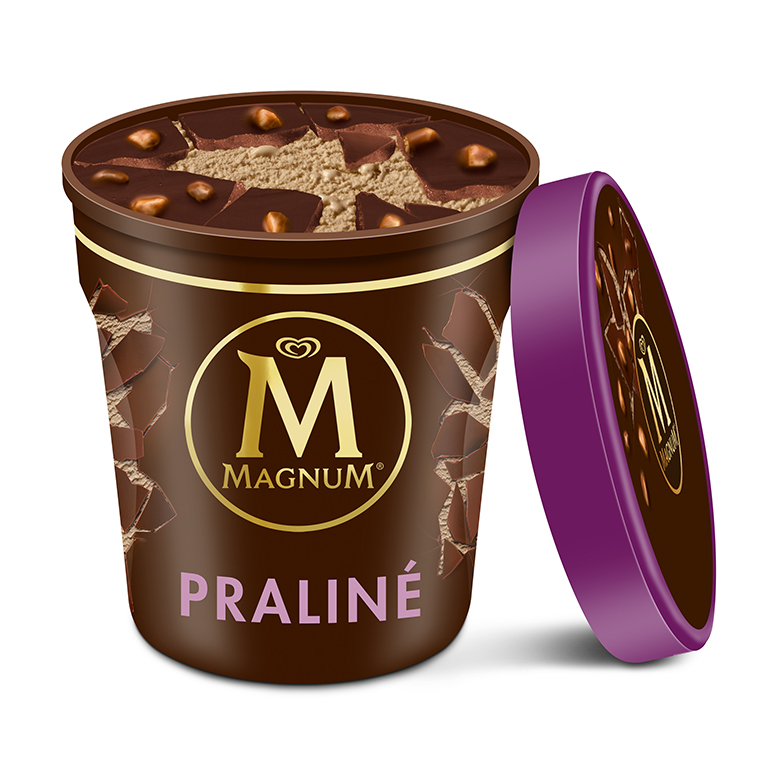 Magnum launched the Magnum Chocolate & Hazelnut Praliné pint. The rich chocolate and hazelnut ice cream are complemented by dark roasted notes from the hazelnut paste and the creamy luxurious texture of quality Magnum Belgian chocolate, all encased in Magnum's signature cracking shell made from Belgian chocolate and perfectly roasted hazelnut pieces. You have to wait for the chocolate layer to soften for five to 10 minutes for optimum cracking. Then squeeze the walls of the pint and feel the signature Magnum crack. Remove the golden foil. Use a metal spoon to break into the thick, cracked chocolate coating.  Open, Wait and crack. That simple.
The Magnum Chocolate & Hazelnut Praline pint is available at all major supermarkets and online at Redmart at S$12.90 for a 440ml pint.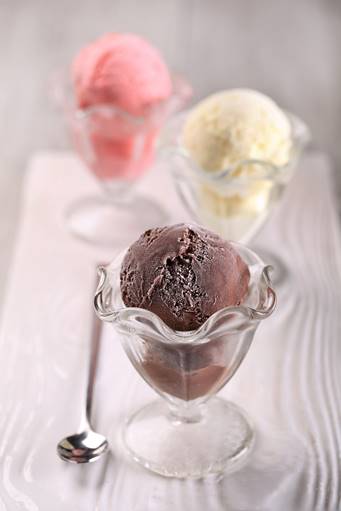 Enjoy the new Guilt-Free range of lower sugar ice cream at Swensen's at S$4.50 for a single scoop or S$7.50 for double scoops. There are three classic flavours including Chocolate, Strawberry and Vanilla. The Guilt-Free range contains more soluble fibre and is lower in sugar content. Swensen's is the first restaurant chain brand in Singapore to produce and serve low sugar ice-cream in line with Health Promotion Board's Healthier Dining guidelines for lower sugar content in desserts. And if you like to bring some home, you can bring home a pint for S$11.80 nett. You just have to pick your flavour at Swensen's outlets and it will be hand packed for you.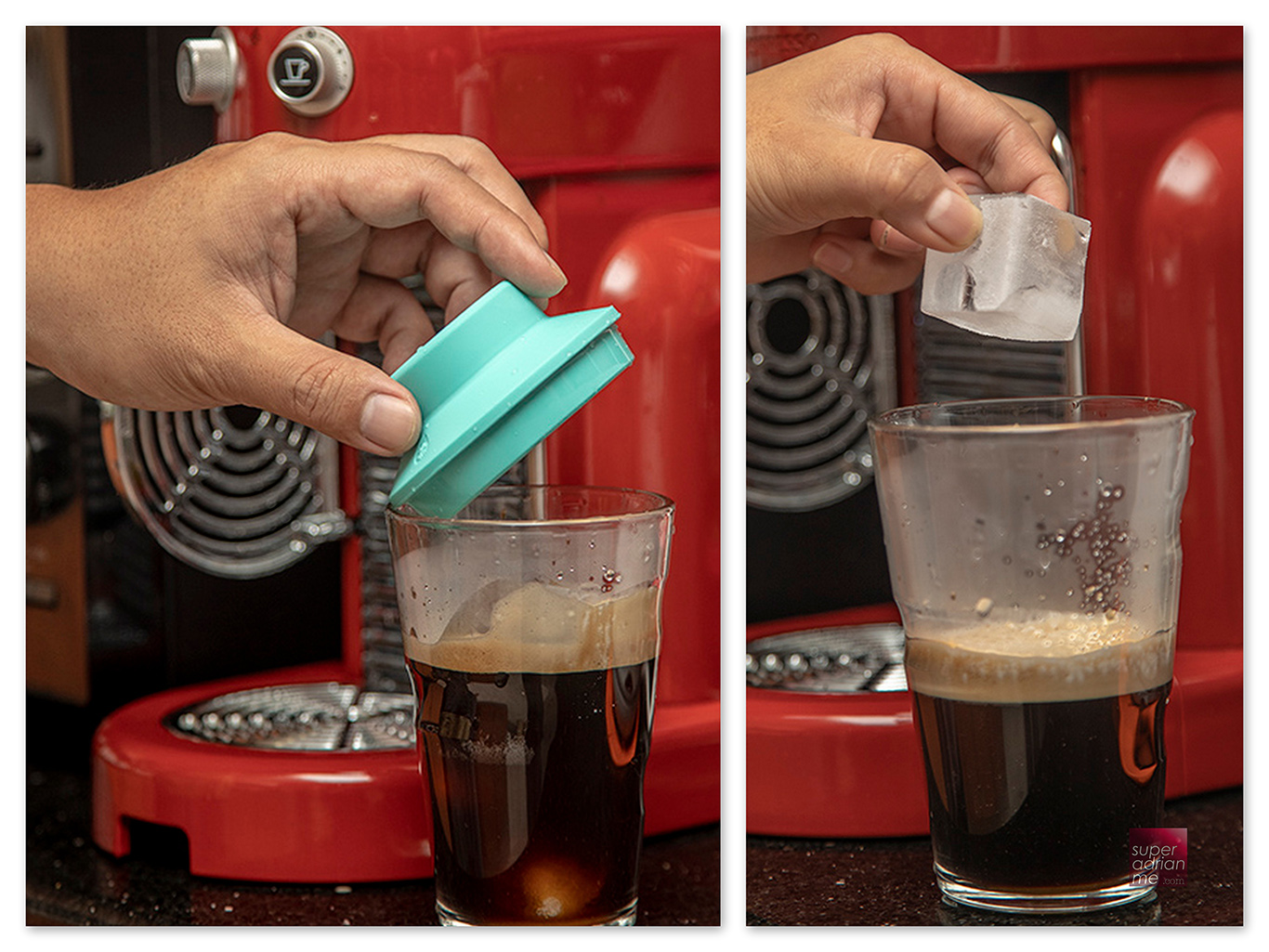 Need your caffeine fix. Nespresso launched the limited edition Ispirazione Shakerato as well as the Ispirzaione Salentina. Priced at S$8.80 for a sleeve of 10, Inspirazione Shakerato is quite a fun drink to make and consume while beating the heat. The Ispirazione Shakerato is a full-bodied, smooth iced coffee with powerful cocoa aromas and long lasting roasted notes. Best enjoyed with ice and sugar.  I got a set of VIEW Recipe glass and ice cube moulds when I purchased a couple of sleeves at the Nespresso outlet in IFC when I was in Hong Kong in July. In Singapore, you will receive a VIEW Recipe Glass and Lid with a minimum five sleeves of limited edition iced coffee purchased before 30 August 2018 at Nespresso Boutiques and at nespresso.com.
How to Prepare Caffè Shakerato by Nespresso:
Add 1 Nespresso Sugar stick (3 gm) in A VIEW Recipe Glass
Extract 40ml Ispiraione Shakerato on top
Add 3 ice cubes (30g per ice cube)
Shake it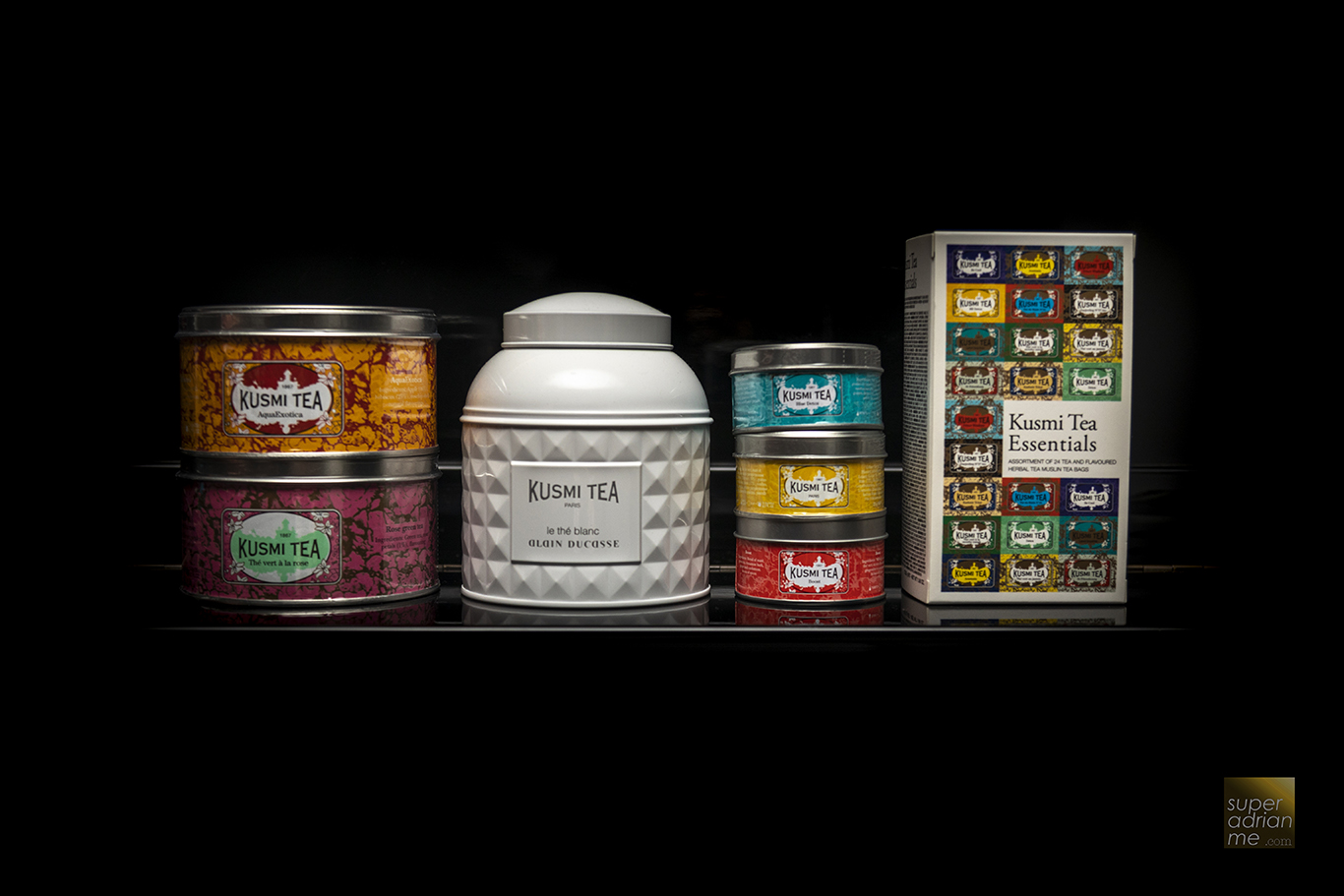 Teas are absolutely amazing drunk cold as well. 150-year-old Kusmi Tea from France has a range of amazingly aromatic tea blends. Here's where I put a tablespoon of these teas into a tea bag and immerse them in a Soda Stream sparkling water and leave it in the fridge to cool before enjoying with ice cubes.
Le thé blanc Alain Ducasse is extremely refreshing drunk this way. It is also Kusmi Tea's first white tea. The original recipe was imagined and created by Chef Alain Ducasse exclusively for Kusmi Tea to celebrate the tea house's 150th anniversary. The tea is harvested by hand once a year only so it is rare and precious. The tea has delicate and refined notes of rose and raspberry that reflects the savoir-faire and French quality incarnated by Alain Ducasse. Best way to keep cool. Available in a metal tin (120g) at S$100.
AquaExotica is another of my favourite which I highly recommend if you like fruity floral teas. The perfect summer tea is a caffeine-free infusion smells so good I sometimes get tempted to use them as potpourri. The tea is an exotic fruit flavoured blend of hibiscus and apple and rosehip shells. Available in both loose leaves (S$40) or tea bags (S$31),  AquaExotica is perfect for iced infusions.
Don't take my word for it. Head down to the Kusmi Tea boutique at B1 Takashimaya Department Store in Ngee Ann City or order online at kusmitea.com.sg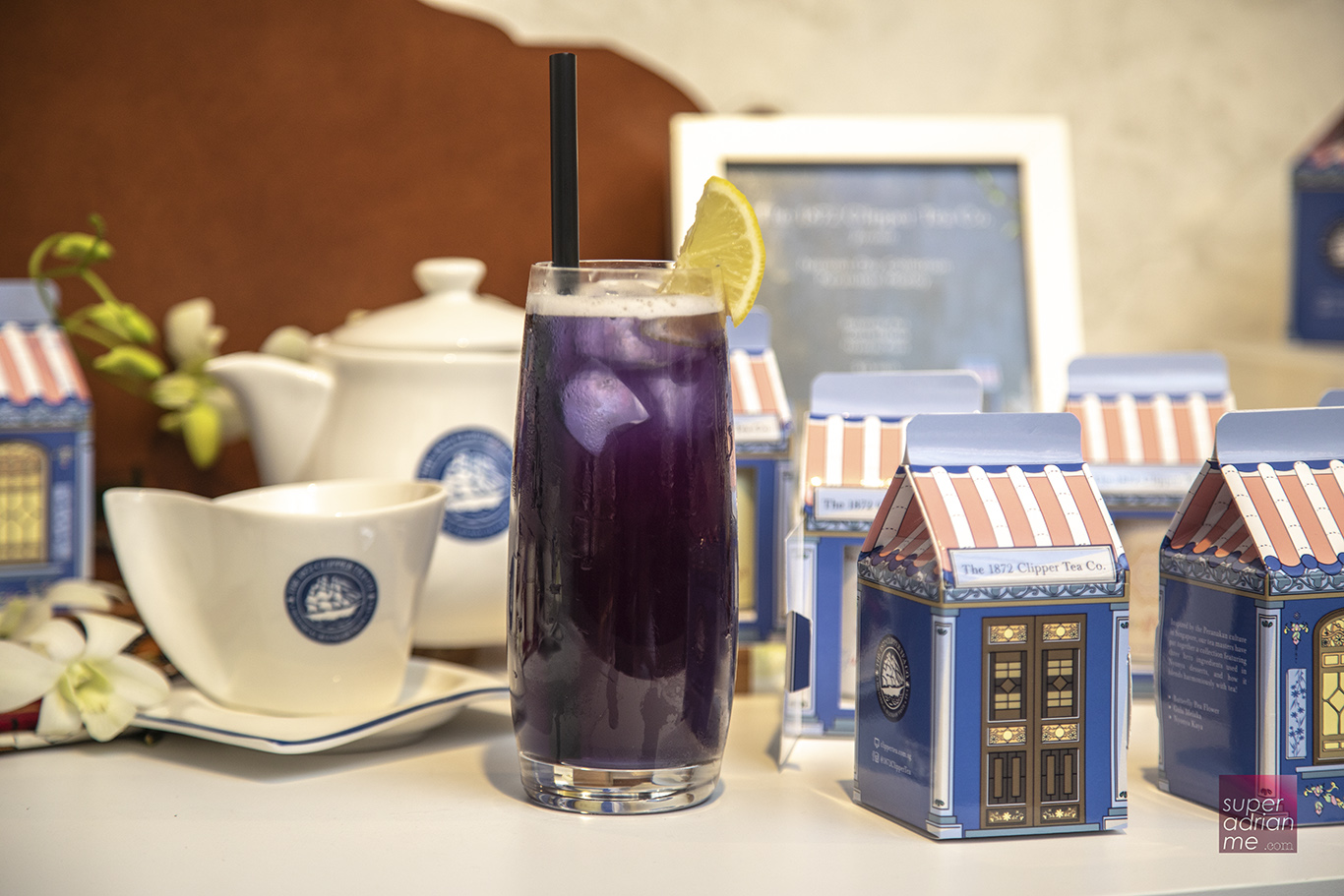 The 1872 Clipper Tea Co launched a National Day 2018 collection of teas.  The three new tea blends included Butterfly Pea, Nyonya Kaya and Gula Melaka which bring back familiar flavours that are synonymous with Peranakan culture and flavours.
The natural dye of the butterfly pea flower gives the Butterfly Pea tea a purplish tint. It is often used to make pulut tai. The tea also contains lemongrass and pandan leaves. The Nyonya Kaya blend features robust Ceylon black tea and Japanese sencha infused with tropical scents of pandan leaves, sweet coconut and cream.  The Gula Melaka tea is a blend of Ceylon black tea, Sencha, coconut dices and coconut flavour. Throw in some ice cubes into your tea and keep cool.
Priced at S$15 per tin, these made great refreshing beverages can be drunk cold or hot. The collection is housed in a gift box shaped like an iconic Peranakan shophouse with signature tile mosaics. They are sold at The 1872 Clipper Tea Co. stores at ION Orchard, Tangs at Tang Plaza, Tangs at Vivo City and online at clippertea.com.sg. Also available at retail counters at Discover Singapore & So Chocolate Shops in Changi Airport, Fullerton Waterboat House souvenir shop, Gardens by the Bay Gift Shops, Naiise stores, Night Safari Village Craft, Robinsons The Heeren Basement 1 and Singapore Botanic Gardens Gift Shops.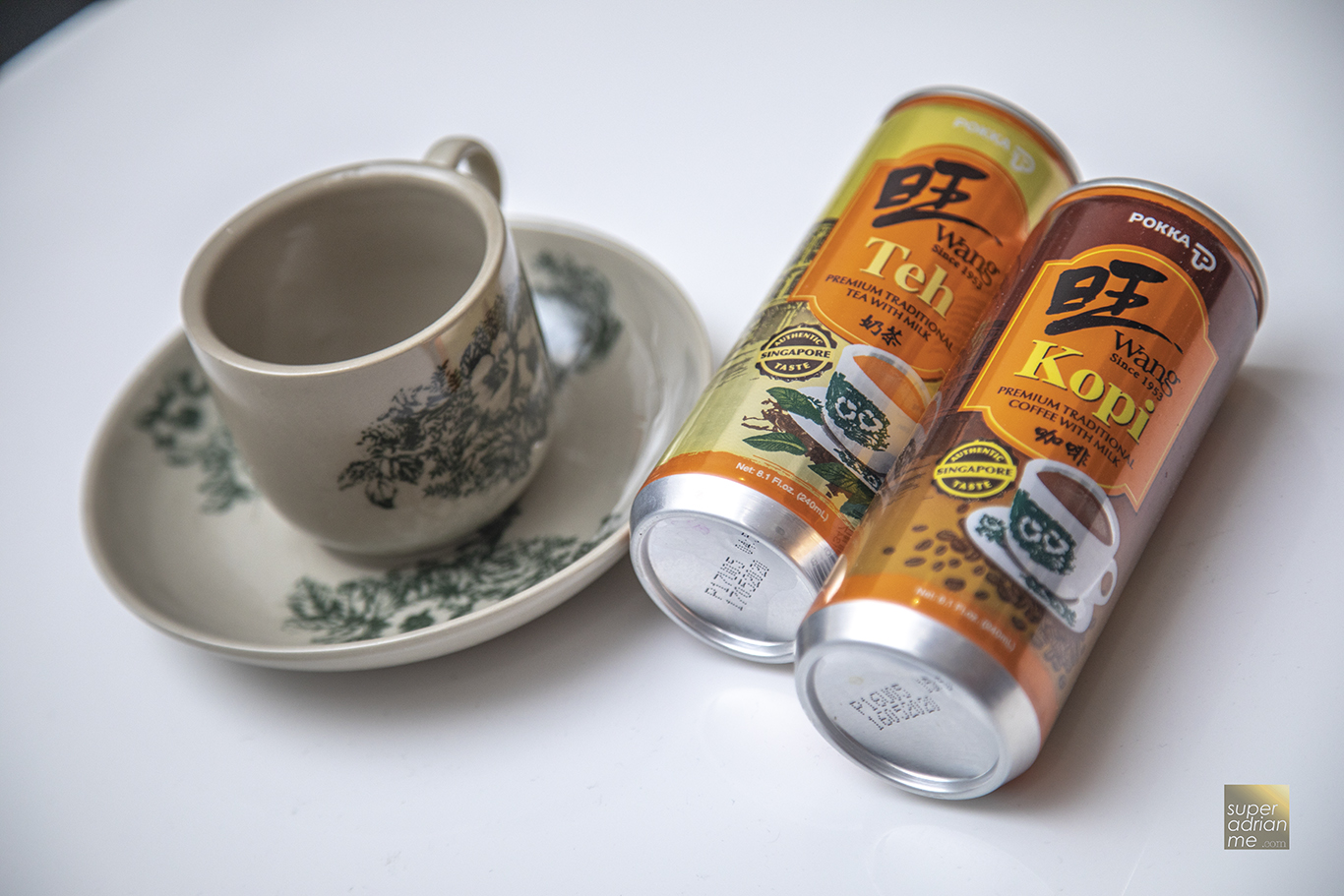 Now you can enjoy Wang's Premium traditional tea with milk or coffee with milk at home and enjoy the same great taste at Wang Cafes around Singapore. POKKA and Wang took an entire year to create this ready-to-drink kopi and teh. POKKA Wang Koi features a full-bodied taste with a lingering aroma. It is made from Wang's secret blend of roasted beans which is sweetened with condensed milk. POKKA Wang Teh achieves the perfect ratio of tea leaves to condensed milk.
Available at all NTUC FairPrice and Cheers outlets islandwide as a single 240ml can at S$1 or as a pack of six at S$5.90. We also spotted it at Hao Mart. These can drinks are also sold at Wang Café and Heavenly Wang.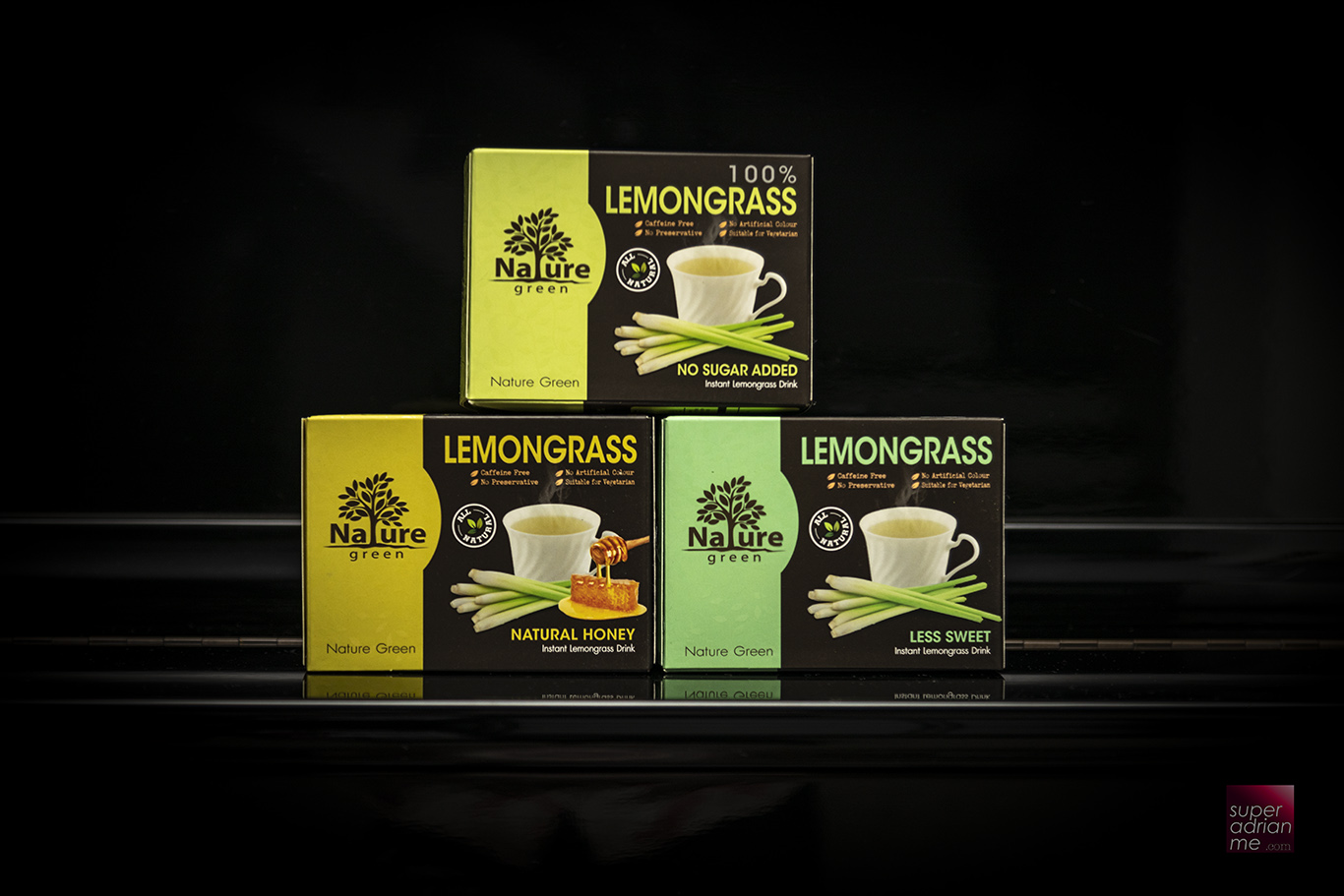 Lemongrass is fragrant and invigorating. It also offers many health benefits. Lemongrass helps relief stomach disorders, aches, fever and other ailments. Keep cool with Nature Green Instant Lemongrass beverage, Singapore's first and only Thai Lemongrass granules. There are three options to pick from. There is a no sugar, less sweet and natural honey option. They are free from caffeine and preservatives and made from 110% natural premium Thai lemongrass.  Nature Green Instant Lemongrass is available at S$5.90 from FairPrice Warehouse Club, TaoKaeNoi Land at Suntec City, Redmart and Ninja Snacks @ Shopee.
Chilled Lemongrass Drink Recipe:
Ingredients:
Add 4 sachets of Nature Green Instant Lemongrass Beverage (Natural Honey)
600ml water
1 cup fresh lemon juice (from 3 large lemons)
1/2 cup fresh lime juice (from 2 limes)
Pinch of Salt
2 cups ice
1 lemon, thinly sliced
2 stalks lemongrass, cut into 4 swizzle sticks
Preparation:
Dissolve 4 sachets of lemongrass beverage granules in 600ml cold water
Add lemon juice, lime juice and salt just before serving
Stir well and serve in glasses with ice
Garnish with lemon slices and lemongrass swizzle sticks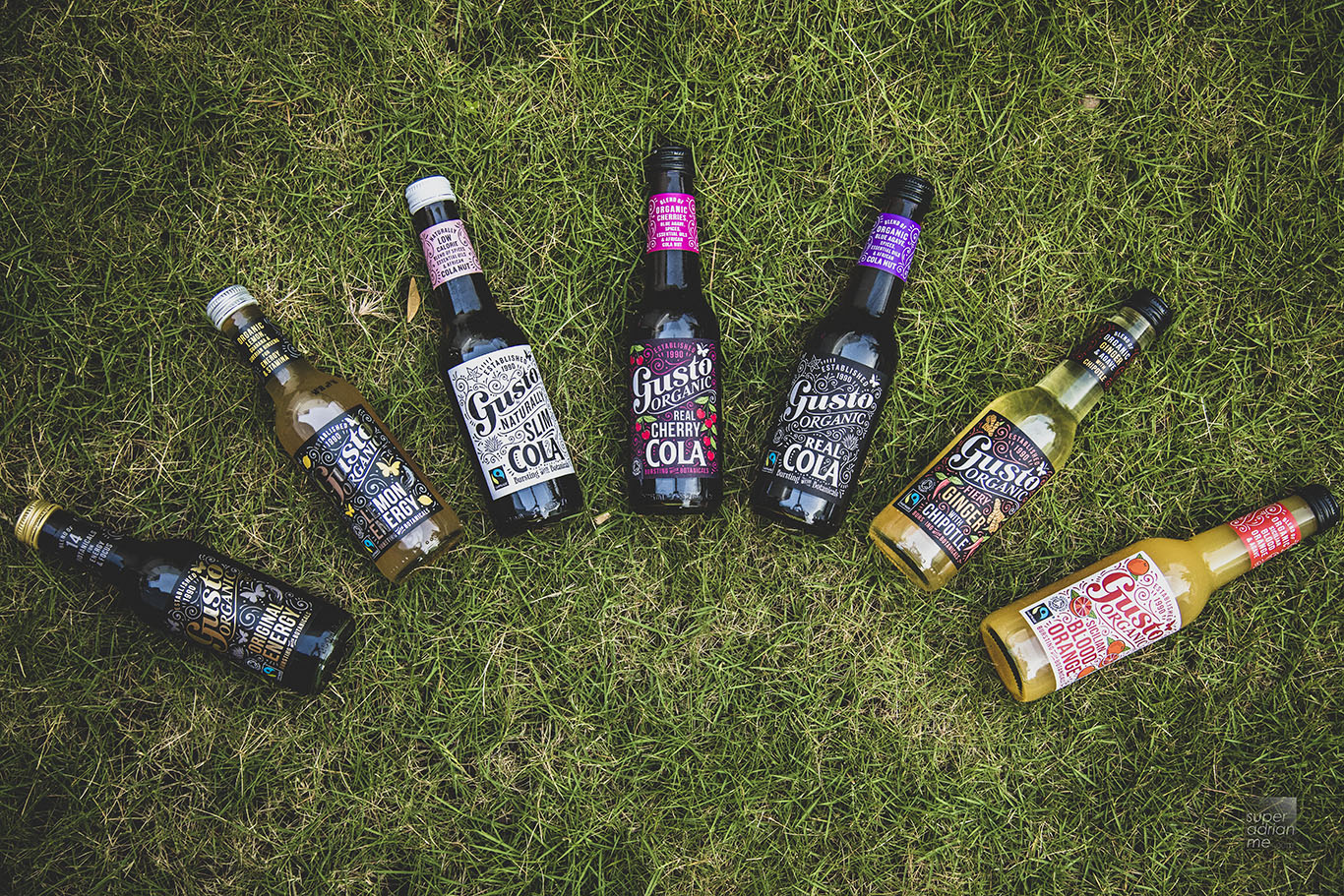 Gusto Organic from the UK has just been launched in Singapore. A range of seven organic-certified soft drinks are now available at a recommended retail price of S$4.80 per bottle at Redmart, Swiss Butchery and Taste Food Market. They are also when you dine at Cedele, Peperoni Pizzeria, Spinelli's Superfudo, YOLO and Workspace Espresso. The range of soft drinks and energy boosters are best drunk from the bottle, chilled or over ice. Created with botanicals and sourced from Fairtrade communities, each bottle contains a carefully-considered and artfully-balanced blend of components uch as the African cola nut for cola drinks, fruit juice, organic blue agave, spices to Chinese herbs, essential oils and even guarana, a natural stimulant in energy drinks only.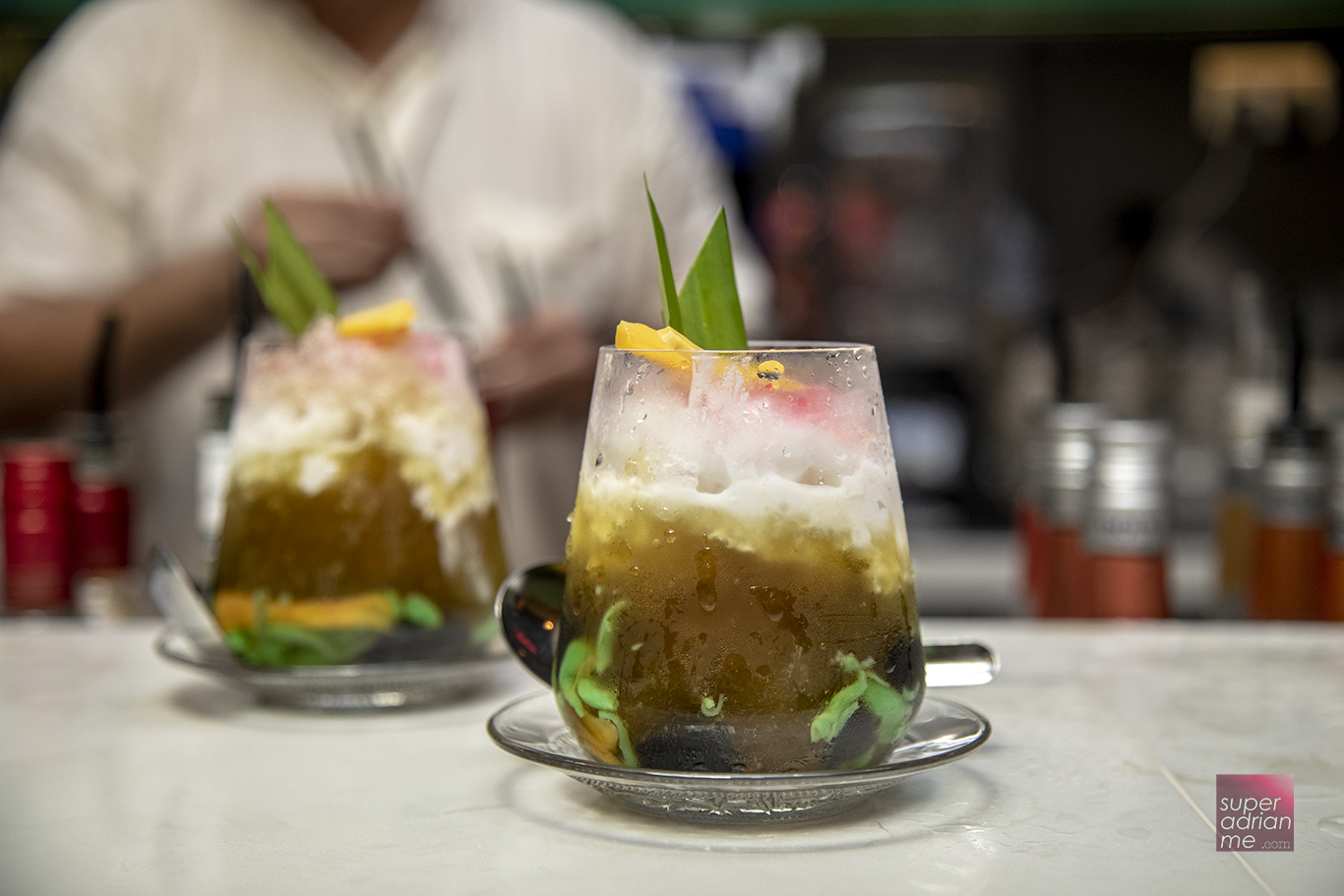 The Chendol Daiquiri is something that's not on the menu at the newly opened Kota88 Restaurant at Siglap. But the bar manager is able to concoct and it was absolutely refreshing. An alcoholic rendition of chendol is just the thing to enjoy during a hot day.
Kota88 Restaurant opened early August this year and serves up authentic Masakan Tionghua Indonesia or Chinese Indonesian cuisine.