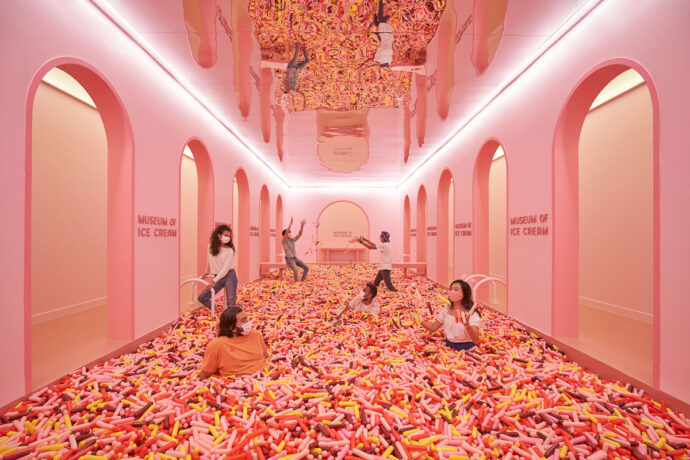 The Museum of Ice Cream has officially opened in Singapore's Dempsey enclave on 19 August 2021. The 60,000 square foot property oozes pink, the brand's signature colour. Featuring 14 never-before-seen multi-sensory installations, guests will be guided by MOIC's talented guides and transported into a surreal world of scrumptious sights, sweet sounds, tasty treats and entertaining play. There is also a fully functional cafe, bar and retail store within its immersive space.
Here's a sneak peek of what to expect.
| | |
| --- | --- |
| Museum of Modern Ice Cream | Discover your inner Picasso |
| Marble Run | Race to the latest craze |
| California Dreamin | Take a trip overseas |
| Scream's Diner | Jam to oldies at MOIC's jukebox |
| Inflatable | Unleash your inner child as you leap to new heights |
| Potong | Relieve nostalgia with a treat that's a blast from the past |
| Playspace | Say hello to MOIC's very own unicorn playground |
| MOIC Sprinkle Pool | Swim in a sea of sprinkles |
Enjoy delicious ice cream treats reinvented with a local twist such as the Pulut Hitam Potong ice cream, Lemon Bliss Balls, Apple Pie Soft Serve, Lychee Bandung, and Taro Milk Tea ice Cream sandwiches.
SG56 Celebrations
To commemorate Singapore's 56th birthday celebrations, MOIC will unveil a variety of nostalgic childhood games and activities during its grand opening weekend from 19 to 22 August 2021. Take a trip down memory lane at Playspace and test your Chapteh and Five Stones skills. Put your touches on the National Day Ice Cream Truck at the Craft Room and be introduced to MOIC's very own Mercone. That's part Merlion, part ice cream. Also, enjoy temporary National Day-themed tattoos.
Unique merchandise created in collaboration with local brands will be available at discounted prices at MOIC's retail shop. The Singapore Sling Boba Cocktail is available for a limited time at the bar.
Tickets until December are available for sale but are expected to sell out quickly. Make your reservations at www.museumoficecream.sg. Reservations begin from S$38. Children two years and under can enter for free.
Covid-19 Precautions
Safe management measures and deep cleaning routines are implemented in accordance with government advisories and #TeamMOIC will be on ground for facilitation. Fully vaccinated individuals will be allowed to enjoy the museum in groups of five, including unvaccinated children 12 years old and under if all children are from the same household.
Unvaccinated individuals will have to present a valid negative COVID-19 PET result from a clinic taken within the last 24 hours prior to time of admission.
Museum of Ice Cream Singapore opens daily from 10 am to 11 pm from Thursday to Sunday.