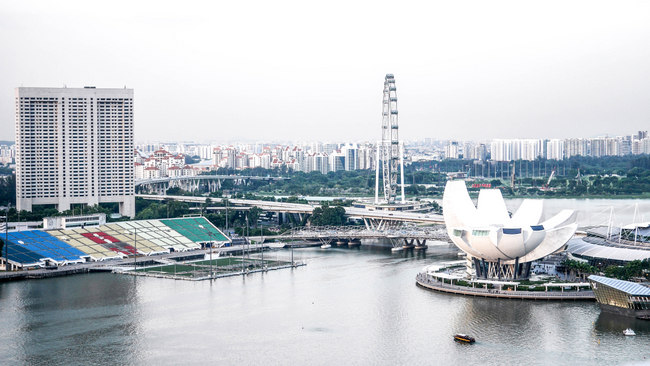 Singapore may have been mercilessly tagged as a concrete jungle, but it sure does come with a mesmerizing skyline (especially when the sun goes down). Pair that grand view with spectacular food and wine, and there's nowhere else you'd want to be in the world. Here are my three favourite restaurants that ticks all the boxes!
[email protected] has been around for quite a while. The previous concept and chefs crowded the kitchen, leaving a rather mediocre impression on me. So, when I caught wind of a new chef coming in, overhauling the whole place, I was intrigued. Even more so, when it was revealed to be Executive Chef Sam Chin Hang Ling, who worked alongside OUE's Japanese Executive Chef Shigeru Aakshi.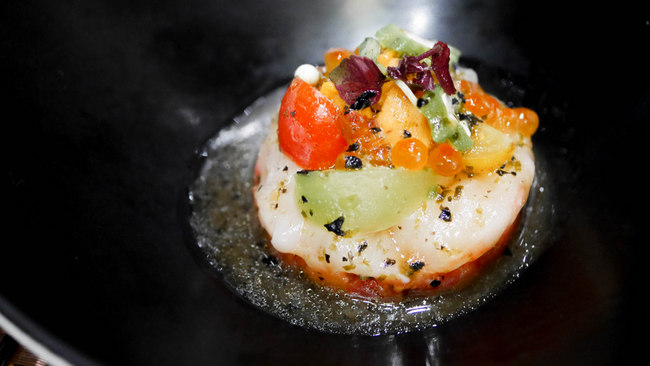 With a friendly charm, he commands a kitchen of talents. Every dish maintains a love for ingredients. Notably, the Hokkaido Botan Ebi Tartare (from Chef's tasting menu). A seasonal ingredient, botan ebi is best savoured from November to March. It imparts a sweet, creamy flavour you'd be hooked on in seconds. He pairs it with complimenting flavours in the form of uni and ikura (to add a little brine) as well as the fresh, bright crunch of the cherry tomatoes and okra. It is so simple, yet so divine.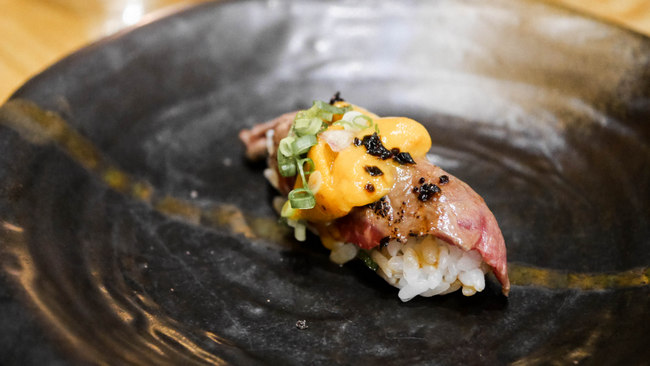 His main selling points are specially shipped in Japanese Fish and Kumamoto A4 Wagyu. We had the chance to savour a tropical fish from Okinawa, steamed simply with pickles, ginger and chilli. Its name will forever be a mystery to us (even after vigorous googling), but we will always remember its soft, delicate flesh which had soaked up all the flavours. Not to be missed, of course, is his various Kumamoto Wagyu dishes. You can have it as a nigiri, with some uni, or grilled with kombu and ohba leaves, or as a striploin steak with mash and all the works. The list goes on and on.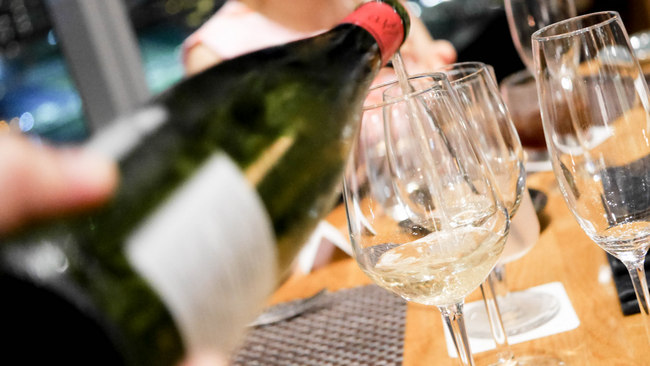 Pair it all with some lovely wines or sake with the help of Head Sommelier Joel Lim.  Previously of Les Amis, he does an amazing job finding a fitting pairing for the various cuisine styles and dishes. Most notably, the Château Sénéjac Cabernet Sauvignon Merlot 2010 with the Charcoal grilled striploin (S$88 for 160g or S$178 for 300g) and the Tschida Illmitzer Spätlese, Riesling & Muscat 2015 with the Molten Dark Chocolate Dulcey (S$16).
Artemis Bar & Grill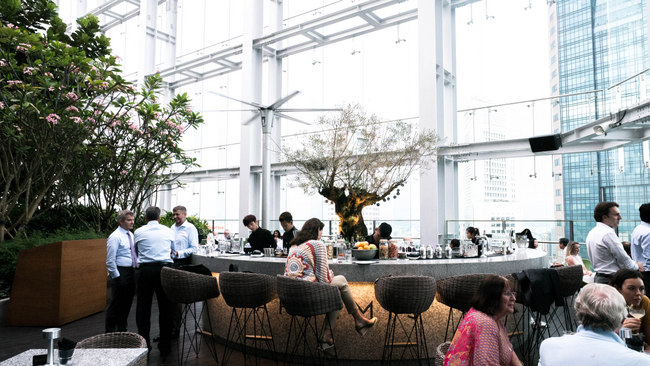 I almost gave Artemis Bar & Grill a miss due to its high price point. I know many head on over after work for the amazing view you'd get from the al fresco bar, 40 levels above CBD, or have a nice, intimate dinner for a special someone. It is a lot to pay for a meal there, but Executive Chef Fernando Arevalo has instantly changed my mind with one dish – the Slow Cooked Iberico Pork (S$48).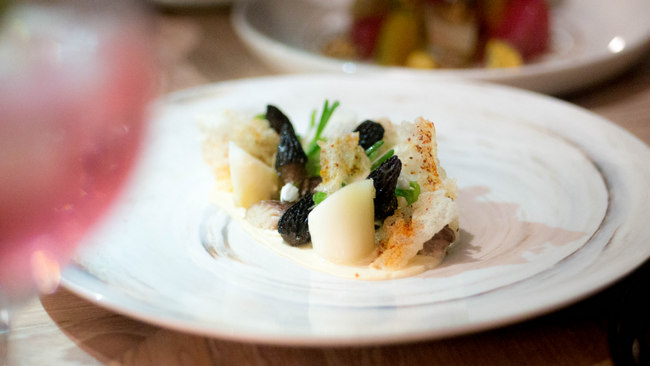 Other dishes that will have you wishing for bigger portions are the Lobster Tagiolini (S$48), Smoked Eel (S$26) and the Homemade Ravioli (S$28). Meticulously presented, you get a full view of all the components making up the dish. Each ingredient compliments the other, striking a beautiful balance in every bite.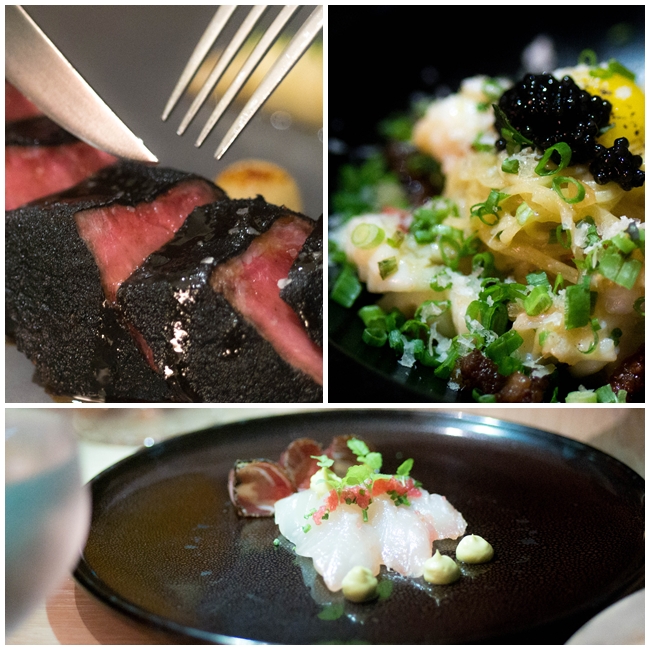 When ordering the mains, one should not forget the sides. The Puy Lentils and Chargrilled Broccolini are my favourites. The former is a must-have, as he has managed to pair the earthy flavours of lentil with stilton blue cheese, bacon and stone fruits.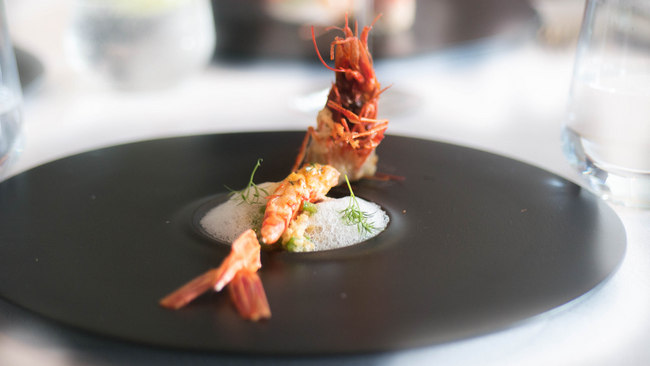 Chef Millar has always mesmerised me with his never-ending quest for the best. His seasonal Constellation Menu always leaves me wanting more. Now, he has a new delicious mission: bringing light to unsung hero cuts. Not just any old cow as well. His Tajima Wagyu comes solely from a farm located in the wide, green plains of Tiana Park in New South Wales.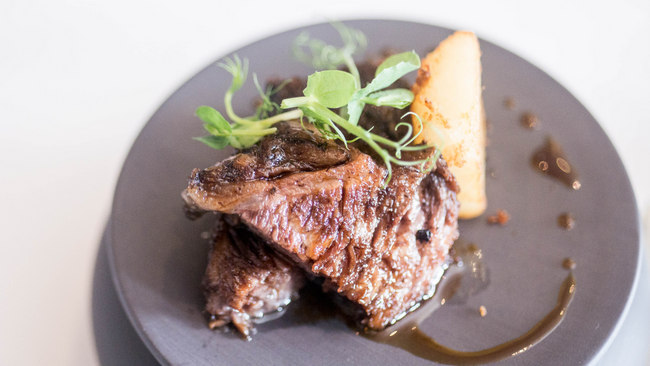 You can read more about The Road To Tajima course here, but I want to make a special mention to a particular dish. The Braised Tajima Chuck Rib with fondant potatoes and coffee sauce. So rich in connective tissues it was, that it simply melted in my mouth. You get a burst of that sweet yet savoury braising liquid, with a hint of chocolate and bitters.
While he will change up the dishes according to the cuts he wishes to present, Stellar at 1-Altitude's love for quality in produce and in the kitchen will ensure a memorable experience no matter what.
One shouldn't miss the desserts. They are as pretty to look at as they are amazing to eat. Pastry Chef Jasmin Chew is no pushover in the kitchen. Her Dessert Art is a mammoth display of her five beautifully crafted treats. Must-haves include the Roasted Nagasaki Corn Ice Cream, Pavlova and the three-tiered chocolate tart.