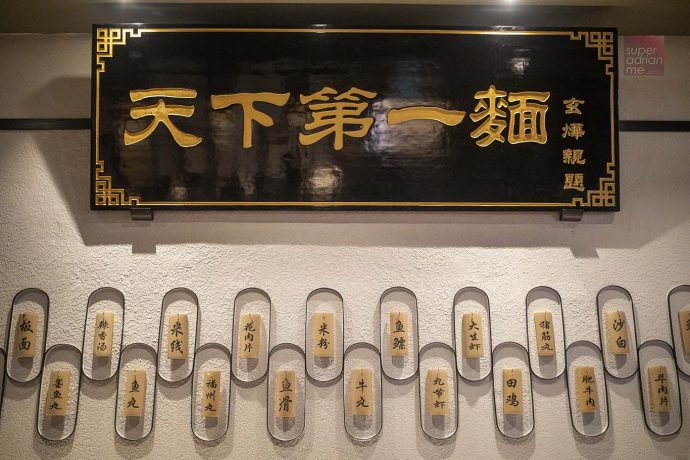 In our search for mouth-watering noodle dishes in Singapore, we share in this evergreen post some of the more memorable ones we have had. We will also be updating this post regularly with newer noodle dishes that we try. So please bookmark this post and do come back regularly.
Ka-Soh Greenwood
Ka-Soh opened its third outlet in January 2020 introducing Chinese cuisine to the Greenwood Avenue food and beverage enclave in Hillcrest estate of Bukit Timah. And we absolutely love the noodles here. Check out our visit to Ka-Soh.
Two exclusive noodles served only at this outlet is the KL Hokkien Mee and Prawn Noodle Soup.
The Seafood KL Hokkien Mee (S$9/S$14) has been an off-menu item at the Swee Kee outlet in Amoy Street. Only those in the know would request for this. But now this is available in the regular menu for lunch and dinner. Enjoy the same flavours as one would in Kuala Lumpur. The savoury dark sauce with yellow noodles, squid, prawns, fish slices and cabbage. And not forgetting the heavenly fried pork lard.
The umami-rich Prawn Noodle Soup (S$16) is a bowl of freshness and not the typical dish you get elsewhere. You can taste the freshness of the sliced fish and prawn stock that is combined with Ka-Soh's signature fish soup.
The Beef Crispy Bee Hoon (S$9.50/S$14.50) is cooked in a Sang Mee style where the Bee Hoon is fried to a crisp and then topped with beef and vegetables in gravy.
Ka-Soh's signature fish soup noodles are also available at this outlet. Choose from six different types of noodles as well as condiments. You can have the noodles with sliced fish, fish fillet, fish head or just fish soup. A single serving costs S$8 to S$9. You can order larger portions to share. S$25/S$28 for 3 to 4 people or S$48/S$52 for 5 to 6 people.
Burger & Lobster at Raffles Arcade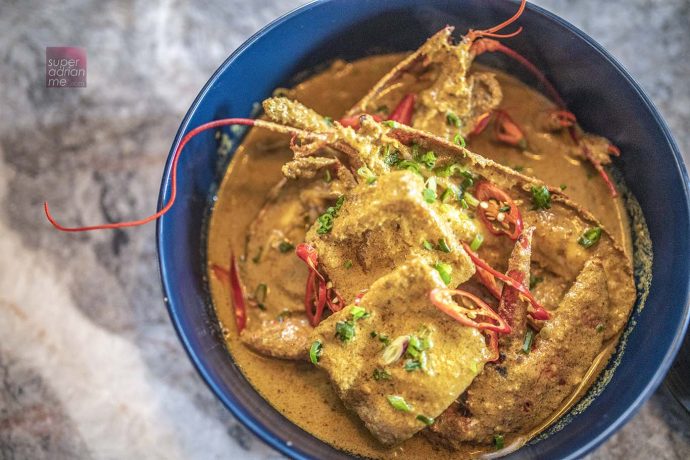 The Laksa Lobster at Burger & Lobster in Raffles Arcade is probably the most expensive Laksa I have ever eaten at S$70++. Wild-caught fresh lobster is cooked in an aromatic coconut sauce and served with rice noodles, bean sprouts and crispy tofu.
The thick sauce is rich and full of lemak from the coconut sauce and totally enjoyable with thick chunks of lobster meat.
When Malaysia brand Go Noodle House opened its first outlet in [email protected] in November, I was very excited that I could get a variety of great noodle soups in Orchard Road. But what surprised me was the Hakka Sauce Pan Mee with Century Egg that is priced at an affordable S$9.90++. A spicy version is available at S$10.90++.
Thin pan mee is rolled out into dough sheets before being cut to size at the outlet twice a day every day. The noodles are coated with pork lard and are served with black fungus, fried shallots, fried anchovies, minced pork, century egg and chilli oil.
But if you prefer something soupy, then pick one from the menu. Select your dish first, then pick from a superior soup or homemade spicy soup. After that pick your choice of Mi Xian or Bee Hoon and you have the option of adding up to three add ons. Add ons feature meatballs including the signature bursting meatball, hand made fish paste, Fu Zhou fishball, premium Beef Ball, pork or beef slices, onsen egg, and others.
Yaowarat Seafood
Yaowarat XO Treasure Pot has been introduced into the menu at Yaowarat Seafood with a 600g Crab option at S$98 or the 1kg XL Lobster option at S$128. Fresh prawns, Venus clams, fresh squid is prepared with thick vermicelli and a shot of XO for added flavours. This very rich pot of seafood noodles goes well with a plate of Deep Fried Garlic Pork (S$12.90) and beer.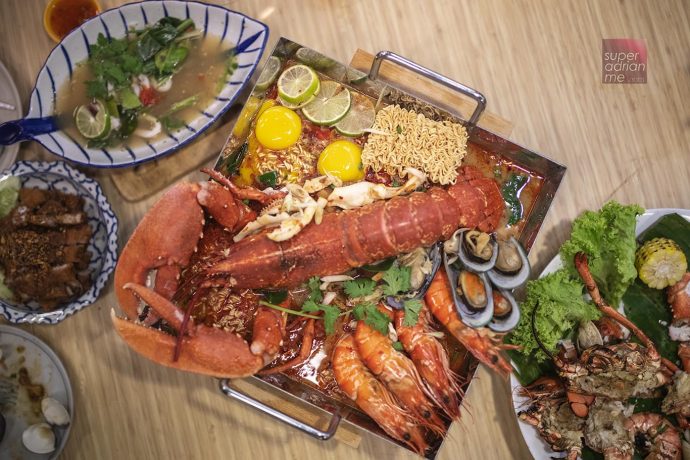 If you prefer something spicier, then go for the Yaowarat TomYum Mama Seafood Pot. Available in two options – 700g Crab at S$88 and 1kg XL Lobster at S$128. The pot includes fresh prawns, mussels, fresh squid and Mama noodles. This pot can serve four people. So gather your friends or family and have a feast. Don't forget to order a pork satay. The meat is so tender, you will thank us for recommending it.
Sling by Maison Ikkoku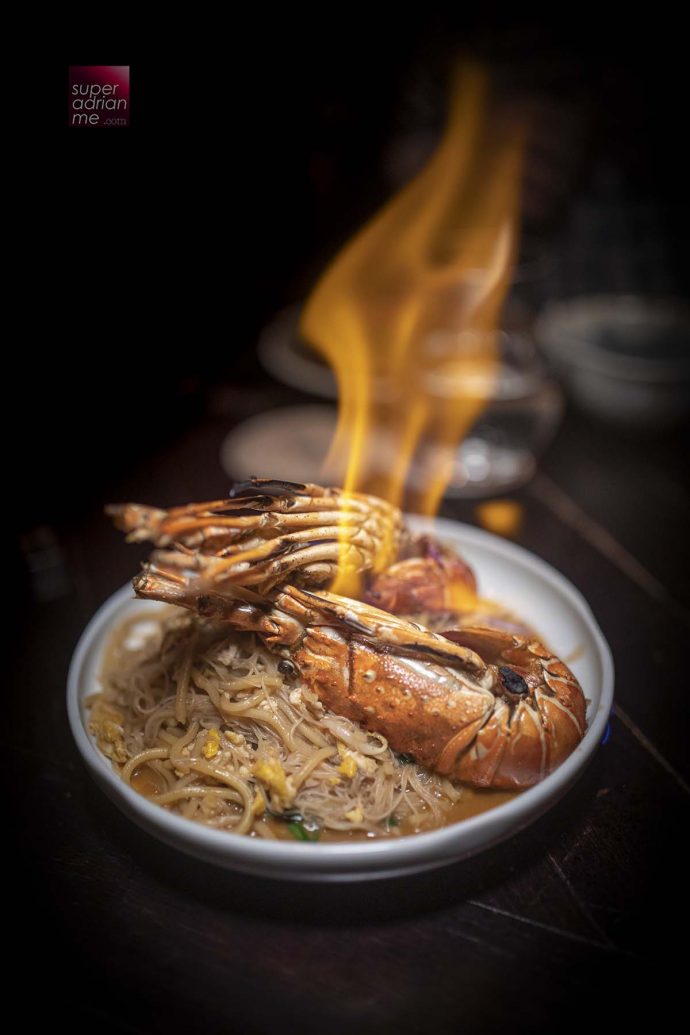 Sling by Maison Ikkoku's mixologist and chef-extraordinaire Ethan Leslie Leong opens its doors on 17 February 2020. The Hey Mee is one of my favourite dishes on the menu of refined Singaporean favourites. Hokkien noodles are cooked with Asian rock lobster and lobster broth, stir-fried with homemade pork crackling and crowned with a half or full baked lobster. This flavourful dish is full of complex charred aroma from the wok hei as you enjoy the visual highlight of a flambéed lobster before sinking your teeth into it. Priced at S$38 for half lobster and S$48 for full lobster.
The Blue Ginger at Great World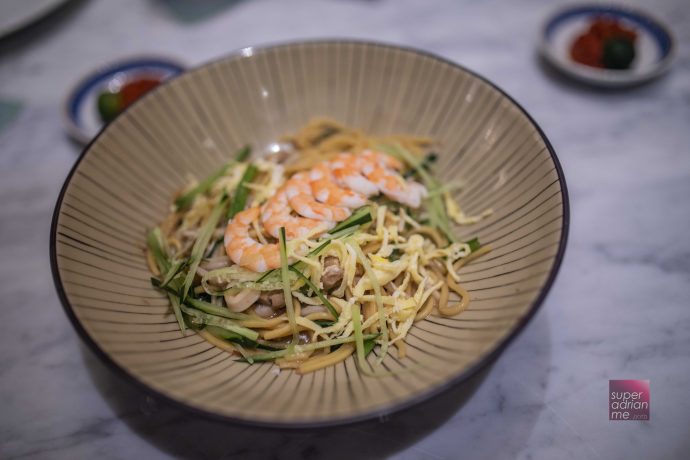 The signature Peranakan noodle dish that is traditionally served at birthdays is now available at The Blue Ginger's newest outlet at Great World. This casual iteration of the first outlet that opened at Tanjong Pagar in 1995 opened 13 January 2020 and offers two other one-dish meals besides the Peranakan Noodle. There is also the Laksa Kerabu and Buah Keluak Fried Rice.
The Nonya Noodles (S$15) is a plate of stir-fried yellow noodles with prawns, squid, belly pork, beansprouts and kang kong in a garlic-taucheo (fermented soybean paste made from yellow soybeans) base and then garnished with omelette and cucumber julienne.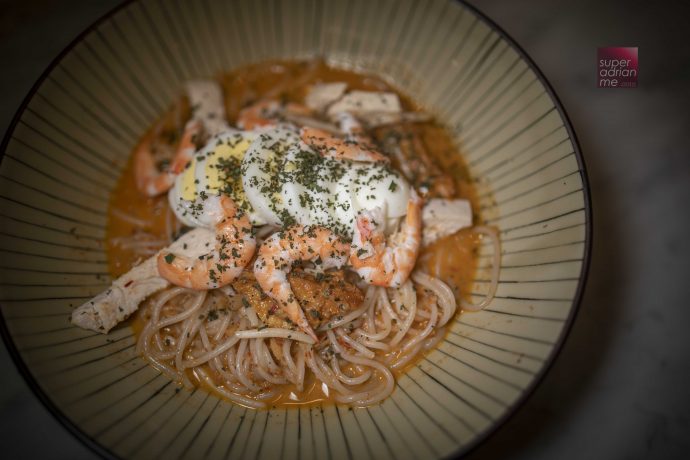 The Laksa Kerabu (S$15) is another comfort food noodle dish. The gravy is made from a housemade proprietary 'rempah' with ingredients such as chillies, lemongrass, candlenut, galangal, as well as fresh coconut milk. The chef braises the laksa noodles with a small amount of laksa gravy until slightly reduced before serving it with a generous sprinkle of laksa leaves.
32-year-old Teo Shi Kai manages the Great World outlet while his mother continues to run the flagship restaurant at 97 Tanjong Pagar Road.
We will have to come back for more and try the other dishes.
Hototogisu Ramen at Great World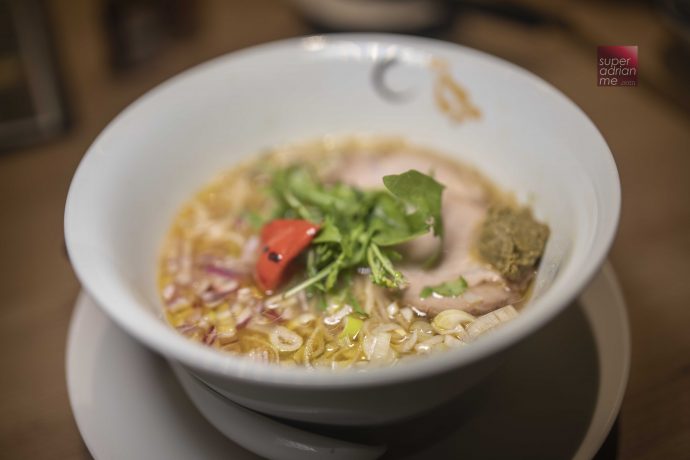 Hototogisu Ramen at Great World has been serving their exclusive Oyster Shio Ramen (S$15.90) which is only available at this outlet. Springy noodles are served in a broth of oyster consommé that has been slow-cooked with two slices of cha siew. It is topped with oyster paste, roasted pepper, wild rocket leaves, garlic and lemon oil and red onions for added flavour.
Guests are invited to taste the pure oyster consomme, then the oyster oil followed by the oyster paste and the garlic lemon butter before mixing everything together.
This bowl of ramen is surprisingly not cloying, unlike most other ramens that I have tried. No wonder Hototogisu Ramen's parent company Sobahouse Kiniro Hotogtogisu in Tokyo has been awarded a Michelin Star in 2019 and has been listed as a Tokyo Michelin Bib Gourmand restaurant from 2015 to 2018.
Ah Hua Kelong at Riang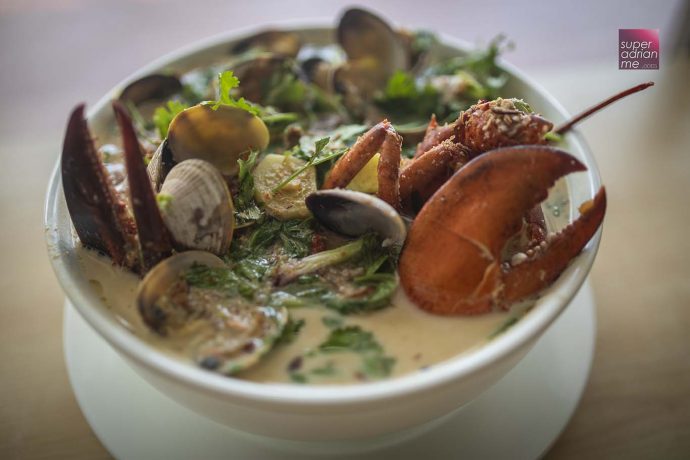 Singapore fish farm Ah Hua Kelong also serves its fresh catch in one of their two restaurants at Riang. Located in a residential neighbourhood in Serangoon on the same stretch of shophouses including Hook Coffee and Wimbly Lu cafe.
Last year we were invited to visit the kelong followed by lunch at Ah Hua Kelong @ Riang in Serangoon to showcase how fresh the seafood was.
There was this off-menu bowl of seafood noodles with clams and crabs that was full of flavour. So the next time you visit Ah Hua Kelong for some Cze Char, ask them for a seafood noodle dish.
YUN NANS at Westgate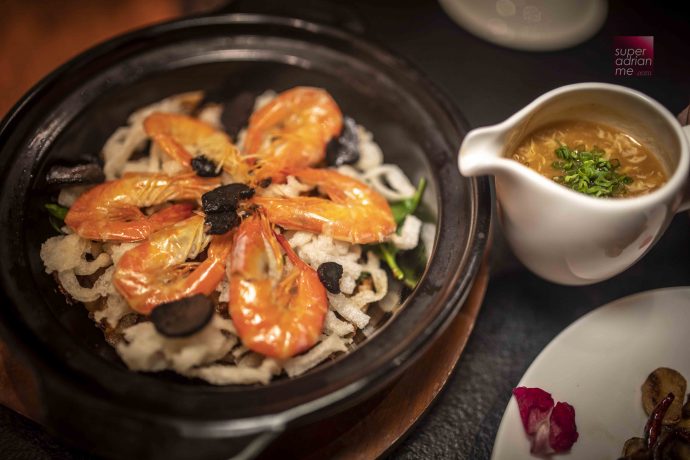 YUN NANS opened its second outlet in Westgate in October 2019 just seven months after the Chinese Yunhaiyao brand opened its flagship outlet at Jewel Changi Airport.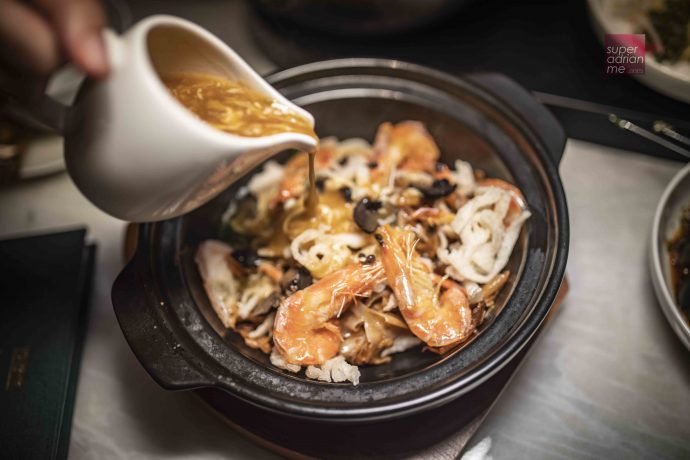 The Crispy Hor Fun with Truffle Prawn Broth (S$15.90) is exclusively available at the Westgate outlet. The hor fun is deep-fried and stir-fried to give you a crispy and springy sensation when you bite into this dish. Prawn broth is added, topped with Yunnan truffle shavings
mìmì秘密 at Clarke Quay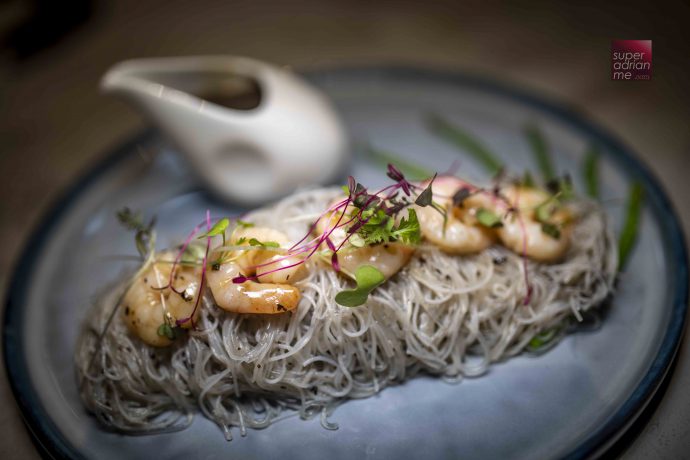 mìmì秘密, the modern Chinese tapas restaurant on the upper floor of The Riverhouse in Clarke Quay has The Unsubtle Truffle Mein (S$20) that will delight Truffle lovers. This signature noodle dish features al-dente rice and mung bean vermicelli (bee hoon and tung hoon) stir-fried with prawns and asparagus served with a warm black truffle sauce.
Elemen Classic at Great World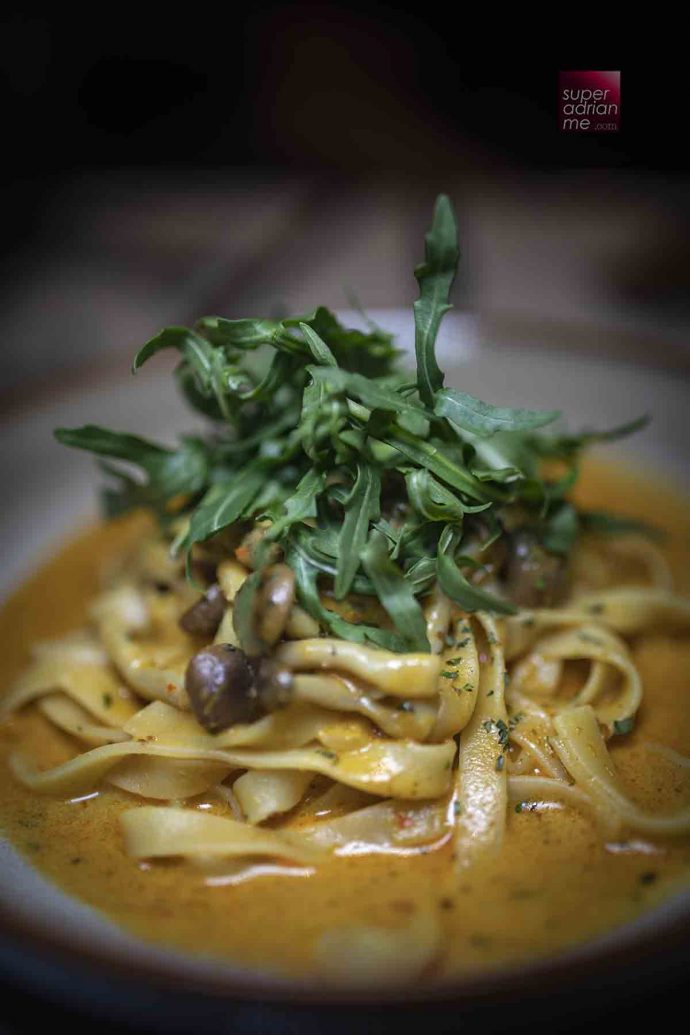 elemen Classic! opened in Great World in August 2019 with a specially curated menu of the popular and well-loved dishes of elemen as well as newly created ones exclusively available at this outlet. If you are looking for a vegetarian option, here is where you can sort out your noodle craving.
The Laksa Fettucine (S$16.80) has a creamy consistency that is sweet and mildly spicy. This dish features shredded laksa leaf and assorted mushrooms and topped with a generous serving of rockets which to our surprise complemented the laksa sauce.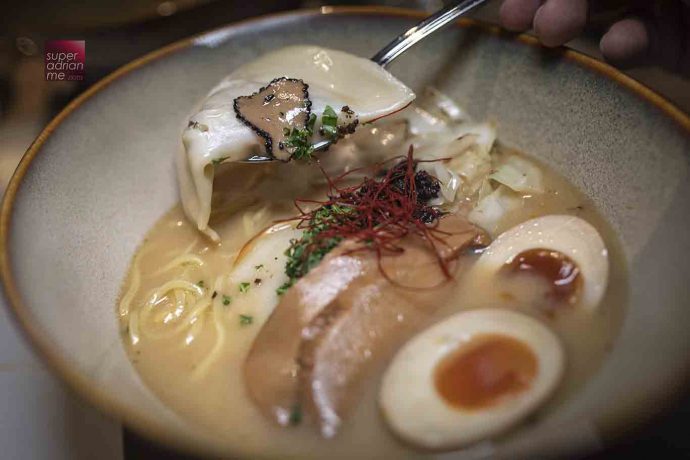 The broth of the Truffle Broth Ramen (S$14.80) is prepared by boiling arrowroot, turnip, mountain yam and tangerine peel for three hours. Springy ramen is topped with handmade dumplings with fillings of shiitake mushrooms, tofu and chestnut. Shaved truffle, Bai Ling mushrooms, hard-boiled eggs and stir-fried white cabbage are added for added flavour.
Como Cuisine at Dempsey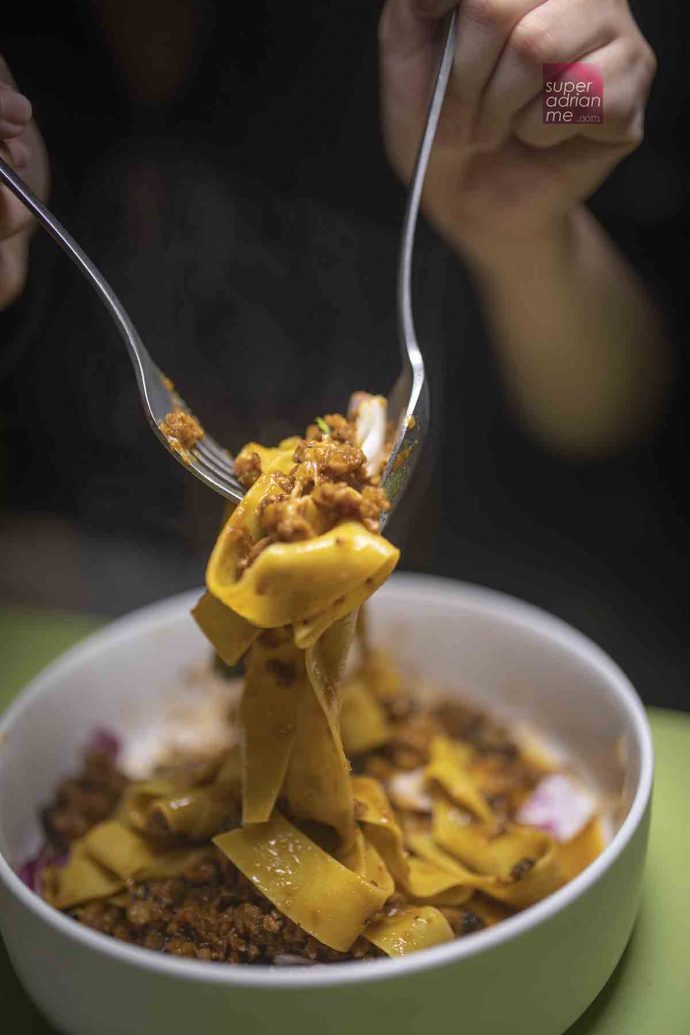 Head to Como Cuisine for dinner and order the Duck ragout with house-made pappardelle, basil and shaved pecorino (S$30++).
Chefs make the house-made pappardelle fresh daily. The ragout is made with minced local duck that is braised with a splash of red wine, mirepoix, black olives and rosemary. Radicchi, basil and shaved pecorino are added before serving to guests. This dish can be similarly found at the Italian restaurants across COMO properties.