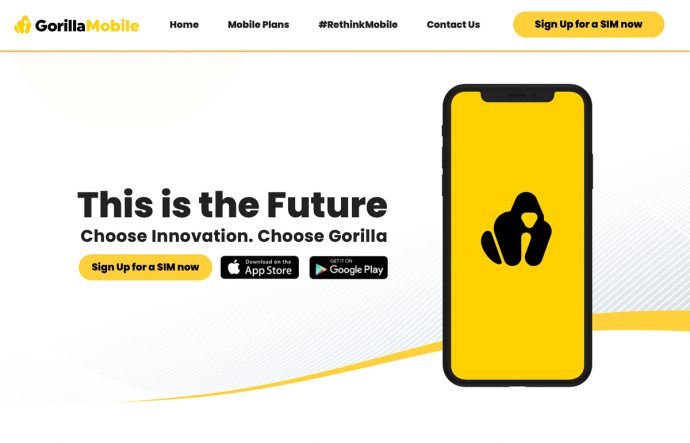 Gorilla Mobile is a new next-generation telco startup that targets the PMETs and SMEs segment. Running on a Service-On-Demand model, Gorilla Mobile offers 24/7 accessibility to a full suite of mobile communication services in its mobile app without subscription fees or activation charges. Pay only for what you use, when you use it. The new MVNO telco leases the network from M1. It also uses MyRepublic's enterprise Operating Support System and Business Support System telecommunications solution and managed services.
Gorilla Mobile started up in 2019 originally as a travel sim card business in Malaysia and Thailand. Global Roaming SIM cards were supposed to launch in May 2020 but because of the COVID-19 pandemic, this business had to change to what it is today until travel resumes. The company has been established with US$3 million of Seed capital. It is set to raise US$5 million in Series A funding. The funds will be used to develop its product roadmap and for market expansion across Southeast Asia, with initial rollouts in Malaysia, Thailand and Vietnam. The company will enter Indonesia, the Philippines, Japan, Korea and Taiwan in the longer term.
For pre-launch, Gorilla Mobile is launching only one plan, Gorilla Switch 25. It is a multi-capable all-in Mobile Comms Plan with travel roaming data, digital international calls and more. The full launch is expected later this year in September where other features such as the Global Office Telephony service (Q4 2021), Global Roaming Travel Data SIM Card (as and when travel resumes), Digital International Direct Dialing (August 2021) will be introduced.
Gorilla Switch 25 Features
The monthly subscription for Gorilla Switch 25 is S$25 per user. It is inclusive of travel roaming and international IDD calls. It comes with 100 minutes of talk time and 100 SMS as well as 20GB of local mobile data.
SwitchBack unused mobile data
Auto bill offset for individuals and companies up to 250 lines
Service-on-demand. Pay only when you use
Access all digital mobile communications services on app
Universal share with anyone even on other telcos
Unlimited Team Share to anyone anytime.
From 18 June to 18 August 2021, Gorilla Mobile is running a #RethinkMobile Pre-Launch Campaign that rewards up to S$50 bill difference reward per mobile number when you port-in an existing number from SingTel, Gomo, StarHub, Giga, M1, Circles Life and MyRepublic.
Unique Features at Gorilla Mobile
SwitchBack
SwitchBack is a feature that is not available from any other telco competitors in Singapore. Auto SwitchBack unused data in 30 days with no expiry or cap limits. This is powered by Blockchain.


– Offset Your Next Bill
– Redeem other mobile services
– Share with team members and friends
Bill Offset
SwitchBack unused Data for savings to offset next month's bill.
Universal Share
Share GO Tokens with coworkers and friends on another telco. Anyone can use the tokens on the Gorilla Go app to make IDD calls or for Travel Roaming plans
Unlimited Share
Share any amount with anyone anytime. Competitors offer up to 3 fixed sharing lines under the same subscriber's account only.
SwitchBack on Demand for Smart Travel
SwitchBack roaming data anytime, anywhere for shortened trips or multi-cities journeys.
Roaming Data as a Service for Smart Travel
Travel roaming as a standalone service where Local mobile subscription is not required.
Gorilla Digital IDD
Mobile-App-based digital IDD services. Download app and dial.
"In today's world, mobile communication services are an everyday necessity. With our Service-On-Demand model, we have digitized our services, moving beyond customised or flexible subscriptions. We believe users should have easy access to mobile services anytime, anywhere and pay only for the services they use. This 'telco-as-a-service' approach is the first new innovation the industry has seen in a long time."

Xanne Leo, Gorilla Mobile founder and CEO