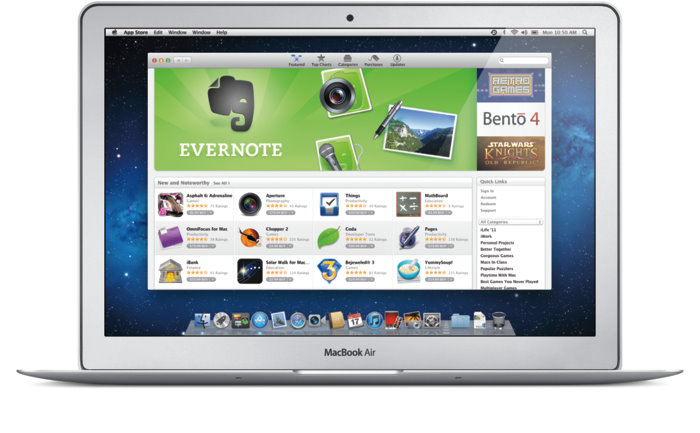 13 December 2011, Cupertino, California – In less than a year since the launch of the Mac App Store, more than 100 million free and paid apps have been downloaded.   The Mac App Store offers thousands of apps in Education, Games, Graphics and Design, Lifestyle, Productivity, Utilities and other categories.  It is included with Mac OS X Lion and is available as a software update for any Mac running Mac OS X Snow Leopard.
This is in contrast to the App Store which has more than 500,000 apps where customers have downloaded more than 18 billion apps and continue to download more than 1 billion apps per month.
"In just three years the App Store changed how people get mobile apps, and now the Mac App Store is changing the traditional PC software industry," said Philip Schiller, Apple's senior vice president of Worldwide Marketing. "With more than 100 million downloads in less than a year, the Mac App Store is the largest and fastest growing PC software store in the world."

"With Autodesk products in both the App Store and Mac App Store, we can reach hundreds of millions of Apple users around the world," said Amar Hanspal, senior vice president of Platform Solutions and Emerging Business at Autodesk. "With our free AutoCAD WS and the more powerful professional drafting tools of AutoCAD LT, we're using the Mac App Store to deliver new products and reach a growing base of new Mac customers."

"The Mac App Store has unparalleled reach and has completely transformed our distribution and development cycle," said Saulius Dailide of the Pixelmator Team. "Offering Pixelmator 2.0 exclusively on the Mac App Store allows us to streamline updates to our image editing software and stay ahead of the competition."

"In less than one year we've shifted the distribution of djay for Mac exclusively to the Mac App Store," said Karim Morsy, CEO of algoriddim. "With just a few clicks, djay for Mac is available to customers in 123 countries worldwide. We could never have that reach through traditional channels."
Mac developers set the prices of their apps and keep 70% of the sales revenue.  If the apps are free, they are not charge. Developers do not pay hosting marketing or credit card fees.
Related articles