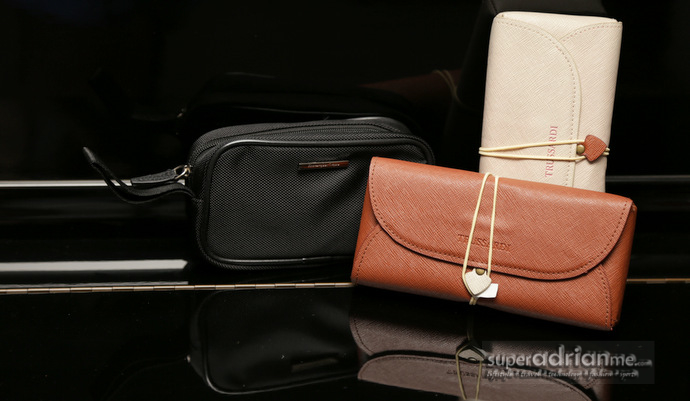 Cathay Pacific knows how to pamper its First Class customers. And we're just talking about amenity kits that are given out to First Class customers on its flights that are at least six hours long. Men get the Ermenegildo Zegna black pouch while women get the Trussardi Faux leather case filled with lots of beauty goodies. Customers have a choice of both should they want to bring back to gift their friend or partner.
The restrooms in First Class also offer other AESOP toiletries. First Class customers are also offered a high quality sleep suit so that they can change into and get comfortable for their flight and after which they can keep their sleep suits. Slippers and eyeshades are also provided for the comfort of First Class customers.
Amenity Kit for Women
The women's kit, which comes in burgundy or brown, has been launched since October 2012. The leading Italian brand, Trussardi, cooperated with Hong Kong designer Michael Young as part of a collaboration launched to celebrate the fashion house's 100th anniversary then. The bag is really something and it is one of the best I have seen to date. Beautifully designed and what looks like a good job of hand stitching, these bags can be used as a case for your sunglasses and are available in cream or brown.
Which do you prefer? We pick the cream bag because it has a nice maroon interior.
Each kit comes with skin care products from Australia's AESOP which uses both plant-based and laboratory-made ingredients with proven efficacy. A tube of light citrus fragranced mandarin facial cream containing extracts of vitamin-rich and anti-oxidant botanicals helps you hydrate your skin with leaving shine or residue. There is also a Vitamin-E rich, non greasy, readily absorbed non stick cream to hydrate and nourish the lips. To keep your hands moisturised, there is a tube of resurrection aromatique hand balm that is greaseless and offers a fragrance of Mandarin Rind, Rosemary Leaf and Cedar Atlas.
AESOP is available in-stores in New York, Paris, Hong Kong also online at aesop.com as well as selected stockists around the world.
Other amenities provided in the kit include a dental set, mouthwash, earplugs, cotton pads and a really cute mini wooden hair brush. The toothbrush is made from corn starch and biodegradable cellulose material.
Amenity Kit for Men
The men's kit has been launched since October 2011. Italian fashion brand, Ermenegildo Zegna, known for its enduring passion for fabric, innovation and quality has designed this minimalist yet stylish black zip pouch. The kit offers sandalwood skincare products from another Italian luxury brand, ACCA KAPPA.
The bag can be used to store your smartphones and a small wallet after you empty out its original contents. Made of cloth, the interiors have side compartments for you to organise your contents.
The lightly scented facial mist helps you to refresh and hydrate when you are up 35,000ft where it is often drying for the skin. The Anti-Age face moisturiser is also lightly scented and does not leave your face oily or sticky. The lip balm comes in handy too.
Also included in the amenity kit are a dental kit, mouthwash, earplugs, comb and shoe horn. Shaving kits are available in the rest rooms.
Check out our other reviews of amenity kits from: Garuda Indonesia| British Airways | Etihad Airways | Delta Airlines | Lufthansa | Qantas First Class | Qantas Business Class | Emirates | Singapore Airlines | Qatar Airways