People close to me know I am a fanatic of Melbourne apothecary brand AESOP which uses both plant-based and laboratory-made ingredients with proven efficacy. I was first introduced to the brand when I was given a set of Cathay Pacific's First Class Amenity Kits in 2013 to review. The kit then was branded Trussardi and the contents inside were Aesop. In 2015, the Hong Kong-based airline refreshed its amenity kit with a fabric kit designed by Aesop.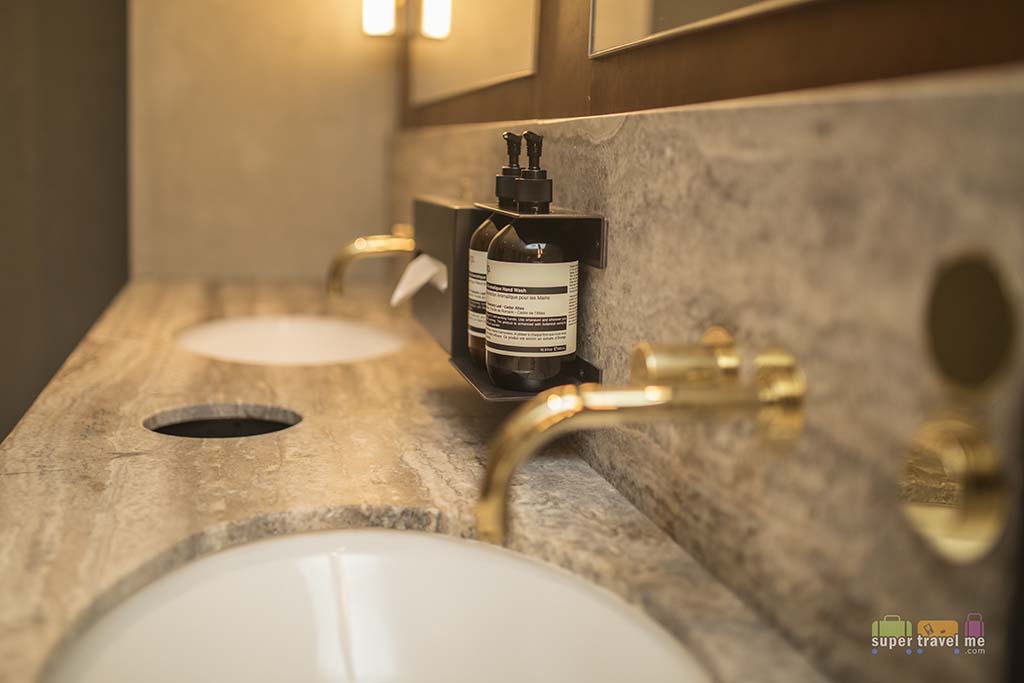 And the new Cathay Pacific Lounge that opened at the same time Changi Airport Terminal 4 on 31 October 2017 also features Aesop handwash and moisturiser in the bathroom.
Aesop Tangs Facial Appointment at TANGS
Aesop Tangs Facial Appointment was launched in Singapore in July this year at TANGS in Orchard Road. It was first launched in Melbourne in 2005 offering six distinctive treatments. Aesop Trained Facial Therapists use concentrated formulations developed especially for the 60 to 75 minute long treatments. Enjoy these treatments in a cosy spa treatment room. Stay warm under the heated blankets while the facial therapist works wonders on your face with confident strokes and movements of their hands. I didn't want to leave even after my treatement had been completed.
Facial Appointments are now available at select Aesop locations in Melbourne, Sydney, Hamburg, London and Singapore.
Aesop Tangs Facial Appointments are priced from S$150 and are available at level 4, 310 Orchard Road, Singapore 238864. Call +6568364748 for an appointment.
Hwyl Eau de Parfum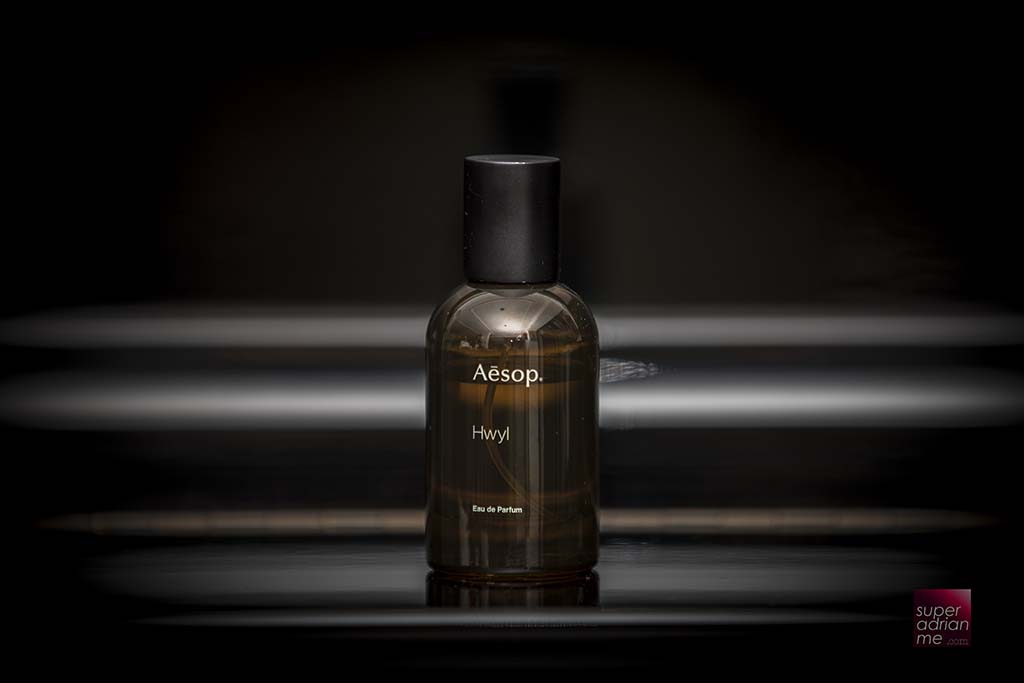 Aesop launched a new and third Eau de Parfum end September this year. Hwyl was created in collaboration with Barnabé Fillion who also developed Aesop's signature Marrakesh Intense that was launched in 2014. Barnabé took inspiration from walking amongst the 300-year-old Hiba trees in ancient Japanese forest. The smoky fragrance with aromatic spices and fresh Thyme Extract with the addition of warm and woody heart of Cypress with notes of Vetiver Extract, Frankincense and moss effect offers an earthy sensuality and longevity.
It is my favourite fragrance of the three Aesop has launched. I find this scent rather intimate and unique. Something that I feel comfortable in without the scent overpowering my senses.
Hwyl Eau de Parfum is packaged in a 50mL amber glass bottle and is available at Aesop signature stores, select department store counters and Aesop Online at S$160.
Aromatique Room Sprays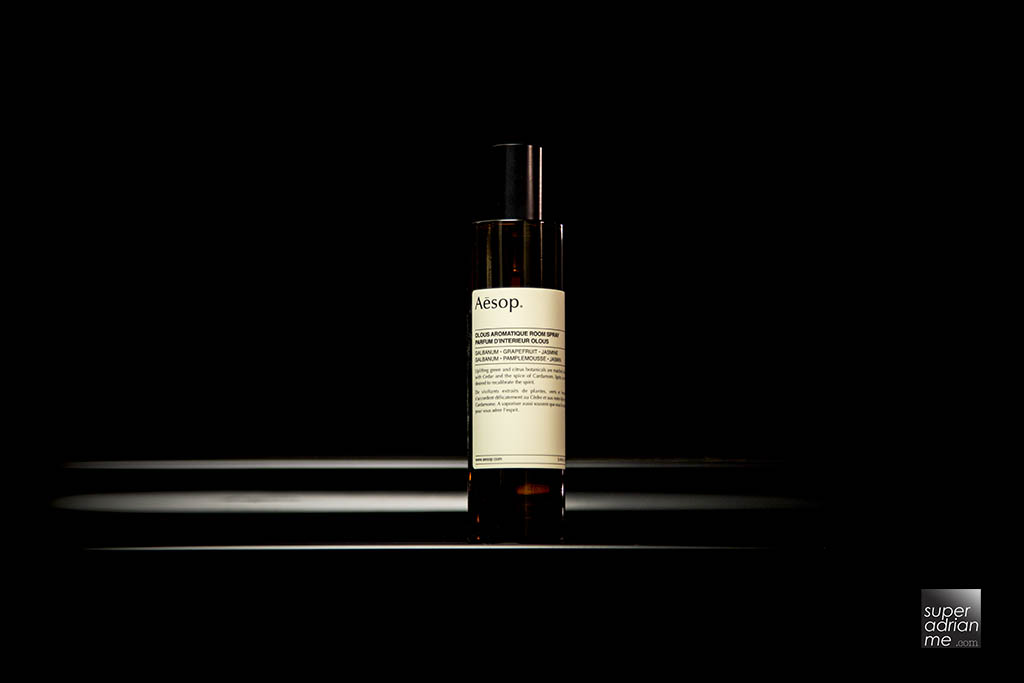 Aesop launched three new room sprays earlier this year. Named after Ancient Greek Cities, the three scents were created to revive the sense and redefine your living or working environment with uplifting, calming aromas. Aesop used ingredients from its oil burners such as Catherine, Anouk and Isabelle to achieve familiarity in the robustness and complexity of each fragrance.
Istros offers a refined, floral and smoky aroma. Olous is a vibrant blend of green and citrus botanicals while Cythera features a warm, woody and spicy scent. The sprays are packaged in 100mL amber glass spray bottles and retail at S$67.
Oral Care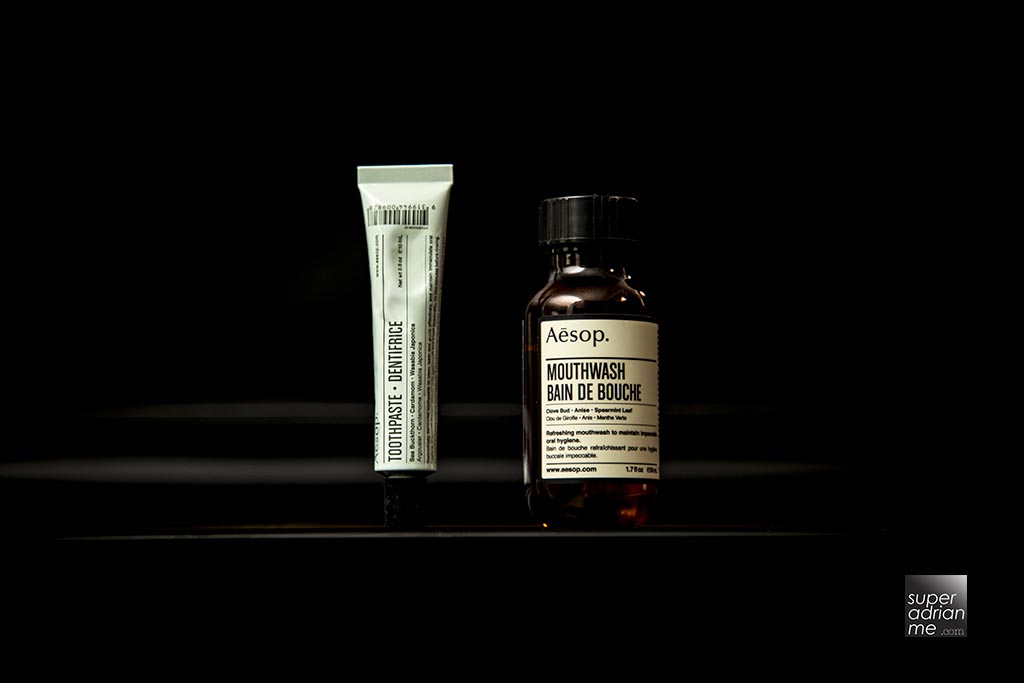 Aesop launched its first toothpaste in August this year to complement its Mouthwash. The toothpaste is fluoiride-free and contains mild abrasives to polish, Sea Buckthorn for its soothing properties, and Wasbaia Japnoica (Wasabi Extract) for its antimicrobial properties to help reduce plaque build-up in synergy with Tetrasodium Pyrophosphate. Essential oils of Cardamom, Anise, Spearmint and Clove leaves your mouth cleansed and refreshed.
The 60ml aluminium tube toothpaste is available at S$19.
Aesop Gift Kits for 2017-18
The year-end festive season is just around the corner. These Gift Kits for 2017-18, priced from S$90 to S$230, will be launched in November, in time for you to pick some for your friends and family. This year's six gift kits are themed The Enigmatic Mind. Each kit is named after and celebrates an influential social psychology experiment that was prominent in the 1950s, 60s and 70s.
The sets are packed in reusable amenity cases and wrapped in sleeves inspired by social psychology books of the era. They include:
Association – Parsley Seed Skin Care in camaraderie – references the small world experiment which depicts how random people can be connected with one another through six degrees of separation. (S$230 with Parsley Seed Facial Cleanser 200mL 6.8 fl oz; Parsley Seed Anti-Oxidant Facial Toner 200mL 6.8 fl oz; Parsley Seed Anti-Oxidant Serum 100mL 3.4 fl oz.)
Concorde – All-encompassing top-to-toe care – references the Robber Cave Experiment, a study of intergroup conflict and cooperation that demonstrates in-group bias, and how intergroup conflict can be resolved by the groups working together on a common task that neither group can complete without the help of the other group. (S$90 with A Rose By Any Other Name Body Cleanser 200mL 6.8 fl oz; Resurrection Aromatique Hand Balm 75mL 2.6 oz; Immediate Moisture Facial Hydrosol 60mL 2.0 fl oz)
Perception – Thoroughly Satisfying Body Care – references the Capilano suspension bridge experiment that researched on the effect a person's physical state such as fear can be transformed into romantic attraction and arousal. (S$115 with Geranium Leaf Body Cleanser 200mL 6.8 fl oz; Redemption Body Scrub 180mL 6.1 oz; Redemption Body Balm 120mL 4.1 fl oz)
Proximity – An assembly of classic skin care – references the propinquity effect – the tendency for people to form friendships or romantic relationships with those whom they encounter often. (S$130 with Fabulous Face Cleanser 100mL 3.4 fl oz; B & Tea Balancing Toner 100mL 3.4 fl oz; Camelia Nut Facial Hydrating Cream 60mL 2.1oz)
Regard – Face and body care, with care – references the bystander effect phenomenon where individuals are less likely to offer help to a victim in the presence of other people. (S$120 with Fabulous Face Cleanser 100mL 3.4 fl oz; Mandarin Facial Hydrating Cream 60mL Net wt 2.1oz; Geranium Leaf Body Cleanser 200mL 6.8 fl oz)
Sway – Hand and body care for all persuasions – references the Asch conformity experiment where social pressure from a majority group affects a person to conform. (S$155 with Resurrection Aromatique Hand Wash 500mL 16.9 fl oz; Resurrection Aromatique Hand Balm 75mL 2.6 oz; Geranium Leaf Body Cleanser 200mL 6.8 fl oz; Geranium Leaf Body Balm 120mL 4.1 fl oz)