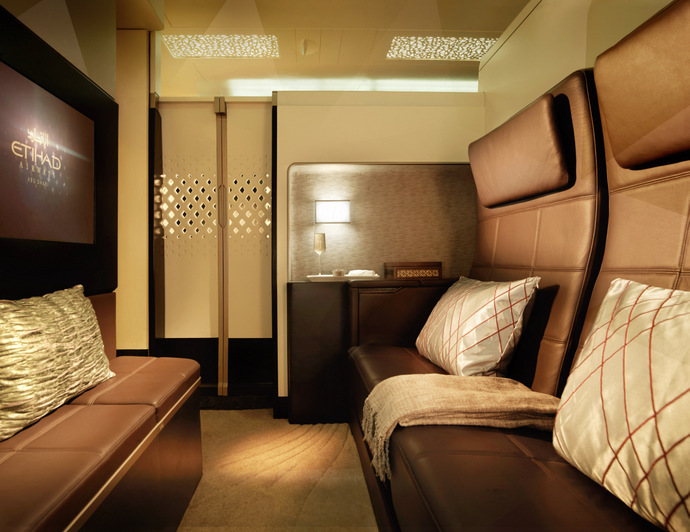 Etihad Airways unveiled today at Fairmont Bab Al Bahr in Abu Dhabi new aviation products.  In first Class, the Airbus A380 will house nine Apartment cabins with six that are connecting and three that are single cabins.
A world's first,
The Residence by Eithad
offers 125 square feet of space featuring a living room, double bedroom, separate ensuite shower room and a personal butler trained at the Savoy Academy.  Located on the forward upper deck of the airline's new fleet of A380s, the Residence is available for single or double occupancy. Offering service and private space similar to flying in a private jet, this new product offers a contemporary styled cabin interior influenced by modern Arabian design.
Etihad Airways Residence- The Living Room
Enjoy inflight entertainment on a large 32 inch LCD TV.  Broadband with internet mobile and data capability is also available. Watch from your own devices with HDMI, AC outlet and USB ports available on board. The Residence is Wi-Fi enabled and equipped with the lastest Panasonic eX3 entertainment system.
There is also a two-seat reclining sofa upholstered with Poltrona Frau leather, dual marquetry dining tables and a chilled mini-bar. The ottoman is retractable and ambient and mood lighting creates the mood for rest. There are also in-seat massage functions and seat position and firmness can be adjustable.
The master bedroom and the ensuite shower room is separated by a door and passageway.
Etihad Airways Residence – The Bedroom
Here you get an 82 inch long double bed with custom-made mattress, bedside unit, wardrobe, and under-bed stowage for hand luggage. There is also a 27 inch LCD TV in the bedroom. Many have asked me what happens when there is turbulence and how to make sure you are securely held down.  The answer lies in a belt to hold you down around the bed, just like on any seat.
Etihad Airways Residence – The Bathroom
In the bathroom there is a toilet  as well as a shower area. May be a little tight to shower together with your partner, space has also been created in the toilet by placing the toilet bowl at the corner instead of the convention of placing it in the middle. Soft luscious bathrobes and terry cloth towels are provided.
More photos are available on our flickr account. Click here to view them.